Kadena, Seoul play for today
by
Dave Ornauer
November 6, 2008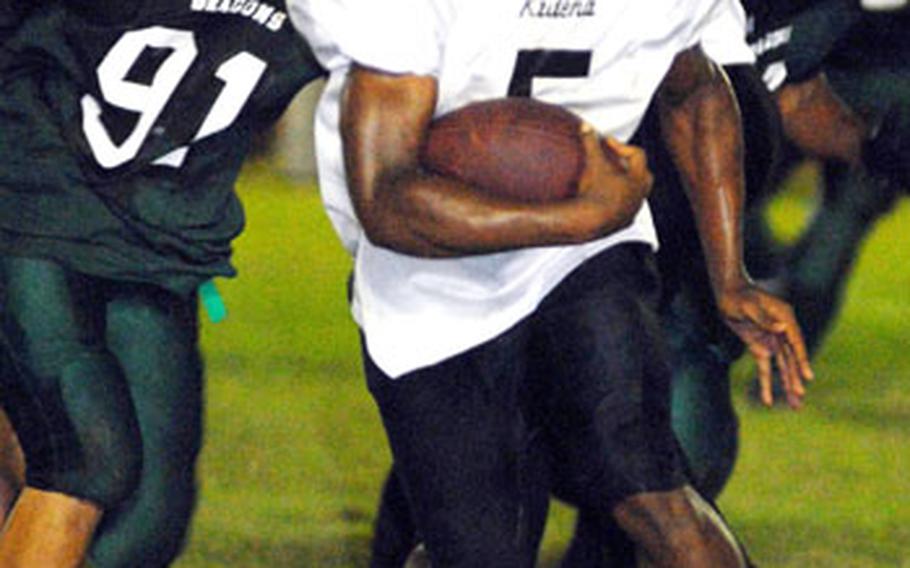 Saturday's Far East Class AA title football game could be viewed as a rubber match pitting Kadena at Seoul American.
The host Falcons won 12-6 in overtime over the Panthers the last time they played at Falcon Field, on Nov. 11, 2006. The Panthers got even 364 days later, 27-10 at Kadena's McDonald Stadium.
To hear the coaches discuss it, those games mean nothing now. Most of the players from those two clashes, including rushing champions David Smalls of Seoul and Sean Shattuck and Ernest Carr of Kadena, are gone, leaving each team chasing the unfamiliar.
"Anything that happened before, you can throw out," Falcons coach Julian Harden said. "These are two different teams than they were. We're as close as you can be to being equal. Everybody doesn't know much about each other."
"It's not like a revenge feeling," Kadena coach Sergio Mendoza said of the notion of wanting payback for the overtime defeat. "We understand the challenges we have to face. … We'll use the last time as a learning experience and prepare better, try to build on those things."
Saturday's championship game, which kicks off at 2 p.m., shapes up as a battle of the two most stingy defenses in the Pacific.
Kadena (5-0) has won five straight shutouts and outscored opponents 111-0; Seoul (5-1) has allowed just 44 points, 16 in its 19-16 semifinal victory at Yokota.
It will be up to Falcons running back Trinadai Stansel (556 yards, 52 carries last four games) and the Panthers' four-pronged attack of Brandon Harris, Lamar Stevens, Stan Schrock and Vince Coronado (1,151 yards total offense) to find ways to pierce those defenses.
"The law of averages says we will be scored on, but I'm proud of them. It's been a true team effort," Mendoza said. "We have good balance. We're talented and we're ready to go. We're really lucky; we've made some big plays when we needed them."
"Their program gets better and better," Harden said of Kadena. "You never know how good you are until you compete with somebody on a different level."
"When you think of games with Seoul the past two years, they've been tough games," Mendoza said. "A class coach. The kids fight hard."
Harden said the game should hinge on which team can put the brakes on its opponent and how well it takes care of the football.
"We'll make some adjustments and try to do something to slow them down," Harden said. "It will come down to who makes the fewest mistakes."