Kadena senior airman stops China's En in 3rd, hopes for more work in lucrative fighting sport
by
Vince Little
April 9, 2004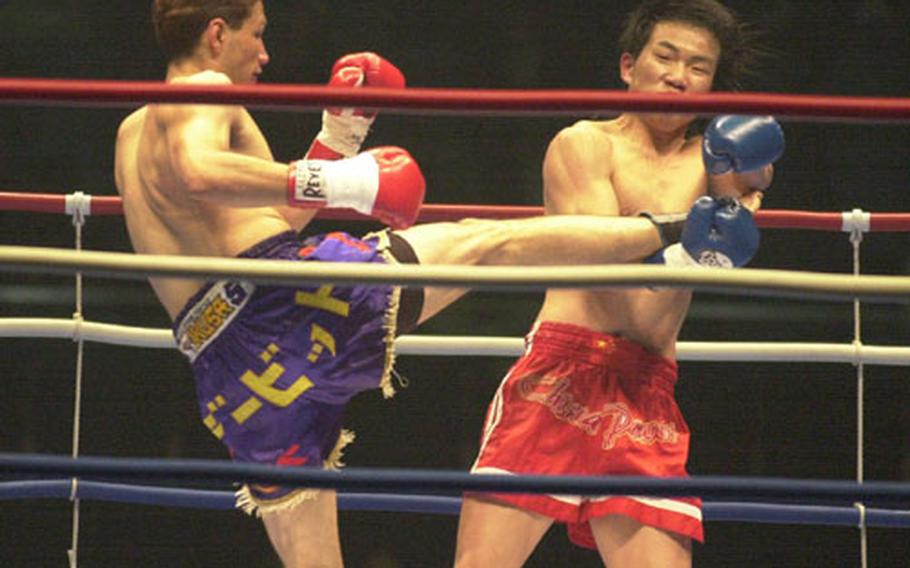 TOKYO — David Archuleta's star still is rising in the world of K-1 fighting.
The senior airman from Kadena Air Base's 733rd Air Mobility Squadron overcame an awkward start Wednesday to record a third-round technical knockout of China's Kang En. Their light-middleweight encounter took place at K-1 World Max 2004, an extravaganza held in Yoyogi Stadium Sports Arena 1 and broadcast on Japanese television and American pay-per-view.
For Archuleta, the Universal Kickboxing Federation's junior welterweight titleholder, it was a chance to showcase his stuff on one of the biggest stages in K-1, a highly popular, lucrative sport that mixes champions from various sanctioning bodies.
"It's been my dream for a long time to do K-1," he said after Wednesday's bout. "That's where all the money is. If it wasn't for K-1, I probably wouldn't want to fight."
Added Masaaki Asato, Archuleta's promoter, "This [was] an important fight for him."
Archuleta (18-2-1 with 12 KOs) lost his November debut but rebounded nicely on Wednesday against the pesky En, a welterweight champion in Sanda, China's version of kickboxing, who was fighting in K-1 for the first time.
After ducking a high kick to start the bout, Archuleta taunted the lighter En with a mock dance in the ring.
"I try to do that in every fight," said Archuleta. "Intimidate him a little bit and get the crowd into it. Make them laugh. It's a show. The crowd has to be into you or you're not gonna be called back."
En didn't appear too thrilled by the stunt. Using a series of grappling maneuvers, he repeatedly tossed Archuleta to the mat and later dazed the American with a right hand to the head.
"He caught me once really good," Archuleta said. "I felt it, too. I saw stars for a second. But mostly, he was throwing off my timing. It was frustrating.
"I'd never seen videotape of him, so I wasn't comfortable at all early on. I didn't really know what to expect. He was doing all that little stuff. It was not very good technique, and I was a little embarrassed because I couldn't get anything going myself."
That changed in the second round, when Archuleta became the aggressor, landing several kicks and knocking En down with a foot to the head as the bell sounded. The referee waved off the knockdown, claiming it came after the round.
"That should've counted," Archuleta said.
But the damage had been done. Unleashing another flurry of low kicks to En's legs, Archuleta sent him to the canvas three more times, picking up the TKO at the 2:30 mark of the third round.
"I wanted to see what kind of fighter he was in that first round," Archuleta said. "It was a little like playing with fire, but I felt a lot more comfortable in the second and third."
Archuleta's next kickboxing fight is slated for June 6 in Tokyo but he remains highly optimistic about his future in K-1, saying that negotiations are under way for additional bouts.
Wednesday's performance certainly did nothing to dampen his prospects.
"People who've studied Muay Thai kickboxing tend to do well in K-1," said Patrik Washburn, a spokesman for the Fighting & Entertainment Group, which promoted Wednesday's event. "He's got his name out there now, so you never know."
---
---
---
---