Kadena's Z'aire Jackson has interior motives
by
Dave Ornauer
December 16, 2004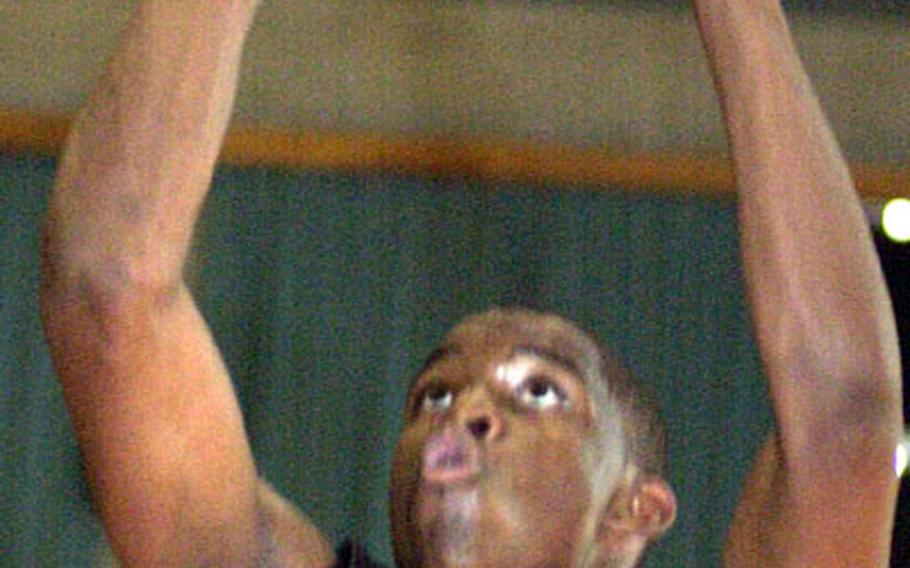 KADENA AIR BASE, Okinawa — During the flight home to Okinawa from the Hong Kong basketball tournament, Z'aire Jackson stewed.
His Kadena Panthers had performed well during the event on Thanksgiving weekend,. but not as well as they had hoped. They finished third.
Losses to St. Mary's International of Tokyo and Singapore American and an excruciating 76-72 defeat to Kadena's hated Okinawa rival Kubasaki, burned in Jackson's memory.
"It lit a fire under me, and it's still lit," Jackson said.
Ever since, said his coach Robert Bliss, the 6-foot-3 junior has "been on a mission."
The latest results from his mission: 87 points, 54 rebounds and 11 blocked shots in Kadena's past two games, a 95-79 win over Japanese team Maehara Dec. 4 and a 103-93 revenge triumph over the Dragons last Friday.
"That we knew we could have finished first in Hong Kong and we didn't" is stoking such blazing performances, Jackson said.
"He has stepped it up a notch," Bliss said. "We had trouble in Hong Kong finishing games. I think it's something he doesn't want to repeat."
Kadena (6-3) has won five consecutive games, and Jackson predicts, "This is going to carry through the rest of the season."
It's also the play Bliss expected from Jackson since he arrived for the 2003-04 season when his father, Air Force Master Sgt. Anthony Jones, was transfered to Kadena's 353rd Special Operations Group from Shaw Air Force Base, S.C.
Jackson played a season at Crestwood High, in Columbia, S.C., before arriving at Kadena and immediately securing a spot in the lineup.
The Panthers fared well last season, finishing 15-12, including a season sweep of Kubasaki, but they did not place in last February's Far East Class AA Tournament.
"When we went to Far East, we had too many mental breakdowns and I was injured, too," Jackson recalled. "We could have done a lot better."
He set about changing that in Kadena's first game this season, a 108-64 romp over Naha High, a Japanese team. In just two quarters, Jackson had 27 points and 14 rebounds.
In Hong Kong, Jackson averaged 21.8 points and 15 rebounds in six games, helping Kadena rebound from the losses with three striaght wins.
Then came the astounding totals he posted in the past two games, which he attributes to his attitude about playing inside — it's his personal domain.
His teammates say that attitude — and Jackson's determination — has raised their level of play.
"If he's hot, my mind-set, and those of the guards, is to get him the ball and let him do his thing," said senior guard and team captain Tyler Schmidt. "We're going to feed off of that. It helps us play better."
Of his 54 rebounds in the past two games, 35 came off the offensive glass, including 23 against Maehara.
Jackson's play "helps out a lot, especially the younger kids. It gives them a chance to shoot, and they know that he's there if they miss, and they'll get a chance to do it again," Schmidt said.
Kubasaki coach Chris Sullivan is sufficiently impressed with Jackson's performance thus far, calling him "probably the most dominant inside player in the whole region.
"He's grown and developed so much in one year, from a good player to a dominant player on the floor. Last year, we knew he had good jumping ability, but this year, he has the strength," Sullivan said. "He has a nose for the ball on the offensive end, and that will get you 10 to 12 points."
But Jackson has aspects of his game to work on too, his coach said.
"He does so many things inside well," Bliss said. "He shoots, rebounds and follows shots so well. Nobody's found an answer for him inside. But we want to create situations where he shoots on the perimeter better. The only thing he has to work on is his shooting."
Jackson knows being 6-3 might make him a giant in the Pacific, but it also would make him among the shorter players on a stateside college team. Realizing his basketball future might hinge on outside shooting, he is practicing it more.
"But I don't get much chance to use it," he said. "I'm always working on the inside."
He says he's often thought of what he'd be like with a more well-rounded game — and where he'd like to take his game after graduation.
More immediately, Jackson and Schmidt said they believe Kadena has a legitimate shot to win its first Class AA title since 1999 and make its first center court appearance since 2001.
"We're better than we were last year," Schmidt said. "If we keep playing the way we have, I think we have a really good chance."
---
---
---
---