Kadena's Mierzejewski sings on field, at concert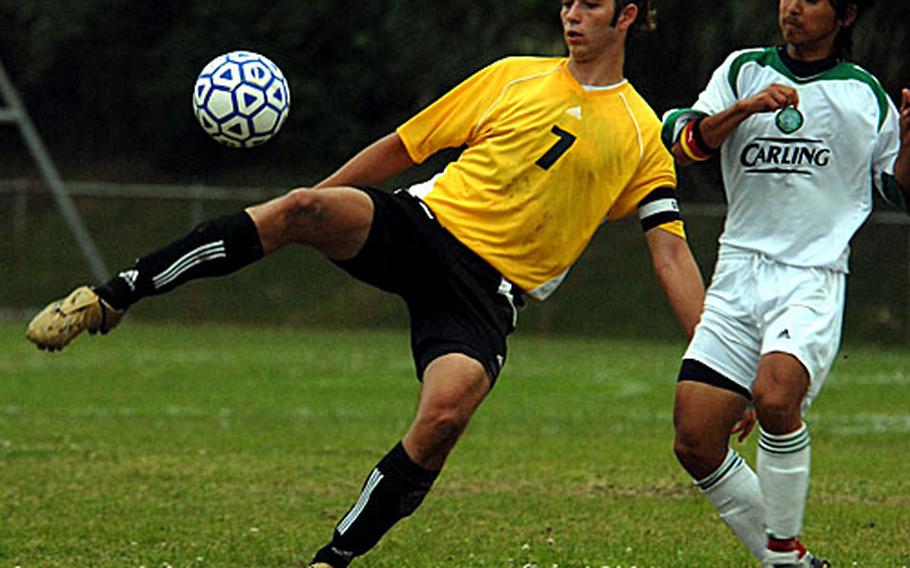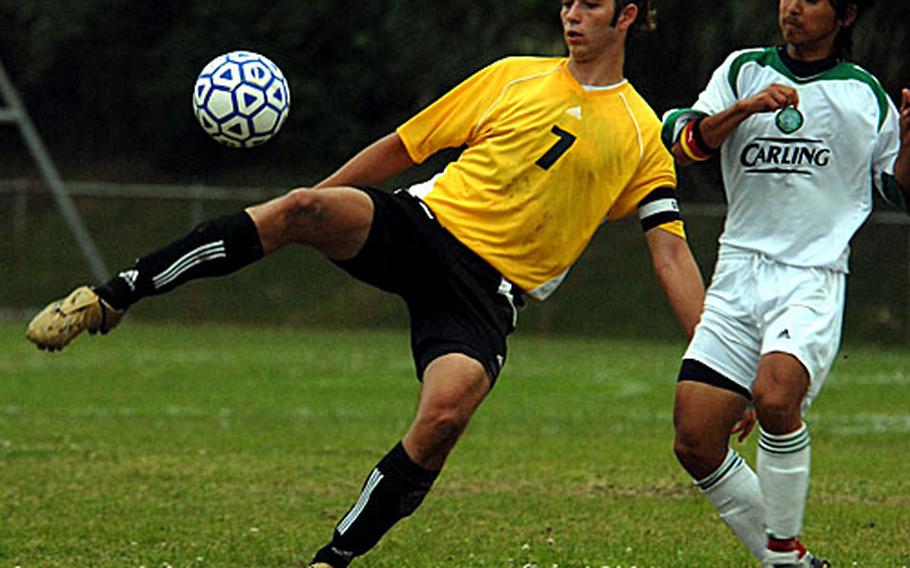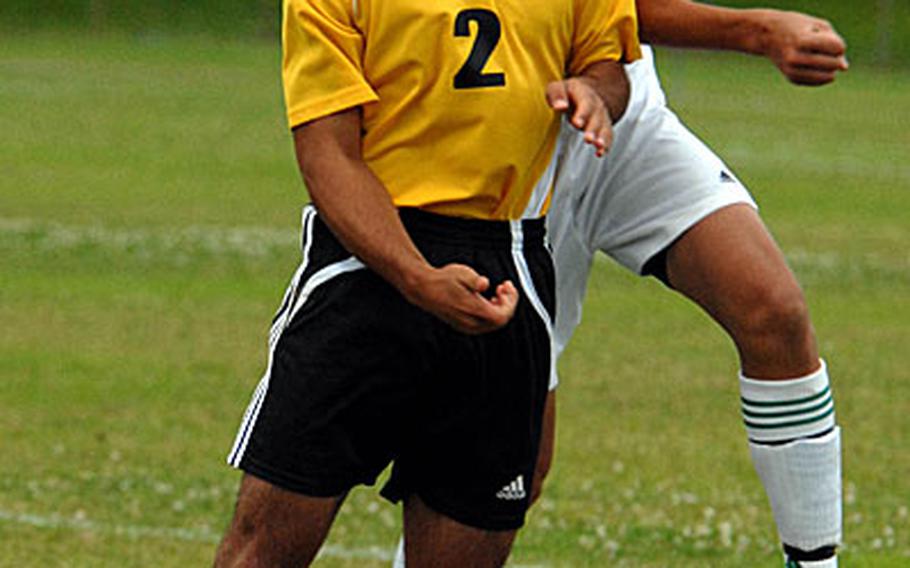 KADENA AIR BASE, Okinawa — Alex Mierzejewski did get to play soccer after all, then sing with the Far East High School honors band concert choir.
The senior sweeper teamed with senior goalkeeper Brandon McCullough to shut down Kubasaki in the second half as defending Far East Class AA Tournament champion Kadena edged the Dragons 2-1 at Kadena High School.
The victory gave the Panthers a lead in the Okinawa Activities Council season series after the teams tied in their first three meetings.
Almost immediately after the match, Mierzejewski's father, Kinser Elementary School principal Bill Mierzejewski, loaded Alex into the family van for the 20-minute trip to Kubasaki High School, where the honors band concert took place three hours after the match started.
"I've been tired all week," said Mierzejewski, who'd spent five days in choir rehearsal at Kubasaki. "But it's great to come out here and play. We passed well, we talked a lot (and) it's great to get a win against Kubasaki."
The match, along with the Kadena-Kubasaki girls match, had originally been scheduled for 5 and 7 p.m., but district officials moved back kickoff to 4 p.m. to give Mierzejewski time to play and sing.
Ryan Deng accounted for Kadena's two goals, crossing the ball in the middle to Jacob Bloom who tapped it past Kubasaki keeper Justin Martinez in the 11th minute. In the 32nd minute, Deng stole the ball from Kubasaki sweeper Brent Foote and fired it over Martinez for what proved to be the game-winner.
Two minutes later, Isaac Bennett sent a long cross to Jacob Hess in front of the Kadena goal. The Kubasaki striker was stopped on his first try by McCullough, then knocked the rebound past him to make it 2-1. It was as close as the Dragons would get.
From there, the keepers, three-year veteran Martinez and first-year goaltender McCullough, took over. Each stopped several scoring chances, some from point-blank range.
"He's a perfectionist," Kadena coach Tom McKinney said of McCullough. "He'll only get better."
The spectacular saves were as much a testament to the keepers' ability as the "porous" nature of the defenses, Kubasaki coach Chris Kelly said.
"It was an uncharacteristic Kadena-Kubasaki match," Kelly said, adding that the teams usually grind it out.
Kubasaki girls halt Kadena's 45-match winning streakWhile Kadena's boys celebrated victory, Kubasaki's girls did something that no team has done to Kadena since the 2005 season — keep the Panthers from winning.
Goalkeeper Alix Mackey and the Dragons defense held Pacific season goal-scoring record-holder Jen Abel (70 last season, 41 this season) scoreless for the first time this year and Kubasaki and Kadena played to a scoreless draw.
Kadena had not lost in 45 matches. Since Abel joined the team in 2004, Kadena has gone 74-1-2, the only loss to Kubasaki in the 2005 regular season.
"Nothing but defense," Kadena coach Hoa Nguyen said of Friday's match. "You have to give them credit. … We put the ball everywhere but in the goal."