Kadena's Maxey displays throwback attitude in three sports
by
Dave Ornauer
April 29, 2004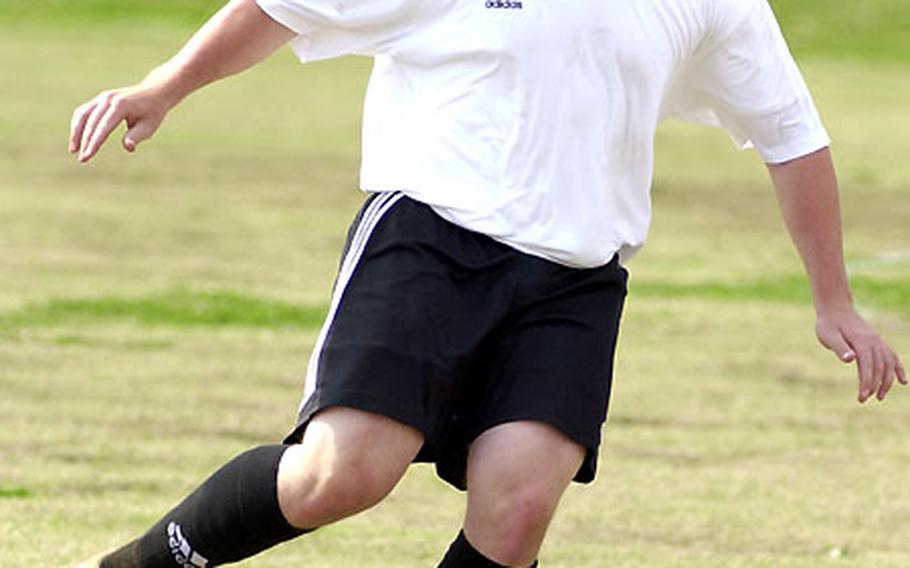 Green-eyed, crew-cut and well-muscled, Cole Maxey is as close as it gets to the throwback, boy-next-door athlete of the 1950s.
Not only does Maxey look the part, but the Kadena junior is a three-season participant, playing football in the fall, wrestling in the winter and, this spring, after two years of baseball, helping the Panthers soccer team go unbeaten and in good position to defend its Far East Class AA Tournament title this week. And he always puts the team before individual glory.
Maxey did the grunt work as the center while running backs Keith Loving and Demetrius Kenney rolled up almost 1,000 yards for the Islanders football team that went 6-2 and placed second in the Okinawa Activities Conference.
Maxey won a Far East wrestling tournament gold medal at 215 pounds, but the season's highlight, he says, was helping Kadena sweep OAC rival Kubasaki for the first time in school history.
Moving to soccer this year, Maxey again shunned a more glamorous position, choosing to play stopper, where he's been an imposing physical presence on the back line.
"It's about winning for me," said Maxey, a junior straight-A student and class officer. "It doesn't matter where I play as long as I play and as long as I help the team win."
"That starts at home, in the family," Panthers soccer coach Sue Fitzpatrick said. "The way he was raised, the values."
He was raised with three siblings in what some might call a throwback family by his father, Robert, a Marine Corps major, and mother, Cathy, a teacher at Bob Hope Primary School on Kadena.
"Growing up, we always did things together, as a team, as a family, getting the job done," he said.
Some might have called him "square" back in the '50s.
"Maybe, but that doesn't bother me," he said. "I'm all about just playing, getting prepared to win and then winning."
Said Islanders football coach Sergio Mendoza, "Playing that quintessential position that has to be played … there has to be somebody there who makes others look good. There has to be something said about self-sacrifice. That makes him not only a great player but a good young man."
Added wrestling coach and Islanders offensive coordinator Steve Schrock: "He's one of those kids who understands that that will make the team better. He will do what's necessary. And what coach doesn't appreciate that nowadays?"
Fitzpatrick certainly does.
"The role he plays," she said, "his size is critical in the middle of the field.
"You get somebody that big and who can control his body, it's an advantage," she said.
For Maxey, the advantage of playing soccer is that it keeps him in shape.
"I'd been thinking about playing soccer all year," he said. "My friends wanted me to play. Baseball in the spring, it's not as hard work as other sports. You tend to lose your shape. Soccer is more of a physical challenge, running and conditioning."
Maxey won't return to Kadena for his senior year — leaving a hole in three sports teams. His father is to transfer to Ramstein Air Base in Germany this summer.
"I'd rather stay here," Cole said, displaying a 2005 class ring he ordered even after learning he was moving. "But it's something I know I have to do. I'll make the best of it. But I'm not going to forget Kadena."
Schrock says Maxey will leave Okinawa on a good note, with the Islanders football turnaround, a wrestling gold and the Kadena-over-Kubasaki streak intact and, possibly, a Class AA soccer repeat.
"It was fitting he had the year that he had, because he deserved to celebrate the victories," Schrock said.
---
---
---
---