Kadena rallies past Yokota to win Class AA football title
by
Dave Ornauer
November 12, 2007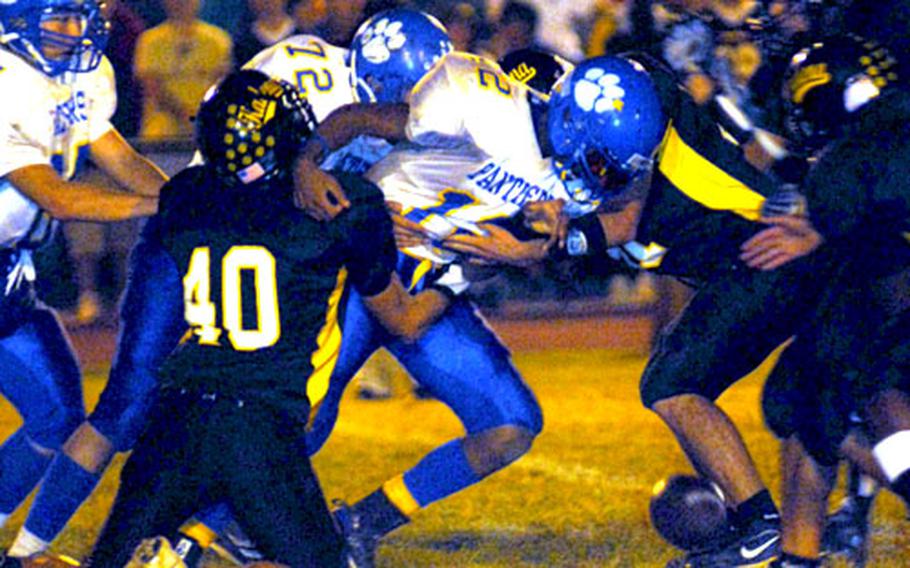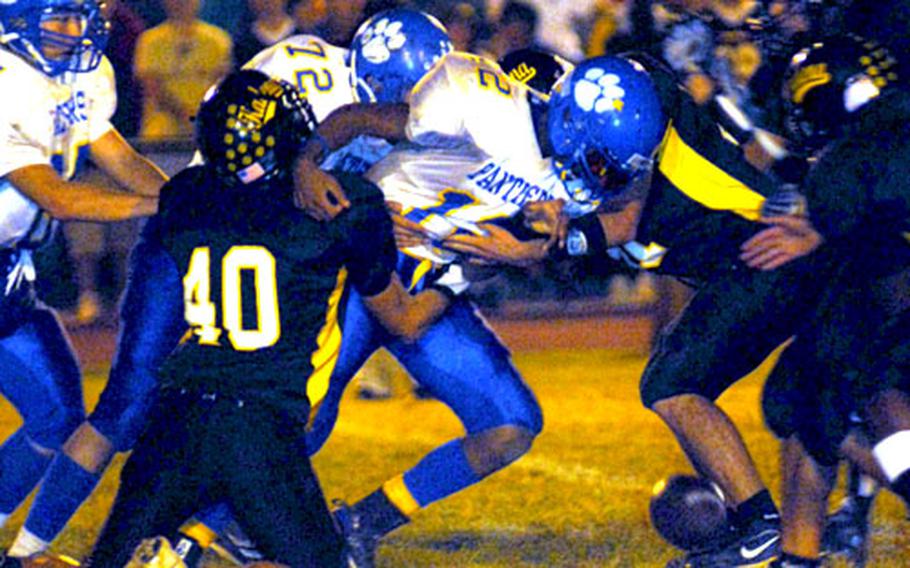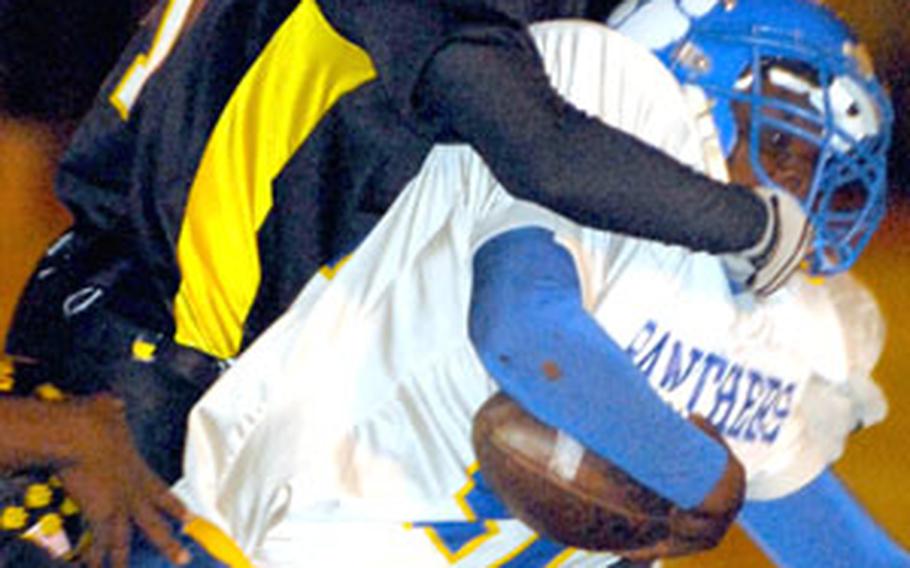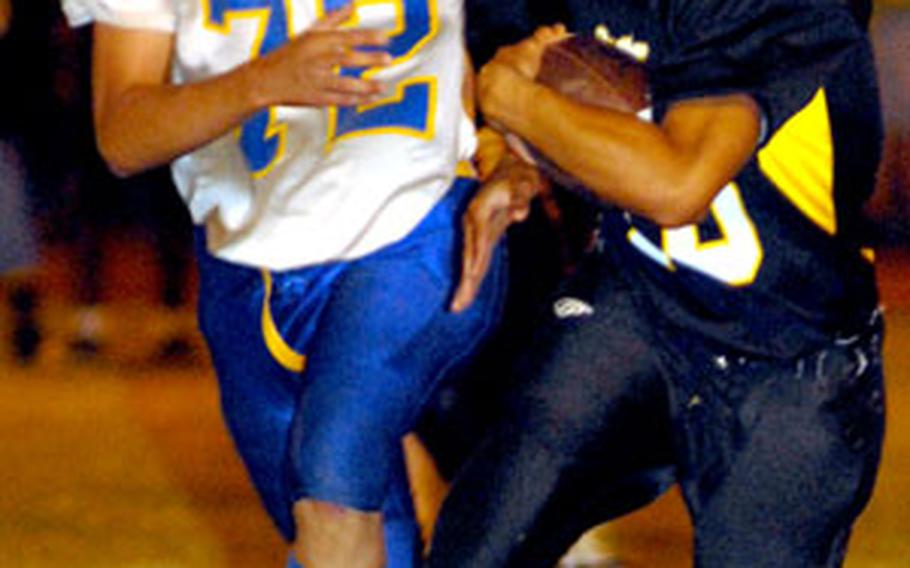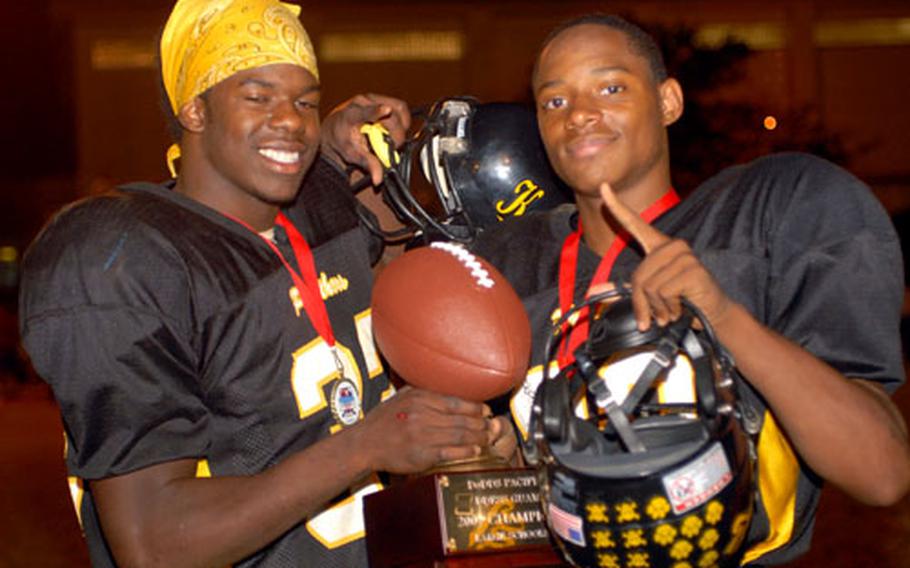 KADENA AIR BASE, Okinawa — Four touches. Four touchdowns. Everything Brandon Harris touched in the second half came up sixes.
As a result, Kadena scored 31 unanswered second-half points and captured its first Far East High School Class AA football championship, rallying from a 13-7 halftime deficit to beat Yokota 38-13 on Saturday.
"He has an uncanny way to find a seam and go through it," coach Sergio Mendoza said of Harris, who rushed for second-half scores of 42, 23 and 2 yards, finishing with 80 yards on seven carries. "It was an amazing performance by a sophomore."
"This is a dream come true," said Harris, whose 44-yard interception return with 8:18 left broke Yokota's back.
"I never thought that we'd be here. These guys, we all worked hard. I was just playing for the team. This is the best line and blockers I've ever worked with."
Before a joyous throng of nearly 2,000 at Kadena's McDonald Stadium, Kadena (4-0) finally lassoed the Class AA title that barely eluded it last Nov. 11, when the Panthers lost a 12-6 overtime heartbreaker at Seoul American.
"Many people realize how hard we worked after that loss last year," Mendoza said. "I plan to enjoy the moment. But now, we have to work even harder."
It looked as if the host Panthers had their work cut out for them as Yokota rallied from a 7-0 deficit to go into halftime leading 13-7.
Vince Coronado burst for a 5-yard touchdown run on a trap play 7:25 before halftime, capping an 80-yard, 11-play drive in 5:03.
Yokota promptly launched a drive of its own, going 77 yards on six plays in 1:50. Fullback Tony Presnell took a trap handoff 45 yards untouched down the right sideline to tie the game.
A 46-yard run by Pacific rushing leader Anthony McNeill helped set up Yokota's go-ahead score, a 10-yard pass from DeEric Harvin to Andy Silva 14 seconds before halftime.
"That is a tough program with a good coach," Mendoza said. "That's a class program. It's an honor to play them."
From there, it was all Kadena, which held Presnell and McNeill to eight yards on 10 second-half carries and scored every time it had the ball.
"Too many times, we had negative or no yards on first down" in the second half," Yokota coach Tim Pujol said. "We can't be put in that situation. We needed to stay out of second- and third-and-long, and we just didn't do that."
Harris dashed 42 yards up the left sideline to tie it 13-13 two minutes into the second half. Coronado ended the third quarter by taking another trap run 6 yards for a TD that put Kadena up 19-13.
Harris ran untouched 23 yards to make it 26-13 2½ minutes later.
Two plays later, Harris tipped Harvin's pass into his hands and raced 44 yards up the right sideline to make it 32-13.
"When momentum changes like that, things tend to steamroll," Pujol said of Harris' interception TD.
With 3:06 left, Harris capped a 70-yard, 7-play drive in 2:50 with a 2-yard TD run.
Ernest Carr, Kadena's leading rusher, ran 19 times for 167 yards, finishing the season with 592 yards on 66 attempts. Coronado added 58 yards on six carries and Roosevelt Payne had 102 yards on five returns.
"It was a long, hard grind," Mendoza said of finally coming out on top after last year's heartbreak. "I'm glad it's over."
Yokota (10-1) came up short in the title game after losing in 2005 and 2006 in the Class AA semifinals. Prior to that, the Panthers won five straight DODDS-Japan Rising Sun Bowl titles.
McNeill had 104 yards on 21 carries, leading DODDS-Pacific for the second straight season with 1,244 yards on 197 carries on the heels of his 1,706-yard, 229-carry 2006 season. Presnell totaled 92 yards on nine carries, gaining 196 all-purpose yards. Harvin was 5-for-10 for 28 yards.
"It's tough," Pujol said. "I feel for the kids. I know they're hurting."
High school Football
Far East playoffs
Saturday, Nov. 3
Class A championship
Edgren 27, Taegu American 6
Class AA semifinals
Yokota 41, Guam High 8
Kadena 27, Seoul American 10
Saturday, Nov. 10
Class AA championship
Kadena 38, Yokota 13
Saturday's summary
Kadena 38, Yokota 13
At McDonald Stadium Kadena Air Base, Okinawa
Yokota 0 13 0 0 13
Kadena 0 7 12 19 38
Second quarter
Kadena-Vince Coronado 5 run (Stanley Schrock kick), 7-0, 4:35
Yokota-Tony Presnell 45 run (Riki Byrnes kick), 7-7, 6:31
Yokota-Andy Silva 10 pass from DeEric Harvin (kick failed), 13-7, 11:46
Third quarter
Kadena-Brandon Harris 42 run (kick failed), 13-13, 3:08
Kadena-Vince Coronado 6 run (kick failed), 19-13, 12:00
Fourth quarter
Kadena-Brandon Harris 23 run (Stanley Schrock kick), 26-13, 2:30
Kadena-Brandon Harris 44 interception return (kick failed), 32-13, 3:42
Kadena-Brandon Harris 2 run (kick failed), 38-13, 8:54
Yokota Kadena
First downs 9 14
Rushes-yards 36-203 37-306
Att.-Comp.-Int. 5-10-1 1-3-0
Passing yards 28 15
Sacks-yards lost 2-14 1-7
Total offense 46-231 40-321
Returns-yards 8-115 7-148
Total yards 346 469
Fumbles-lost 2-1 1-0
Penalties-yards lost 2-18 6-50
INDIVIDUAL STATISTICS
Rushing-Yokota, Anthony McNeill 21-104, Tony Presnell 9-92, DeEric Harvin 2-5, Rainey Daily 1-2, Brandon Clayton 2-1, Chris Parmer 1-(-1). Kadena, Ernest Carr 19-167, Brandon Harris 7-80, Vince Coronado 6-58, Roosevelt Payne 4-3, Jimmy Wright 1-(-2).
Passing-Yokota, DeEric Harvin 5-10-1-28. Kadena, Jimmy Wright 1-3-0-15.
Receiving-Yokota, Tony Presnell 2-13, Anthony McNeill 2-5, Andy Silva 1-10. Kadena, Ernest Carr 1-15.