D-I football final
Kadena rallies in heart-breaking loss for Kinnick
by
Dave Ornauer
October 28, 2017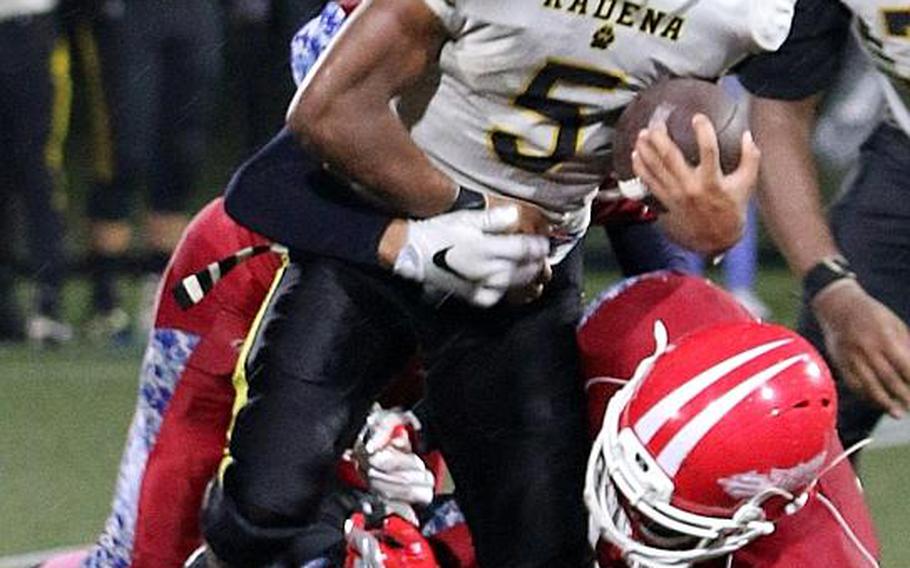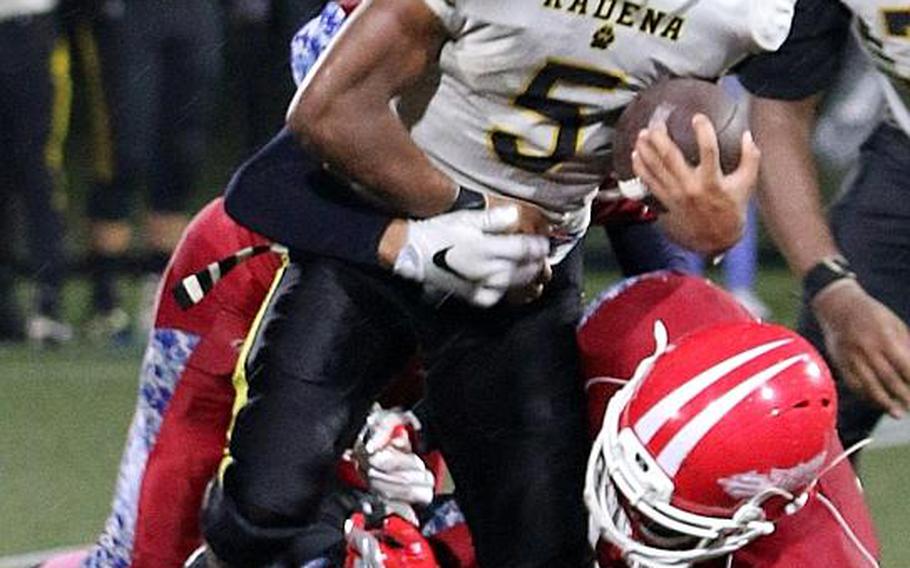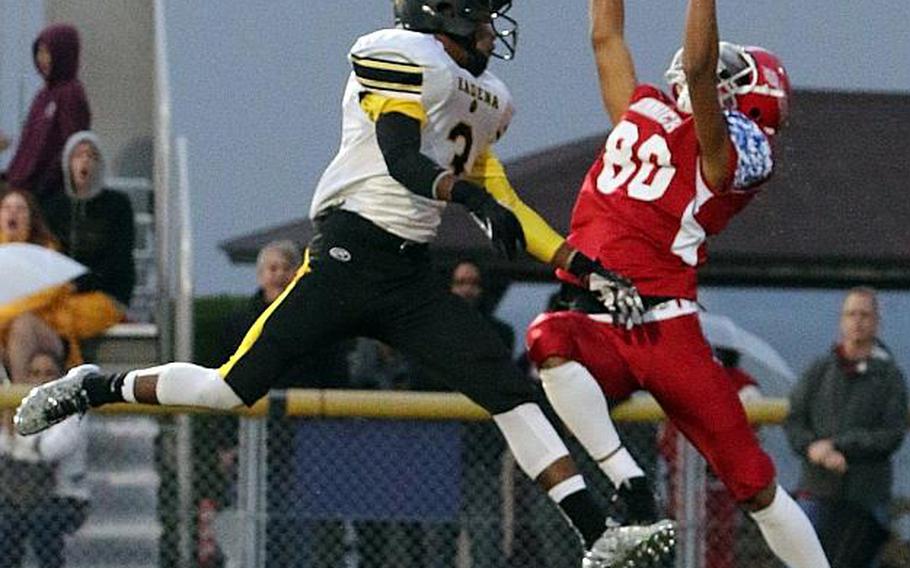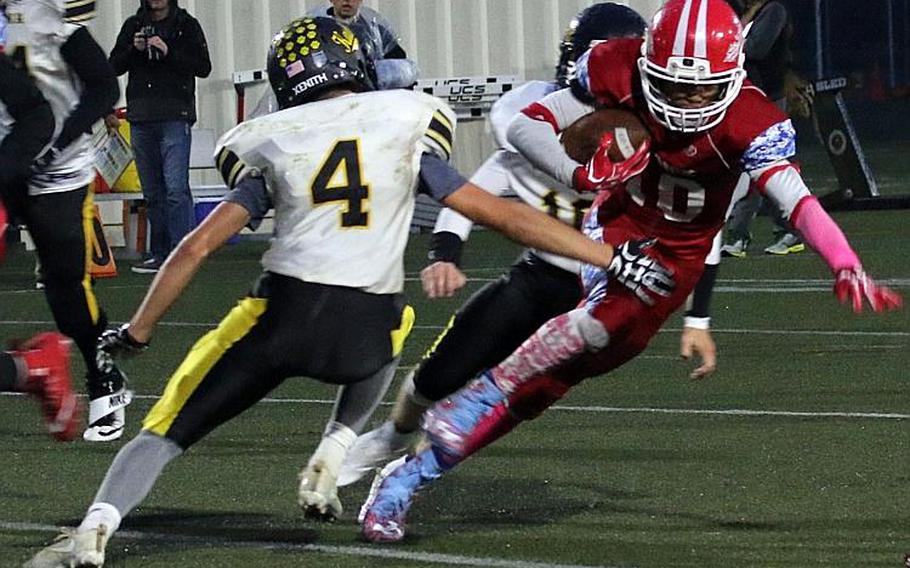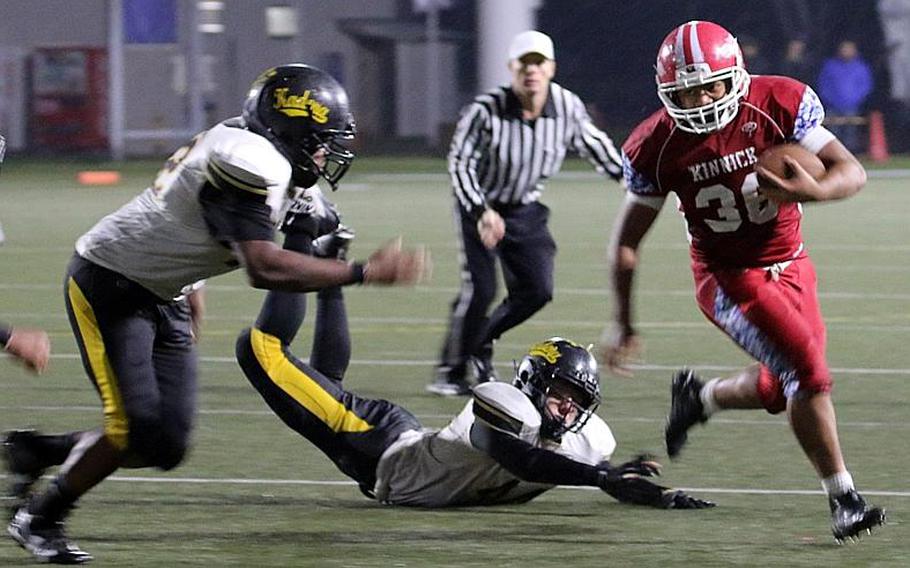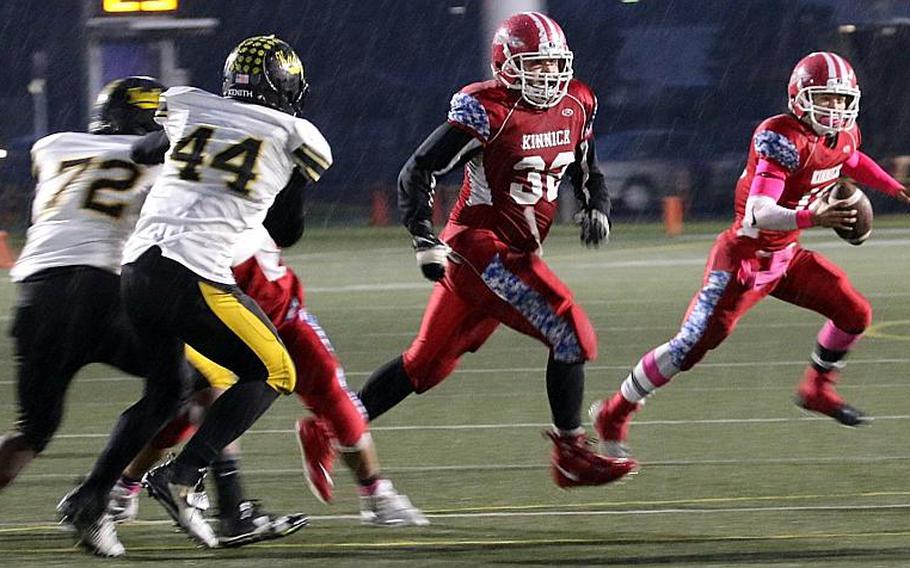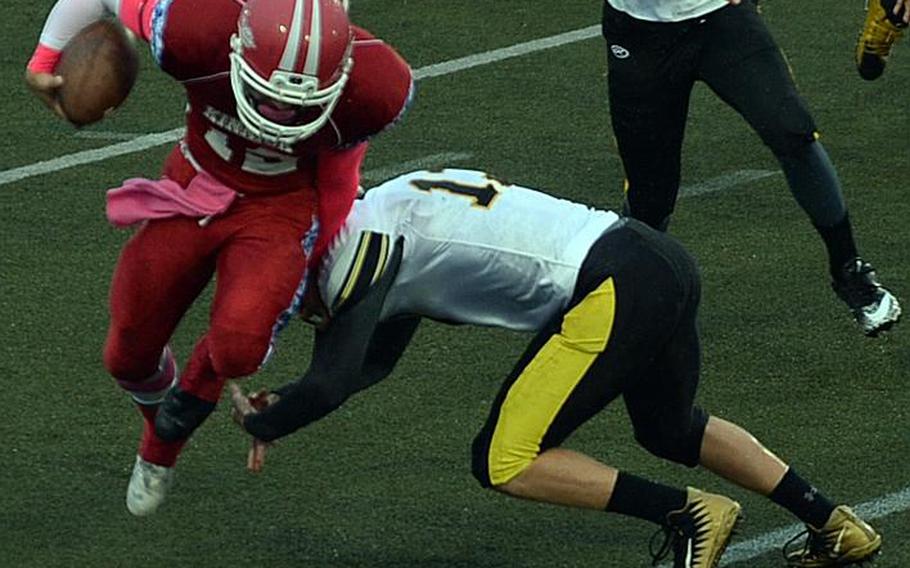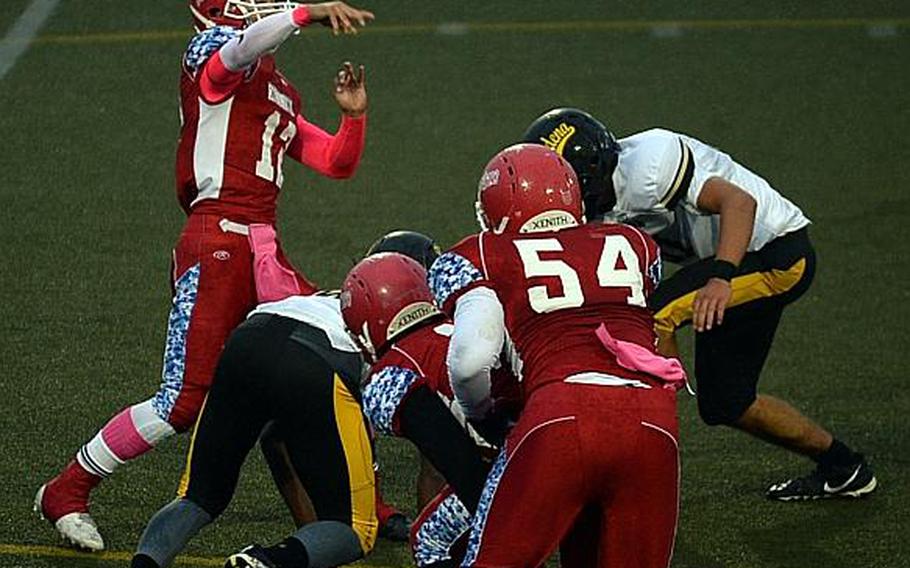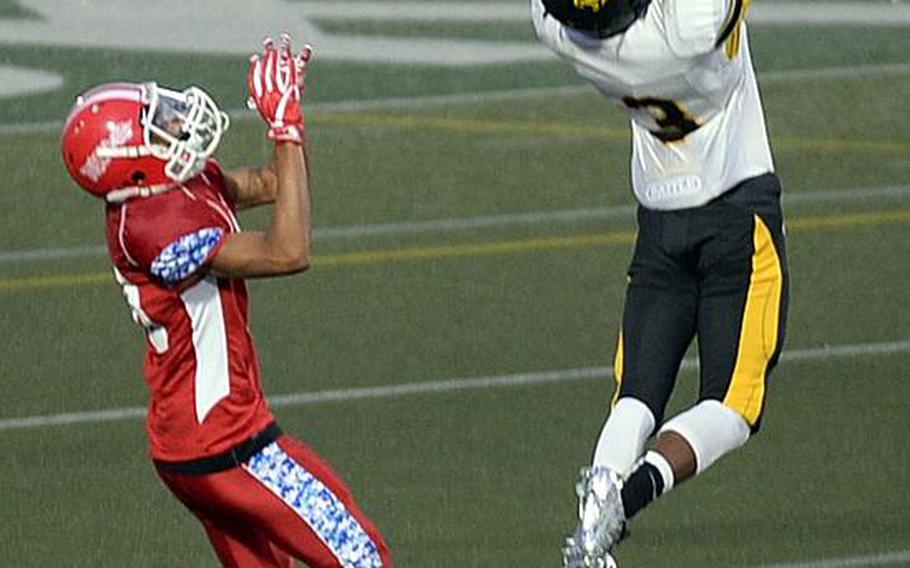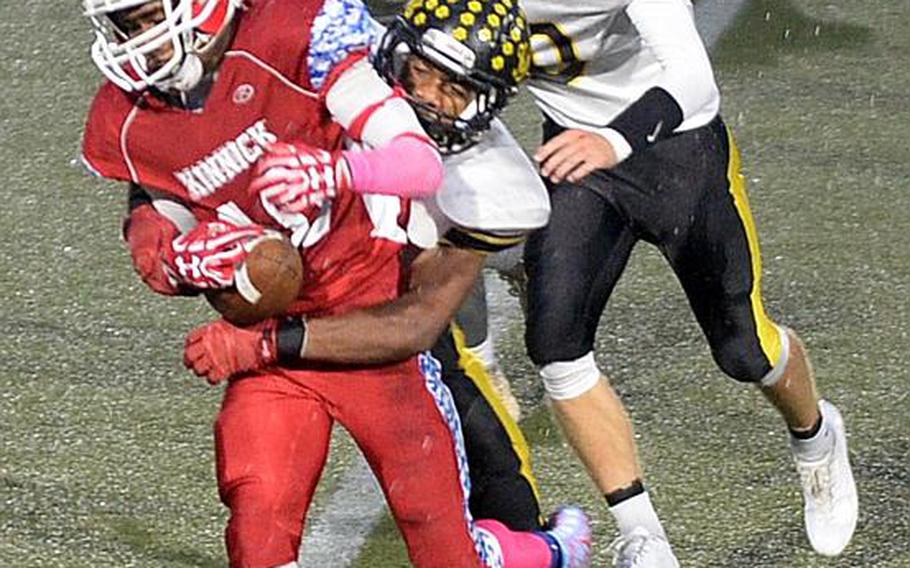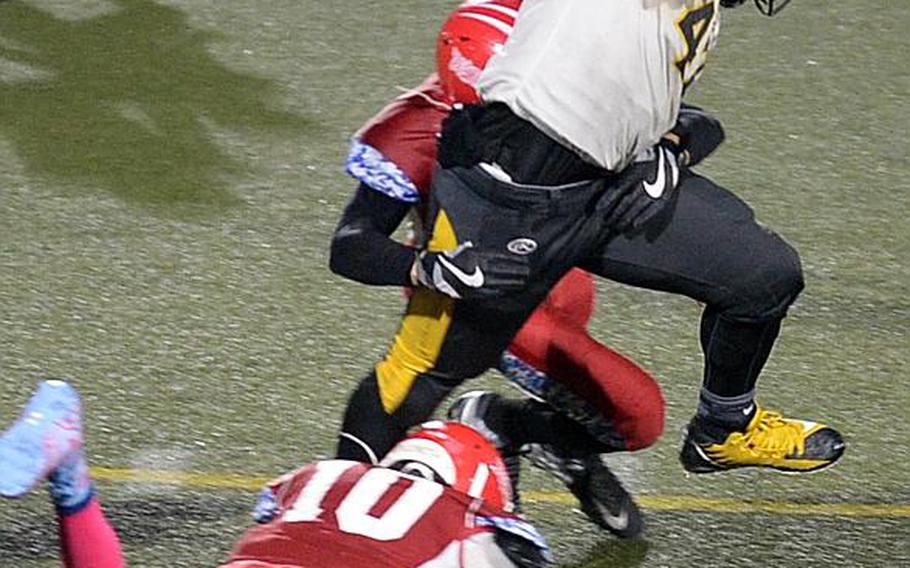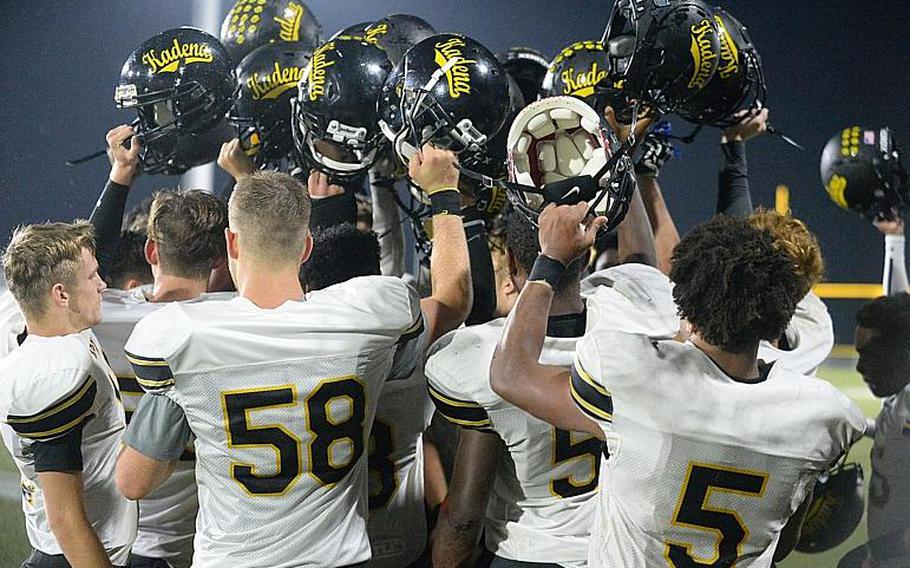 YOKOSUKA NAVAL BASE, Japan – Go for the corner of the end zone and find the championship.
That, coaches and players said, was Kadena's philosophy going into the last play of the game and the ensuing two-point conversion, on which quarterback Cody Sego and running back Eric McCarter each ran left, toward open space in the corner.
Sego's 9-yard touchdown run and McCarter's conversion capped a 66-yard, 13-play drive covering the last 4 minutes, 44 seconds of the game and rallied the Panthers to a 23-22 win Saturday at Nile C. Kinnick for their Pacific-record sixth Far East Division I football title.
"The corner was open, so I just decided to take it, run to the corner and it worked out," said Sego, who capped his career with his third title in four finals appearances.
"When I got the ball, (Sego) had a good read to pitch me the ball, I just saw open field and I knew I had to get in there for my team," said McCarter, a first-year Panther who transferred from California.
"We were looking at their (Kinnick) defensive set-up," Panthers coach Sergio Mendoza said. "For us, it was, 'Let's have courage, let's have heart and let's do our best.'"
That sequence ensured the Panthers (6-2) would win the title in their Pacific-record 11th finals appearance and hand the Red Devils, making their first finals appearance, their first loss in nine games.
And it capped an up-and-down season for Kadena. It began with three lopsided wins. Seven players were then suspended for a game due to an undisclosed code-of-conduct violation.
Then came a 45-40 loss at Kinnick on Sept. 30 and a 30-3 upset homecoming loss Oct. 13 to American School In Japan.
"We got off to a tumultuous beginning," Mendoza said. "But the boys grew, they matured. I'm really proud of them. Kinnick has a fantastic team. They're well coached. They've come a long way. Congratulations to them on a great season."
It was a different game than the first time the teams met when the teams scored 13 touchdowns, gained 916 yards and swapped the lead five times in the final quarter. This time, the teams "only" gained 648 yards, though the lead did change on three of the last four possessions.
"It was a great football game; that's championship football," Kinnick coach Dan Joley said. "That one last drive, we needed a stop and we didn't get it. I said it would come down to defense, and it did."
Defense ruled early, holding the teams to a combined 22 points through the first 38:58, followed by three touchdowns over the last 9:02.
McCarter scored on a 41-yard run on the Panthers' first play from scrimmage, then Kadena took an 8-0 lead on a safety late in the quarter.
Kinnick charged back to lead 14-8 on quarterback Kacey Walker's 1-yard sneak 2:02 into the second quarter, then Walker found Aaron Peterson from 19 yards out to put the Red Devils up by six at half.
McCarter's 26-yard run and Kian Smith's extra-point kick put Kadena up 15-14 with 9:02 left. Harry Cheng's 5-yard TD run and Vincent Boyer's placement made it 22-15 Kinnick with 4:50 left and set the stage for Kadena's winning rally.
McCarter finished with 212 yards on 25 carries and Sego 36 yards on 14 attempts. Uriah Morris carried 18 times for 96 yards for Kadena.
Walker was 7-for-12 passing for 99 yards and ran for 52 yards on 13 attempts. Cheng finished with 112 yards on 14 carries.
ornauer.dave@stripes.com
Twitter @ornauer_stripes