Kadena, Perry, ASIJ, Osan earn soccer titles
---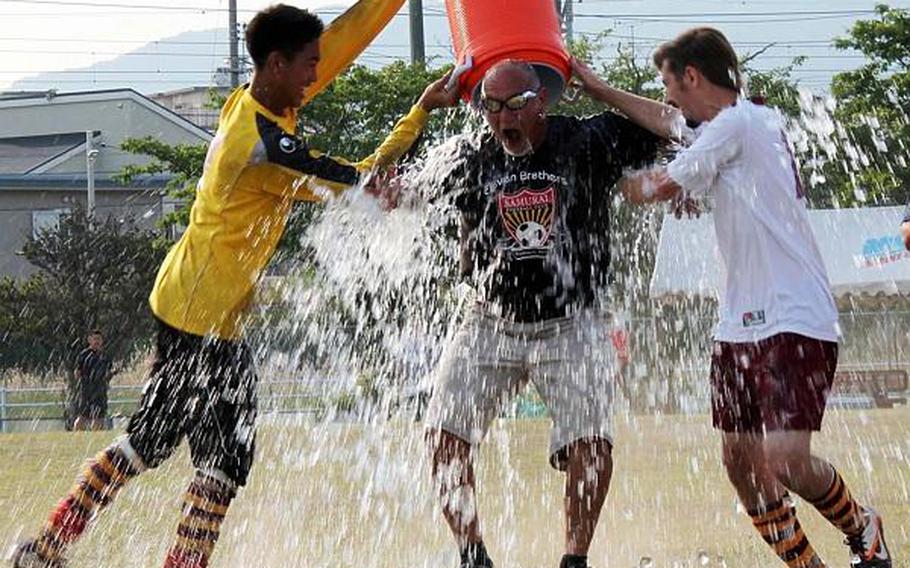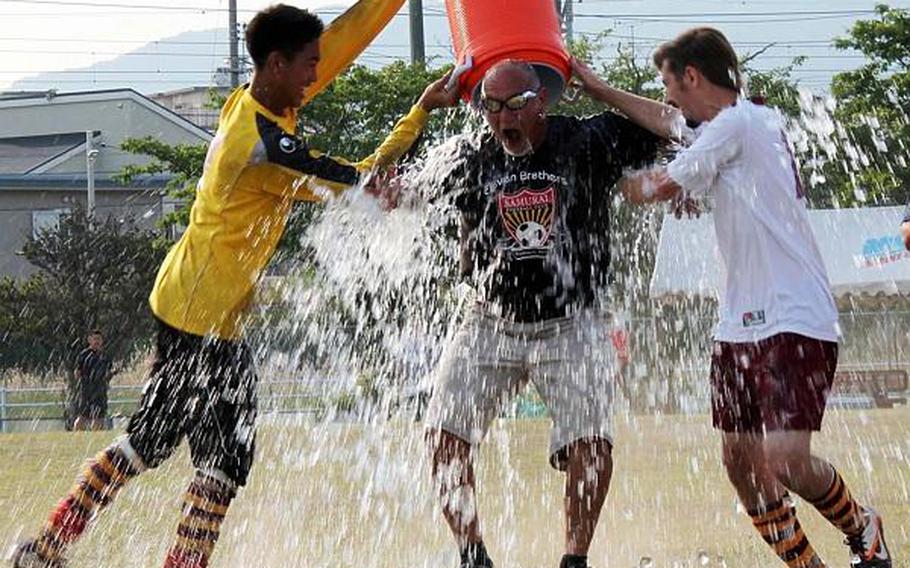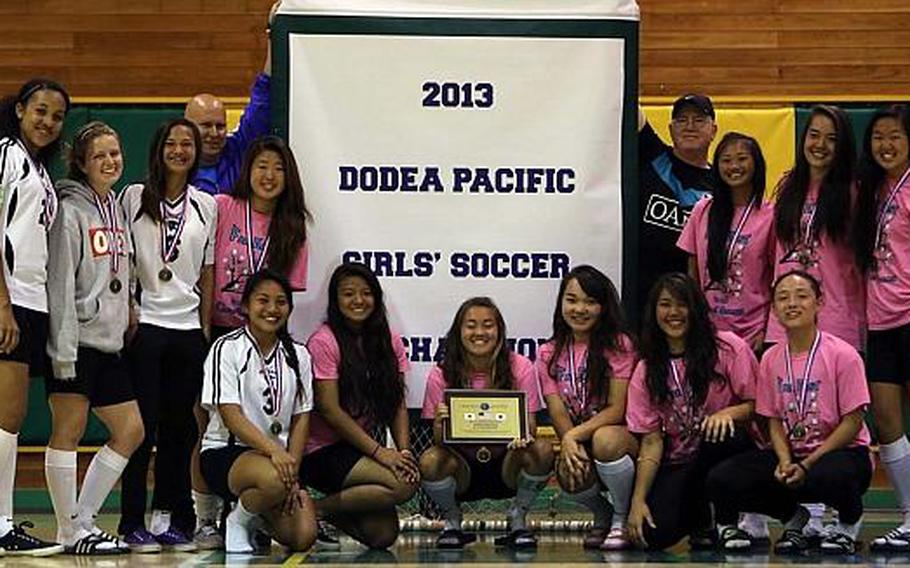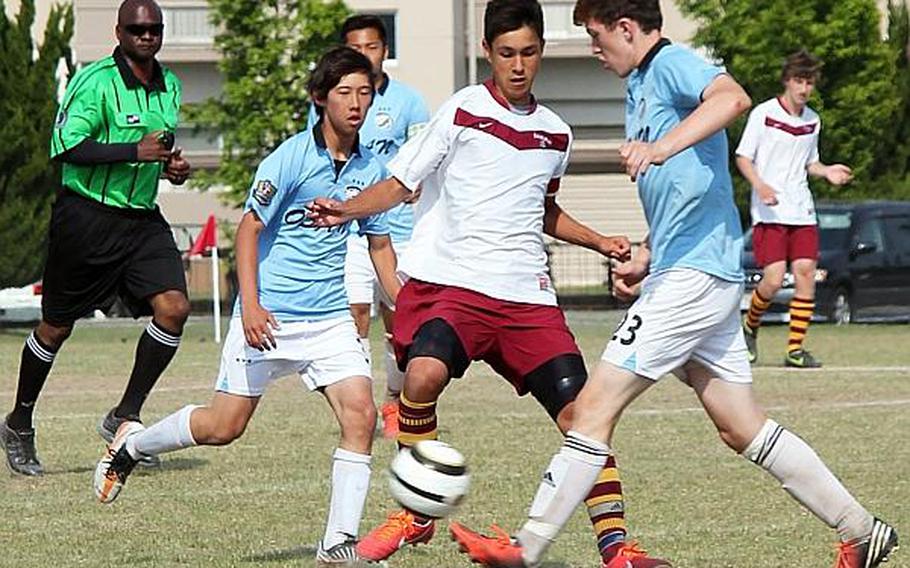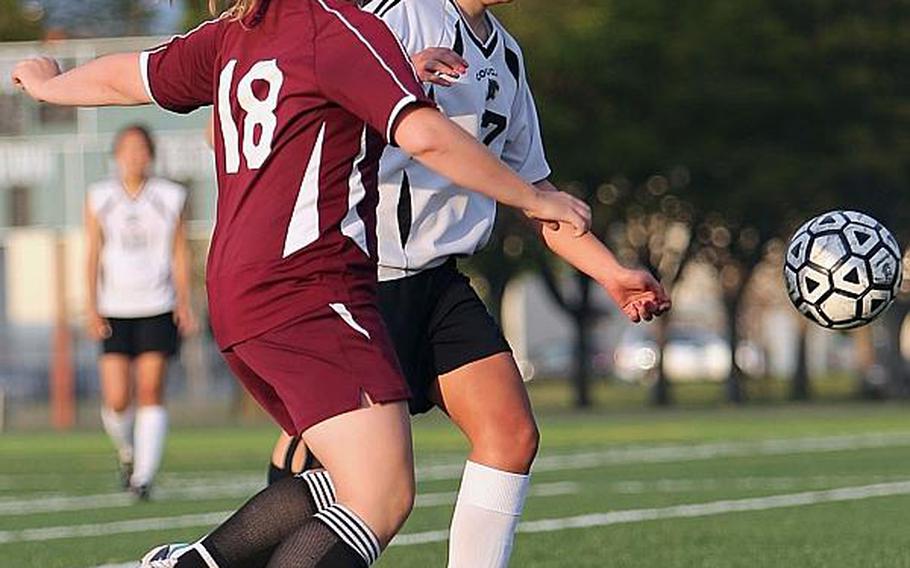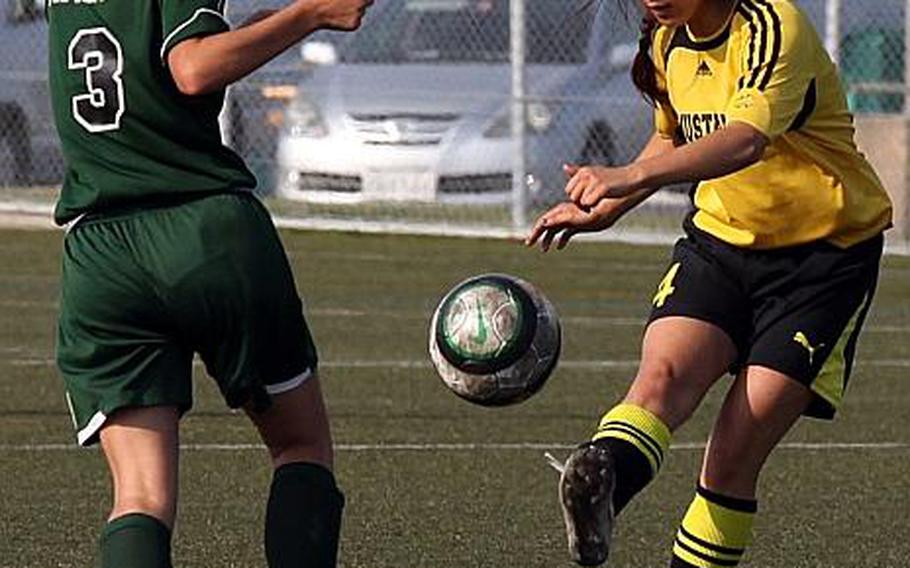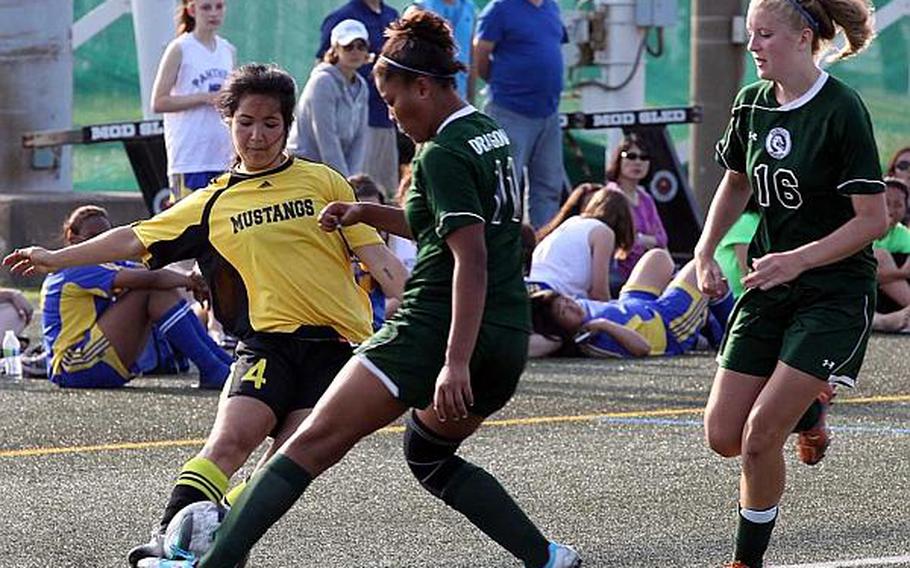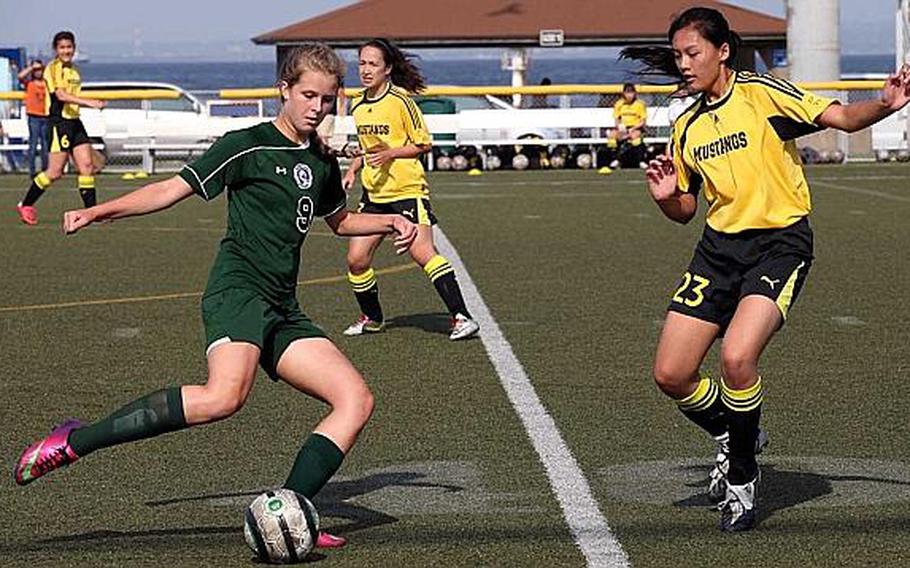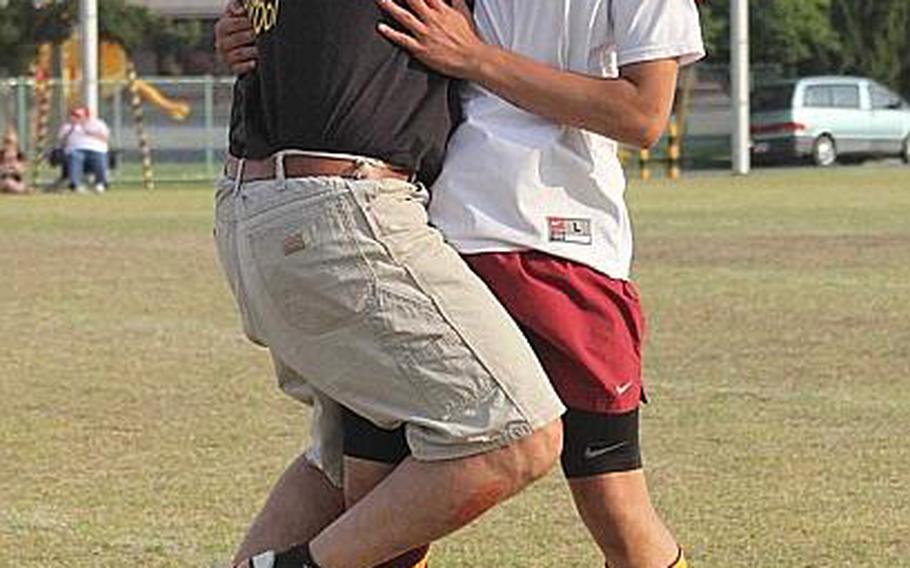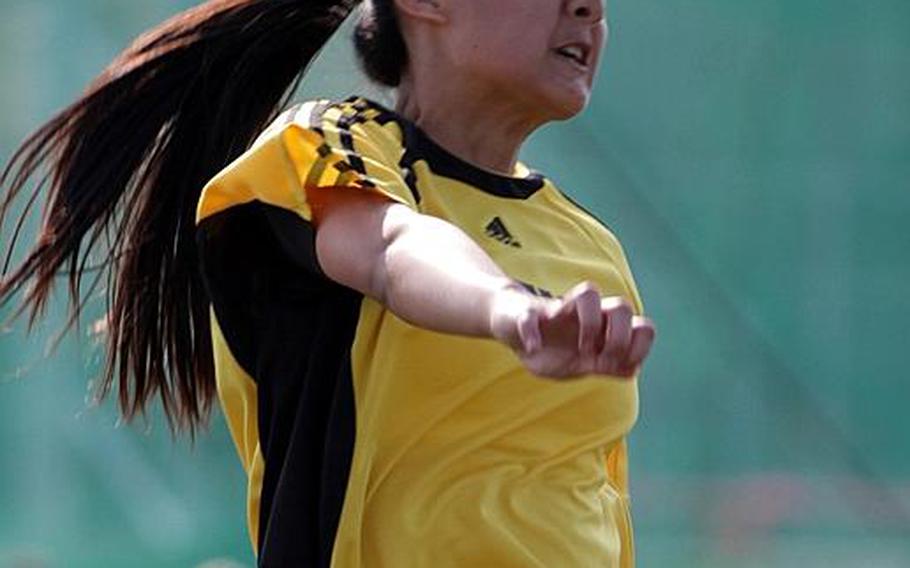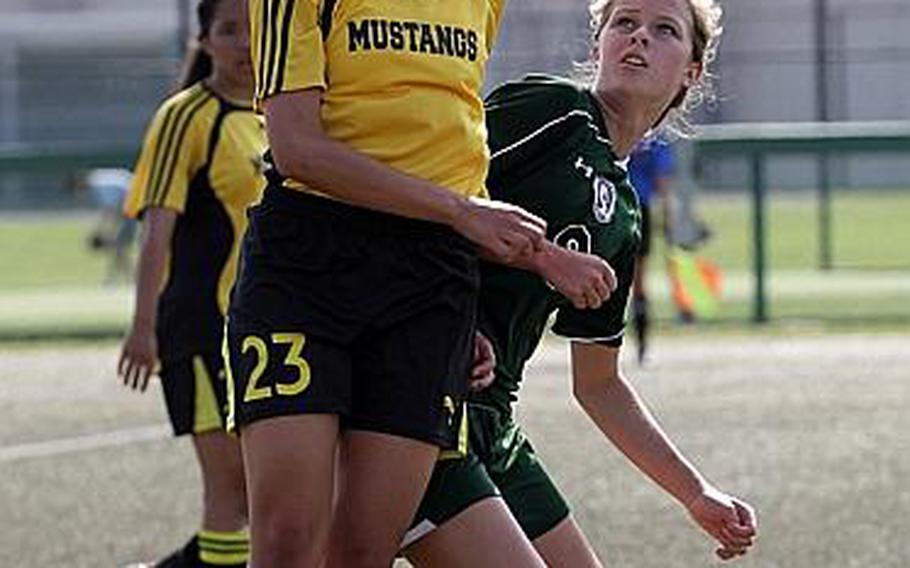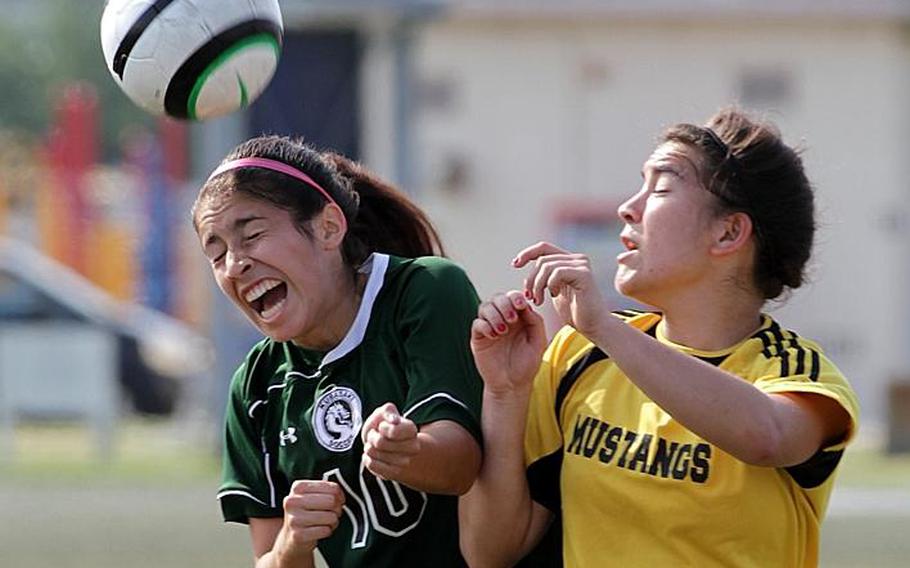 This article has been corrected. David Hamilton and Sung Plourde made a pact before the start of the season that they would switch places, with Hamilton taking over Osan American's girls soccer team and Plourde the boys for just one season, then return to their former helms in 2014.
While Plourde got to coach his son Daniel, Hamilton achieved a goal he likely didn't think possible before the start of the season – the Cougars capturing their Pacific-record eighth Far East High School Division II Tournament title.
"Oh, man. This is a dream," Hamilton said after freshman striker Ebony Madrid scored all four goals as the Cougars dethroned defending champion Matthew C. Perry 4-0 in Thursday's final at Misawa Air Base, Japan.
"I'm not going to be coaching the girls again, this was a one-shot thing, we'll be back to coaching our old teams next year. I just told the girls to win it for themselves, not just me, and they did. This has been my best experience in 15 years of coaching."
Riding the scoring touch of Madrid – who beat out Nile C. Kinnick's Kaile Johnson for top girls season goal-scoring honors, 40-38 – the Cougars rolled to their fourth Division II title in five years.
"She's the most humble, sweet girl," Hamilton said of Madrid, who will transfer to Germany over the summer. "Somebody at Ramstein (Air Base) is getting a good one."
Perry was going for its second straight title, but instead lost for the fourth time in five tries in the finals. The two teams have met in the finals the last three tournaments, and again before that in 2009.
But the Samurai didn't come away empty-handed as a school. Two-time MVP Gaku Lange scored twice as M.C. Perry won its third title in five years and second in a row, beating Osan 3-1 in a battle between Mark Lange, Gaku's father, and Plourde, who used to be soccer teammates in high school in Florida.
For the elder Lange, the victory was doubly special; his championship team of a year ago graduated three players who scored a total of 100 goals.
"Every title is different, but this one was special," he said. "This was a team. They all came together. We allowed just one goal in the tournament. Six clean sheets and one goal allowed. For boys high school soccer, that's amazing, unbelievable."
Lange pointed to his core leaders, including his son, Justin Hill, Calvin Barker and defensive star Yasuki Milsop. "They willed this victory. They wanted that third star and they got it."
While Perry made it two titles in two years, Michael Callahan began his third stint as Kadena's boys coach the same way he ended the last one, coaching the Panthers to their first Far East Division I title since he last helmed the team, in 2006.
His son Yuji earned MVP honors, and Julius Benbow scored the lone goal as the Panthers dethroned defending champion Christian Academy Japan, which was trying for its fifth overall Far East title and fourth D-I crown.
"The boys played really well in the tournament and the second half of the season," said Callahan, who was brought on board by team sponsor Nelson Youngblood in mid-April.
"Trying to develop a cohesive unit, getting the players used to a new face on the sideline and they did an awesome job the second half of the season."
Benbow scored in the 20th minute off a set piece on the left side. Bradley Zaher skulled a deep free kick into the area, and Benbow headed the ball into the corner of the net.
Dethroning of defending champions became almost a rite of passage Thursday, with three of four losing their titles.
The last one, Kubasaki, faced American School In Japan in the finals for the third straight year, and came away empty, falling 2-0 to the Mustangs in the Girls Division I Tournament.
The win capped an unbeaten campaign for ASIJ, which won its second title in three years and third overall; Kubasaki was going for its fifth championship.
"Amazing," said two-time All-Far East defender Joey Yamada. "The girls have worked hard all season. This is what we came for and we got it."
ASIJ pressed the action much of the way, and got all the offense it needed when Karan Zwaanstra converted a penalty kick after Kubasaki was whistled for a hand ball in the area.
Compounding things for Kubasaki, senior midfielder Makayla Palazzo was sent off for unsporting behavior just before halftime. ASIJ took advantage, as Maya Tromburg sent a through pass to Christina Higa who found the back of the net six minutes into the second half.
"They (Dragons) have a lot of heart and passion for the game," said Kubasaki's coach of two seasons, Annie Mudd, who will transfer this summer. "I'll definitely miss it. I'm sad that I'm leaving."
Correction Karan Zwaanstra of American School In Japan was not credited with a penalty kick goal in an earlier version of this article.
---
---
---
---