Softball preview
Kadena looking to reclaim Far East title
by
Dave Ornauer
March 9, 2012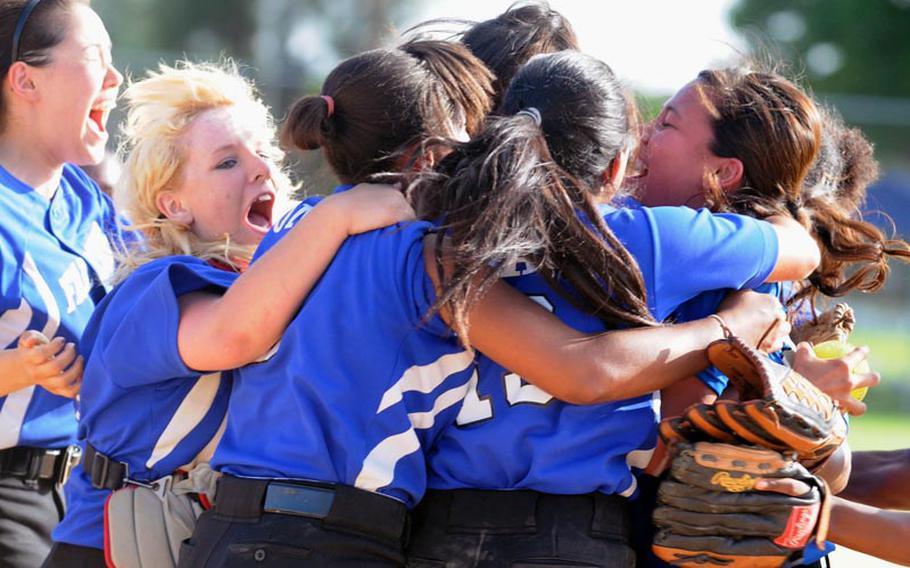 This article has been corrected
May 26, 2011, burns brightly in the minds of those who were there and wore Kadena black-and-gold. For it was the day Panthers lost something meaningful for the first time in Kadena girls softball history.
On that day, Seoul American scored four times in the top of the eighth inning and held off Kadena 14-10 in the Far East Tournament championship game. The Panthers had swept every regular-season crown and every title in every tournament they'd entered since 2003.
"That's not going to happen this year," said first-year Kadena coach Kelli Wilson, who assumed the top job from Jesse Costa with one goal in mind – revisit the summit of Far East mountain this season.
Despite losing all but a couple of veterans of Kadena's 2010 title team, the Panthers have the tools, Wilson says, to make another run, centered around senior right-handers Lauren Youngs and Kelly Kaneshiro, a stable of backup pitchers and strong bats and position players.
"They know the program, they know pretty much what's going on, the talent, the chemistry and the leadership that we have," said Wilson, who pitched four years of college, including a season at Oklahoma, after four years of high school ball in Keller, Texas.
Kadena begins what Wilson hopes is the first step toward a 10th straight island title Thursday against arch-rival Kubasaki. "We'll know after that first game. I'm pretty confident going into that game," she said.
DODDS Japan opens its season this weekend with games at E.J. King, and will play its five-team in-season tournament March 22-24 at Yokota. Meanwhile, DODDS Korea waits for the weather to warm and will begin play the weekend of March 30-31.
The Far East tournament, played at Kadena Air Base's Four Diamonds Complex its first two years, becomes a collective this year. It will be hosted by DODDS Pacific. Ed Fogell of Nile C. Kinnick High School is the event director and Zama American High School and Camp Zama resources, the school's Junior ROTC, choir and band, and umpires from the base, will support the tournament, according to DODDS officials. The tournament will be played May 21-24 at Naval Air Facility Atsugi's side-by-side fields.
Seoul American will try to defend its title with a team barely resembling last year's. Its two pitching aces, Katie Darby and Leilani Shak, have graduated, and a new coach, YunHui Danforth, who played for the Falcons in 2002-04, takes over for longtime coach Julian Harden.
Harden and Shak remain as assistant coaches on a squad that's more looking toward the future, Danforth said.
"We have a lot of younger players we've taken on who we're developing for next year," Danforth said. "Their skill levels are spread out. We're trying to make them well-rounded players."
As for a repeat Far East title run, "I'm not shooting for that as a benchmark," Danforth said. "Our first goal is to work and function as a team. If they can do that, we'll be successful at Far East."
Most of the teams in Japan are still recovering from a season truncated by the March 11 earthquake and tsunami and the voluntary evacuation. Some players returned; others graduated or remained in the States.
"A lot of teams lost key players," Zama American coach Parish Jones said. "They have a lot of youth and inexperience. It all depends on how they develop."
CorrectionKadena coach Kelli Wilson's high school in Texas was incorrectly identified in an earlier version of this article.
---
---
---