Kadena, Kubasaki teams enjoying an increase in playing time
by
Dave Ornauer
February 1, 2007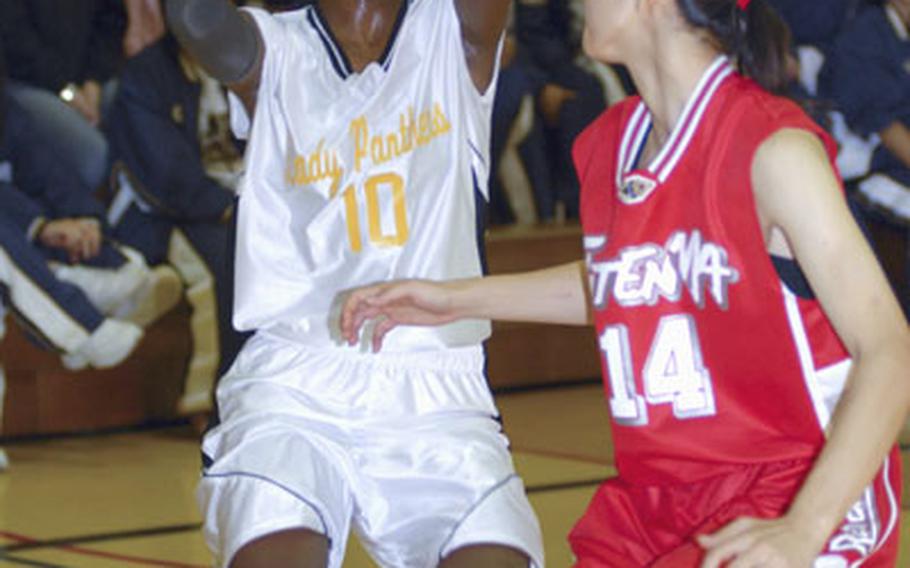 KADENA AIR BASE, Okinawa — Gayle Vaughn-Wiles smiled as she gazed at Kadena High School's Panther Pit, site of many Far East basketball tournaments.
Before more than 1,000 cheering Japanese and U.S. fans, Department of Defense Dependent Schools-Okinawa's Kubasaki Dragons were rallying from a 19-point deficit, eventually pulling out a 97-92 victory over Japanese team Konan.
It was the boys championship game of the Okinawa-American Shootout, a first-ever gathering of DODDS-Okinawa's Kadena and Kubasaki High School boys and girls teams and clubs from nine Japanese schools on the island — a culmination of a months-long effort by the district office, sponsors and backers on and off base.
"Look at us now," said Vaughn-Wiles, the DODDS-Okinawa district chief.
She was speaking of the Shootout and a Jan. 21 wrestling tournament at Kubasaki that drew five Japanese clubs and 40 wrestlers. Each was a result of a three-year effort that has more than doubled competitive opportunities for DODDS-Okinawa athletes.
It was far different from 2003, said Vaughn-Wiles and other district officials, when parents began K24EO, or Kadena and Kubasaki for Equal Opportunity.
The group castigated DODDS-Okinawa officials, contending Kadena and Kubasaki student-athletes had fewer competitive opportunities than counterparts in Japan and South Korea.
Kadena and Kubasaki squads faced $10,000 per-team air fares to fly the 1,000 miles from Tokyo and 800 to Seoul. They were confined to playing each other and whatever Japanese teams would play them — which at the time weren't many.
"It's taken us a while [but] we said all along we would support the program ... and I think we've gone farther than that," said DODDS-Okinawa district spokesman Henry Meyer.
But there were hurdles: rules that DODDS-Okinawa students must not miss school for non-DODDS-sanctioned events and that no district money could fund such ventures.
The district began vaulting those hurdles in summer 2004, when it hired Misa Akeno to liaison with Japanese schools. She's opened doors to outfits such as the Okinawa Basketball Association and took over game scheduling from schools and coaches.
Still, Meyer said, "The Japanese had no incentive. ... We had to make them need us. ... It should be educational and cultural as well as recreational. They want to learn English and experience Americana."
Kadena's and Kubasaki's season schedules have increased 50-100 percent. For example, Kadena's boys basketball team played 27 games in 2003-04. Through the Shootout, the squad already played 26 games and is on pace to play 40.
"Three years ago," said Keith Richardson, a Marine Corps Community Services employee who coaches a Japanese club team, "they were playing two teams. Now, they're getting more games, it gives them better competition and makes their programs better."
Even the K24EO leader — Bechtel Elementary School teacher Lon LaGrave — says "there appear to be more competitive opportunities within Okinawa for athletes at the high schools."
Meyer said that's due in part to Akeno's contacts; DODDS students winning six of the nine weight classes in the Jan. 21 wrestling tournament also didn't hurt: He said the Japanese coaches told him they learned the U.S. athletes "are actually pretty good competition."
The tourneys also got traction from two preceding initiatives.
When the Hong Kong International School Holiday Basketball Tournament moved to Thanksgiving weekend, Kadena and Kubasaki could take part without missing school.
Then there's Charles Burns, Kubasaki track-and-field coach and brainchild behind the Mike Petty Memorial Meet. It's held annually the weekend before spring break — which includes a Friday teacher work day so, again, students don't miss school.
"He saw a need and he addressed it," Meyer said, noting that Burns and Kadena coach Sergio Mendoza also take teams to the Kanto Plain Association of Schools Invitational meet each May, raising their own funds and ensuring no school is missed.
But, Meyer said, "Sports such as football ... still suffer from a lack of local competition.
"What matters is quality competition," he said. "So what if it's not American?"
"Teams are teams," agreed four-year Kadena basketball guard Jennifer Abel. "It doesn't matter who you play as long as it's worthwhile."
---
---
---
---