Kadena, Kubasaki girls break through at MLK
by
Dave Ornauer
January 20, 2004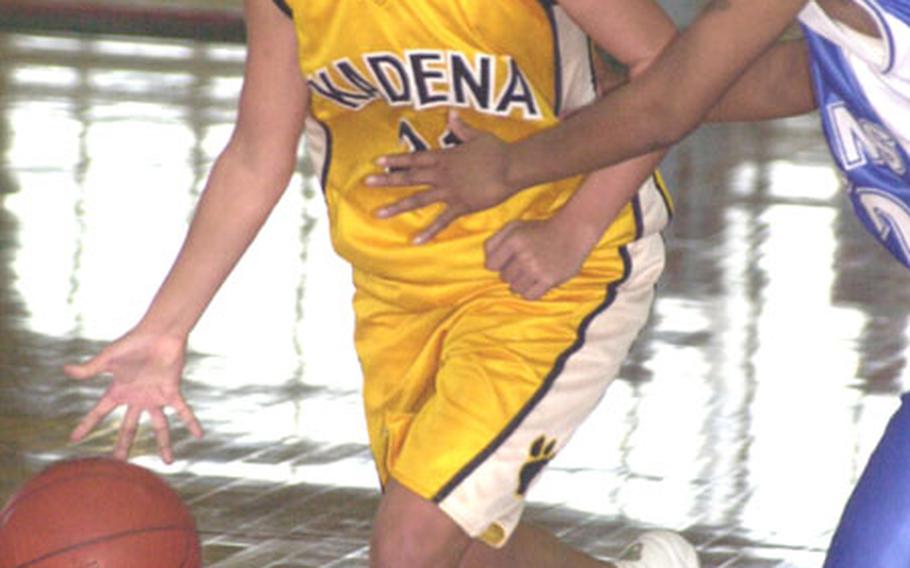 CAMP FOSTER, Okinawa — They're generally used to chasing Pacificwide titles during Far East high school tournaments in February, not January.
But Kadena and Kubasaki High School's girls basketball teams moved up that timetable by four weeks and made a bit of history Sunday in the Martin Luther King Pacificwide Open Basketball Tournament.
By winning their first-round loser's bracket games in the double-elimination playoffs, both the Panthers and Dragons guaranteed themselves berths in the semifinals — the first time high school teams have placed in the 13-year history of the tournament.
No matter where they finished, players and coaches from both teams said the days when the MLK's predominantly interservice- and open-team field could count on a high school team as an automatic "W" are history.
"The time of putting us in into the tournament as filler teams is over," said coach Ken Hudson, whose Panthers will defend their Far East high school Class AA Tournament championship next month on the very same Foster Field House courts.
The Panthers and Dragons have a long and storied history in Far East tournament play. Kubasaki holds the all-time record with seven Class AA titles, while Kadena has won four.
Past MLK tournaments have served as a platform for experience and growth, not necessarily for Kadena or Kubasaki to excel. They routinely went winless in round-robin play and exited on Saturday night.
Thus, just getting in position to play for a trophy is a "big achievement," Hudson said.
• Only once since high school teams were given entry to the MLK starting in 1997 had one won even a single playoff game (Kubasaki girls in 2002).
• For the first time, the Dragons and Panthers each earned their way into the playoffs; twice before, all women's teams were granted playoff berths in abbreviated fields.
• Kubasaki and Kadena each beat Guam's Andersen Bombers, who became the first interservice team to lose to both high school teams in one MLK.
"They know they can't take us for granted any more," said Kubasaki junior guard Erin Foote. "They have to play us as hard as we do them. It shows our heart and determination. We're getting stronger. Our determination is there. Everybody on our team wants to play up."
Playing up meant contending with a much more physical style of ball than they're used to, but they've acquitted themselves well, Kubasaki coach Bob Driggs said.
"Both teams have been playing well. We've grown a lot," he said. "It's risen us to another level. We've had some close games, and we're starting to temper that experience. Our inside play and our defense has grown head and shoulders."
Such improvement bodes well for the Panthers' and Dragons' chances at Far East, Hudson said.
"We've definitely turned the corner," Hudson said. "Our girls are understanding that is you play good, sound, fundamental ball and work together as a team, you can achieve your goals, no matter whether it's MLK or Far East."
"And the adult teams are not underestimating us any more. They know we're not here to fill out a roster spot. We're coming here to win a championship, just like they do."
Kadena Falcons base women's varsity coach R.B. Robinson concurred with Hudson's assessment.
"In this tournament, it's like any given Sunday, anybody can win," he said after the Panthers vanquished the Falcons 85-70. "The high school teams have proven they're to be reckoned with. They outplayed us. I say good luck to them the rest of the way."
Robin Szilagyi, who plays for the defending champion Okinawa Queens but serves as Driggs' assistant, expressed joy at the prep teams' progress. "They're doing wonderfully," she said. "I'm so proud of them."
Driggs boldly predicted that third and fourth place might only be a rest stop for the Panthers and Dragons.
"We're taking home trophies, but which ones?" he said. "It might blow your mind, but one of those high school teams is going to be in the finals."
"Who knows? They might not invite the high school teams back to MLK," Hudson said, only half-jokingly.