Kadena keeps momentum in dual meets, completes Far East sweep
by
Dave Ornauer
February 20, 2006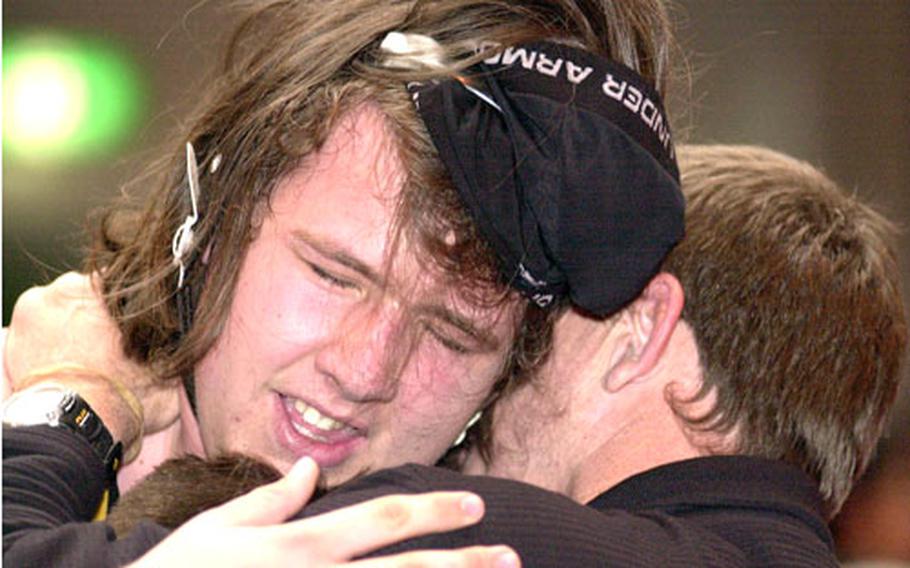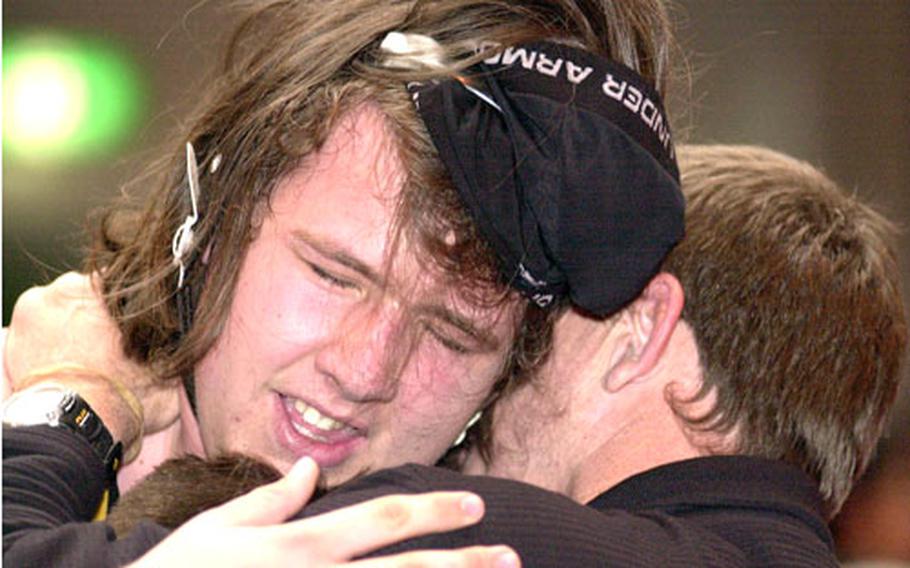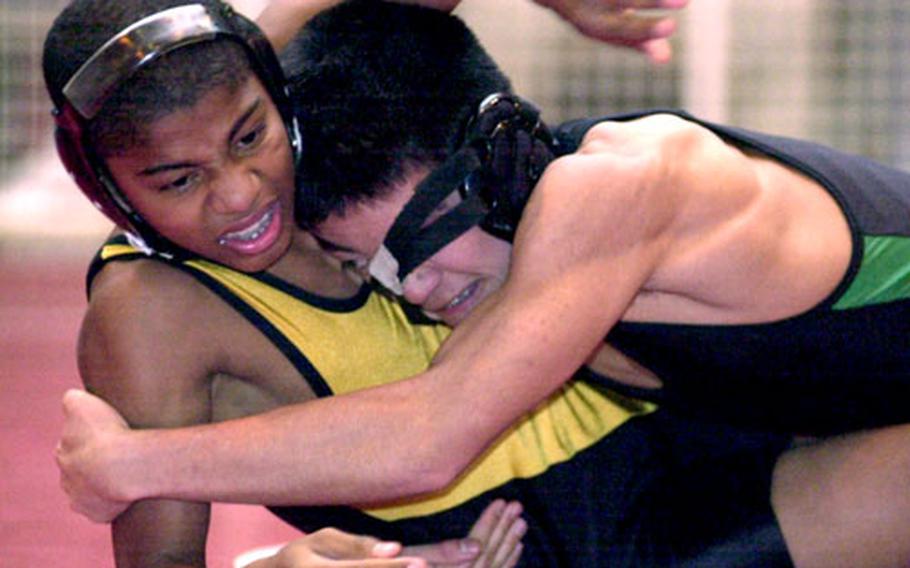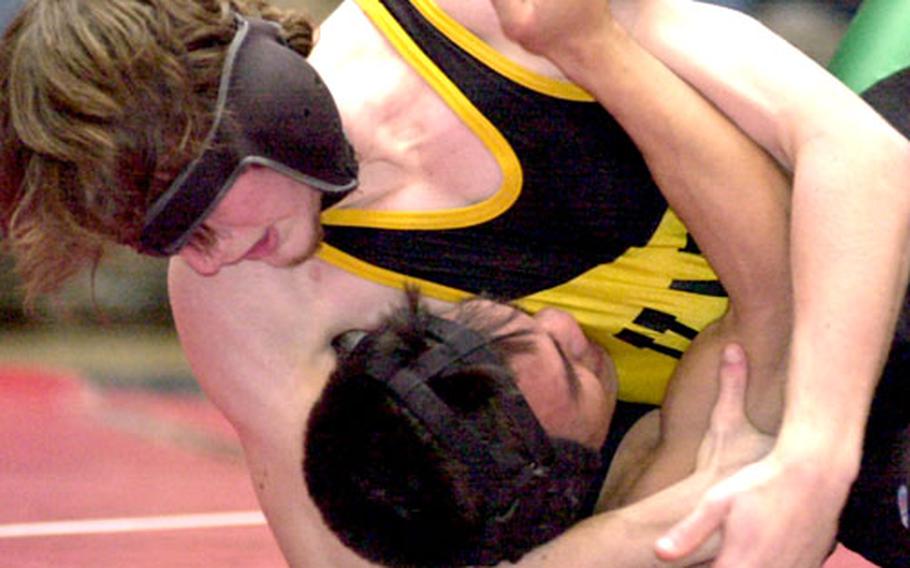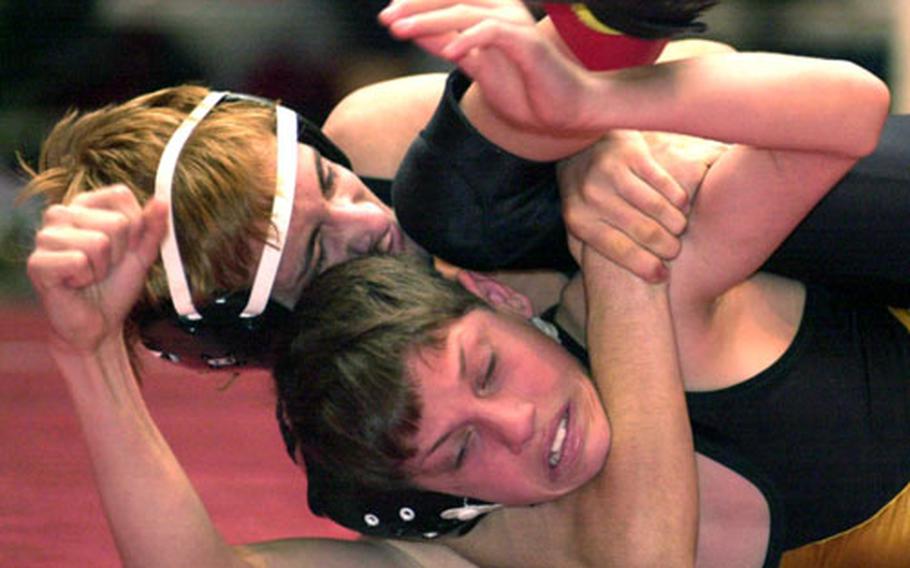 YOKOSUKA NAVAL BASE, Japan — Of all the factors Steve Schrock might have cited in Kadena's historic Far East High School Wrestling Tournament team-title sweep, he singled out a lineup change.
Brandon Stout wriggled out of a precarious situation to pin Brandon Murphy in 3 minutes, 56 seconds. That gave the Panthers a 28-18 lead en route to a 32-25 victory over Okinawa island-rival and defending champion Kubasaki in Saturday's dual-meet tournament final.
Stout's 168-pound victory never may have happened, Schrock said, if Ian Copeland hadn't offered to move down a weight class. That let Stout, sidelined much of the season with injuries, move into the lineup.
"Selfless," Schrock said of Copeland's move, which pitted him against Kubasaki's two-time Far East champion Steve Courtney but benefitted the Panthers overall. "He knew we were a better lineup with Stout and tonight proved it."
The coach had tried various lineups throughout the Okinawa Activities Council regular season, in which the Panthers swept the Dragons in three dual meets by 13 points or more. Stout, Copeland and Kenny Bergstrom wrestled from 158 to 180 pounds in the regular season, before Schrock settled on Saturday's lineup.
Courtney wrestled Copeland once during the season, pinning him in 1:28. "But he didn't worry about that," Schrock said. "Copeland wanted to do what was best for the team."
Stout's victory capped a Kadena run of six victories in seven bouts that rallied the Panthers from an early 13-1 deficit. Scott Wood (101) and Coty Hampton (108) got the Dragons off to a flying start with pins, then Trevor DiSimone (115) took a 2-1 decision over Ben Breazile.
Ben Zendejas (122), Brandon McCullough (135) and Austin Copeland (148) sparked the rally with pins, and Jacob Bloom (129) and Ben Blake (141) added decisions before Courtney kept the Dragons alive by beating Ian Copeland with a superior decision.
Stout appeared in trouble in the second period as Murphy used a head-in-arm throw to bring him down. But Stout slid out of the hold into a front press, nailing Murphy just before the end of the period.
Twenty-time Far East team champion Kubasaki still wouldn't quit. A decision from Ricky Jones (180) and a technical fall from David Miller got them within 29-25, but heavyweight Trey Marks slammed the door with a 2-1 decision over Bucky Shaw.
Schrock said his team's "mental challenge" was keeping its edge after securing the school's first Far East team title on Friday by capturing the individual freestyle team championship.
"There was no letdown," he said. "Everybody kept fighting. I'm so proud of all 13 of them, plus the JVs who couldn't make the trip. This is a program."
The future appears bright for both teams. Combined, the teams had five seniors.
"I'm happy we got so many ninth and 10th graders to this level," Schrock said but stopped short of suggesting his team would bid for a repeat next year. "So much can happen."
As for Kubasaki's youthful lineup, coach Terry Chumley felt the Dragons were just a stone's throw from last season, when they swept the team titles.
"We needed one more week," he said of a team that loses only Miller to graduation. "The future looks bright. Hopefully, I'll have to wear shades next season."
2006 Far East Wrestling Tournament scoreboard