Kadena girls rout ASIJ for second title in four years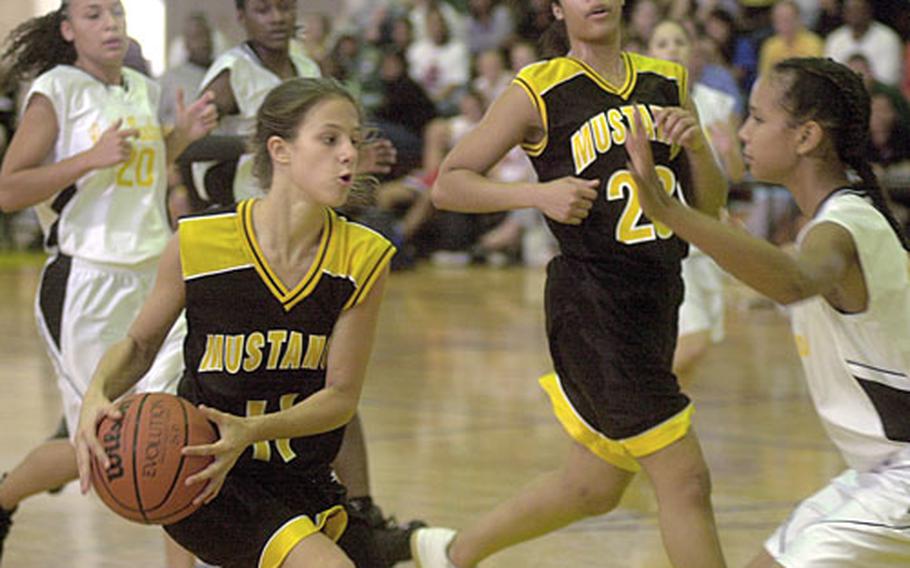 KADENA AIR BASE, Okinawa — Brooke Hudson and the Kadena Panthers dialed long distance, bringing the Far East Girls Class AA basketball title to Kadena for the second time in four years.
Hudson, a sophomore guard, came off the bench to lead a Panthers barrage of three-point goals. She hit four of her five and Kadena sank seven of its 12 during the first quarter as the Panthers routed American School In Japan 85-32 in Saturday's tournament championship game.
Hudson's father, Kadena coach Ken Hudson, said the Panthers' outside attack was chosen to counter the Mustangs' clogging the middle with their 1-3-1 zone defense.
"It was entirely by design," Hudson said. "We definitely wanted to attack from the outside. I told the girls they had to hit their threes."
Hudson had a "premonition," he said, going into the final. "I told the girls I kind of had a feeling they were going to light up the house with three-pointers, and they did."
Brooke Hudson entered the contest with about four minutes left in the first quarter. She went to work immediately, triggering a slew of perimeter shots that put Kadena ahead 27-9 after one quarter and 31-11 three minutes into the second.
The Panthers concentrated their defensive efforts on preventing ASIJ point guard Kana Maeji from getting her hands on the ball.
"We wouldn't let her have the ball to get the offense started," Hudson said. "That disrupted things for them."
Kadena was able to contain all of the Mustangs, save for senior center Catherine Thornton, who paced ASIJ with 21 points.
"She did a great job," Hudson said of Thornton. "We knew that they would try to get the ball quickly in to her. We weren't able to effectively stop her, but we stopped everybody else."
The lead continued to grow as the minutes ticked down on one of the most one-sided Class AA title games in memory.
Brooke Hudson led all scorers with 22 points. Besides Hudson's five threes, Stephanie Eik netted three, Zori Drew (11 points) made two and Danielle Mefford and Jen Abel sank one each.
Kadena brought home its fifth Class AA tournament title and its first since Hudson's debut season in 2002-03.
The Panthers were the 16th host team to book a ticket to the final since 1986; 11 have won, including the last six.
"It's been too long," Hudson said. "We needed to come back and win one. I'm also glad we had a chance to do this for our seniors."
---
---
---
---