Far East boys soccer
Kadena gets a boost in time for championship
by
Dave Ornauer
May 20, 2019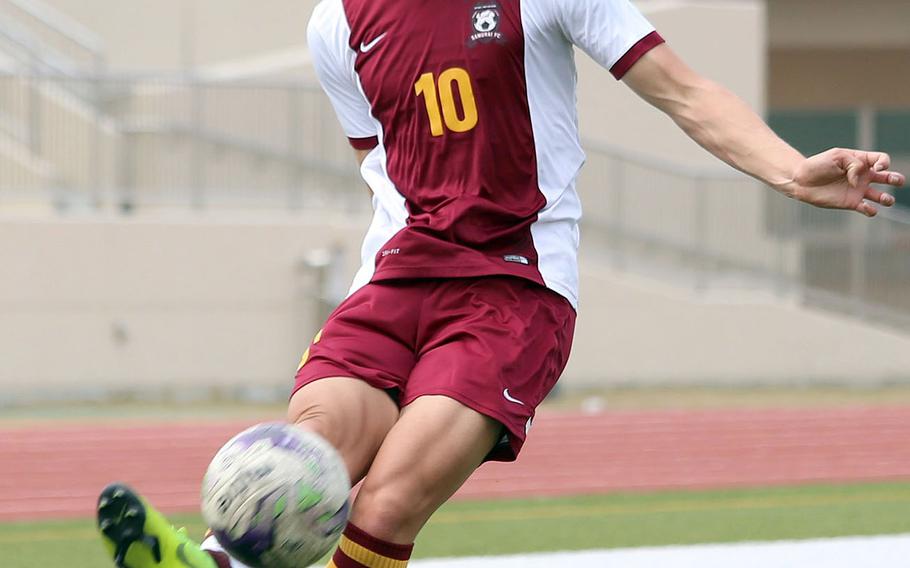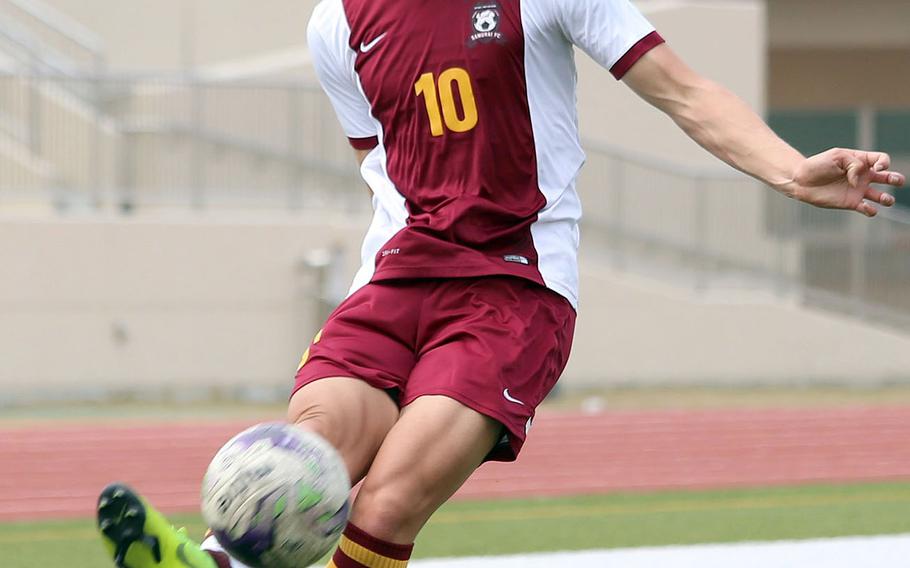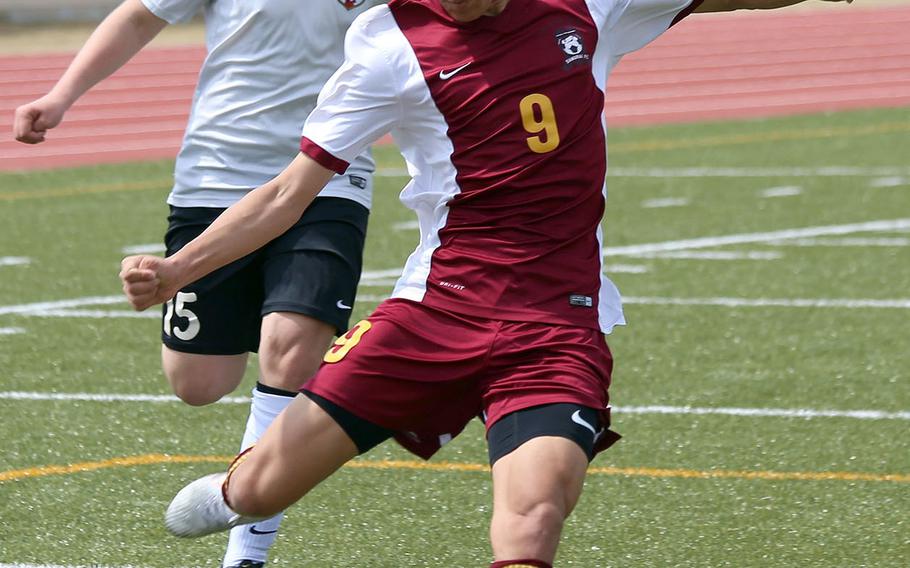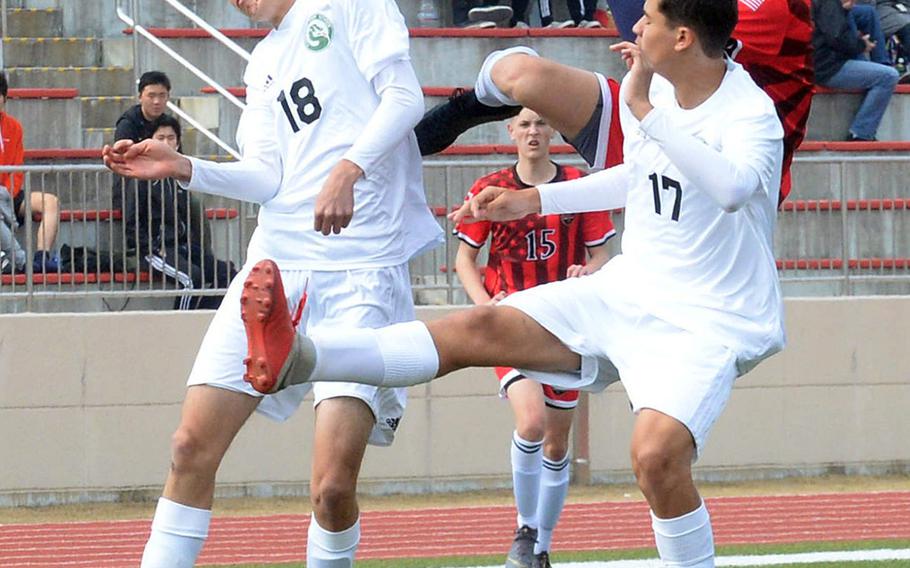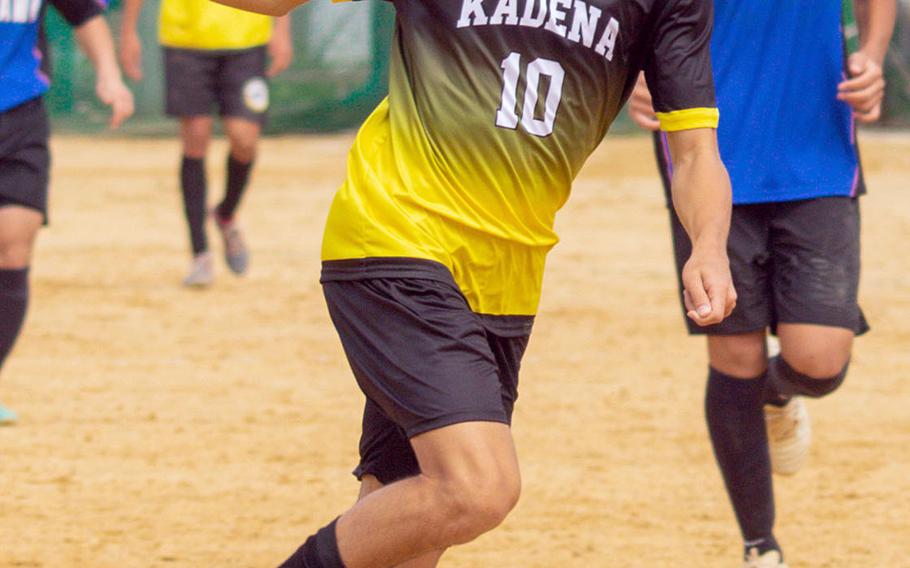 KADENA AIR BASE, Okinawa – Kian Smith could not have felt worse about a victory.
The senior striker and his Kadena Panthers teammates had just beaten host Matthew C. Perry 2-1 to take fifth place in the Perry Cup tournament on March 23.
But Smith watched most of the second half on the bench, nursing an ankle fracture that would sideline him for 1½ months – and almost cost him a chance to play in the Far East Division I Tournament to close out his high school career.
"Very frustrating. It was a long six weeks," Smith said. "The hardest part was watching my teammates and not being able to help them."
Fast forward to last Saturday, when Smith, back to nearly 100 percent, scored four times, giving him 13 on the season, as the Panthers downed Kaiho, a Japanese team, 5-2. It was Smith's first time playing a full match since the injury.
"I feel fine," Smith said, adding that he wears a brace and applies Icy Hot to the ankle before practices and matches. "I don't feel 100 percent when I'm sprinting, but it's good enough."
Good enough, he says, that maybe he and his Panthers can reclaim what they won in 2017 but lost last year in the D-I finals to arch-rival Kubasaki.
"I'm very confident that we'll win it this year," Smith said.
Host Kadena is one of the four teams playing in the D-I tournament, which begins Wednesday with 10 matches lasting through Friday, a round-robin and single-elimination tournament.
The Panthers were also slated to host the Division II tournament, but that was moved to Matthew C. Perry due to lack of sufficient billeting at Kadena. D-II features nine teams, with pool play starting Wednesday and a single-elimination tournament to follow.
Defending champion Kubasaki is entering the tournament with the mindset that "we don't know what to expect," Dragons coach Chris Eastman said. "We don't see any favorites. And it's going to be brutally hot. It'll make for a rough three days of soccer."
It makes no difference who plays whom and when, Dragons senior Jeff Horton said. "Any one of these teams can beat us," he said. "We have to go 100 percent."
Perry was tabbed as the D-II host in late April and was able to come up with billeting and referees at the last minute, "otherwise it might not have happened," Samurai coach Mark Lange said.
Perry is the last DODEA team to win the D-II, three years ago, and Lange feels that while the field is much closer than it's been since 2016, the road to the tournament title still goes through two-time defending champion Christian Academy Japan.
"I think they could go Division I and compete," Lange said.
CAJ is packed with underclassmen. "But we are a bunch of young guys working together. Got some stars in the making, though," coach Keesh Kawaguchi said.
Lange said that Yokota, second place the last three years "can't be counted out," that Osan, winner of its Korea Plate Tournament, and even Robert D. Edgren, which played tough in the Perry Cup, "can be a good team."
Winning the Korea Plate title was a "big confidence booster," Cougars junior Joey Betts said. "We feel we have as big a shot as anybody" to win the D-II title. "Any team can beat any team on any given day. We're not going to take anybody lightly."
Lange characterizes the D-II tournament as "wide open. It should be exciting," he said.