Kadena gains a lot despite final loss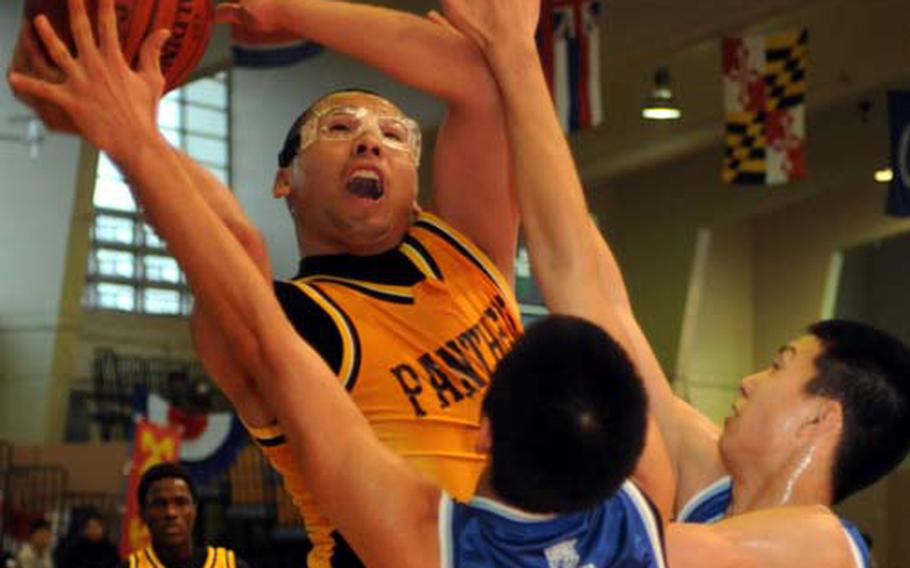 Kadena ended the 4th Okinawa-American Basketball Shootout the way the Panthers began it, falling to the top-ranked Japanese team on the island in the tournament championship.
But even after his team lost a heartbreaker to Konan 60-57 Sunday, Kadena's coach said the tournament was a valuable building block for the team's chances in next month's Far East Class AA Tournament at Yokota.
"Any time you get a chance to play quality teams, it's great preparation," Robert Bliss said after the finals defeat. "Great tournament. Great competition with the top Okinawa teams."
Along with Kadena's and Kubasaki's boys and girls teams, the three-day tournament included 12 Japanese teams, all ranked in the top 10 among the prefecture's 64 teams.
The tide of Sunday's title game turned in Konan's favor after the Panthers seized a 30-21 edge, their biggest of the game, on L.J. Hubbard's three-pointer from the key 1:42 before halftime.
Over the next eight minutes, Konan outscored Kadena 23-6, taking the lead for good 34-32 on Kotaro Mitsushima's rebound layup with 6:20 left in the third quarter.
"Konan's a great team. They made a lot of long-range jumpers when they needed to. They got a couple more good looks and made more shots than we did," Bliss said of Konan's second-half uprising.
Konan took its biggest lead at 54-42 early in the fourth quarter before Kadena made one last charge.
Taiyo Robertson cut it to 58-57 with 50 seconds left, Konan hit two foul shots, then the Panthers seized one last chance to tie it when Kevin Paranal stole the ball with 3.4 seconds left. Robertson's game-tying three-point attempt bounced off the iron at the buzzer.
Paranal paced the Panthers with 20 points, Hubbard added 14 and Robertson 10.