Kadena, Foster–Futenma remain atop OFL standings
by
Dave Ornauer
October 31, 2005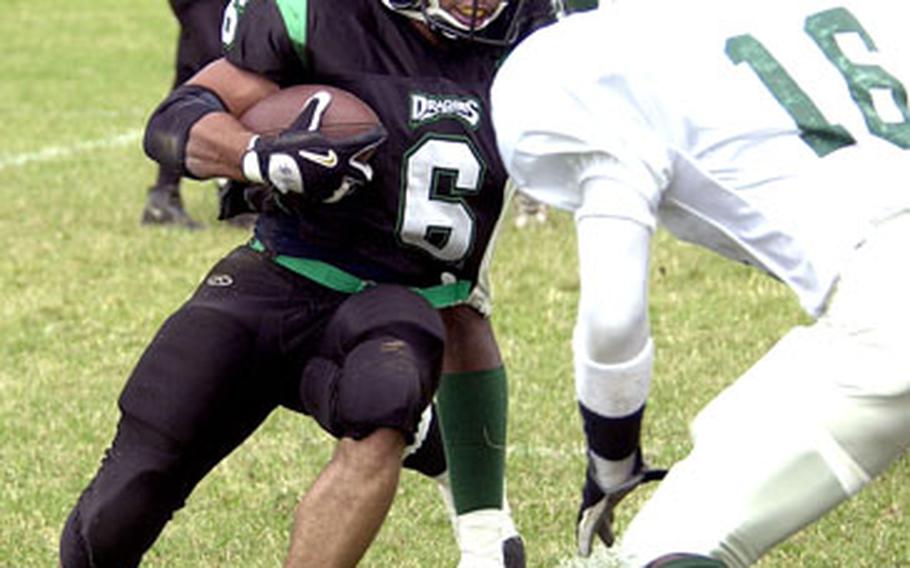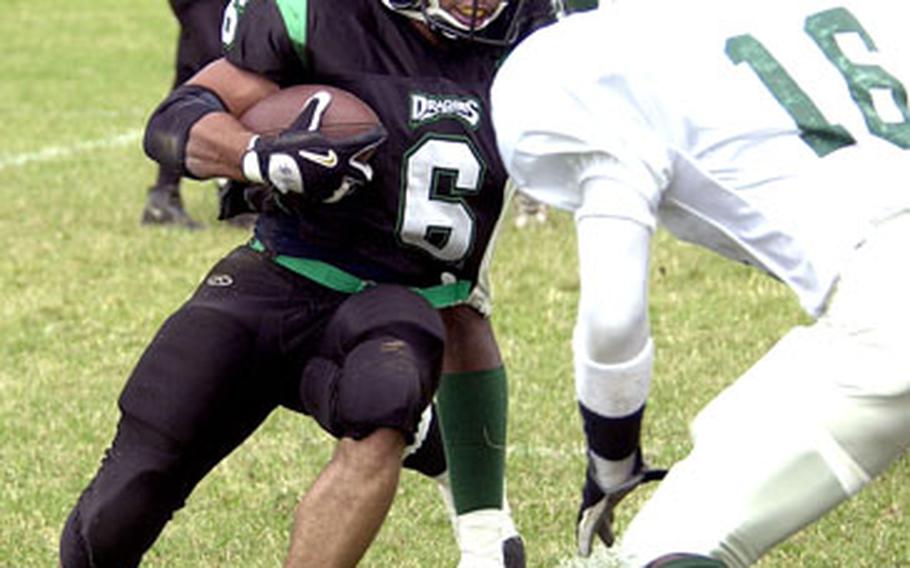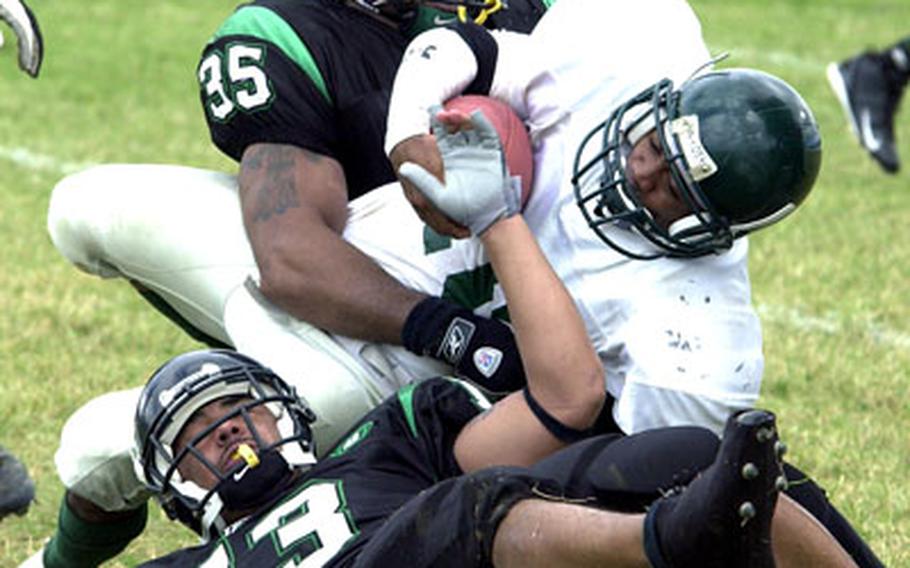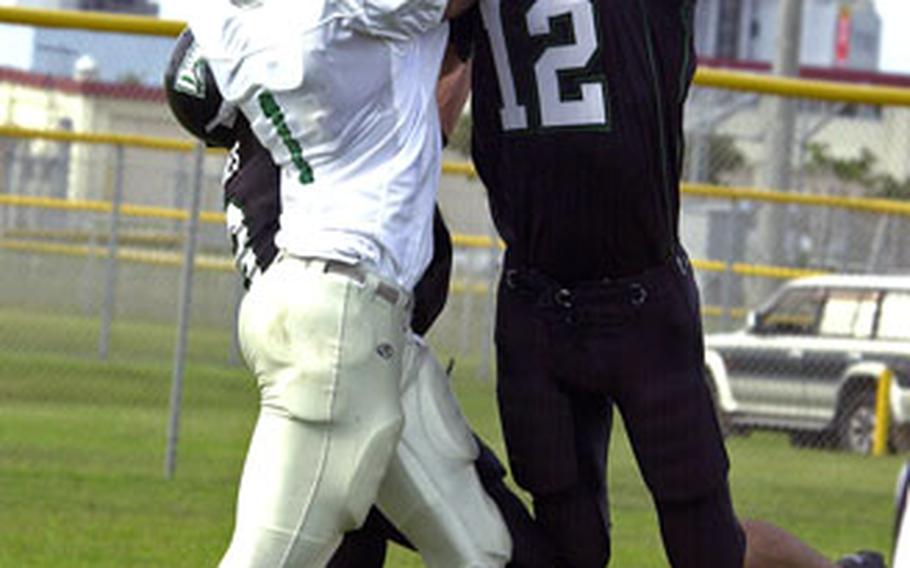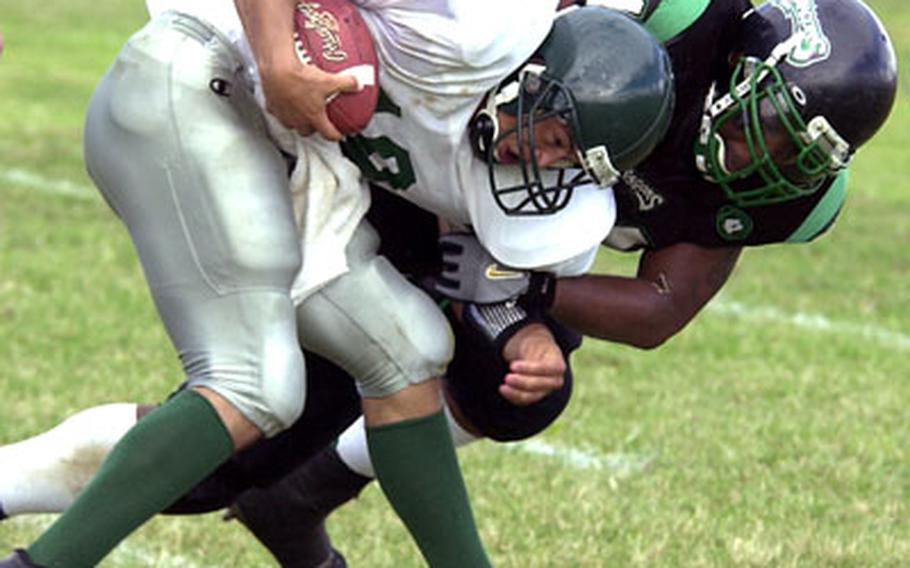 CAMP FOSTER, Okinawa — Coach Will Cupp seemed upset. His Kadena Dragons held onto the top spot in the Okinawa Football League but not before overcoming four interceptions and surviving a Courtney-Hansen scare that threatened his team's 15-game winning streak.
"We had a lot of stupid mistakes," Cupp said after the Dragons defeated the Titans 13-6 Saturday at Foster Field 1.
"Four interceptions. That's hard to overcome. But we played with poise as required to stay in the game and our defense stepped up 99 percent of the way."
Quarterback Adam Hendrickson overcame the four interceptions to finish with 205 yards and a touchdown, and the Kadena defense had four sacks and forced three turnovers.
While the Dragons did much of their damage in the air, Foster-Futenma struck mainly on the ground against Kinser. Christopher Brooks scored three touchdowns, giving him seven in the Bulldogs' last two games, as Foster-Futenma shut out the Knights 32-0.
Foster-Futenma (4-1), which has the league's top scoring defense, stayed a game back of Kadena (5-0) in the standings. The Dragons and Bulldogs earned the top two spots in the playoffs that begin Nov. 19. Kinser fell to 2-3 and Courtney-Hansen to 1-4.
Kadena 13, Courtney-Hansen 6The Dragons moved the ball well between the 20-yard lines but had problems finishing their drives. They suffered an interception by the Titans' Donald Jackson and a missed field goal. They turned the ball over on downs deep in Courtney-Hansen territory on three consecutive first-quarter possessions, then found themselves on the wrong end of a 6-0 score late in the half.
William Shepherd intercepted Hendrickson's pass at the Kadena 20-yard line. Two plays later, David Burnell zigged 10 yards into the end zone for the Titans' lone touchdown 3:52 before halftime.
Kadena responded with a 13-play, 80-yard drive, with Hendrickson going 5-for-6 for 77 yards, including a 23-yard touchdown pass to Tarreck Jackson that tied it 6-6 at intermission.
Twice in the second half, Courtney-Hansen's defense provided scoring opportunities deep in Kadena territory only to have the offense give each back.
Jonathan Molloy returned an interception 34 yards to the Kadena 22. On the next play, Courtney-Hansen quarterback Juan Garcia hit tight end Frank Mbanusi — but the pass went through his hands and was picked off by Kadena's James Betts.
On the next possession, Hendrickson again had a pass picked off, this time by Edwin Rouson, who ran it 41 yards to the Kadena 10. But two plays later, the Dragons' Michael Soster intercepted Garcia's pass in the end zone.
Kadena's Chris McIver helped set up the game-winning score by returning a punt 25 yards to the Courtney-Hansen 4-yard line. Three plays later, tailback Isaac Warren scored from the 1 and Daniel Noyes kicked the extra point. Betts recovered a fumble on the Titans' ensuing possession and Kadena ran out the clock.
"I can live with poor offensive execution, if it doesn't result in a loss, once a season, and that was it," Cupp said. "The rest of the way, we will run full throttle, unstoppable."
Hendrickson completed 19 of 34 passes. Jackson caught seven passes for 96 yards, A.J. Hickman had 65 yards on six receptions and Eric Lazenby had four catches for 36 yards. Warren led Kadena's rushers with 54 yards on 13 carries. Kevin Carter and Paul Riley each had 1½ sacks.
Garcia went 5-for-14 for 123 yards and Burnell ran 16 times for 40 yards for the Titans.
"I hate losing a game like this. We gave away another one," Titans coach Rodney Best said. "We had too many chances. Lack of execution. We need to improve our offensive team play."
Foster-Futenma 32, Kinser 0Unlike the Dragons, the Bulldogs left little to chance, holding Kinser to minus-1 yard until the Knights' final possession, a drive of 77 yards to the Foster-Futenma 21. That ended with Mark Schaeffer's interception of Jacksby Sewell's pass at the Bulldogs' 5-yard line.
Before that, Brooks ran for touchdowns of 3 and 10 yards within a 1:15 span late in the first half, then added a 1-yard TD run with 8:16 left in the game. John Willis got the Bulldogs on the board at the end of the first quarter on a 19-yard pass from Chris McDougal, then ran a reverse 11 yards for a touchdown with 2:44 left in the third quarter.
Brooks ran 15 times for 106 yards, pacing a Bulldogs ground game that gained 255 yards on 43 carries. Tim Grant blocked a punt, J.J. Janabajal recovered a fumble and William Stubblefield had a sack. Sewell went 4-for-14 for 58 yards for a Kinser offense held to just 56 yards.
Okinawa Football League
W
L
Pct.
PF
PA
Kadena
5
0
1.000
163
30
Foster-Futenma
4
1
.800
166
19
Kinser
2
3
.400
56
126
Courtney-Hansen
1
4
.200
70
91
Ryukyu University
0
4
.000
0
189
Saturday's games
At Camp Foster, Okinawa
Kadena 13, Courtney-Hansen 6
Foster-Futenma 32, Kinser 0
Sunday, Nov. 6
At Camp Foster, Okinawa
Courtney-Hansen vs. Ryukyu University, 1 p.m.
Foster-Futenma vs. Kadena, 5 p.m.