Kadena feels need to prove itself again
---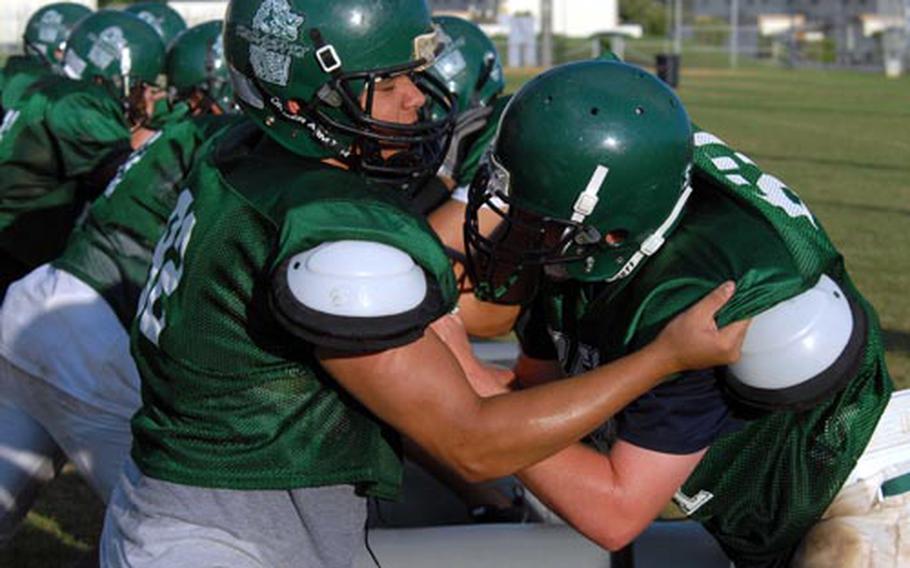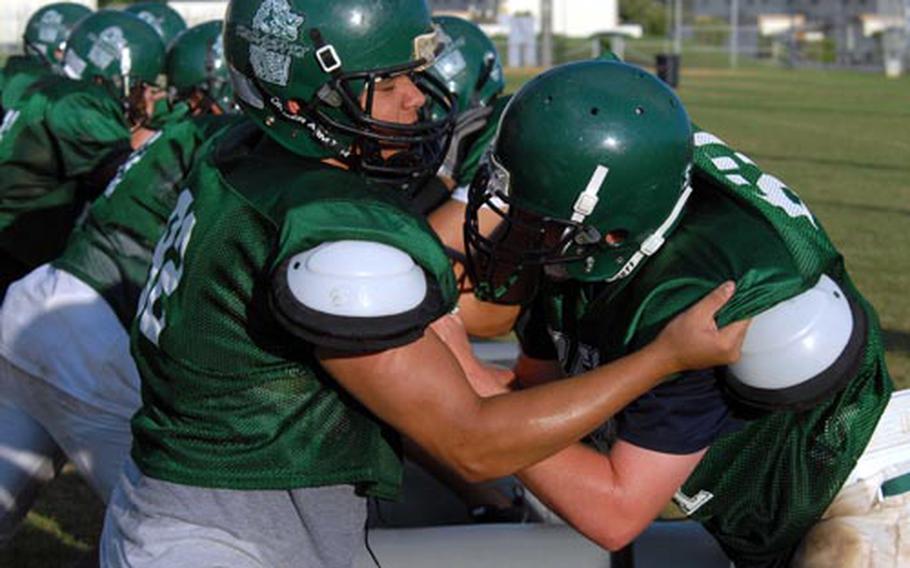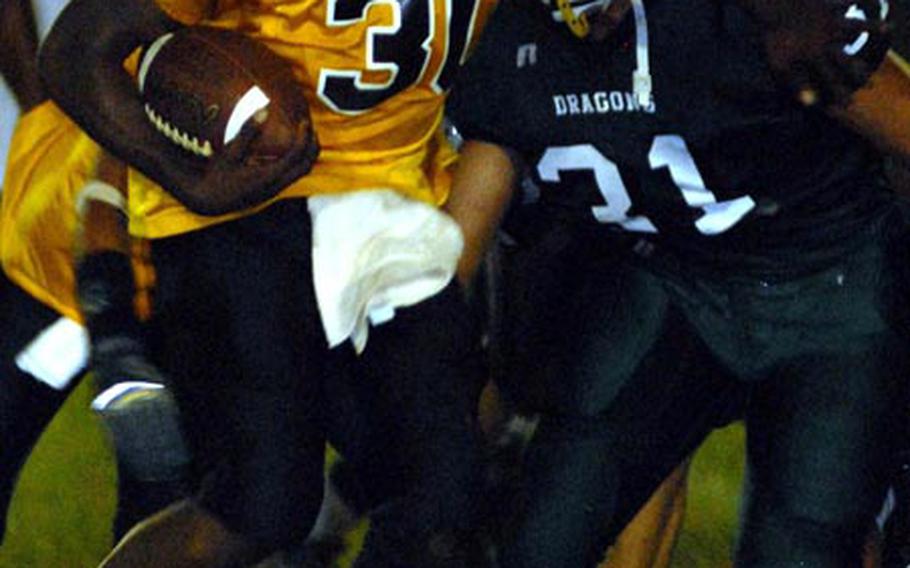 KADENA AIR BASE, Okinawa — Fresh off two Far East Class AA title game appearances, including the school's first championship in November, the Kadena Panthers simply refuse to be star-struck.
"I don't think anybody has said 'defending champion' yet on this team," coach Sergio Mendoza said of the Panthers, who routed Yokota 39-13 Nov. 10 at Kadena's McDonald Stadium for that historic first title.
"We've gotten away from any talk of last year. It's a nice memory, but it's gone."
Rather, Mendoza said his Panthers feel the need and desire to prove themselves all over again.
Kadena opens defense of its two straight Okinawa Activities Council titles on Friday at McDonald against Kubasaki, which the Panthers have beaten four straight times.
From the day school ended, players spent day after day lifting weights and doing speed work, demonstrating to Mendoza their desire to begin a charge to another title.
"We've had the best summer conditioning we've ever had," Mendoza said of his players, some of whom have shaved time off their 40-yard dashes and improved their weight lifting by 40 to 50 pounds. "We had a good amount of kids every day. That shows dedication."
While some key skills-position players — seniors Brandon Harris and Vince Coronado and junior Stanley Schrock — have returned, "we're not getting any Ernest Carrs off the plane," Mendoza said of his 2007 feature back (592 yards, 66 carries in four games). "We're still learning. There's so much more to do. We're anxious, because there is so much work yet to do."
Much the same can be heard in Kubasaki Dragonland, where coach Fred Bales stands firm in his belief that Kadena is still the team to beat and the Dragons are on the "outside looking in."
"Kadena had a fantastic season. They progressed, we didn't, and they went on to be champions," Bales said. "That was a once-in-10-year team. They're well coached. They had great team speed, the best I've seen in a long time."
Plenty of veterans return for Kubasaki, especially in the backfield, with tailbacks Josh Bales and Marquette Warren behind quarterback Kaleb Robinson, but until they win, the Dragons remain unproven, Bales said.
"We need to learn how to win again," he said. "We've lost some big games. We have to learn to climb the mountain again, with spirit and fire and desire to win."
Okinawa capsulesKadena PanthersKadena Air Base, Okinawa2007 record: 4-0, won Class AA semifinal 27-10 over Seoul American; won Class AA championship 39-13 over Yokota.Coach: Sergio Mendoza, third season.Returning players: 8.Returning starters: 6.Base offense: Multiple, spread option, power wishbone.Base defense: 5-3.Key returners: Stanley Schrock, Jr., QB-WR-S; Jordan Ray, Sr., OL-DL; Tyler Broome, Jr., OL; Vince Coronado, Sr., RB-LB; Brandon Harris, Sr., RB-CB; Alex Pelkey, Sr., OL; Lamar Stevens, Sr., QB; Aaron Ahner, So., PK.Key newcomers: Norman Correa, Jr., QB, transfer from Bitburg, Germany; Anthony Arivisa, Jr., LB, transfer from California; Gabriel Ahner, Fr., OL.Strengths: Work ethic, unity derived from title run last season.Drawbacks: Depth at key positions.Overview: Rebuilding-reloading. It's hard to replace the likes of running backs Ernest Carr (592 yards, 66 carries in four games) and Roosevelt Payne. Enough talent returns from last year to make a good run at third straight Class AA title game berth.
Kubasaki DragonsCamp Foster, Okinawa2007 record: 0-3.Coach: Fred Bales, fourth season.Returning players: 28.Returning starters: 6.Base offense: Multiple.Base defense: 4-4.Key returners: Marquette Warren, Sr., LB-RB; Josh Bales, Jr., RB-DB; Kaleb Robinson, Jr., QB-RB; Deonte Waitey, Jr., WR-DB; Lamar King, Sr., OL-DL; Matt Hall, Jr., OL-DL.Key newcomers: Mikeal Barge, Jr., OL-DL; Robert Houston, Sr., OL-DL.Strengths: Backfield experience, receiver speed, some solid linemen.Drawbacks: Depth, interior experience, must recapture winning spirit of 2005.Overview: Rebuilding. Bales considers Kadena the team to beat on Okinawa and says his Dragons are on the "outside looking in … we need to learn to win again." If Dragons can avoid last year's injuries, that may happen.
ScheduleOkinawaFriday, Sept. 5Kubasaki vs. Kadena at McDonald Stadium, Kadena Air Base, 6 p.m.Saturday, Sept. 20Yokota at Kubasaki, 6 p.m.Friday, Sept. 26Kadena at Kubasaki, 7 p.m.Friday, Oct. 3Kubasaki vs. Kadena at McDonald Stadium, Kadena Air Base, 7 p.m.Friday, Oct. 10Kadena at Kubasaki, 7 p.m.Saturday, Oct. 18Kubasaki at Daegu American, 7 p.m.Friday, Oct. 24Kadena vs. Kubasaki, 7 p.m., site to be determined, if necessary
---
---
---
---