Kadena edges Kubasaki in Okinawa opener
by
Dave Ornauer
September 9, 2011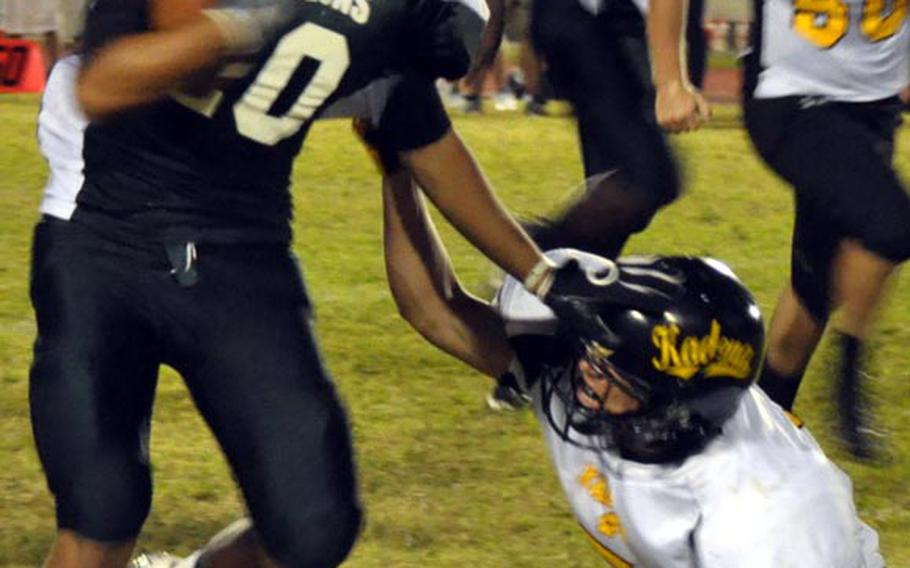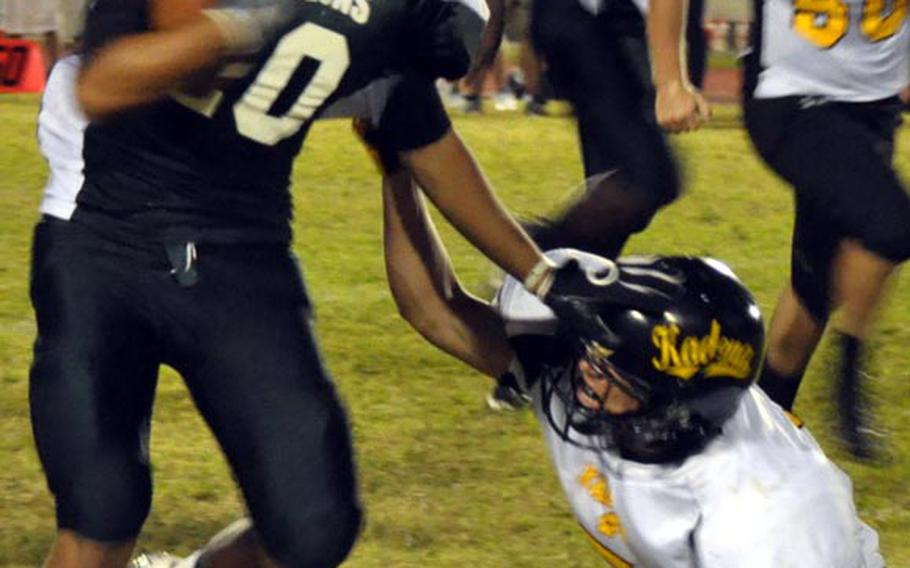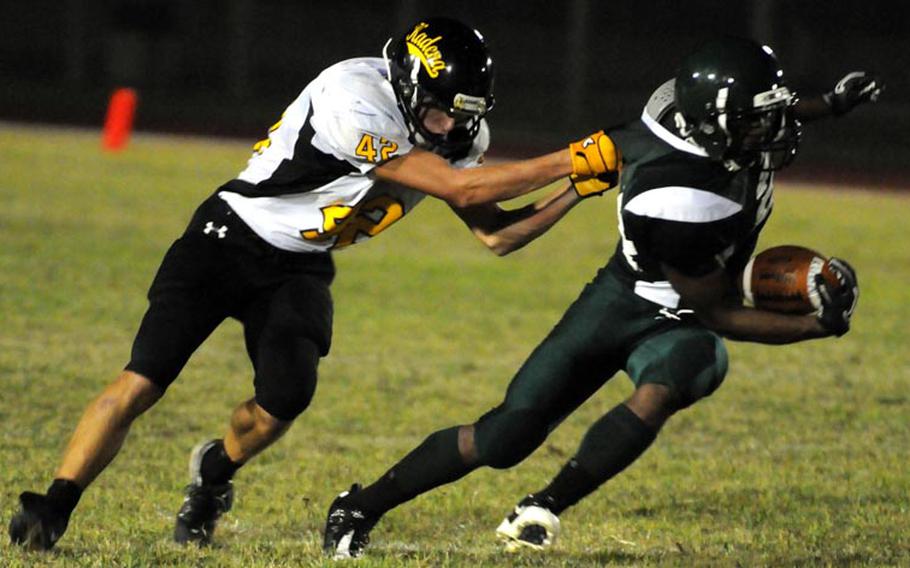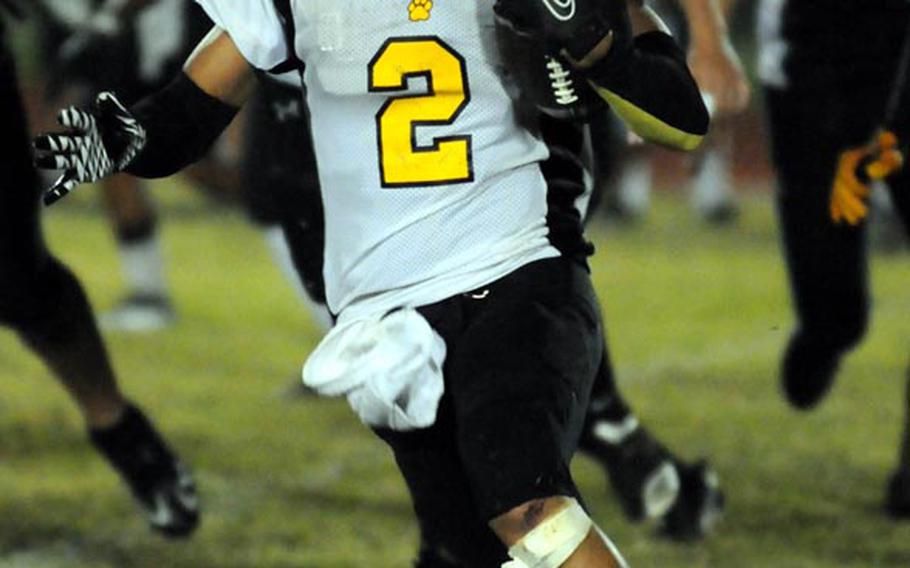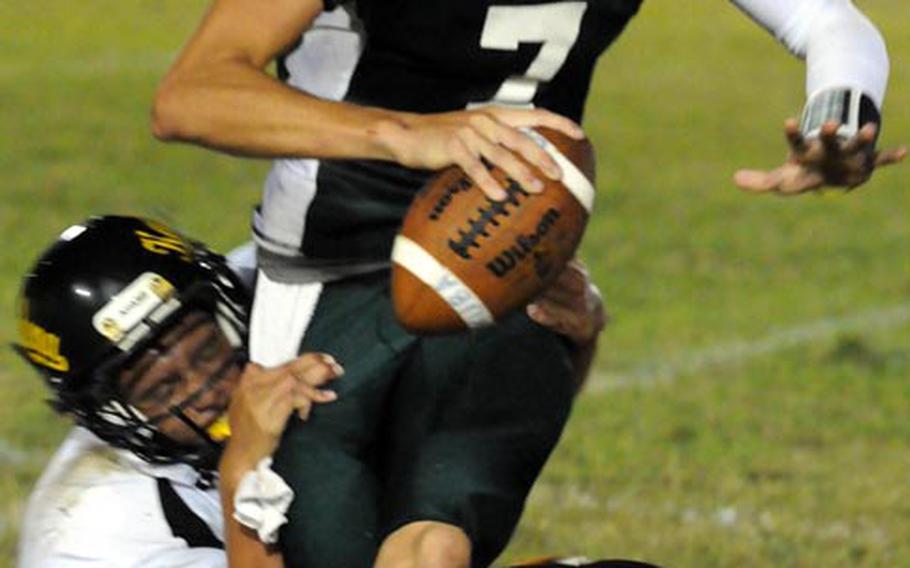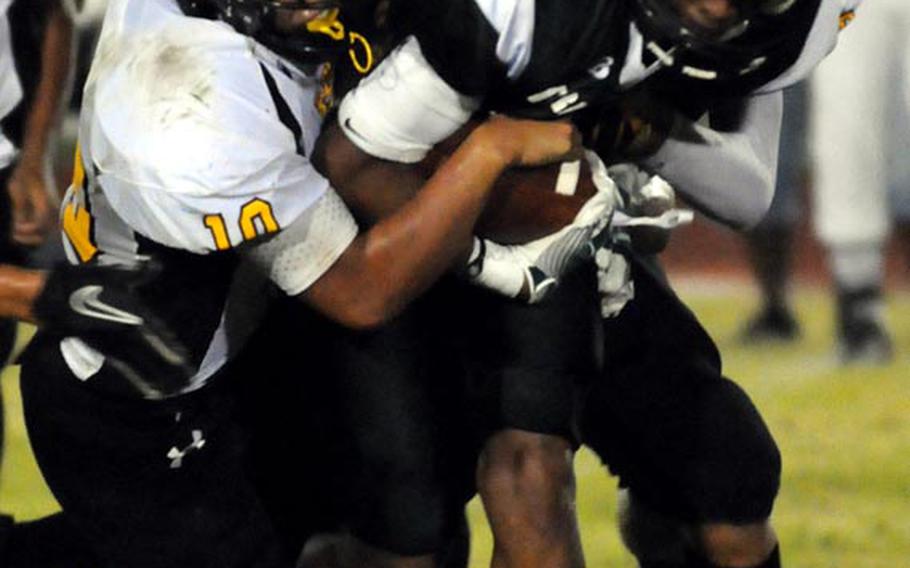 CAMP FOSTER, Okinawa – If Friday's game was any indicator, the battle for Okinawa's top seed for the Far East Division I football playoffs should be a tight one.
Junior Joey Dyer scored from 19 yards out and freshman Justin Sego ran in the two-point conversion with 29.6 seconds left in the third quarter as reigning two-time DI champion Kadena edged Kubasaki 15-14 in the closest game the two teams have played in 17 years.
A game like Friday's "shows how young we are," coach Sergio Mendoza of Kadena said of his team's six first-quarter penalties and two first-period fumbles which helped Kubasaki (1-1) seize an early lead. Two second-half trips inside Kubasaki's 20 yielded no points.
"We made key mistakes. How many times were we in their red zone? And how many first-quarter penalties did we have? But with each game, they improve. This is going to be an interesting group to watch. Their main strength is they love each other."
It was as close as the Dragons have come to beating Kadena on Mendoza's watch; the Panthers have beaten Kubasaki 15 straight times since 2006.
The last time the teams played a one-point game was Kadena's 13-12 victory on Oct. 21, 1994, in the old Okinawa High School Athletic Association's best-of-three All-Star series.
The Dragons, who were outgained 180-85, struck first, on a 27-yard pass from Cristian Rivera that was tipped by Dragons receiver Isaac Garza into teammate Columbus Wilson's hands as the first quarter ended.
Dyer answered on Kadena's next possession, a 14-play, 65-yard drive in 10:04, with a 4-yard TD run. Scott Sanders' kick put Kadena up 7-6 with less than two minutes before intermission.
Jarrett Mitchell, who led the Dragons with 91 yards on seven carries, took a handoff and went 70 yards untouched with 3:14 left in the third quarter; Kubasaki's Brandon Crawford fell on teammate Tyshon Butler's fumble during the two-point attempt in the end zone and the Dragons held a 14-7 lead.
But again on Kadena's next possession, Dyer answered, running three times for 35 yards - including his TD run that was followed by Sego's game-winning conversion.
Jace Johnson appeared to give the Dragons the lead on the ensuing kickoff, but his kick-return touchdown was called back on an illegal-block penalty.
Kubasaki had three more chances, but Rivera was intercepted by Sego on one drive and was sacked three times to end the other two.
Dyer led Kadena with 74 yards on 15 carries. Fullback Joseph Hermon added 66 on eight carries. Kadena went 0-for-1 passing as a team.
"Kubasaki, their staff and their kids, they're always tough. Great competitors. Good coaching," Mendoza said.
"Frustrating night," said Kubasaki coach Fred Bales, who fell to 2-16 against Kadena since the DI playoffs began in 2005.
"We never could find rhythm on offense. Our kids made big plays, but we didn't sustain much. We didn't move the chains. They (Kadena) found enough to put two scores up and then the two-pointer. It's a tough loss. Our kids handled themselves well. We're far from done."
The teams battle each other again Sept. 23 at 7 p.m. at Ryukyu Middle School. The team with the best record earns the Okinawa Activities Council's top seed into the D-I playoffs.