Kadena coach believes balance will help offset loss of MVP
by
Dave Ornauer
September 25, 2005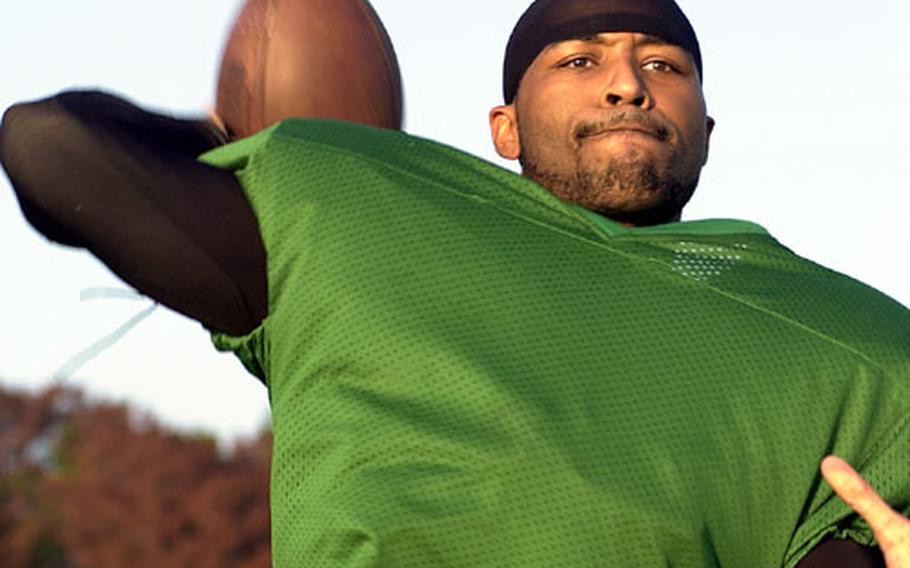 KADENA AIR BASE, Okinawa — Don't say "rebuilding" around Will Cupp. He doesn't buy the notion that his Kadena Dragons might have fallen a notch now that many of the players who helped them win the Okinawa Football League title last season have hit the dusty trail.
Even league MVP Trent Beavers joining the PCS parade doesn't appear to faze Cupp, whose Dragons begin defending their title with a new cadre of running backs but with their same old hard-nosed approach.
"No one can do what Trent did," Cupp said of his departed running back/receiver/linebacker/kick returner. "But the combination will far exceed what he did. … We have much more balance this season," courtesy of running-back-by-committee.
The Dragons plan to keep their trademark power wishbone offense, with newcomers Isaac Warren and Emanuel Griffin taking handoffs from new starting quarterback Adam Hendrickson.
"It has worked, so why change?" Cupp said of Kadena's "smashmouth" attitude. "We'll keep running the same stuff until somebody makes us run something different. We've never reacted to other teams. They've always reacted to us."
Such talk came during a Dragons practice four days before Sunday's scheduled opener at Camp Courtney, where Foster-Futenma takes on Courtney-Hansen at 1 p.m. and Kinser battles Ryukyu University at 5 p.m.
The league is slimmed down to five teams, with the Schwab Panthers sidelined this season due to mass deployments. The remaining teams also will find the schedule shortened to six games each, rather than the eight each team played in 2004. Quarters will be shortened from 15 minutes to 12 because of safety concerns, league officials said.
The regular season runs until Nov. 13, with the top four finishers qualifying for the playoffs. Semifinal games are slated for Nov. 20. The title game is to be played Nov. 27 at Camp Foster, under the lights at Kubasaki High School's Mike Petty Stadium.
Cupp and the Dragons will be challenged by three Marine teams whose rosters have bulked up over last year's — in particular the Kinser Knights, who often fielded 15 players or fewer in 2004 but this season have 45.
Being able to engage in full scrimmages during practice and substitute freely "makes an amazing difference for us," Knights coach John Glaister said.
A common denominator for the three Marine teams, though, is inexperience. Many players are new to Courtney-Hansen, Kinser and Foster-Futenma. Some haven't played a down of football since high school, some not at all.
"We have a lot of first-year players," said Rodney Best, who inherits the Courtney-Hansen coaching reins and counts shifty all-purpose back David Burrell from Schwab as among his few veterans. "It's a matter of getting them to jell as quickly as possible."
Being young also can be a Dragons advantage, Cupp said: He needn't worry about his roster getting too comfortable or resting on its championship laurels.
"We're still a hungry team," he said. "We'll play with the same poise and professionalism that we've always exhibited. Let the other teams come up with story lines. We'll just play football."
Okinawa football capsulesKadena Dragons,Kadena Air Base
2004 record: 10-0, 1.000, regular-season and league champion, 426 points for, 56 against. Beat Schwab 44-14 in inaugural title game.
Head coach: Will Cupp, second season.
Base offense: Power wishbone.
Base defense: 4-4.
Returning players: 11.
Returning starters: 11.
Key returnees: Chris McIver, CB; John Robinson, QB-WR.
Key newcomers: Jermaine Baker, WR-DB; Adam Hendrickson, QB; David Braithwaite, OL; A.J. Hickman, WR; Isaac Warren, TB; Emanuel Griffin, TB.
Strengths: Line size, large pool of running backs, consistency in power game.
Drawbacks: Many new players, inexperience, having to replace departed RB Trent Beavers, league MVP with 26 TDs last season.
Overview: Reloading. Cupp plans to stick with what works and feels he has enough weapons to overcome the loss of Beavers and make run at second straight title.
Foster-Futenma Bulldogs,Camp Foster and Futenma Marine Corps Air Station
2004 record: 1-7, .125, tied for last place, 67 points for, 14 against. Forfeited six games (five victories) for using ineligible player.
Head coach: James Moore, first season.
Base offense: Pro.
Base defense: Multiple.
Returning players: 9.
Returning starters: 5.
Key returnees: Chris McDougal, QB; Tim Grant, LB; Jimmy Hill, LB.
Key newcomers: Christopher Brooks, WR; J.J. Janabajal, LB.
Strengths: Small core of veteran leaders who behave as coaches on the field. Strong defensive linebacking corps.
Drawbacks: Youth and inexperience throughout lineup.
Overview: Rebuilding. New players must learn new system and work with new coach. Question of how quickly all the parts can jell.
Courtney-Hansen Titans,Camp Courtney & Camp Hansen
2004 record: 5-4, .556, third place, 147 points for, 162 against. Lost playoff semifinal 21-16 to Schwab Panthers last Dec. 5 at Camp Courtney.
Head coach: Rodney Best, first season. Assisted Foster-Futenma last season.
Base offense: Flexbone, spread.
Base defense: 5-3.
Returning players: 4.
Returning starters: 5.
Key returnees: Vedel Poindexter, LB; Baron McQueen, LB; Jonathan Molloy, DE-LB.
Key newcomers: David Burnell, WR-KR-DB (played for Schwab last season); Steven Ellis, LB; Mike Thomas, FB.
Strengths: Special teams, defense.
Drawbacks: Undersized, many first-year players needing to jell quickly, especially on offense.
Overview: Rebuilding. Same situation that Foster-Futenma faces.
Kinser Knights,Camp Kinser
2004 record: 4-5, .444, fourth place, 118 points for, 172 against. Lost playoff semifinal 50-0 to Kadena last Dec. 5 at Camp Courtney.
Head coach: John Glaister, second season.
Base offense: West Coast.
Base defense: 4-3.
Returning players: 6.
Returning starters: 5.
Key returnees: Van Black, DE-LB; Nicholas Taylor, DL; Eric Matson, OL; Jesse Monk, skills; James Griffin, DL.
Key newcomers: Nathan McKenneth, QB; Patrick Harper, RB.
Strengths: Full roster, interior experience, especially on defense.
Drawbacks: Lack of size.
Overview: Rebuilding. Though Glaister's player pool has improved more than 300 percent, beef is lacking, which could cause problems trying to win the line of scrimmage battle.