Kadena boys taking the lead in Okinawa track and field
by
Dave Ornauer
April 6, 2006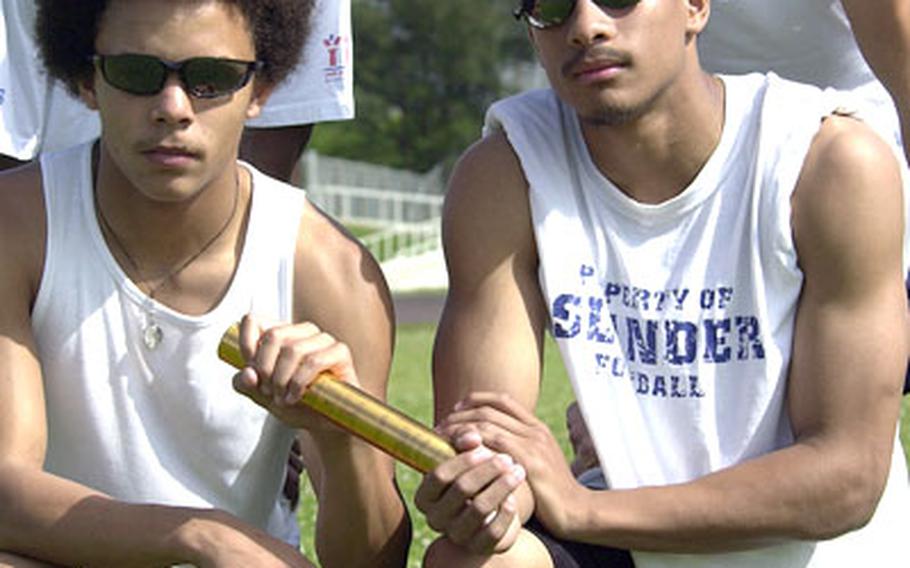 KADENA AIR BASE, Okinawa — For the Okinawa high school track and field circuit's first 12 years, Kubasaki's boys routinely left Kadena at the starting blocks. No longer.
This season and last, an infusion of talent in all disciplines, plus coaching continuity, have helped the Panthers pound to the front of the pack.
Kadena's boys are the defending Okinawa Activities Council district and Mike Petty Memorial Meet champions. Marquis Newton holds the Pacific high-jump mark of 6 feet, 5½ inches. Sprinters Jeff Morton, Eric Robinson and Manuel Duran have won all but one relay event. Tim Nabonne has swept every 3,200-, 1,600- and 800-meter run this season.
Lofty heights for a program that spent the 1990s making up in coaching changes what it lacked in district championships — just one, in 2002. Then, Sergio Mendoza became coach last spring.
"We're seeing a strong nuclei and other kids are attaching themselves to it," Mendoza said. "We're really lucky. Those kids are positive motivators."
In past years, a few athletes would garner the lion's share of Panthers points. But this squad is balanced top to bottom, said rival Kubasaki coach Charles Burns.
"This team has no weak spots," he said. "They have some serious weapons."
Perhaps the biggest weapon, the coaches said, has been coaching continuity.
In the 1990s, Burns said, Kadena "went through coaches as often as some people change socks. … Sergio [has] brought a sense of stability. That's made a difference. … Once kids realize they have consistency, they're willing to put out the effort."
Monday, four days before the 4th Mike Petty Meet, Mendoza said, "To go through 10 coaches in 10 years gave the kids the view that track wasn't as important as other sports. Now … that they see the adults are dedicated to the program, they're buying into it."
They're also winning, placing first in team standings in the last two OAC regular-season meets over Kubasaki, 67-51 on March 23 and 85-53 on March 31.
Morton transferred to Kadena from Colorado, where he ran the 100 in 10.8 seconds last year. On March 23, he ran the event in 11.0 and feels the island record of 10.6 is within reach "if not this year, then certainly next season."
Nabonne ran the 1,600 in 4:51 on March 23, five seconds shy of the league mark. "I want to push 4:30 by the end of the season" and breach the 10-minute mark in the 3,200, he said.
Burns said Nabonne probably can. "It helps when you have legs that start at your shoulders," he said. "His stride is as long as most people's four steps."
Robinson, Morton and Duran are the heart of a relay unit that Burns says easily could run in the "low 40s" in the 400 relay and "low 3:30s" in the 1,600.
"Robinson is probably one of the best all-around sprinters we've had here. And Duran, he's an animal. He can flat-out run."
Newton anchors the team in the field-throwing events and holds the Pacific high-jump mark. He said he hopes to achieve a 6-4 leap at the Petty, "then push myself to see how high I can get."
The Panthers plan to travel to May's Kanto Plain Association of Secondary Schools meet in Tokyo, where Kubasaki has competed as a non-scoring entity since 2002.
Burns predicted the Panthers will make some noise there too. Kanto Plain schools, he said, "are going to see what running 'southern style,' as I call it, is all about."
Mendoza has different goals. "If we can gain some notoriety" for the girls track and field team, he said, "they can experience the same success as the boys."
Mendoza said he'd like to mold a program thats competitive against their stateside counterparts.
"If we keep our work ethic as strong as it's been," he predicted, a team from the Pacific could "go up against a 4-A or 5-A school in the States "and hold our own. With enough work, I see us giving them a run for the tape."