K-town tops Ramstein to win West Region
---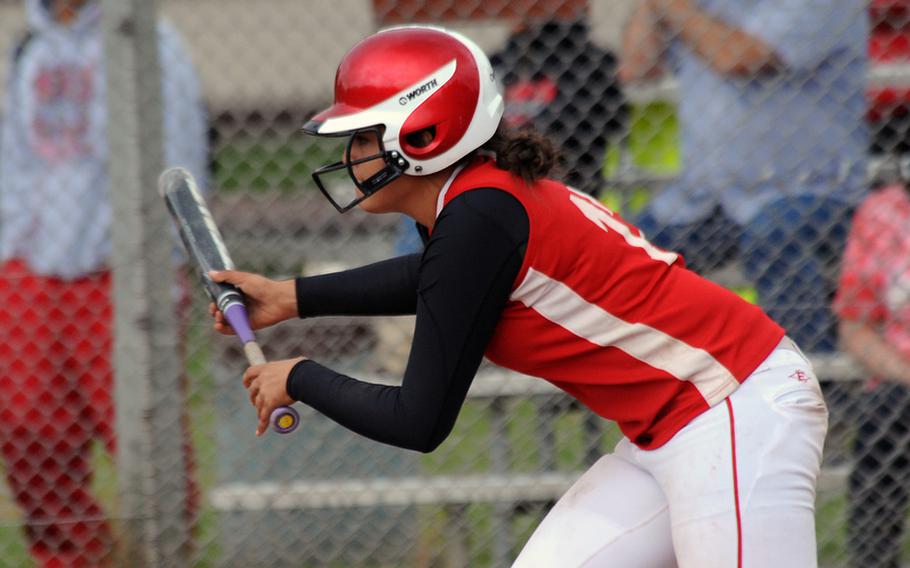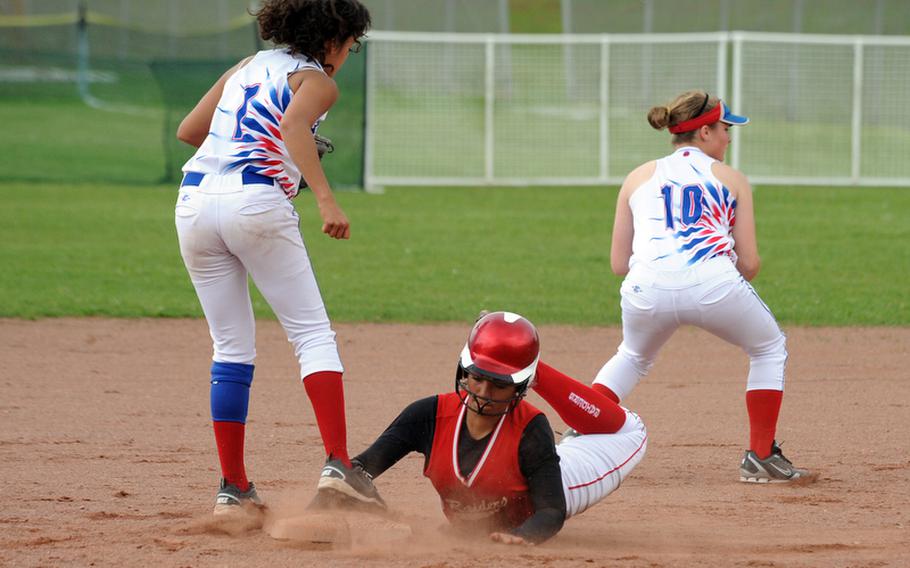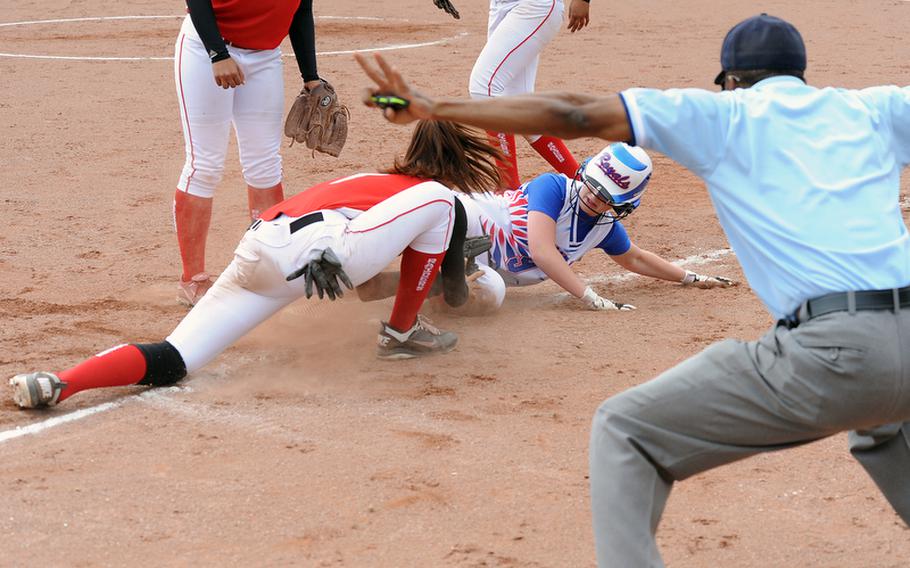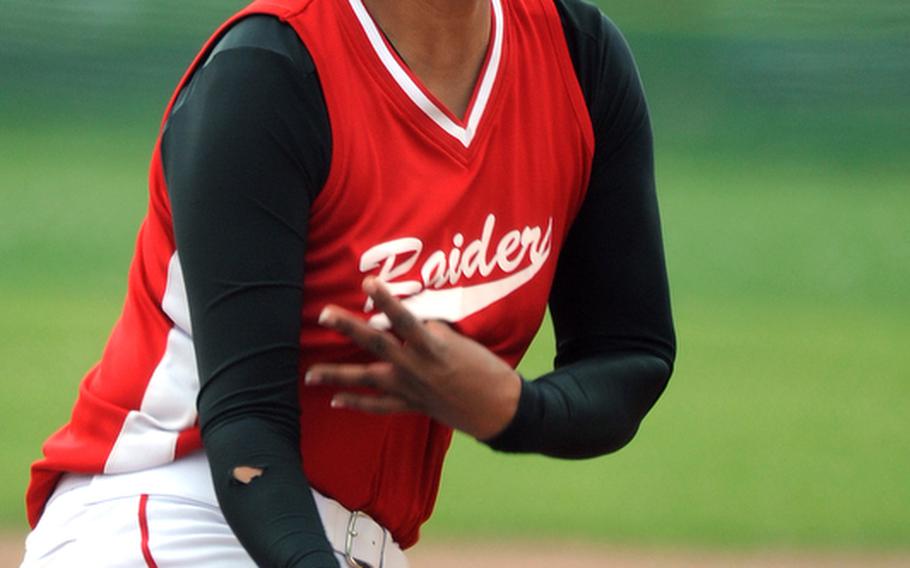 KAISERSLAUTERN, Germany – With the West Region softball title on the line, it was aces high Friday afternoon before the Kaiserslautern Red Raiders pushed across the game's only run in the bottom of the seventh for a 1-0, title-clinching victory over the Ramstein Royals.
Winning pitcher Lauren Hawkins, who struck out 17 Royals, and Ramstein All-European Katherine Enyeart, who fanned 10 Red Raiders, ended up tossing twin three-hitters.
But the third hit Enyeart allowed, a leadoff bloop single to right in the bottom of the seventh, proved her undoing. Michelle Bonano lofted a fly to right that dropped in and got past Ramstein right-fielder Haley Hadon to allow the aggressively running Bonano to take second.
"They were yelling at me, 'Stay! Stay!,'" said Bonano, who slid into second just ahead of a strong, accurate throw by Hadon, "but I saw the ball get by her and I kept going."
Melissa Bonano then laid down a perfect sacrifice bunt on the third-base side of the mound. Enyeart fielded the ball cleanly but threw it into the dirt and past Ramstein first baseman Kelsey Freeman, and Michelle Bonano scampered home with the walk-off run.
"I'm so happy we were able to beat them," Michelle Bonano said after the victory. "I got on, and my sister drove in the winning run."
There was, of course, no RBI on the play, but that didn't matter to K-town, in recent years a whipping boy for their powerful neighbors, who have won eight of the 13 Division I softball titles awarded since DODDS-Europe adopted the sport in 1999.
"The pressure definitely was on," said Hawkins, who struck out the side in four of the seven innings she pitched and struck out two in two other frames, almost exclusively on fastballs. "Playing a team like Ramstein always increases the pressure."
Adding to the tension was the loss of K-town's leading hitter, Saige Isla, who sprained her right knee just before Friday's first pitch. Isla, however is expected to be ready by tournament time.
"We won the game for her," Michelle Bonano said, gesturing to Isla as she hobbled over on crutches. "She's a trooper."
Enyeart, who struck out the side in the first two innings, allowed a leadoff double to Hawkins in the fourth inning. Michelle Bonano sacrificed Hawkins to third, with Enyeart fielding the bunt cleanly and throwing Bonano out in a play identical to the one K-town put on again in the decisive seventh.
Enyeart worked out of the jam, however, by inducing Melissa Bonano to pop into foul territory, where Ramstein shortstop Savannah Brooks made a nice running catch, and spearing a high-bouncing shot by Lexus Quesada and throwing her out.
"We're definitely ready (for next week's D-I tournament)," said Hawkins after her school clinched its first softball title of any kind. "Our bats will come alive, and our defense is ready."
In Game 2, K-town completed a perfect regular season with a come-from-behind victory. Hawkins, who pitched a seven-inning complete game, gave up seven hits and three earned runs, striking out eight. She also delivered a two-run home run over the right centerfield fence in the top of the sixth that completed K-town's rally from a 6-2 hole after three innings.
All-European Kelsey Freeman took the loss, despite striking out 16 Red Raiders. She allowed eight hits and surrendered five earned runs.
Kaiserslautern completed the regular season 14-0 and assured itself of a Top-2 seed in next week's European Division I tournament that begins Thursday at Ramstein-Kaiserslautern. Ramstein is taking an 11-3 record into that event.
In other softball as the regular season began its final weekend:
AFNORTH 19-30, Baumholder 2-9: Thursday at Baumholder, Taylor Bonenclark clubbed three home runs, a triple double and single to drive in 10 runs as the Lions concluded their West Region regular-season with a 11-3 record.
According to AFNORTH coach Greg Blankenship, leadoff batter Rachel Pagio continued her hot hitting in the twin-killing to complete the regular season with a .702 average and 40 stolen bases.
Madison Puckett and Asholey Fowler each drove in six runs in the sweep.
Rylee McKinney tossed a two-hitter in the opener to close the season 5-1.
---
---
---
---