K-town sisters shattering cross country records
by
Rusty Bryan
October 27, 2005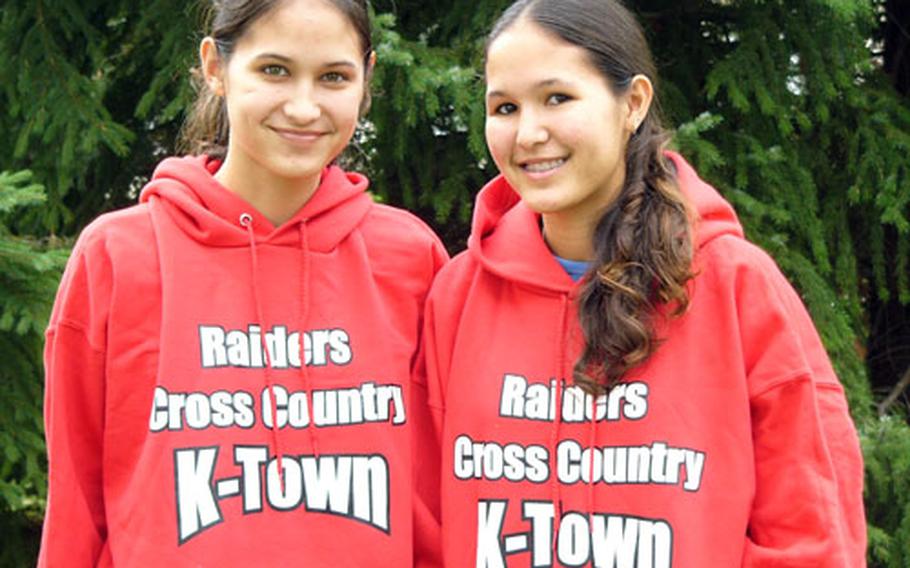 KAISERSLAUTERN, Germany — Last Saturday, just like the two before it, the girls cross country season sounded like a broken record — another hit by sisters Joy and Anna Hrushka, Kaiserslautern's record producers.
Joy, a 16-year-old who finished third in last fall's European championships, broke the course record for Würzburg's 5,000-meter layout. She finished in 19 minutes, 35 seconds for her second record of the season, breaking the mark established last year by Würzburg's Erin Gray by 56 seconds.
The performance marked the third straight week a Hrushka had shattered a course record. Anna, 17, had accomplished the feat Oct. 7 at Ramstein, beating the 21:29 run there in 2004 by defending European champion Ashleigh Spencer of Wiesbaden by 11 seconds, and again at home Oct. 14, running a 20:18 to best her sister's mark of 21:08 set earlier this season.
"We push each other," Anna said Monday about the siblings' record runs. "When we get near the finish, we both want it."
Last Saturday, Joy got the record, but Anna and the Hrushkas' teammate, Colleen Smith, all finished faster than the previous record. Smith placed second in 19:36; Anna took third in 19:43, and the family record collection continued to grow.
"We never really expected it," Joy said of the record streak.
Added Anna, "When you look at the people who set those records and know that you beat them, it's a good feeling."
The Hrushkas, home-schooled students who said their future plans are undecided, have only been running for five years, ever since their father, Guy, a graphic arts teacher, entered his soccer-playing daughters into fun runs while the family was living on Guam.
"Our Pop got us into it," said Anna. "He was our first cross country coach."
Despite familial loyalty and success in cross country, the Hrushkas aren't fully committed to running. They still play soccer in the spring, much to the chagrin of Kaiserslautern coach Marty Kollar, who also runs the Red Raiders' track program.
"Just think how many medals you could win," he prodded them on Monday, asking, "What's the first event of every meet?"
"The 4-by-800," he answered for them.
"What's the last event of every meet?" he pressed on.
"The 3,000," the sisters dutifully answered, before shrugging at all those imaginary medals Kollar dangled before them, "They'll just collect dust."
Dust is what most of the runners who've challenged the sisters this season have been eating. In fact, the only runners to finish ahead of a Hrushka this season are Smith, who won Sept. 24 at Patch, and Patch's Maggie Redmond, who finished second to Smith in that race, just ahead of the Hrushkas.
"We usually follow each other when we run," Joy said, but Anna added that race decisions are completely spontaneous.
"One of us will decide to stick with a certain person or pass her," she said. "The other just goes along."
Until the finish line looms.
"At the end, it's like competition," Joy said.
Competition will be the primary order of business this Saturday, when the Hrushkas line up for this year's European championships at 1:30 p.m. at Tompkins Barracks in Schwetzingen, just outside of Heidelberg.
"It's one of my favorite courses," said Joy. "It's not too flat and not too hilly. It's just right."
Just like their record-setting season.