K-town's Bowe weighs 271 for comeback bout
by
Steve Mraz
December 13, 2008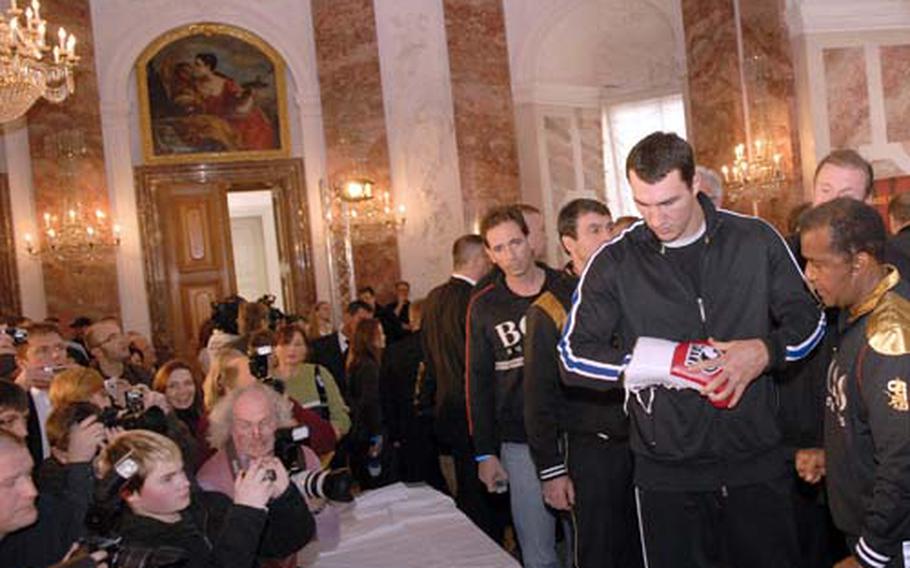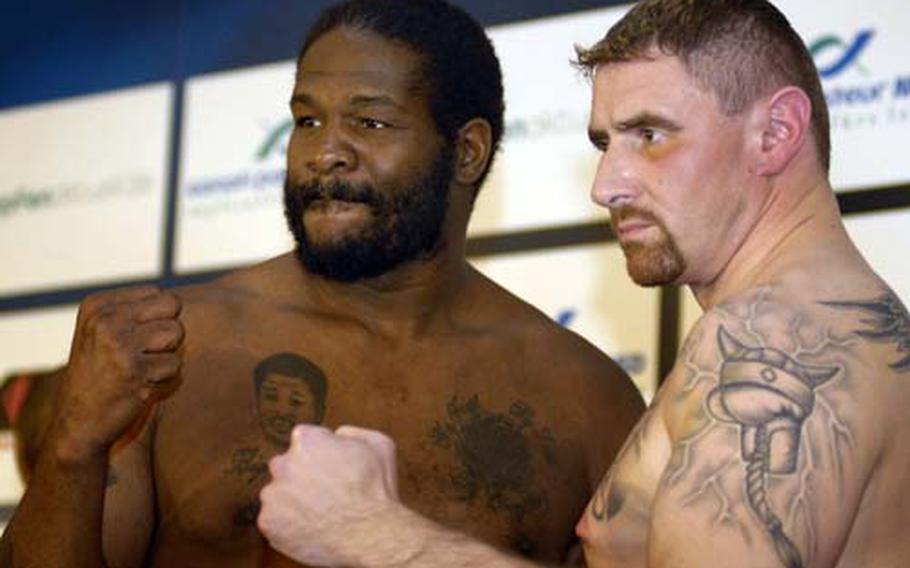 MANNHEIM, Germany — In a setting better suited for kings holding court, half-naked boxers flexed their muscles and posed for cameras Friday afternoon at Schloss Mannheim.
The spectacle served as the official weigh-in for Saturday night's title fight between heavyweight champion Wladimir Klitschko and challenger Hasim Rahman. Fighting on the undercard is former heavyweight champ, and one of Kaiserslautern's newest residents, Riddick "Big Daddy" Bowe.
The weigh-in took place in a high-ceilinged room that dripped with crystal chandeliers, marble and fresco paintings.
For the first fight in his comeback bid, Bowe will face obscure German boxer Gene Pukall, who weighed in at 228 pounds. Sporting a black right eye, Pukall took the stage following main-event boxers Klitschko and Rahman, and as such, the room was nearly vacant when he arrived.
When asked about the black eye, Pukall said — through a translator — that he suffered the fresh-looking shiner during a training fight.
"Gene wins the fight," said Pukall's translator. "Bowe goes KO."
Bowe was delayed in getting to the event but showed up about 10 minutes after Pukall tipped the scales. The 41-year-old Bowe took off his shoes, socks and stripped down to his underwear. The old, rickety scale read 123 kilograms, which is roughly 271 pounds.
Bowe revealed a flabby midsection. His chest and stomach were covered in tattoos of his children. A one-time Marine recruit who dropped out in 1997 after three days of boot camp, Bowe has a Marine Corps "eagle, globe and anchor" tattooed on his right forearm.
In the days leading to the fight, Bowe has been "relaxing" and "chilling," he said.
Bowe wanted to fight a 10-round match, but his bout is scheduled for eight 3-minute rounds, he said.
On Wednesday, Bowe predicted dispatching Pukall in two or three rounds, and he didn't waiver after getting a good look at his opponent Friday. "I'm still sticking with [my prediction]," he said.
The weigh-in for the Bowe-Pukall fight had decidedly less flair than the heavyweight title bout weigh in. At stake Saturday night at Mannheim's SAP Arena are Klitschko's International Boxing Federation, World Boxing Organization and International Boxing Organization heavyweight titles.
Famous boxing announcer Michael Buffer introduced Klitschko and Rahman to the stage, and HBO is scheduled to broadcast the fight. Rahman is a late fill-in against Klitschko after the original opponent, Olympic gold medal winner Alexander Povetkin, suffered a training injury. Rahman was largely ignored by reporters, who flocked to Klitschko.
Wearing a T-shirt and jeans, Rahman weighed in at 254 pounds. Klitschko tipped the scales Friday at 245 pounds.
Before stepping on the scale, Klitschko, who has 45 KOs in 54 fights, took off his shirt to expose a lean, muscular body. When he got off the scale, Klitschko stood toe-to-toe, nose-to-nose with Rahman. They stared at each for several seconds. After what seemed an eternity, Rahman blinked first.