K-town's Antonik, Ramstein's Vance prevail in DODDS-Europe golf
by
Rusty Bryan
October 14, 2006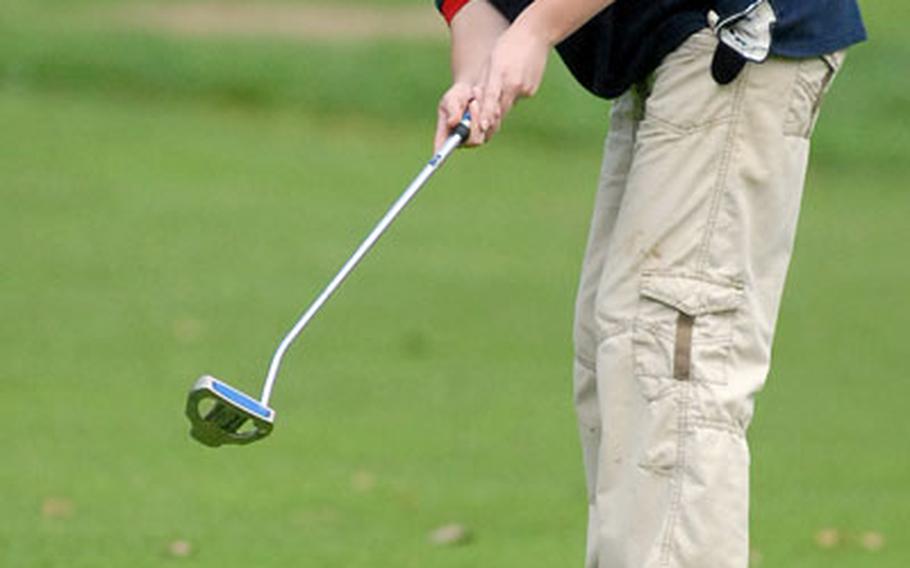 WIESBADEN-FRAUENSTEIN, Germany — Kaiserslautern senior Ben Antonik, leading by nine strokes at the start of the second and final round of the DODDS-Europe high school golf tournament, fired a 3-over 39 on the front nine Friday to essentially wrap up his three-year quest for a European title.
"Walking off the seventh (green), I sort of felt like I had won," said Antonik, who finished the round at 7-over 79 for a 36-hole total of 163. "I tried to birdie (No.) 9, but I didn't try anything special on the back nine."
Antonik, whose fourth-place finish last year was the best among this year's returning participants, completed the front nine par-par-birdie-par-par-par to build his lead to 20 strokes over his nearest competitor, Hank Mol of Ramstein, at the turn. Josiah Almosara of Lakenheath, nine strokes behind at the start of play, played Nos. 6-9 at 9 over Friday to fall 21 strokes off the lead.
The result was academic: Antonik's final margin was 24 strokes over Ramstein's Craig Herron, who shot 85 Friday.
Mol finished five strokes behind Herron, with Almosara and Michael Haas of Ramstein another two strokes back at 194.
Things were similarly cut-and-dried for the girls, as Friday's 18 holes proved to be a coronation for Ramstein senior Allysen Vance.
Vance, who led nearest competitor Kayla Esmond of Lakenheath by 10 Stableford points at the start of play, outscored Esmond 11-1 on Friday's front nine. Pars on Nos. 4 and 8, both par-3s, provided six of her front-nine points en route to a 37-24 victory over Brittany Morris of Patch.
Being ahead "made it easier," Vance said as she watched the boys finish their round. "I could relax and enjoy the course."
The pressure lessened even more after Vance's runaway front nine. "We were laughing and joking," she said of her foursome. "We're all friends; no one was stressed."
Superior depth produced two team titles for Ramstein. The Royals' boys, the defending Division I champs, took this year's all-division crown 140 Stableford points to 125 over runner-up Lakenheath behind their 2-3-4-6 finish by Herron, Mol, Hass and Kyle Tyree (195).
Kaiserslautern was third at 115. Rota, the defending small schools champion thrown among the far larger D-I schools for this year's championships, edged Patch 102-101 for fourth place.
Ramstein's girls replaced Würzburg as Europe's female golf power, prevailing 59-44 over Lakenheath behind the scoring of Vance and Marissa Engelbaum. Engelbaum redeemed a lackluster five-point day on Thursday by scoring 17 on Friday.
As seniors, neither champion will return to defend his or her title. Vance hopes to attend the University of Texas, and Antonik plans to pursue his sport while working at Woodlawn Golf Course on Ramstein Air Base.
"After I graduate," he said, "I'll be able to play a lot more golf."
Championship flight
(Medal play)
Ben Antonik (Kais) 84-79—163
Craig Herron (Ramstein) 102-85—187
Hank Mol (Ram) 98-94—192
Michael Haas (Ram) 102- 92—194
Josiah Almosara (Lake) 93-101—194
Kyle Tyree (Ram) 101-94—195
Johnny Russell (Heid) 101-98—199
Andrew Tribble (Patch) 101-98—199
Jake Niemyer (Ramstein) 105-95—200
Gavon Byrd (Ramstein) 103-99—202
Marshall Webb (Lake) 100-103—203
Stewart Dines (Ram) 103-101—204
Nikolas Ripperda (Rota) 103-105—208
Ben Myer (Ram) 104-107—211
Alex Crist (Rota) 105-107—212
Alex Athney (Patch) 103-114—217
First flight
(Stableford scoring)
Matt Wiederholt (Ram) 23-43—66
Kai Pope (Ram) 25-32—57
Nick Delgado (Rota) 23-30—53
Adrian Conrad (Ram) 22-27—49
Eric Hernandez (Lake) 23-19—42
Zach Carroll (Lake) 21-18—39
Mike Davidson (Ram) 13-22—35
Stephan Braden (Ram) 18-15—33
Eric Mosley (Ram) 14-17—31
Chris Halbritter (Ram) 15-13—28
Kyle Bookout (Kais) 13-13—26
Tyler Woodrow (Lake) 12-7—19
Michael Semon (Ram) 6-13—19
Tyson Campbell (Lake) 5-6—11
Noah Fortunato (Ram) 3-6—9
Girls
(Stableford scoring)
Team scoring—Ramstein 59, Lakenheath 44, Heidelberg 36, Patch 34, Kaiserslautern 29, Vilseck 18. Lajes incomplete.
Allysen Vance (Ram) 21-16—37
Brittany Morris (Patch) 11-13—24
Molly Henage (Lake) 9-14—23
Marissa Engelbaum (Ram) 5-17—22
Sarah Fowler (Heid) 4-17—21
Kayla Esmond (Lake) 12-9—21
Barbara Burriss (Kais) 9-10—19
Connie Kwon (Heid) 8-7—15
Becca Groff (Kaiserslautern) 6-4—10
Lara Habel (Patch) 3-7—10
Stevi Hood (Vilseck) 3-7—10
Courtney Baer (Vilseck) 3-5—8
Mercedes Prand (Lajes) 1-2—3