K-town, Ramstein reach D-I final
by
Rusty Bryan
November 3, 2007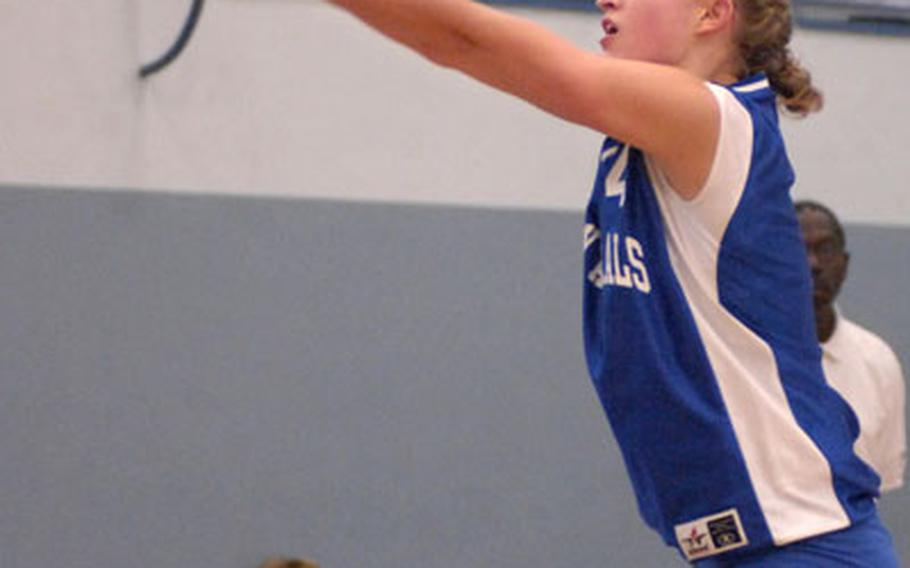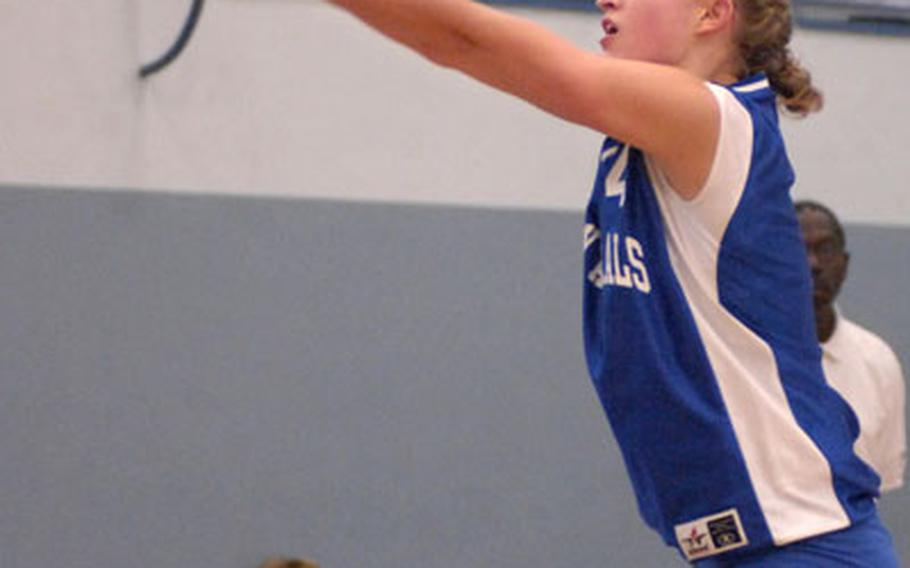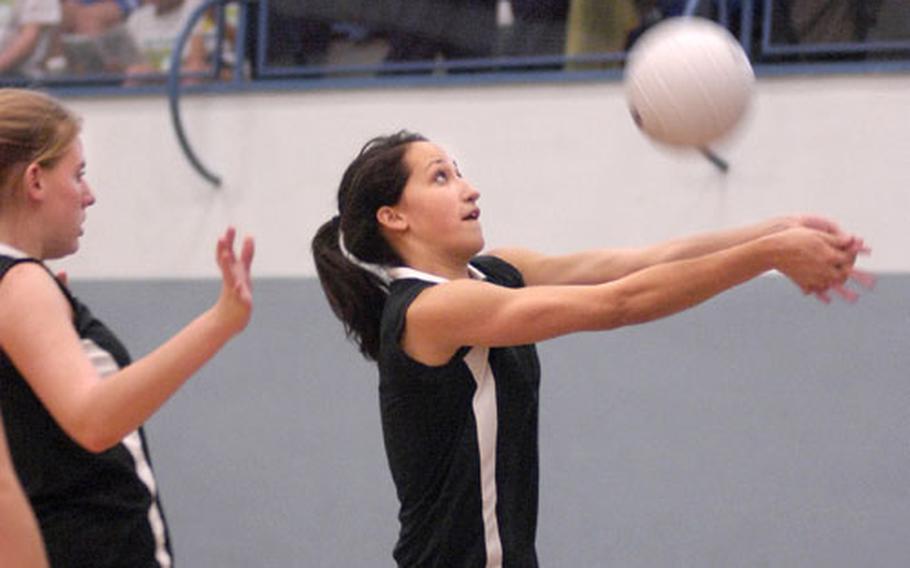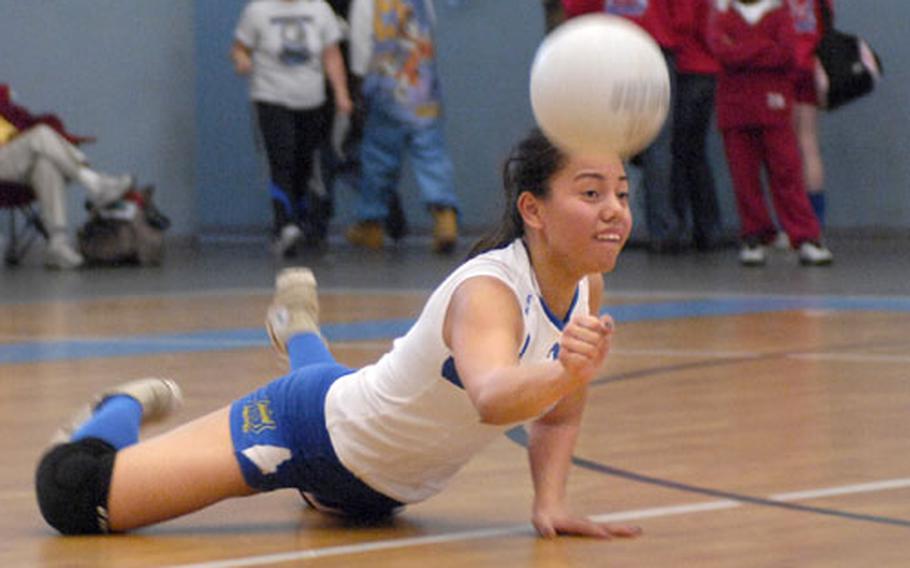 KAISERSLAUTERN, Germany — Rota and Hanau were the first teams Friday to qualify for the DODDS-Europe girls volleyball championships, but it was one of the home teams that made the biggest noise in the four-division, three-day tournament that winds up Saturday.
The Kaiserslautern Lady Raiders, seeded third in Division I, spotted top-seeded and two-time defending champion Ramstein a 2-0 lead, then gutted their way back to a 12-25, 22-25, 25-15, 26-24, 15-11 victory. It was Ramstein's first loss in two years.
"We thought we could come back after we shook off that first game. We didn't show up for that one," Kaiserslautern coach Scott Davis said as he watched Ramstein defeat No. 2 Lakenheath in a later D-I match.
Kaiserslautern and Ramstein will play again in Division I's 2:30 p.m. title game
Davis said the Lady Raiders righted their ship behind the play of senior middle blockers Tylisa Hendrix and Lisa Domingo.
"The first game-and-half, our hitting and passing were nonexistent," he said. "We've been slow starters all year."
Ramstein rebounded from the loss to rout Lakenheath 25-13, 25-10, 25-17. The sweep meant the top three seeds, Ramstein, Lakenheath and Kaiserslautern, all ended round-robin play 3-1, with Ramstein and K-town advancing on the basis of percentage of games won among the three. Had Lakenheath beaten Ramstein, it would have played K-town in the title game.
Following the K-town loss, Ramstein took mental and verbal steps to regroup.
"We were pumped up after losing this morning," said Ramstein senior libero Sierra Stayberg. "In fact, that's when we came up with our motto for this game."
The Lady Royals lived up to the motto — "Smack it to 'em," — from start to finish.
"We could have played as many as four games and made the finals," Stayberg said, "but we wanted to take care of it as soon as we could."
In the semifinal matches completed by presstime Friday:
Rota defeated Sigonella 25-21, 25-15, 25-8, and Hanau beat Lajes 22-25, 26-24, 25-10, 17-25, 15-13 in Division IV.
Top-seed Rota hit its stride with a vengeance. "We played as a team," said senior middle hitter Gregoria Johnson, whose team was less than sharp Thursday. "We finally played Admirals' volleyball."
All-Europe middle blocker Bethany Walcott expected the level of play to continue in Saturday's 10 a.m. title game. "This is the third year in a row we've been in the finals," she said. "We've just got to play our game."
No. 2 Hanau's up-and-down day against Lajes should provide a lift for Panthers, according to freshman outside hitter Tatjana Gainey. "We pulled through some tough situations and still kept it together for five games," she said. "It will help our confidence."
In Division III, Baumholder topped Hohenfels 30-28, 25-11, 25-17, while Bamberg was playing Marymount International School of Rome in a late game.
No. 1 seed Baumholder passed the first-game gut check and rolled into the 11:30 a.m. title game. "Those are the games you live for," said Baumholder junior setter Katrina Alsup of the match-opening marathon. "You get to play more volleyball."
It was Baumholder's second victory this year over Hohenfels, and the Lady Bucs could face another team they have beaten if Bamberg advances.
In Division II, Aviano beat Black Forest Academy 25-16, 25-14, 25-19.
BFA simply had no answer for 5-9 senior Tiffany Hight, whose assortment of slams and dinks sparked the top-seeded Saints. The MVP candidate registered 19 thunderous kills despite the best efforts of BFA middle blocker Joanna Kelly.
Aviano will take on the winner of Friday's late semifinal between SHAPE and Bitburg at 1 p.m. for the D-II crown.