K-town girls make a statement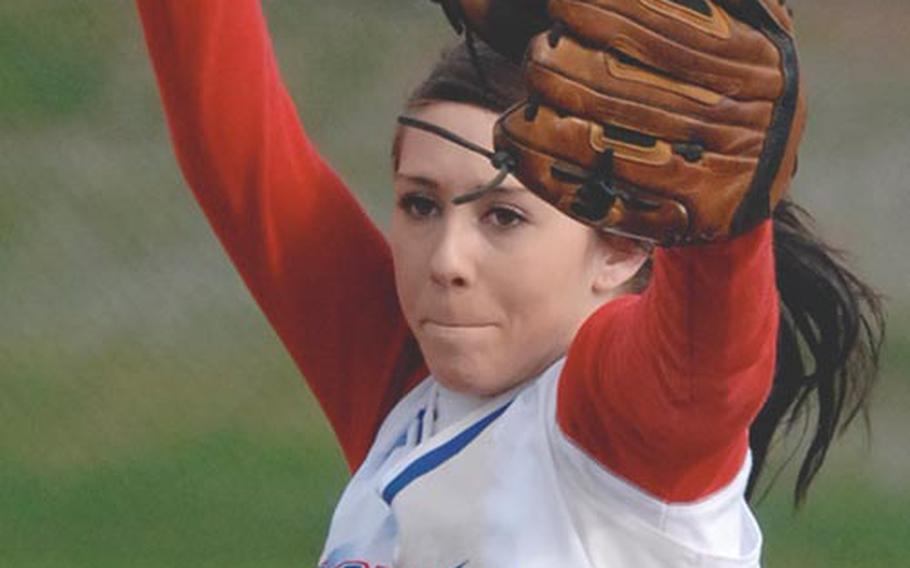 The usual Ramstein-Lakenheath race for the European Division I softball championship expanded to at least a three-way battle Friday when Kaiserslautern swept visiting Lakenheath 6-5 and 16-15.
Ashley VanAmburg tossed a four-hitter in the opener, striking out four and walking four.
Ali Parkerson took the loss. She surrendered eight hits, struck out seven and walked two.
Karah Helm stroked two triples, and Shampayne Smith drove in two runs with a double and a triple for Kaiserslautern to back VanAmburg's pitching.
The nightcap was decided by a tiebreaker when the game was tied at 13 after four innings. Defensive misplays led to 13 Kaiserslautern runs in the first three innings, but Lakenheath came back to tie it by taking advantage of K-town errors.
In the tiebreaker, each team started with a runner on second base and was given three outs. All-Europe outfielder Kaylin Hesler stroked a three-run homer to put Kaiserslautern up 16-13. It was her second homer of the game to go along with a double and a 5-for-5 performance at the plate.
Parkerson doubled home two runs in her half of the extra inning, but winning pitcher Kat Jastrab gloved a comebacker off the bat of Nicole McBride and threw her out to end the game. Parkerson took the loss despite going 4-for-5.
On Saturday, the Lady Raiders tacked on two triumphs by sweeping Alconbury 20-1 and 28-5. Hesler again led the way at the plate, going a combined 6-for-8 with a double and home run.
In other softball games of note:
Ramstein 13-17, Lakenheath 4-7: Saturday at Ramstein, All-European Lindsey Jones fanned six in the opener, and second-game winner Kelsey Freeman matched that total in the nightcap as the defending European champion won its first four games of the season. The Lady Royals battered Division III Alconbury 28-0 and 35-0 in a pair of three-inning games Friday, the first a one-hitter by Jones.
Patch 20-13, Ansbach 1-2: Saturday at Ansbach, All-European Bianca Lopez struck out 10 and allowed just one hit in the four-inning opener. Anne Wasson provided all the backing Lopez needed, going 2-for-3 with a home run.
In the nightcap, Lauren Tannenbaum picked up her first high school victory in another four-inning game. Both runs against her were unearned. Kara Jackson, 5-for-6, and Victoria Harvey and Shannon Wright, both 3-for-4, provided more than enough support for Tannenbaum.
Patch is 4-0; Ansbach 0-4.
Vilseck 19-10, Heidelberg 9-9: Saturday at Heidelberg, Deraj' McClinton doubled home Taylor Hall in the bottom of the last inning of the nightcap to complete the sweep. The blow ended Heidelberg's attempt to come back. The Lady Lions scored four times in the top of the final inning to tie the game at 9.
Hall singled and tripled and drove in two runs to help Alex Velez pick up the first-game pitching victory. Vilseck is 4-0. Heidelberg 2-2.
Naples 18, Vicenza 4: Saturday at Naples, the defending European D-II champion polished off Vicenza for a 3-0 record behind winning pitcher Katelyn Eckert, who stroked a leadoff triple in her first at-bat of the season.
Third baseman Tori Ward drove in two runs, and backup catcher Sella Pauling went 3-for-4.
Naples 20, Vicenza 5: Friday at Naples, Clara Davis grabbed the victory behind five RBIs from Ward and two RBIs each from Teryn Teigan and Christian Ybarra.
Naples 14, Aviano 1: Friday at Naples, Davis again picked up the victory, striking out 11 of the first 15 batters she faced and going 3-for-4 with two RBIs. She finished the five-inning game with 12 strikeouts.
Sigonella 10, Aviano 8: Friday at Naples, Alexis Palmer and Mekayla Valentine each went 4-for-4 for Sigonella.
Hohenfels 19-10, Wiesbaden 0-3: Saturday at Wiesbaden, All-Europe pitcher Mandy LaVanway fanned 10 Wiesbaden batters in each game.