K-town all-stars fall in Senior League semis
---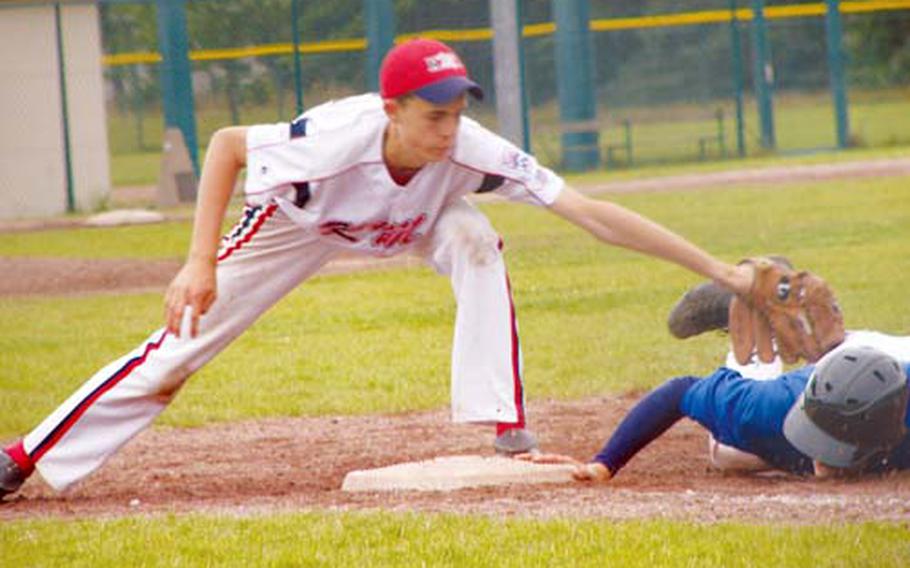 RAMSTEIN AIR BASE, Germany — Autumn, in the form of a season-ending 6-5 semifinal loss to Italy, arrived Friday for the 15- to 16-year-old boys of summer playing for the Kaiserslautern military community all-star baseball team.
Italy closer Tomas Marusig retired six of the first seven batters he faced after coming on to end a KMC threat in the top of the fifth, retiring Tyler Breed on a slow roller to third with two outs and the bases loaded.
KMC had tied the game 5-5 earlier in the inning on Shane Foley's two-run single, but the all-stars had no answer to Marusig, who struck out two batters in each of the last two innings he worked.
Italy's champions, from Fruili Venezia Giulia, scored the decisive run in the bottom of the sixth in the seven-inning game by taking advantage of hard-luck two-strike pitching by KMC reliever Cavan Cohoes. The first two Italy batters reached despite having two-strike counts — Cohoes hit leadoff batter Fabio Miceu with an 0-2 pitch, then walked Giacomo Miceu on a 3-2 count. Andrea Bernini beat out a bunt to load the bases, and after Marco Gheno struck out, Federico Ugrin lofted a fly ball to right to score Miceu from third and give Italy a 6-5 lead — enough for Marusig.
Third baseman Josh Sloan gave KMC an early lead on a sacrifice fly to left that drove in Andre Porterfield, who reached second to open the game on a soft liner that Italy second baseman Ugrin dropped. Porterfield, running hard, continued to second when Italy failed to cover the bag.
Sloan, who finished his six games here 11-for-21 with two home runs and 14 RBIs, made it 3-0 in the third. He took Italy starter Gabriele Orso over the left-field fence with Porterfield, who had been hit by a pitch, standing on third.
Italy broke loose for five runs in its half of the third against Finn Friedenberger, who had relieved starter Porterfield to start the inning. After striking out the first batter he faced, Friedenberger gave up three walks, two singles and threw a wild pitched that brought in a run.
Only two of the runs were earned, as KMC committed two errors. The damage might have been worse had not Porterfield, who took over in center after being relieved, crashed into the center-field fence to rob Ugrin of extra bases with two runners on.
The loss ended KMC's season. Italy advanced to Saturday's title game at Ramstein against the winner of Friday's other semifinal between two-time defending champion Lithuania and Moldova. Saturday's winner advances to next month's Senior League World Series in Bangor, Maine.
"We played the best we could," Sloan said. "We did everything possible."
---
---
---
---