Europe baseball preview
Just about everyone's a contender
by
Gregory Broome
May 23, 2017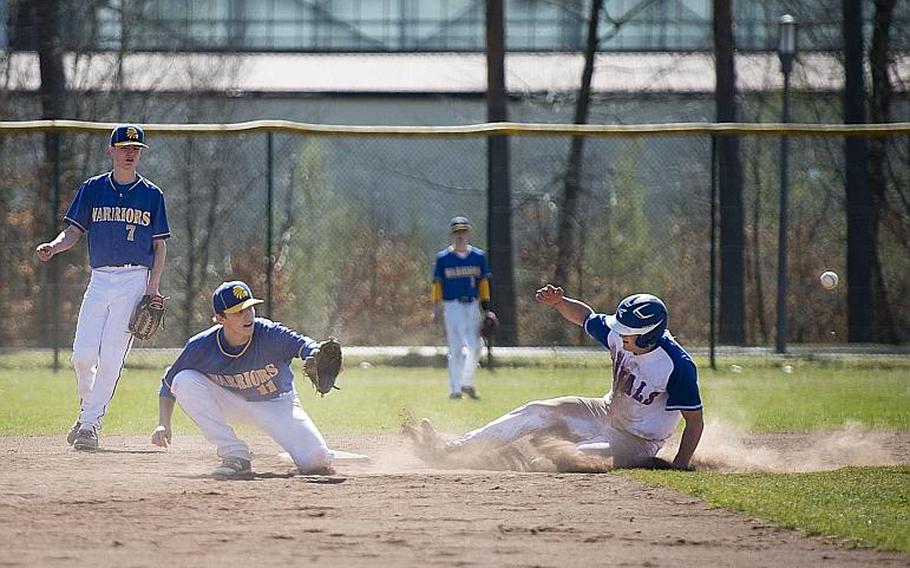 The 2017 DODEA-Europe baseball championships, set to play out Thursday through Saturday at Kaiserslautern and Ramstein, Germany, have a very tough act to follow: the 2017 baseball regular season.
Every team in DODEA-Europe has lost at least one game this spring, and all but one has won at least once. The Division I and Division II/III fields have favorites but no shoo-ins, and have dark horses but few truly hopeless cases.
Division I This spring's disruption of the established norms of DODEA-Europe baseball starts at the very top, with four-time defending champion Ramstein. The Royals lost their first game since 2014 on March 30, a 4-1 loss against the visiting Wiesbaden Warriors.
This might have been taken as proof of an ascendant Wiesbaden program ready to supplant the Royals. The Warriors have spent years in contention, including a 2016 semifinal berth, and have long been poised on the edge of a breakthrough. But the Warriors had already lost both of their opening-weekend games to the Stuttgart Panthers. They also dropped the second game of that doubleheader with Ramstein, then split two-game sets with 2016 runner-up Kaiserslautern, Lakenheath and SHAPE. Wiesbaden, while still a viable contender, was not the juggernaut of Division I.
In the meantime, other teams lined up to take swings at the suddenly vulnerable Royals, and several of those blows landed. Stuttgart, Lakenheath and even 2016 Division II/III runner-up Bitburg earned doubleheader splits with the reigning champions, dragging Ramstein back to the Division I pack after years of leading from in front.
All of that perhaps left Stuttgart as the team to beat, with a split against Ramstein and sweeps of Wiesbaden, Kaiserslautern and Vilseck to its name. But there's also a gap in the Panthers' resume - an 8-4 loss to the Naples Wildcats on April 29.
In fact, Naples is the only team to bring a perfect divisional record into this week's tournament. The Wildcats' limited four-game body of Division I work also includes a sweep of Vicenza and a one-off win over Vilseck. Only a late-season 2-1 loss to Division II/III Sigonella denied Naples an undefeated season.
The upshot is a highly unpredictable nine-team bracket with more than half of those teams harboring legitimate championship aspirations, all competing under the auspices of a seemingly impactful new rule that will limit each pitcher to 125 total pitches over the course of the tournament.
That's why they'll play the games.
Division II/III The fuzzy picture on the small-school level is a mirror-image of the chaos among the large schools, complete with a dirtied multiple-time defending champion, a few hungry perennial contenders and a strong challenger from the far south of Italy.
Rota is the two-time defending champion, and was two runs away from strutting into the KMC with a perfect DODEA-Europe regular-season record. The Admirals swept the Bitburg Barons, the team they bested in extra innings for the 2016 championship, by a combined score of 22-6 in a late-April doubleheader. The next day, Rota bested AFNORTH 14-9, but an 18-17 Lion win halved that doubleheader and denied the Admirals their undefeated season.
Bitburg and AFNORTH remain among Rota's primary obstacles to a third straight championship, as both teams bring a winning divisional record to the postseason. The Barons have burnished their big-game bona fides with wins over Division I Ramstein and Lakenheath; AFNORTH's splits with both Rota and Bitburg prove the Lions are right in the thick of the title hunt.
Bavarian entries Ansbach and Hohenfels, the former a returning semifinalist, have struggled in the win-loss column this spring but are notoriously tough outs come tournament time.
But like Naples in Division I, it's an Italian team that makes the long trip north with the only unbeaten divisional record in the field. Sigonella earned all four of their divisional wins against last-place Aviano, but wins over Division I Vicenza and Naples prove these Jaguars have real teeth.
Twitter: @broomestripes