Juniors Tillman, Nielsen take Okinawa cross-country titles
by
Dave Ornauer
October 28, 2005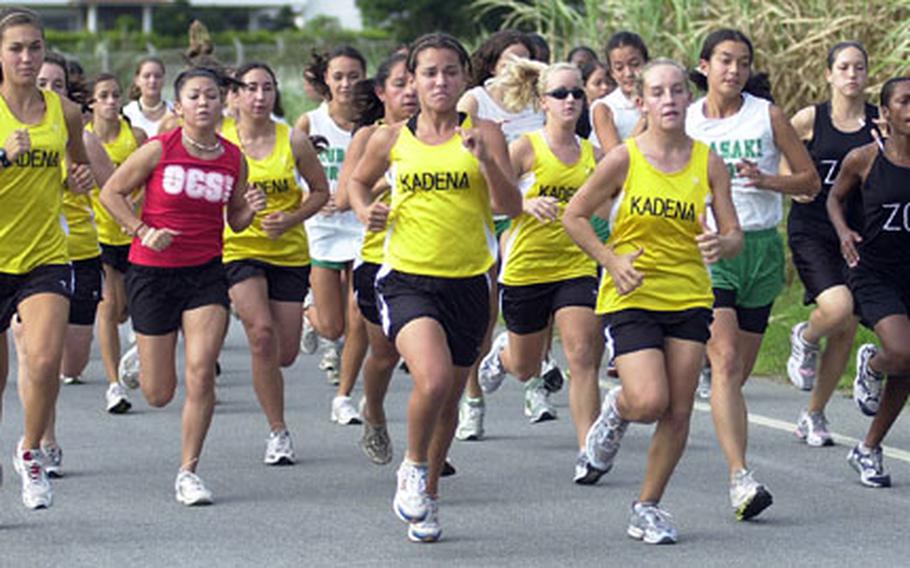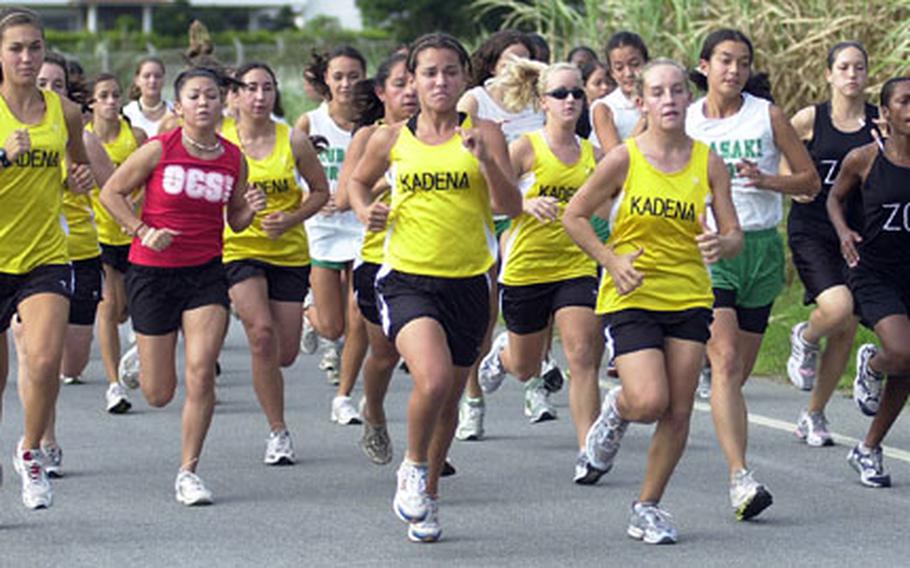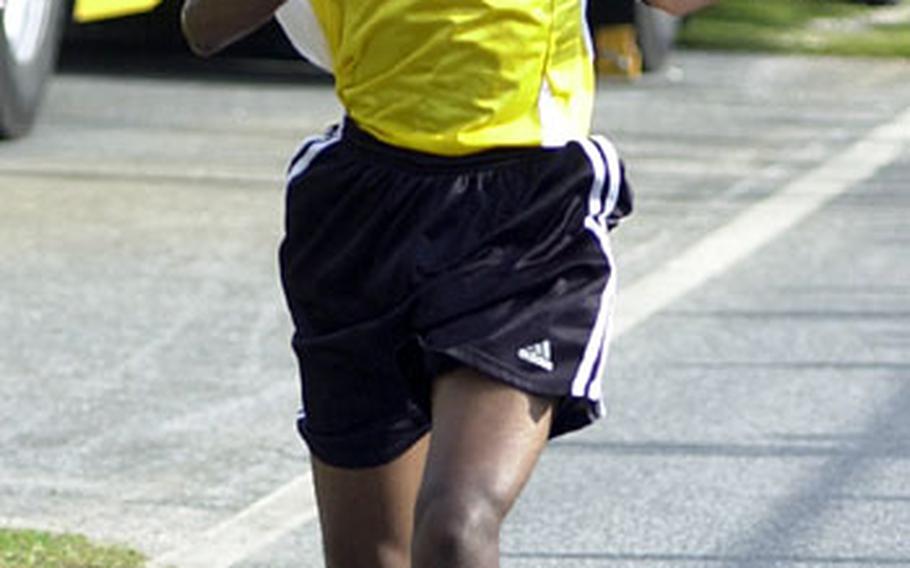 TORII STATION, Okinawa — Anthony Tillman of Kadena and Beth Nielsen of Kubasaki became first-time all-island champions on the Okinawa Activities Council cross-country circuit Wednesday, capturing the boys' and girls' individual races in season- and personal-best times on Torii Beach.
Tillman, a junior, became the sixth winner of an OAC race this season, completing the 3.1-mile course in 17 minutes, 22 seconds — four seconds better than Panthers teammate Tim Nabonne.
Nielsen, a junior, posted a time of 19:58, 21 seconds ahead of defending island and Far East champion Niki Kauzlarich of Kadena.
While the individual champions were new, the team championship remained in the Panthers' hands: Kadena outdistanced Kubasaki 19-52 in the boys standings and 24-50 in the girls.
Tillman and Nielsen each expressed surprise at becoming all-island champions and heaped much of the credit upon their respective teammates.
"I didn't know how I was going to do," Tillman said, adding that having Nabonne nipping at his heels fueled his sprint at the end. "The kick I had, Tim inspired me. He helped me a lot."
Tillman joined Kadena teammates Aaron and Ben Zendejas, Nabonne and Alex Trayer and senior Chris Chism, a DOD ID-card holder attending Zion Christian Academy, as OAC boys individual race winners this season.
"There's always somebody who steps up," said Kadena coach Tom McKinney, adding that in the past few weeks, Tillman, a sprinter by nature, had begun to show the potential to win long-distance races. "It was just a matter of time."
The same could be said for the girls individual title, which Kadena runners had won every year since Jillian Grubbs and brother Greg of Kubasaki went unbeaten in 2000.
In a workout the day before the all-island finals, Nielsen said teammate Matt Coon had paced her and helped her finish her practice run in close to 20 minutes. "So I just imagined that I was running with him," Nielsen said.
It was her second OAC individual race victory of the season. Kauzlarich and third-place runner Dianne Abel each won two races.
"She's one who you just don't know what she'll do," Kauzlarich said of Nielsen. "You're thinking she'll do one thing and then she'll surprise you. She's good. She's really strong."
That the OAC individual race victory podium resembled a revolving door this season hints that the Far East meet, Nov. 7-8 at Misawa Air Base, Japan, could be just as competitive, said Kauzlarich.
"I knew that at the start of the season," she said. "There's going to be good competition. At Far East, anything can happen. It's going to be exciting."
2005 Okinawa Activities Council All-Island ChampionshipAt Torii Beach, Torii Station, Okinawa, 3.1-mile course
Boys team scores
1, Kadena, 19; 2, Kubasaki, 52; 3, Okinawa Christian International, 67; 4, Zion Christian Academy, 200
Boys individual results
x-1, Anthony Tillman, Kadena, 17 minutes, 22 seconds
x-2, Tim Nabonne, Kadena, 17:26
x-3, Chris Chizm, Zion, 17:35
x-4, Aaron Zendejas, Kadena, 17:43
x-5, Ben Zendejas, Kadena, 17:46
x-6, Lee Robeson, Kubasaki, 17:49
7, Alex Trayer, Kadena, 17:50
8, Matt Coon, Kubasaki, 18:17
9, Chris Workman, Kubasaki, 18:30
10, Caleb Kennedy, OCSI, 18:35
Girls team scores
1, Kadena, 24; 2, Kubasaki, 50; 3, Zion Christian Academy, 103; 4, Okinawa Christian International, incomplete team
Girls individual results
x-1, Beth Nielsen, Kubasaki, 19:58
x-2, Niki Kauzlarich, Kadena, 20:19
x-3, Dianne Abel, Kadena, 20:21
x-4, Lisa Nielsen, Kubasaki, 20:36
x-5, Taylor Carver, Kadena, 20:48
x-6, Victoria Lyle, Kadena, 21:00
7, Lakeisha Haynes, Zion, 21:07
8, Michelle Castillo, Kadena, 21:48
9, Katelin Kennedy, Kadena, 22:32
10, Stephanie Gamboa, Kubasaki, 22:45
x-All-Island team selections