Jones, Ansbach outlast Aviano in scoring extravaganza
---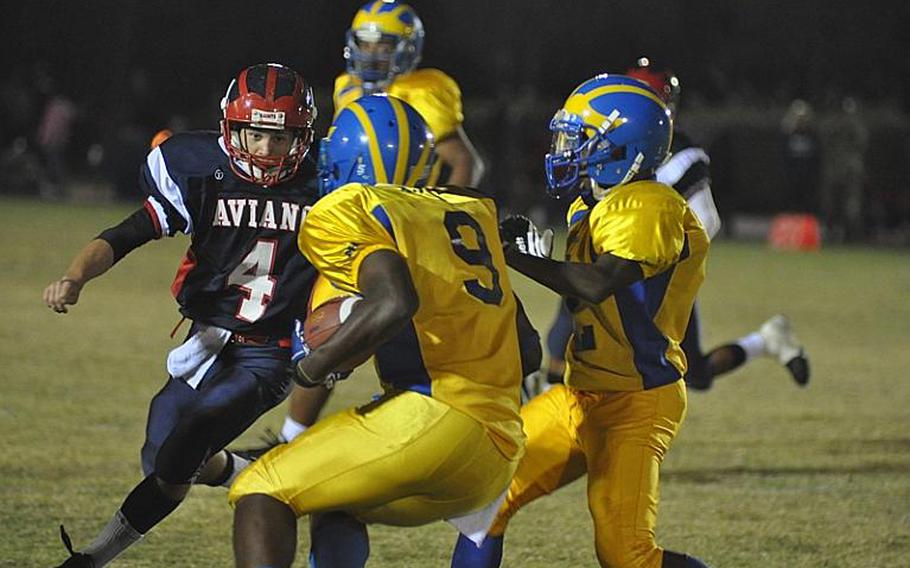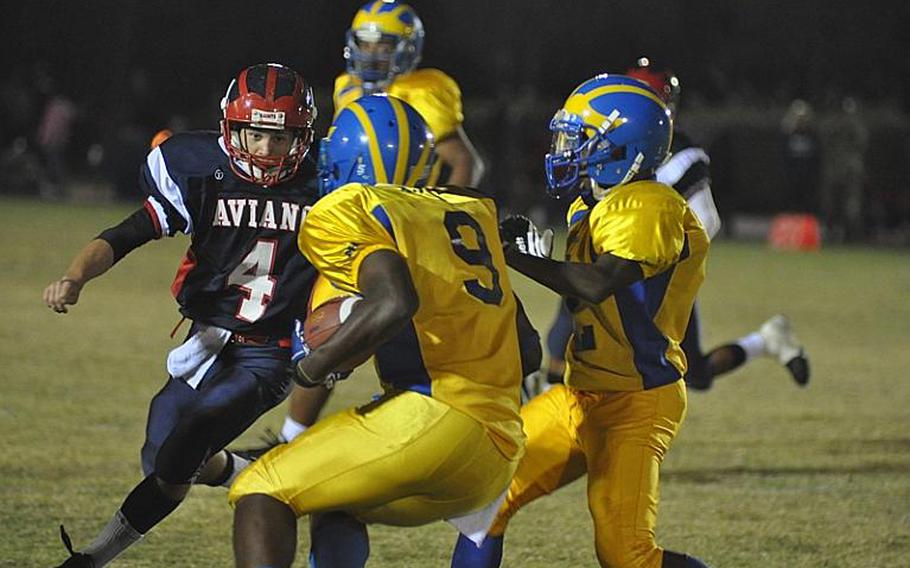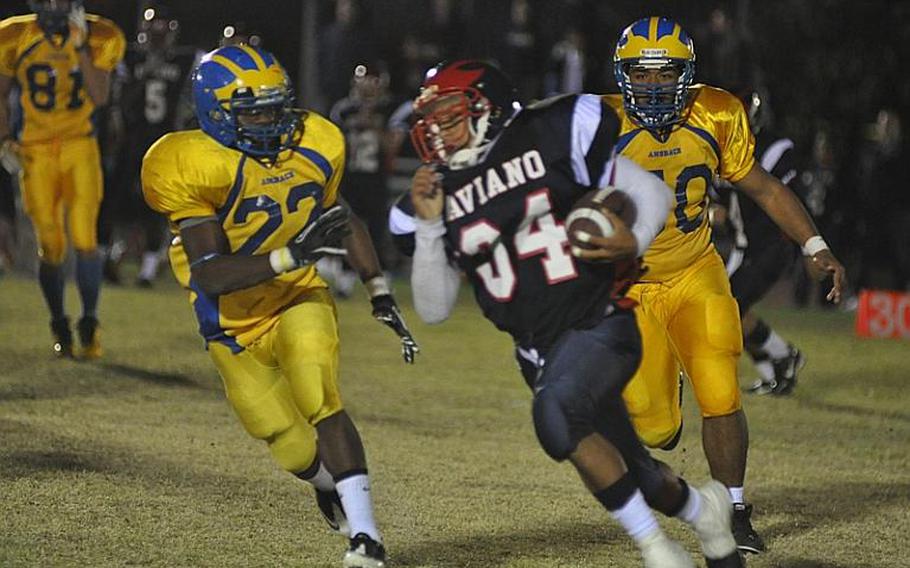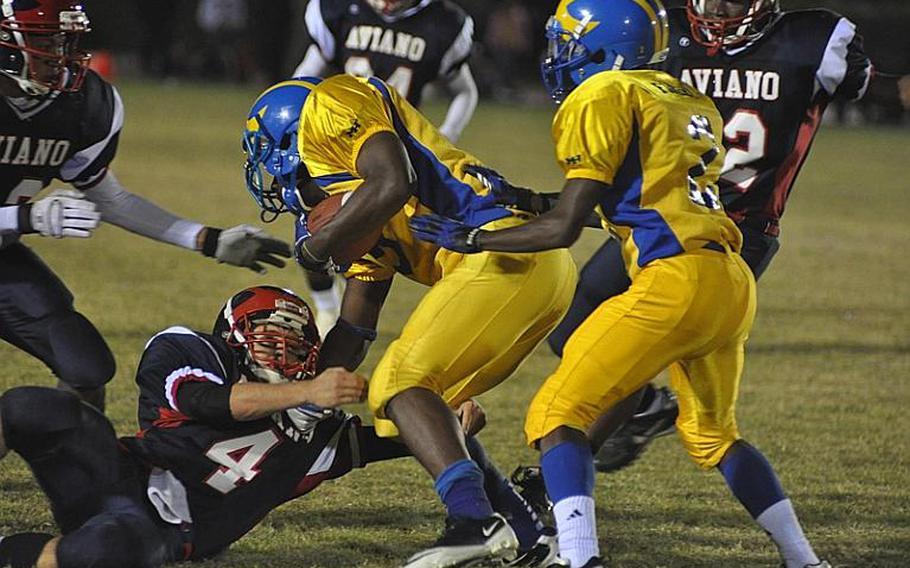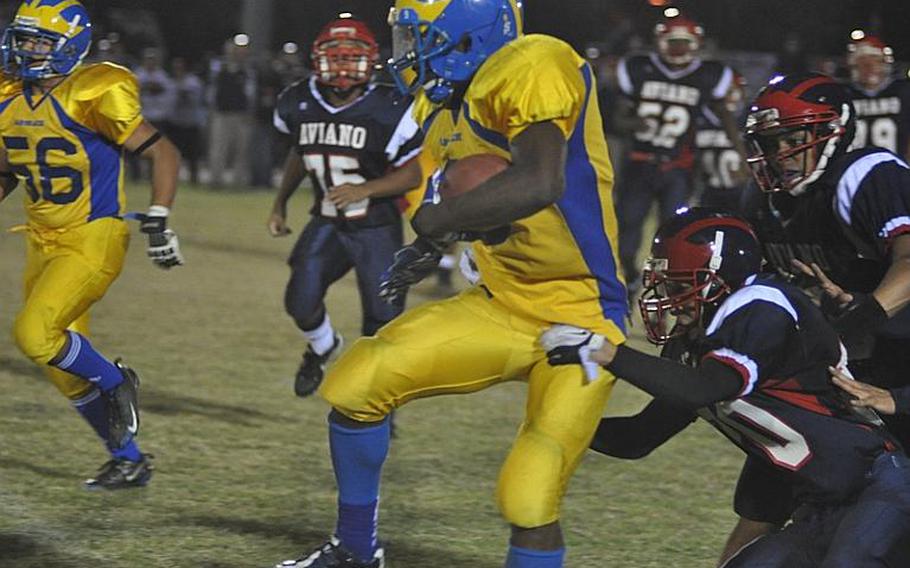 AVIANO AIR BASE, Italy – After a remarkable 323-yard, six-touchdown performance on Friday night, Ansbach's Xavier Jones described himself as "tired" and "beat up."
Those words likely come as cold comfort to the Aviano Saints, who gave up 44 second-half points, including two quick scores by Jones early in the third quarter, en route to a 70-42 loss to the Cougars.
It was the third straight 300-plus yard game for Jones, but it was those two plays after halftime that gave Ansbach the momentum for good and helped the Cougars wrap up a share of the Division II-South title.
With his team holding a narrow 26-21 halftime lead, Jones capped Ansbach's first drive of the second half, and longest drive of the night, with a 1-yard score.
He then recovered an onside kick and minutes later was back in the end zone again. Ansbach led 40-21 and the Saints didn't get closer than two scores after that.
Ansbach coach Marcus George said the onside kick isn't usually a part of his team's repertoire. But he said it just made sense against the Saints.
"It's a 50-50 chance we get it," he said. "Aviano was scoring every time they got the ball. And that's 100 percent. So the odds were in our favor."
The Saints, who entered the game with a chance to have the title all to themselves with a victory, only had the ball for seven plays in the third quarter. They scored on two of them, but didn't gain any extra points for being efficient.
"They just outmuscled us in the second half," Saints coach Rick Dahlstrom said.
The Cougars dominated the ball after halftime and gained 420 of their 709 yards on offense over the final two periods. Jones got some help, with DeMar Flake rushing for 114 yards and quarterback Jake Vorhees completing seven passes for 169 yards.
Aviano quarterback Corey Webb, who chased Jones all over the field from his safety position on defense, was no slouch on offense either. He carried the ball nine times for 69 yards and two touchdowns and threw two touchdown passes. Darien Cornett rushed for 167 yards and scored two more touchdowns.
Flake, Vorhees and Dorion Jones also rushed for touchdowns and Vorhees connected with Matt Phipps for another score.
A Naples victory Saturday over Schweinfurt would create a three-way tie atop the conference standings to end the regular season. Ansbach would receive the top seed based on point differential, George said, and would host the fourth-place team from Division II-North next weekend. Aviano would have the second seed and would host Baumholder, the No. 3 team in the north. Naples would travel to play ISB, which finished second in Division-II North.
---
---
---
---