Johnson's clutch shooting lifts E.J. King girls in key JBL game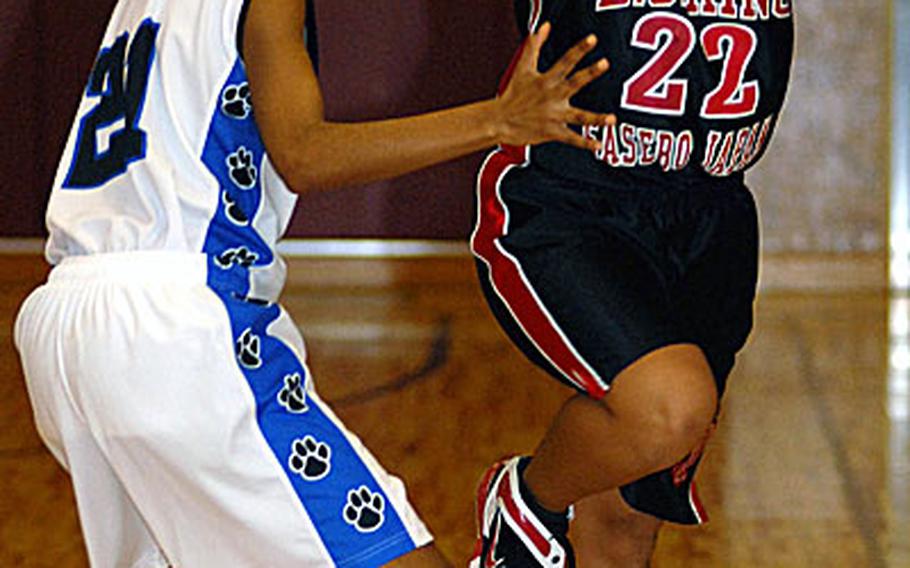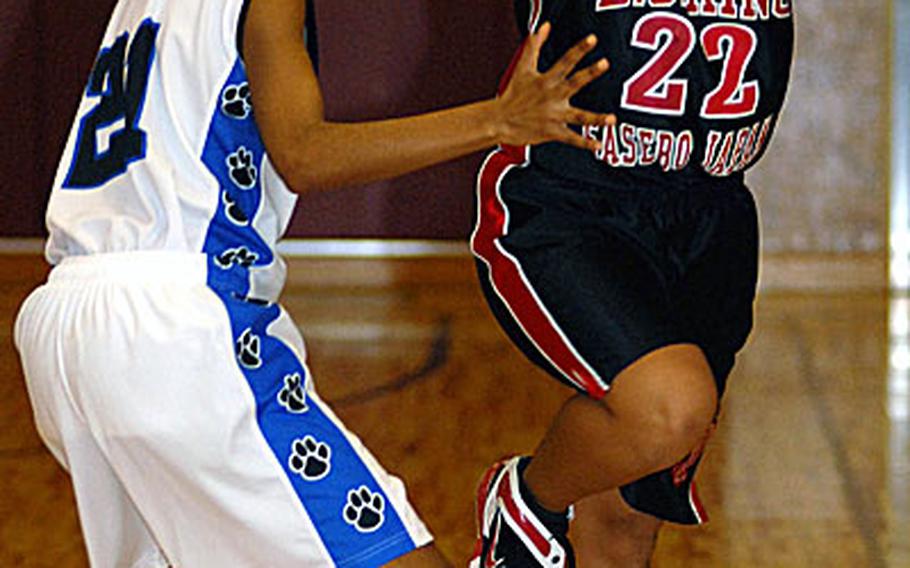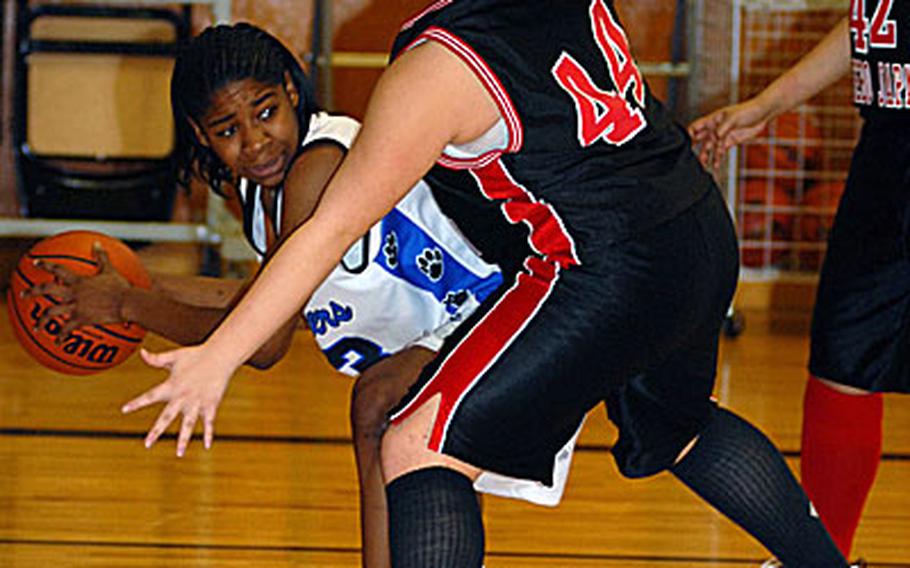 IWAKUNI MARINE CORPS AIR STATION, Japan — Just when it appeared that the chances of winning a DODDS-Japan Basketball League title were slipping away from the E.J. King girls, Yudia Johnson came to the Cobras' rescue.
The senior forward hit two clutch baseline jump shots, the first coming with 1:38 left, and gave the Cobras the lead for good as they survived a seesaw battle with Yokota 48-43 on Saturday with the league lead at stake.
"She's amazing," coach Bridget Vertin said of Johnson. "She embodies the spirit of the Cobras ballclub, which is why she's been team captain for three years. When we need it, she turns it up."
The victory put the Cobras (21-1) in the driver's seat for the DODDS-Japan title. They're 10-1 in the league, a half-game ahead of the Panthers (14-3, 10-2).
Johnson scored six of her 15 points in the final quarter of a game in which the lead changed 10 times. She might have done more, but missed part of the second half because of foul trouble.
"Even sitting down five minutes with fouls, she comes back in and plays smart," Vertin said.
The Cobras also had prepared, Vertin said, for the defenses Yokota coach Ric Cabral employed against E.J. King.
The Panthers used a 2-2-1 zone press and a box-and-one defense in an effort to trap and slow Cobras junior guard Kristia Suriben, who nonetheless broke the pressure again and again.
"We worked on that in practice," Vertin said. "But she can handle the ball so well, it didn't make a difference."
"She makes a difference. We threw everybody at her," Cabral said of Suriben.
Cabral said that playing too conservatively in the closing minutes, instead of remaining aggressive, helped keep the Cobras close enough to snatch the victory.
"We had a five-point lead and I changed the game plan," Cabral said. "We got passive. We're an aggressive team. We didn't play aggressively and that opened things up" for Johnson in the closing moments. "We also need to mature as a team."
To match the Cobras for the league's best record, Yokota needs to win its last two JBL games, at home against Zama American on Feb. 13 and at Nile C. Kinnick on the 15th, and hope that E.J. King falters in at least one game in its last remaining JBL weekend series at Matthew C. Perry.
Falcons coach concerned about team's readinessFor the fourth straight year, Seoul American's girls basketball team has rolled to a 14-0 record in the Korean-American Interscholastic Activities Conference.
The Falcons, two-time defending Class AA and 15-time KAIAC champions, haven't lost in 65 regular-season games dating to the 2002-03 season.
But coach Charlotte Hicks worries that her charges aren't fully prepared to defend their Class AA titles in this year's tournament, which begins Feb. 19 at Kadena Air Base, Okinawa.
Her main concerns, she said: Injuries, illness and emergency leaves that have prevented Hicks from cementing a player rotation. And having not played in a post-level Christmas tournament this season, Hicks fears her players may read too much into their unbeaten record.
"This group has been challenged in ways the other groups haven't," Hicks said.
Thus, the opening day of the Class AA tournament could be a rude awakening, she said. The players who've not been there will "be petrified," Hicks said. "Those who've been there, I don't know if they'll step to the plate or go in thinking we're still Seoul American playing in Korea."
Eagles girls on a roll ... just in time for layoffThe timing of a two-week layoff before the Far East Class AA tournament on Okinawa could not have been worse for coach Sarah Richardson and the Robert D. Edgren girls basketball squad at Misaawa Air Base, Japan.
After losing 12 straight DODDS-JBL games, the Eagles showed signs of life, sweeping a two-game home series against Zama American, winning Friday's game 52-40 and Saturday's 51-36. Senior point guard Krystine Horsley led the way with a combined 32 points and 20 assists. Britni Bledsoe totalled 25 points and 20 rebounds and Vanessa Mandelin had 20 rebounds.
But the JBL schedule shows the Eagles idle for the next two weekends before they travel to Okinawa — which Richardson said concerns her.
"With a bye for two weeks and no games during the week, it's extremely hard for the girls to get the experience they need to be competitive," she said. "As always, we're going to give it our best shot."
---
---
---
---