Johnson, Pardee win two gold medals each
by
Rusty Bryan
July 18, 2010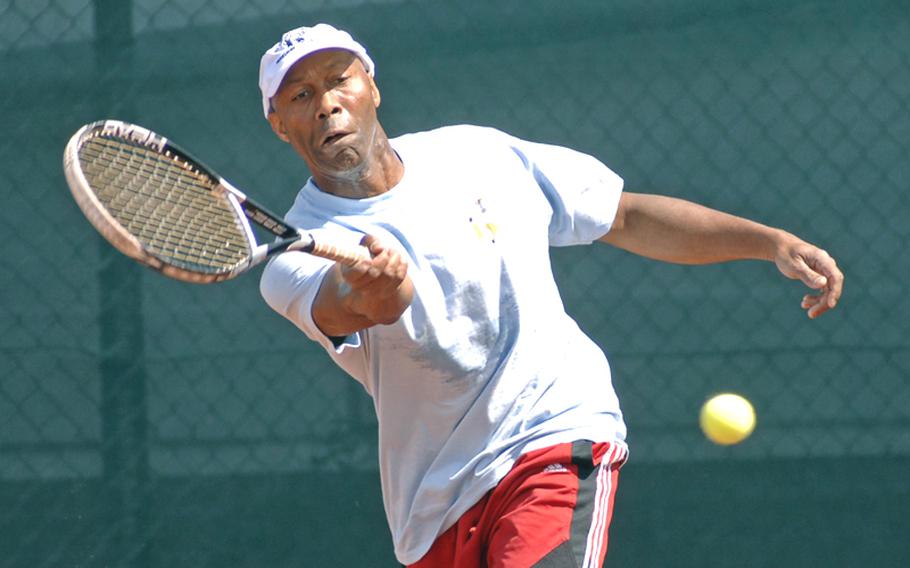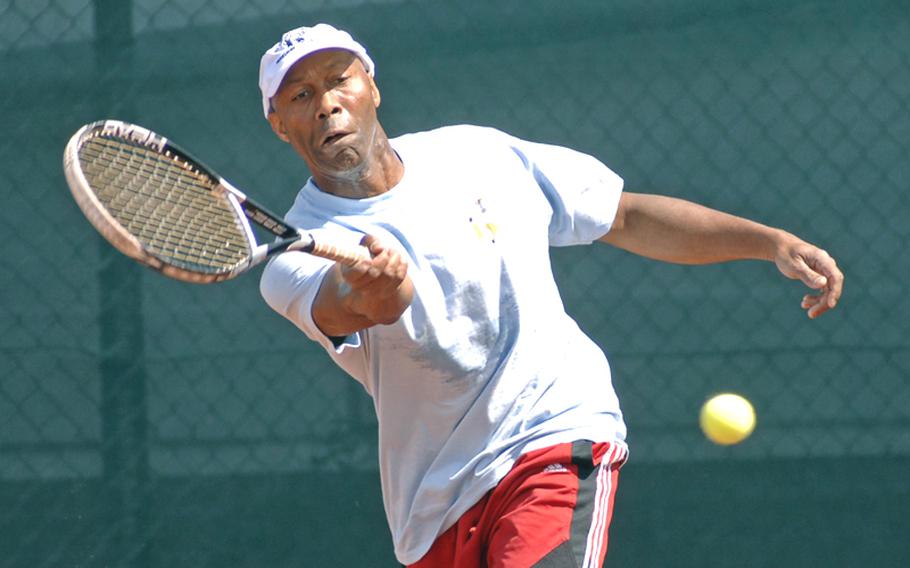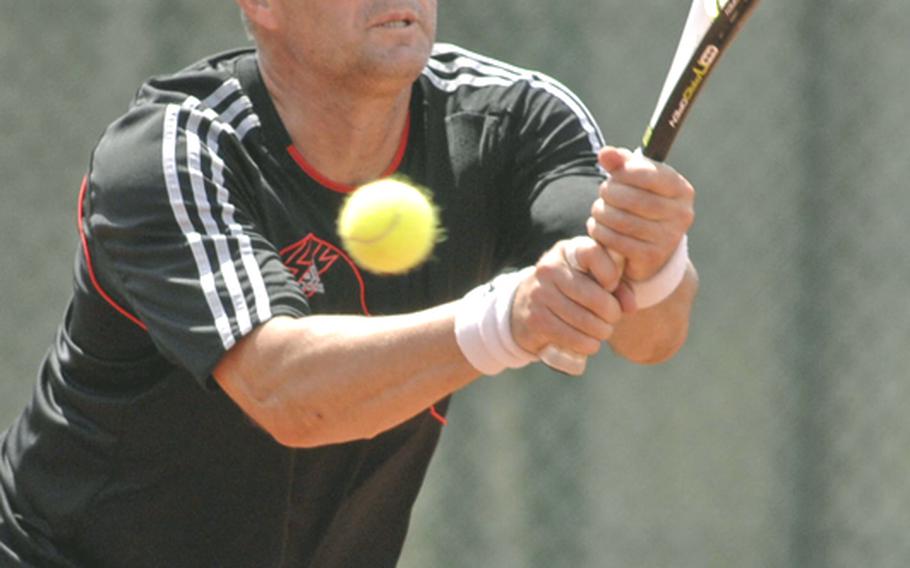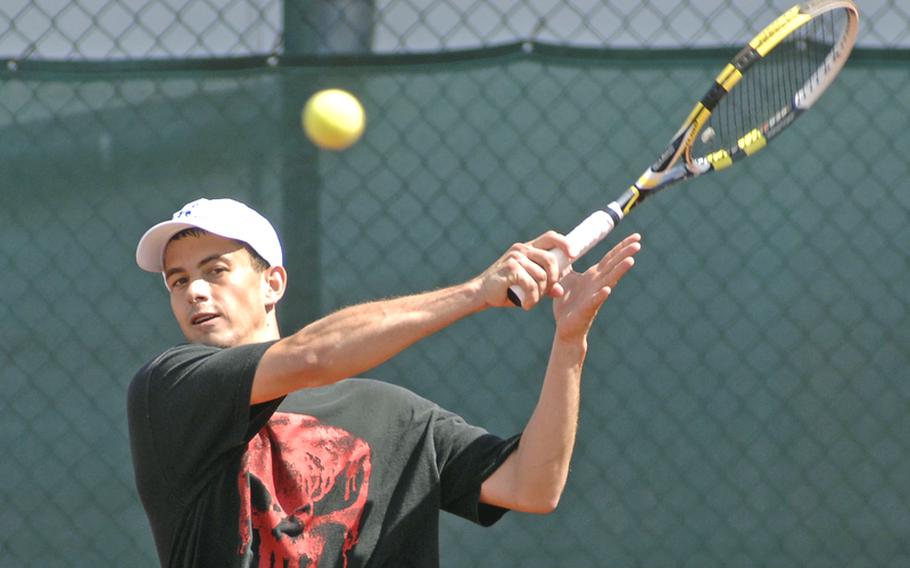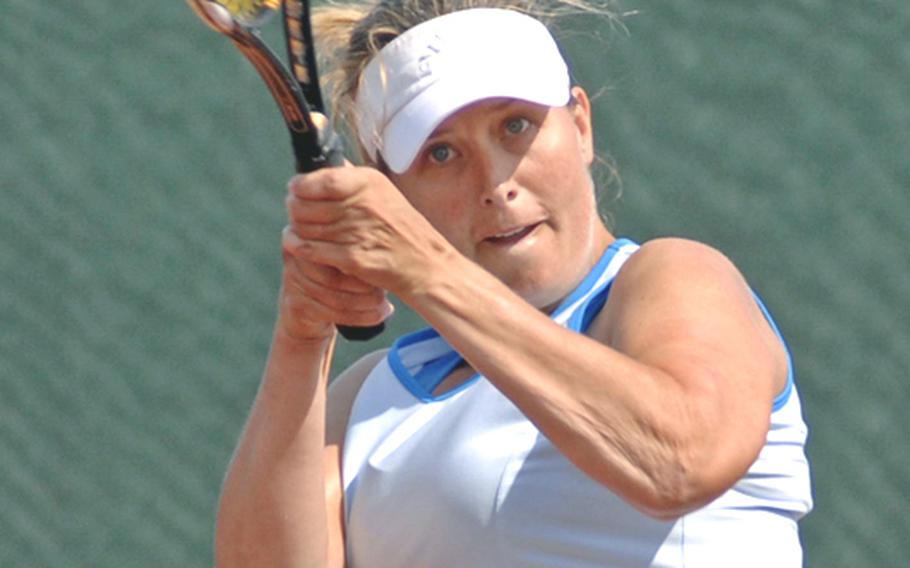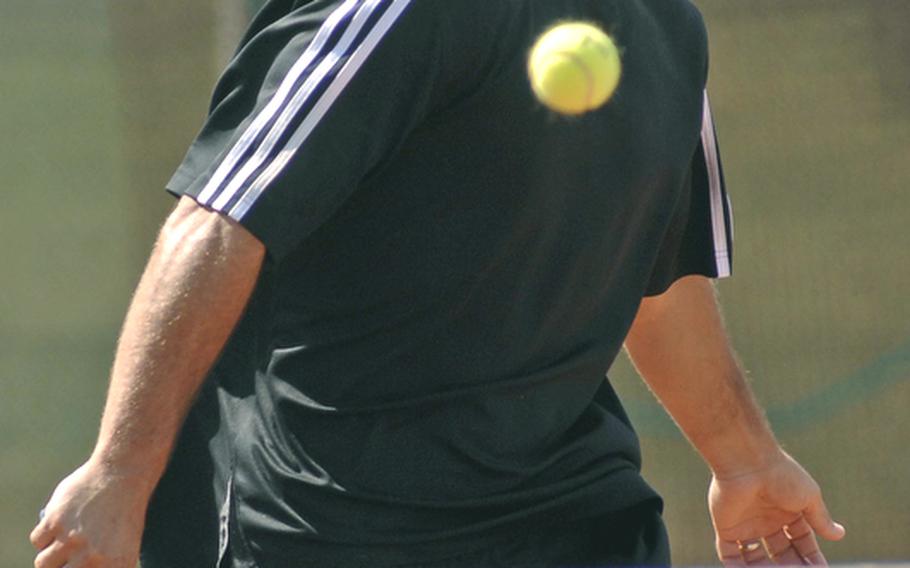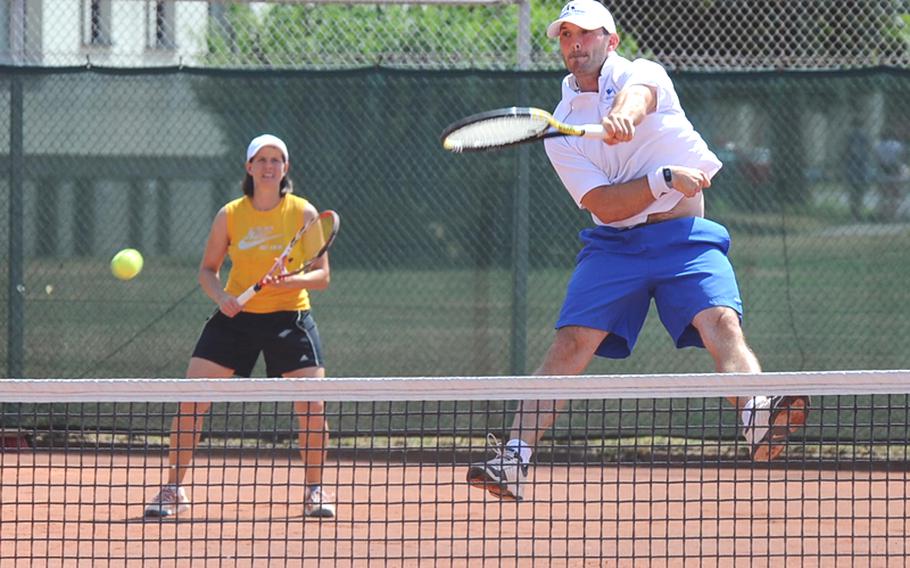 HEIDELBERG, Germany — Far-from-the-sea sailor Terry Johnson and 2009 women's open champion Maya Pardee took home two gold medals each Sunday as the 2010 U.S. Forces Europe tennis championships concluded a three-day run on the clay courts of the Patrick Henry Village tennis center.
Johnson topped his doubles partner, Jorge Sepulveda of Kaiserslautern, 6-3, 6-4 for the men's open singles crown, then joined forces with Sepulveda 90 minutes later to win the men's doubles title in straight sets over Heidelberg's Metin Karaca and Ralph Totorica, 6-3, 7-5.
Pardee, who also won this event in 2007, earned her two gold medals in straight sets, too. She opened her day with a 6-4, 6-4 conquest of fellow Spangdahlem resident Cheryl Riise, then teamed with Tim Goss of Heidelberg to down Heidelberg's Jackie Pitts and Chris Burr 6-2, 7-6 (7-3) for the mixed doubles title.
"I think I brought my game up a notch," Johnson said after putting on a clinic about returning everything hit his way against Sepulveda, whom he called his best friend. "He usually dictates the pace, but today I kept him off me."
Johnson fell behind 0-3, but then won seven straight games to take control of the match with exceptional first-serve accuracy and a determination to keep every point alive against the hard-serving Sepulveda.
"I told myself, 'I'm down 0-3, but I'm going to concentrate on keeping the ball in play,' " said Johnson, stationed at Landstuhl Regional Medical Center and probably the first U.S. Navy winner ever in this event. "Don't try to do anything big."
Johnson took his own advice so well that he needed just a half-dozen or so second serves in his 12-4 rally from that 0-3 deficit, denying Sepulveda even so much as a service winner the rest of the way.
"That's what my game is," Johnson said, "consistency."
Things were less consistent in the doubles final, where Johnson and Sepulveda trailed men's masters champion Karaca and runner-up Totorica 5-6 in the second set.
"I was a little tired," said Johnson, who went to his second serve almost as much during his first service game in the doubles as he did in his entire match against Sepulveda, "but we did what we had to do. We wanted to keep the ball in and let them make the mistakes. They did."
Karaca, one-half of the champion doubles team here last year, and his friend and partner Totorica were coming off the only three-set match played Sunday. Karaca won 2-6, 6-3, 6-1 in the final for players 30 years and older, but the pair's familiarity with each other led to some long, tiring rallies in Sunday's bright sunlight.
Pardee's game blossomed in that same sunshine.
"Her net play was phenomenal," said women's runner-up Riise, a former Air Force Academy performer. "She won all the important points at the net."
Pardee, who pointed to her service game as the key to victory over Riise, came back to team with Heidelberg's Goss for the mixed-doubles crown, her first in that event.
The heat was no problem, according to Pardee, nor was fatigue.
"I could have stayed out there all day," she said.