Jewell's return a nice suprise for Wiesbaden football program
by
Rusty Bryan
October 20, 2005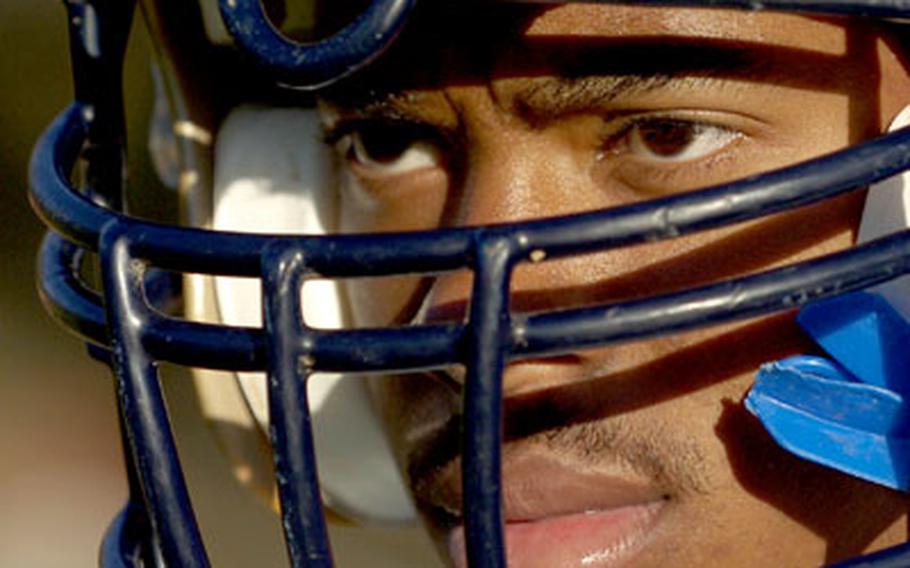 WIESBADEN, Germany — As far as Wiesbaden football coach Steve Jewell is concerned, drop-ins like the one he found sitting in his classroom the first week of the season are more than welcome.
"I walked in, saw him and said, 'What are you doing here?'" Jewell said Monday, recalling the day last month when All-Europe running back Shannon McCray unexpectedly appeared.
"Coach Jewell didn't know I was coming," smiled McCray, who had transferred to Fort Worth, Texas, for his senior year, in June. "It was kind of unexpected."
Unexpected and welcome, as only 4.4 speed for 40 yards can be.
"He'll get through the line on good front blocking," Jewell said, "and then it's what I call 'The Shannon McCray Show.' The rest of the gain is all his doing."
When McCray, 17, showed up in time to play in Wiesbaden's second game of the season, it was the second time in four months he stepped off an airplane and into pads.
"In Fort Worth, I went straight to summer drills," said McCray, who had planned to play his senior year in Texas, staying with relatives, to improve his college recruitment chances. "We were doing two-a-days the day after I got off the plane."
Anyone who has ever tried two-a-days during a Texas summer might be surprised to hear McCray's view of the experience.
"It was fun," he said. "I learned a lot. The coaches showed me a lot of techniques."
In addition to top-notch training, the Texas experience gave McCray a firsthand look at big-time prep football.
"Everything was different," he said. "We had 100 players on the team, and it was much faster."
McCray opened the season in Texas, playing two games there before the lure of home pulled him back to Wiesbaden.
"He came right from the airport," Jewell said, "signed up for school and played that week."
To the tune of nine carries for 139 yards and two touchdowns in the Warriors' conference opener, a 51-28 victory over Kaiserslautern. Clearly, he found it good to be home again.
"It's fun," he said. "I have a lot of friends here, and I get to travel a lot."
Some of that travel involves taking "The Shannon McCray Show" on the road. It's a production that features more than pure speed.
"When he first came out as a sophomore," Jewell said, "the first thing [former] Coach [Darryl] Schwartz and I saw was his vision. He sees the hole, hits it and then sees the whole field."
Although McCray's speed and quickness allow him to be elusive at will, Jewell said McCray's more than willing to stick his nose into the pile.
"We were running a sweep last week," Jewell recalled, "and it wasn't going anywhere. The next thing I knew, he was running through people."
"I'm a slasher," the 175-pound senior said Monday as he nursed a bruised leg and watched his teammates during their drills. "But I'll go head-up with people sometimes."
Jewell's just as impressed with McCray's attitude, which he called a coach's dream.
"Shannon does all the things on and off the field that you're supposed to do," Jewell said. "He's paid his dues, played wherever we've asked him to and never complained."
For now, McCray's focus is on helping his Warriors repeat as European Division I champs. Then there's the matter of college ball.
Will his return to Europe hurt his chances?
"No, sir," he replied. "I just have to get my name out there — send out some film and video. I've already talked to some coaches."
After that, it's just a matter of dropping in. Again.