Jets ground 'Hawks as USFJ-AFL playoffs begin; Kadena stuns JTF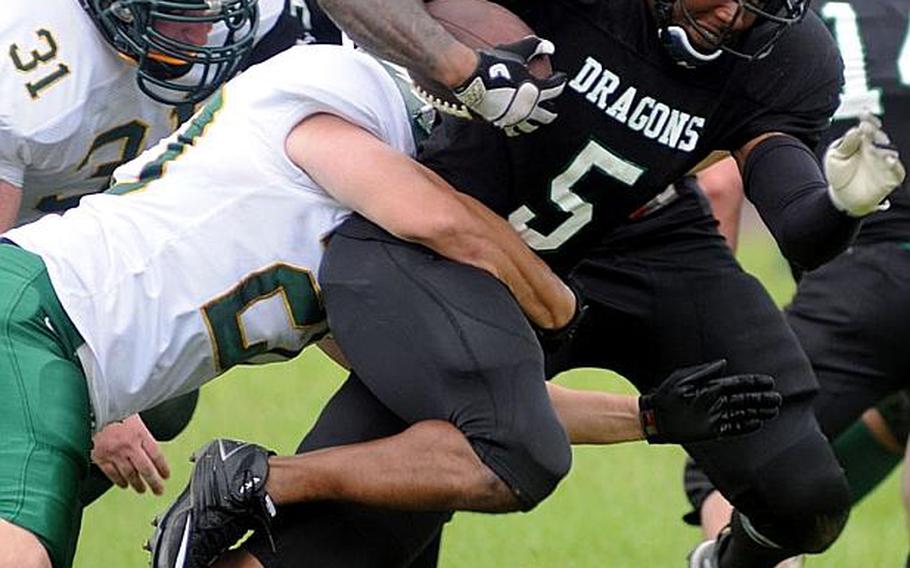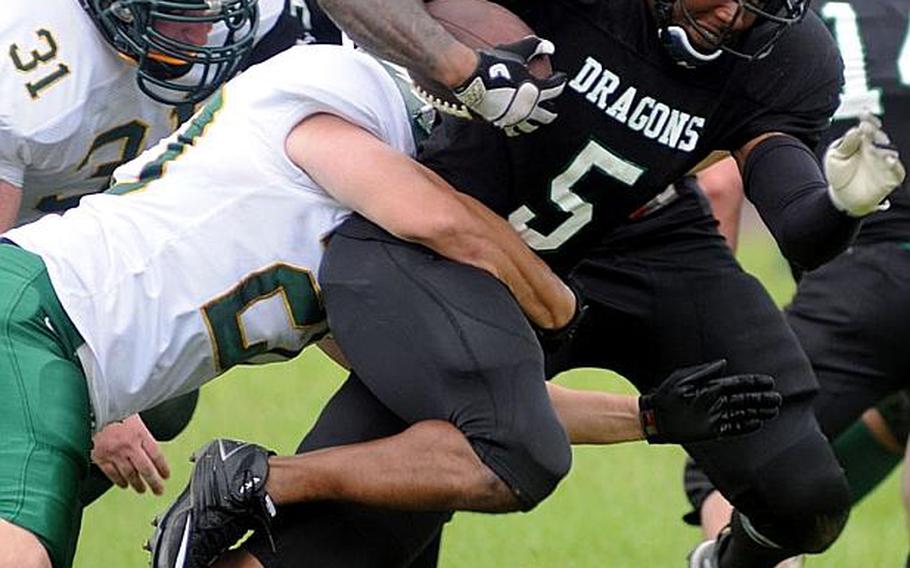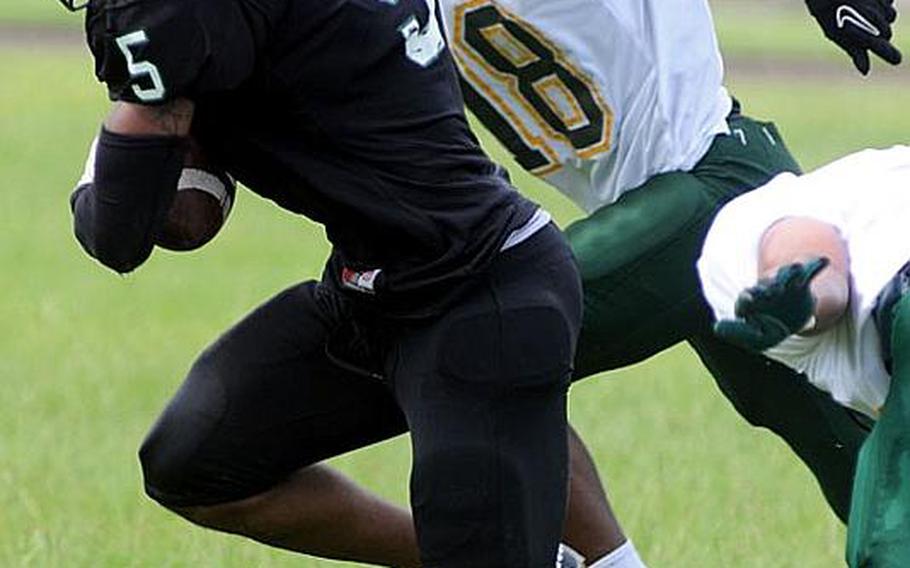 Tied 8-8 at halftime with a Yokosuka team battling hard despite fielding just 21 players, the Misawa Jets took stock of the situation — and left nothing to chance when they returned to the field.
Misawa scored 28 unanswered second-half points, with Darone Frierson and Travis Heywood each tossing two touchdown passes as the Jets crushed the Seahawks 36-8 Saturday as the U.S. Forces Japan-American Football League North Division playoffs begin at Misawa Air Base.
"We looked around the locker room, told each other, 'This is the playoffs, win or go home,' then the lights went on, and we went to work," Jets first-year coach Ben Mathe said.
The win ensured the Jets (3-4) would face the North regular-season champion Warriors at Yokota Air Base on Saturday. Yokosuka (1-6) capped its worst season since 1986 with the loss.
The Misawa-Yokota winner will then face the South playoff champion, but a location has yet to be determined, partly because of the result of Saturday's regular-season finale.
Andre Warren returned an interception for a touchdown and caught a TD pass as South cellar-dwelling Kadena stunned Joint Task Force 18-14 at Kadena High School.
"No Dre, no win. That's the bottom line," Kadena coach Will Cupp said.
The Dragons improved to 3-3, while the Wolfpack (4-2) slipped into a three-way tie with Yokota and defending champion Foster for home-field advantage throughout the playoffs.
A decision by first-year league commissioner Sean Dath is expected Monday; attempts to reach him by phone Saturday were unsuccessful.
Had JTF beaten Kadena, the Wolfpack would have finished 5-1 and there'd have been no question who holds home field.
North Division playoffs
Misawa 36, Yokosuka 8
MISAWA AIR BASE, Japan — Rick Gennie was on the receiving end of two touchdown passes, and Benjamin Valenzuela and Justin Hampton each caught one for the Jets, who've won three of their last four games after an 0-3 start. Brian Ashworth returned a blocked punt for a score.
"We're going to go down there (Yokota) and give them a ballgame," Mathe said. "We'll be ready for them."
Terrell Bennett accounted for the Seahawks' lone touchdown late in the first quarter, and Lorenz Piper's two-point conversion run leveled the contest, which stayed even through halftime.
South Division
Kadena 18, Joint Task Force 14
KADENA AIR BASE, Okinawa — It was a far different outcome than last week's 14-0 Wolfpack shutout of the Dragons, who from the jump came out in a spread, then settled into a wishbone attack in the second half.
Warren ran an interception back 89 yards for a first-quarter score, then snagged a 60-yard TD pass from Xian Godbolt on the second half's first play. Warren finished with 174 all-purpose yards.
JTF rallied to take a 14-12 lead on TD runs of 1 yard by Eddie Hamilton and 5 yards by Mike Geddie.
But with 2:51 left and JTF facing fourth-and-1 at its 35-yard line, the Warriors gambled and went for it, and fullback Madison Axel was stopped for no gain.
Kadena took over and got help from a 15-yard unsportsmanlike conduct penalty, setting up first-and-10 at the 20. Two plays later, Tim Lawson ran 18 yards for the game-winning score.
Wolfpack coach Darell Keith took responsibility for the failed gamble and the pass which led to Warren's interception TD.
"I felt we could have gotten the yards; it just didn't happen that time," he said. "And we should not have thrown that ball along the sideline."