Home Team
Jeans giving Naples fans plenty to cheer about
---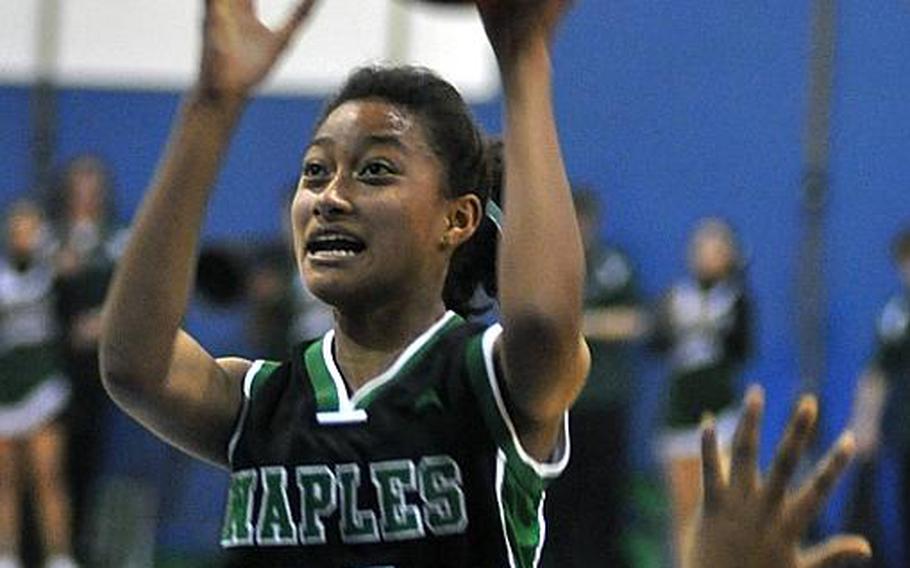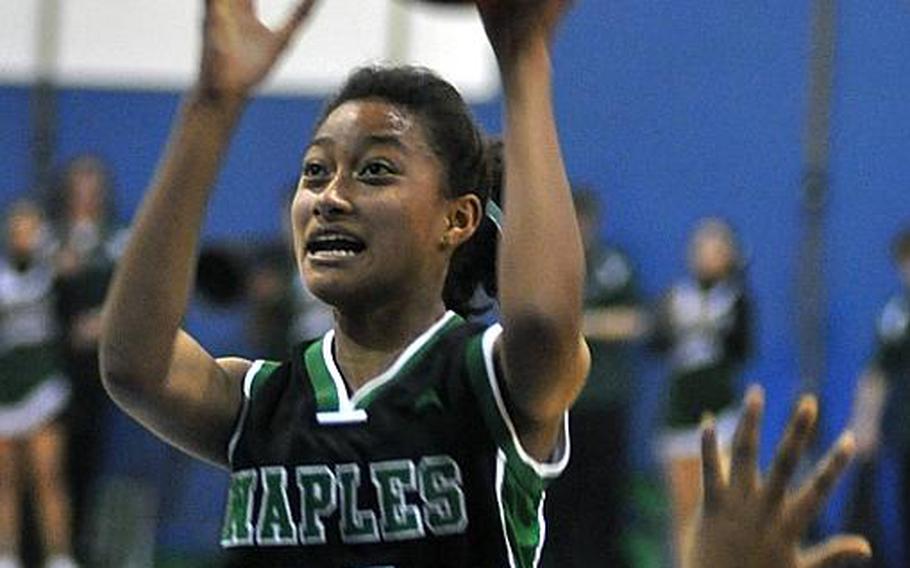 For 14-year-old freshman scoring sensation Laneisha Jeans - and for the Naples Lady Wildcats, too - the waiting ended Dec. 2.
That night in Rome, she finally got to play her first varsity basketball game. It wasn't exactly storybook stuff – six points in a 35-32 loss to American Overseas School of Rome – but Jeans found her stride the next day with 19 points, 13 in the second half, in a 47-22 victory over their hosts.
She's been on a roll ever since.
"I was really excited," Jeans, a 5-foot-6-inch point guard, said about her first time out with the varsity. "I always wanted to play. Last year, I came to all the home games, but I couldn't play because I was an eighth-grader."
Couldn't play, that is, officially. The Naples community women's team wanted the precocious 13-year-old to go with them to Germany to play in a U.S. Forces tournament, but the Jeans family declined. Jeans has been able to play, in the sense of "she's got game," to the tune of 21 points, eight rebounds, seven assists and three steals-per-game in her first eight varsity games.
Not bad for someone who switched from leading cheers to provoking them as a 9-year-old.
"I was tired of cheerleading," she said. "I wanted them to cheer me."
Jeans made the move while her family lived in San Diego, and took up basketball under the tutelage of her father Chris.
"I had so much fun watching him play," she recalled by telephone on Monday. "I went to all his (recreational league) games."
Last year, Jeans and her family made the move to Naples, and for anyone concerned that her progress will suffer from the move out of the hyper-competitive world of Southern California basketball, Jeans says not to worry.
"It's fun to be here," enthused Jeans, a high- and long-jumper whose poise is as mature as her game. "It's way more fun – different from the States. We get to travel all over. It's a great experience that most people don't get."
Jeans' latest trip was a nine-hour bus ride to Vicenza, where the Lady Wildcats swept two games from the previously unbeaten defending European Division II champions. The 45-41 and 50-37 victories, fueled by 22- and 26-point outings by Jeans, ran Naples' current winning streak to six games and gave Vicenza coach Michael James his first look at the new kid on the American Schools in Italy League block.
"She's a wonderful player," James said by telephone on Wednesday, "especially for a freshman. I know she'll be All-European."
Naples coach Duke Marlow, who praised Jeans' stroke on her "solid" mid-range jumper, is especially impressed with his freshman's other talents.
"Her game is so much faster; she's so much quicker than her peers, " he said by telephone on Monday. "Laneisha is the first person I've ever worked with on the female side who can see the floor on multiple levels."
Vicenza's James noticed, however, that he didn't see Jeans' complete game last weekend.
"They don't let her play defense," he said. "They back her off so she doesn't get into foul trouble."
That's a reasonable-enough strategy, given that Jeans accounts for just under half her team's scoring. Remarkably, assuming the team's scoring burden was a new role for Jeans.
"I've always been a pass-first player," she said, "but Coach tells me my scoring is important. My goal in every game is to help us get a big lead so that everyone gets a chance to play and to score."
If Jeans and Marlow have their way, the freshman will find plenty more opportunities to fill the hoop.
"We're trying to get her into a couple of summer camps in the States," Marlow said. "She's very skilled. She has a good shot at playing at the next level."
And Italian club ball?
"My parents and I are looking into finding a club for me," said Jeans, who expects to play for Naples next season before the family returns to San Diego for her junior year.
Before all that, though, there's the small matter of the European Division II tournament Feb. 22-25 in Wiesbaden, where the Lady Wildcats will undoubtedly be a high seed and in the hunt for Vicenza's title.
Win or lose, though, Season One already is a winner in Jeans' book.
"I'm really proud of the way we work together," she said.
---
---
---
---