D-III boys
Javier boots Brussels past Menwith Hill
---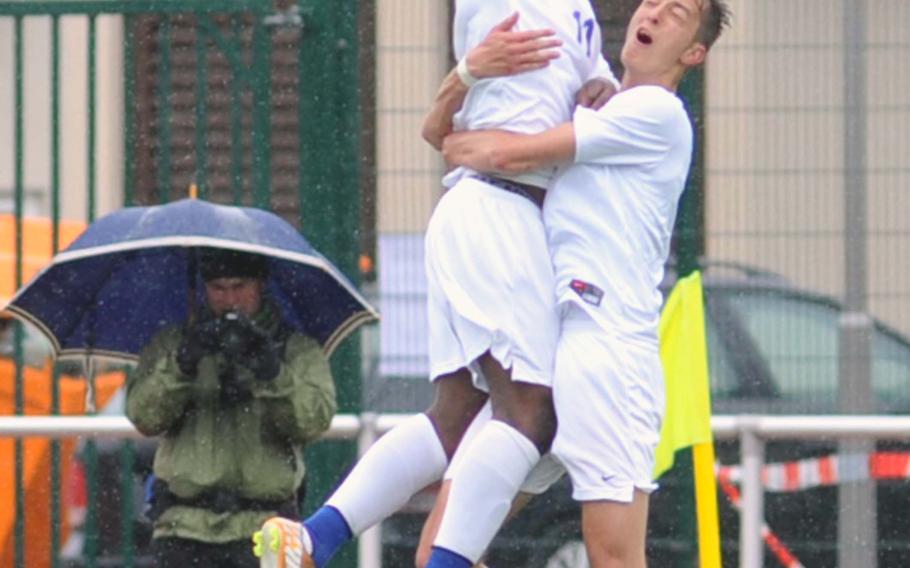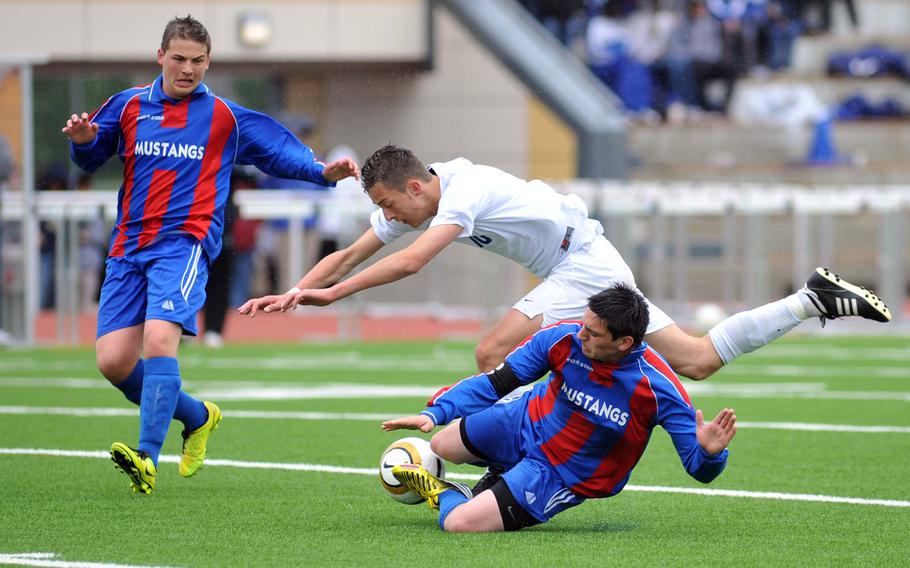 KAISERSLAUTERN, Germany – A fresh pair of Division III boys soccer finalists crafted a compelling championship game on Thursday.
Playing through driving rain that set in just as the game opened, Brussels shook off an early deficit, pulled ahead on the strength of a Kristian Javier hat trick and took its place as European champion with a 4-2 win over Menwith Hill.
"It's just their time," Brussels coach Chris Vahrenhorst said, gesturing towards the Brigand players as they celebrated at midfield. "A lot of things have to go right, and they did."
Things weren't headed in the Brigands' favor early. Just minutes in, Mustang senior Schuyler Backlar ran down a lead pass and found the corner of the goal for a 1-0 Mustang lead.
Momentarily stunned, Brussels nonetheless controlled possession after that early Menwith Hill score, and was finally rewarded midway through the second half. Javier carved out a spot near the goal and put his head on a soaring cross kick, delivering the tying score and setting up an exhilarating race to break the tie down the stretch.
It was Javier who again changed the game. This time, he tracked an open-field ball that trickled past the Menwith Hill midfield, beat the Mustang goalie to the ball and rolled it into the net.
The senior striker did it one last time in the closing minutes after the teams traded goals and Brussels moved to within 3-2.
Javier spent the game positioning himself as a constant threat, applying consistent pressure that eventually broke the Mustang defense.
"He's just an amazing talent," Vahrenhorst said. "He's awfully hard to stop if you give him any kind of daylight."
Javier said he was merely the final piece of an aggressive team approach designed to give him such finishing opportunities.
"It's not just my mentality, but the way that they push me all through the year," the senior striker said.
The game was a rematch of perhaps the division's most spirited pool play game, a 3-2 Brussels victory on Tuesday. Both teams advanced Wednesday with tough 4-3 semifinal wins, Brussels over Alconbury and Menwith Hill over Sigonella.
The game represents a shift in the power balance among DODDS-Europe's smallest soccer schools.
Last year's champion, Florence, did not field a team to defend its title due to scheduling conflicts with the International Baccalaureate exam, while 2012 runner-up Rota was ousted in pool play.
Twitter: @broomestripes
---
---
---
---