Jardine tosses ASIJ past Zama
---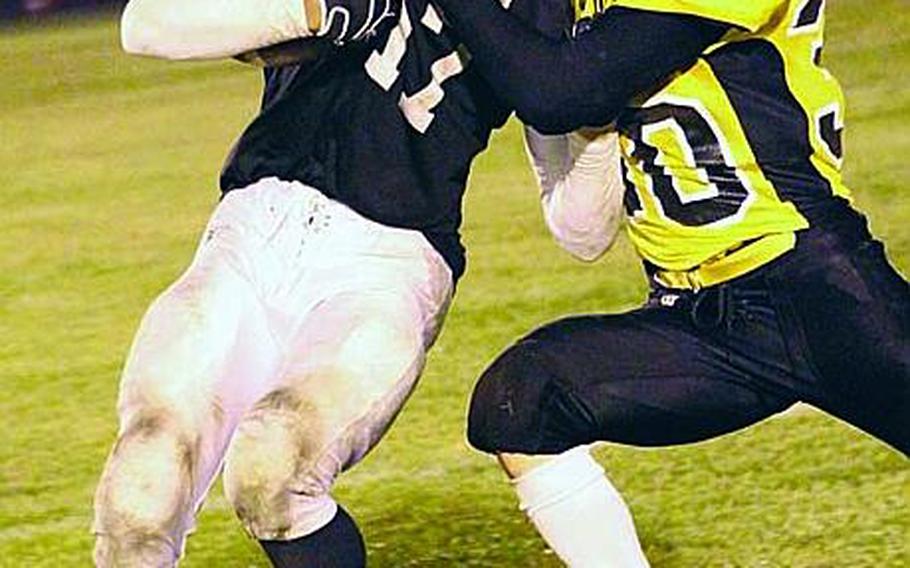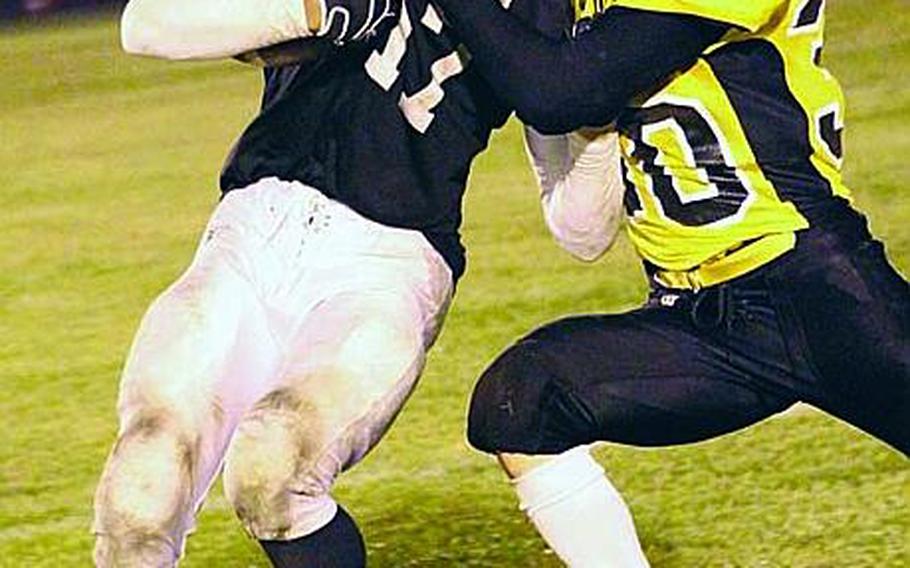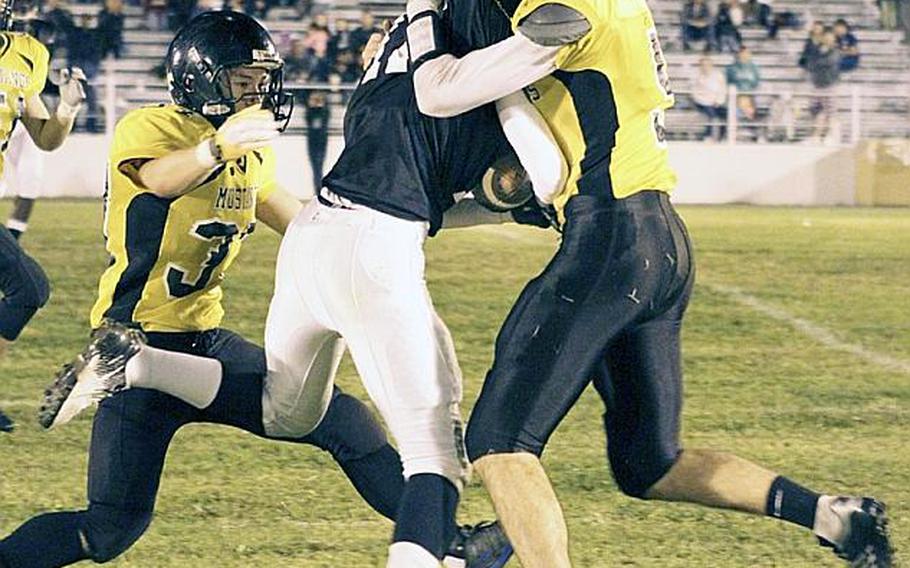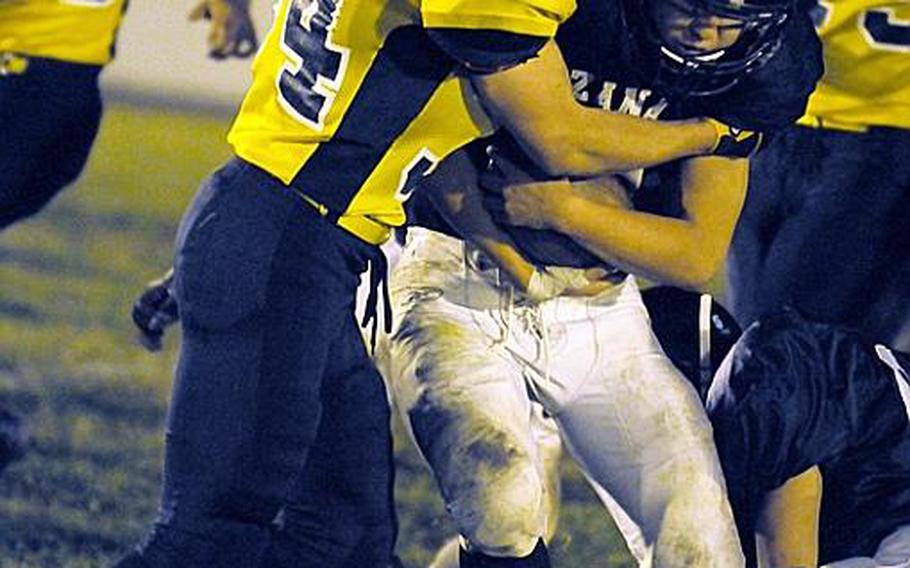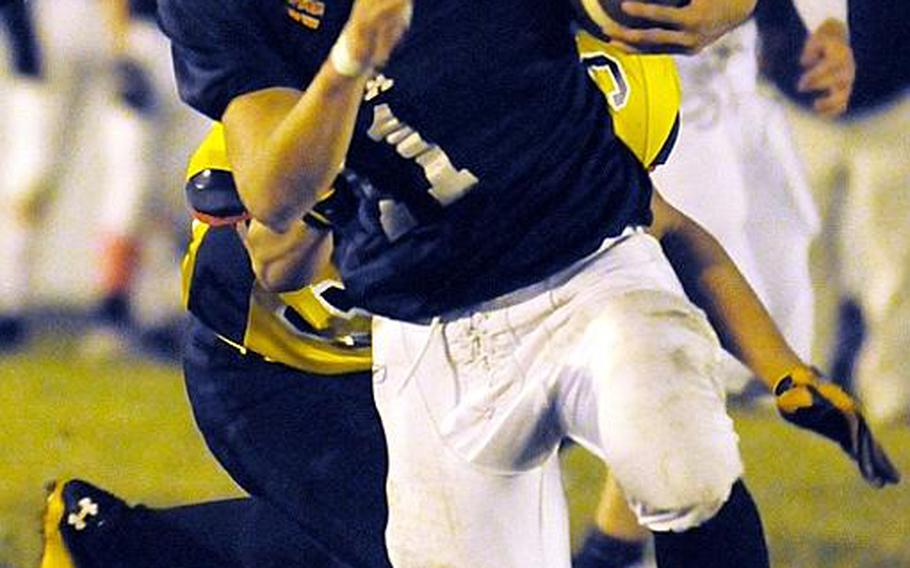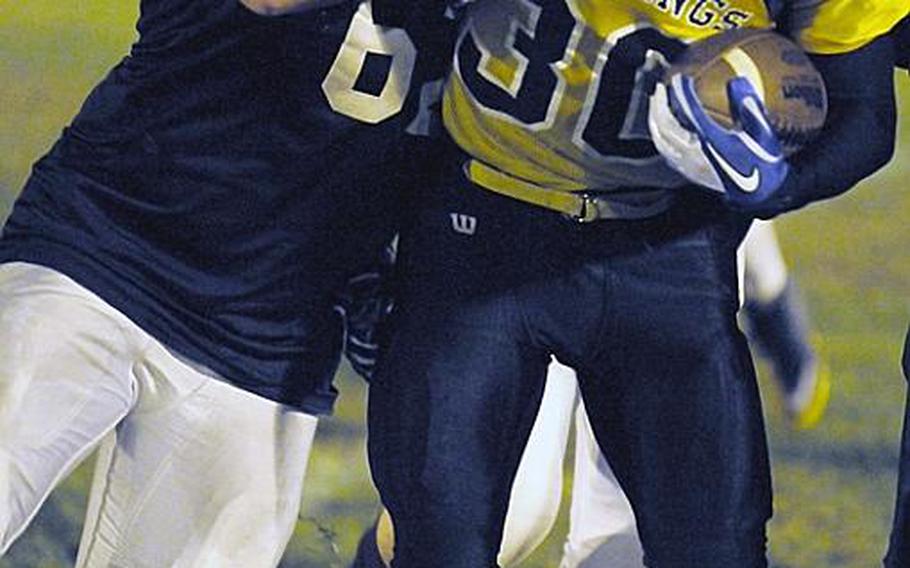 NAVAL AIR FACILITY ATSUGI, Japan – Tight end Sam Hopkins continues to be a favorite target of quarterback Hayden Jardine. As a result, American School In Japan on Friday got within a win of sharing its second Kanto Plain Association of Secondary Schools football title in three seasons.
Jardine went 13-for-19 for 205 yards and four touchdowns, two of them to Hopkins, and Ken Yajima rolled up 175 all-purpose yards and a touchdown as the Mustangs beat Zama American 43-24 at Atsugi's Reid Memorial Stadium.
Hopkins and Jardine "are great friends, they have an excellent rapport, an unspoken bond, so to speak," coach Craig Karnitz said. "They know where each other is on the field at all times. And Hayden had his best game of the year. He was lights out tonight."
Hopkins caught six Jardine aerials for 91 yards for the Mustangs (6-1 overall, 4-1 Kanto). Jardine also hit Cody Hadden and Haru Kent for TD passes of 31 and 15 yards. Kent had three catches for 41 yards.
On the ground, Yajima ran 12 times for 104 yards and a touchdown and Zach Oshima added a TD run and 43 yards on 10 carries. ASIJ recorded 388 yards of offense on 51 plays.
Despite losing their fourth straight, there was a silver lining for the Trojans (3-6 overall, 1-5 Kanto); junior fullback Andre Encarnacion, nursing a sore left ankle, returned to the lineup, gained 91 yards on 18 carries and scored his Pacific-leading 14th touchdown.
"It's nice when somebody comes back from an injury and gets things rolling," Zama coach Steven Merrell said. "It's good for the players, good for the team."
Encarnacion increased his team-leading totals to 842 yards on 120 carries. Mitchell Harrison added 94 yards and a touchdown on eight attempts.
But Zama's biggest luminary was David Coleman, who caught four passes for 66 yards and a touchdown and had 185 all-purpose yards. Quarterback James Liker went 6-for-14 for 67 yards and also kicked a field goal for the Trojans.
Zama travels next Saturday to Daegu American for the two teams' third straight appearance in the Far East Division II football title game. Zama won in 2009 and Daegu is the defending champion.
ASIJ needs to win at Nile C. Kinnick on Friday to share the Kanto title with Yokota, which won it a season ago. ASIJ won the title in 2009.
---
---
---
---