Japan, Korea H.S. football: Voelker's perfect pass lifts Seoul to title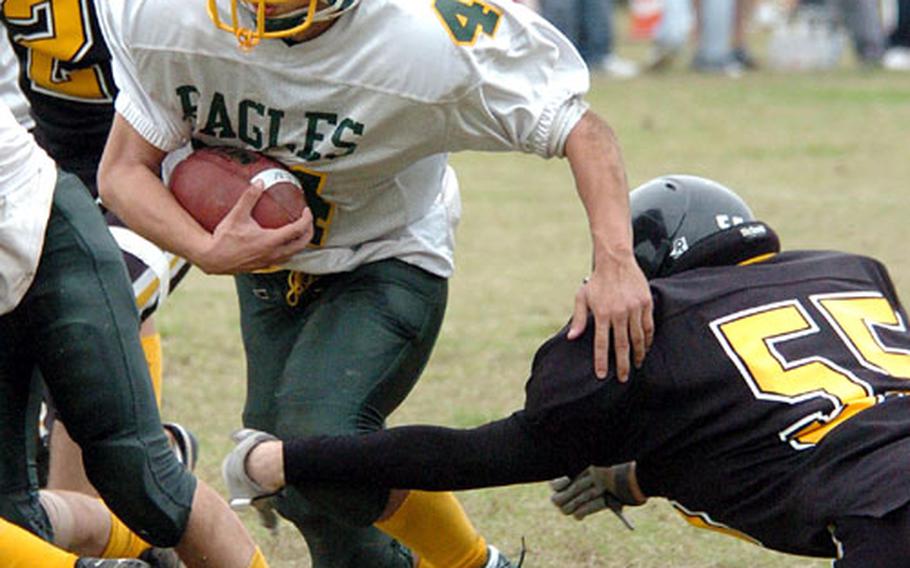 On a day of imperfection, it took a perfect pass from Bruce Voelker to help Seoul American capture its fourth straight Korea prep football crown.
Voelker found Phillippe Anglade in the corner of the end zone with a 21-yard touchdown pass to boost the Falcons past the Osan American Cougars 20-13 on Saturday at Falcons Field.
"It was one of those perfectly thrown passes that only one person could catch and behind the one person defending," Osan coach Tony Alvarado said of Voelker's game-winning pass with 7:36 left. "Bruce had a great day. I was impressed. That touchdown pass was a perfect play."
Seoul American ran its second-best winning streak in the Pacific to 19 straight games, and won its second straight title as a high school program and fourth in a row dating back to 2001, when the Korea league was run by Youth Services.
Elsewhere, rain washed out the final regular-season weekend of Independent Interscholastic Athletic Association of Guam football. It wasn't immediately known when the three games, including a Guam High night home game at Naval Station against Simon Sanchez, would be rescheduled.
A bit of trickery helped American School In Japan to its first victory of the season, as the Mustangs converted a fake field goal into a touchdown pass and held on for a 10-7 homecoming victory over the Robert D. Edgren Eagles.
Seoul American 20, Osan American 13
YONGSAN GARRISON, South Korea — Voelker's pass highlighted a game filled with turnovers. The Falcons coughed up the ball four times and Voelker had two passes intercepted, while the Cougars lost five fumbles.
"It was a tough game all the way around," Falcons coach Julian Harden said. "It was a hard-fought game on both sides of the ball."
Every time the Falcons, who blanked the Cougars 20-0 in the Sept. 18 season opener, tried to pull ahead, Osan would rally back to tie it, thanks to the rushing of Terry Stephens.
Leo Pacheco ran 33 yards for a first-quarter touchdown, only to have Stephens tie it with a 32-yard run. Kris Stadler put the Falcons up 13-7 at halftime with a 21-yard run, but Stephens' 71-yarder tied it again in the third period.
Stadler finished with 110 yards on 10 carries, Pacheco ran six times for 94 yards, Voelker finished 14-for-21 for 160 yards and Anglade had four catches for 68 yards. Leo Kim led the defense with 12 tackles and one fumble recovery.
Osan had one last chance to tie it late in the fourth quarter, after Stephens forced a fumble by sacking Voelker. But the Cougars simply ran out of time, Alvarado said.
"We tried to spoil the (Falcons') homecoming," Alvarado said. "The guys played hard. They couldn't have given me a better effort. We just came up a little short."
American School In Japan 10, Robert D. Edgren 7
TOKYO — Before a joyous homecoming crowd of more than 600 at Mustang Valley, ASIJ avenged a 28-21 loss earlier this season to Edgren by reaching into its bag of tricks.
Appearing to line up for a first-half field goal, holder Shawn Seevers instead pulled up and tossed a 12-yard touchdown pass to Tom Fukui, followed by Rafai Eddy's extra point.
The Eagles rallied to tie it on Rickey Andersen's 1-yard run and Patrick Pezoulas' extra point to start the fourth period, but Eddy gave ASIJ the lead for good with a 28-yard field goal later in the period. The Mustangs then staged a goal-line stand with 1:50 left and ran out the clock.