Japan disaster workers take part in MLB opener at Tokyo
by
Dave Ornauer
March 28, 2012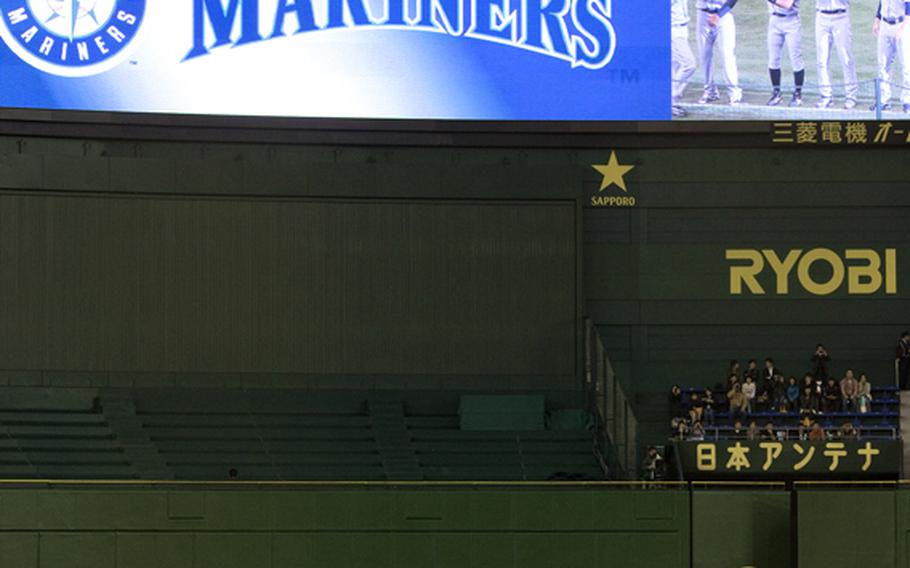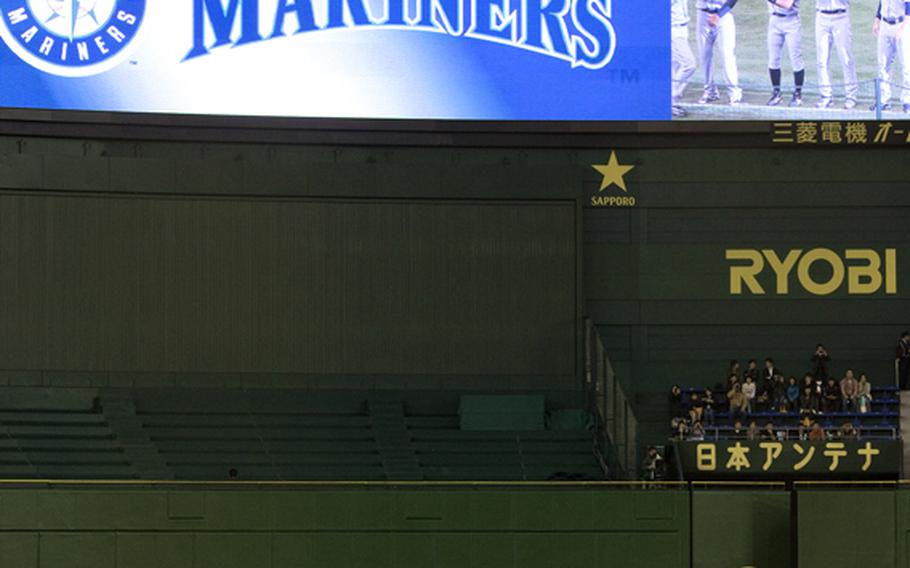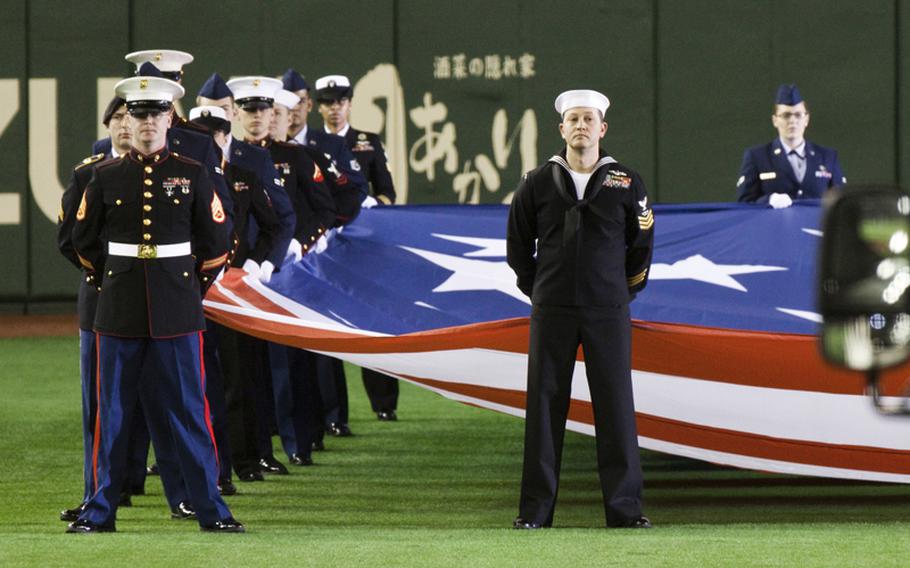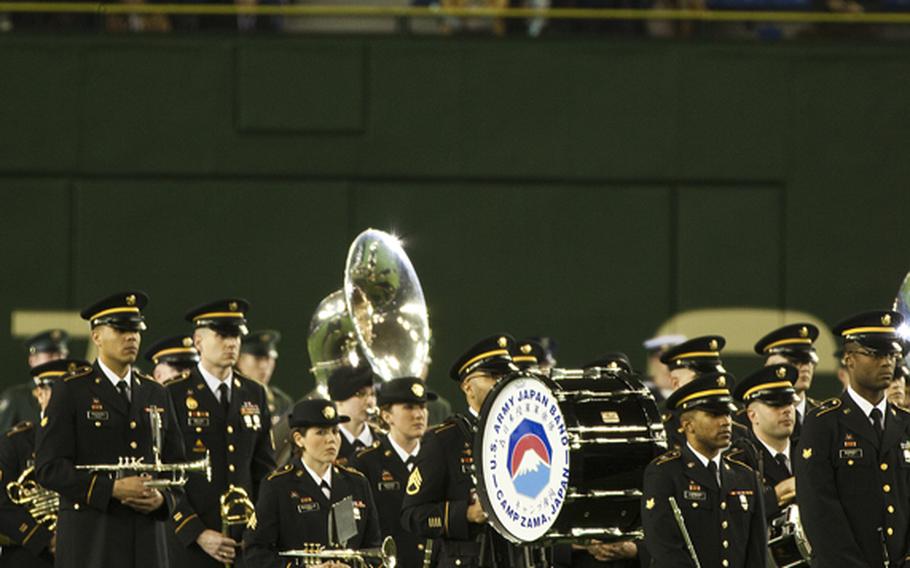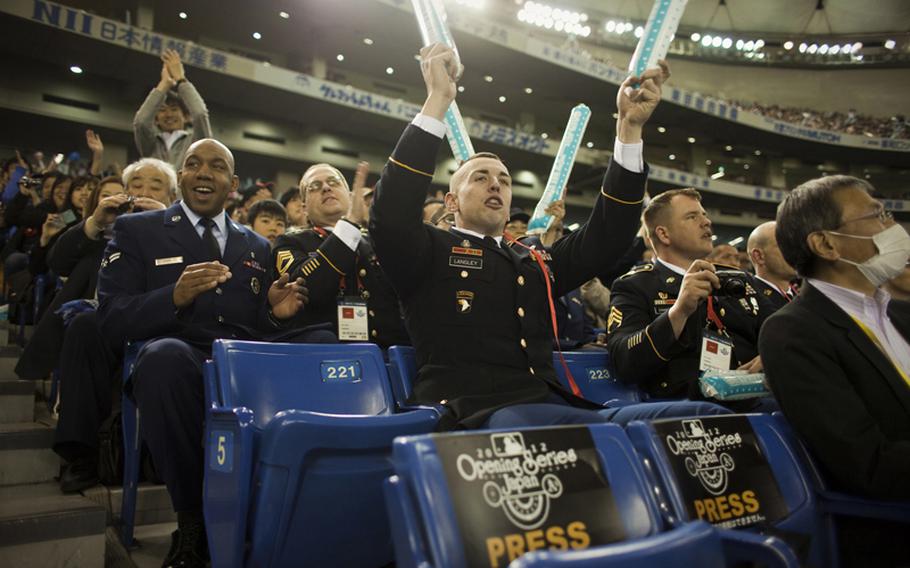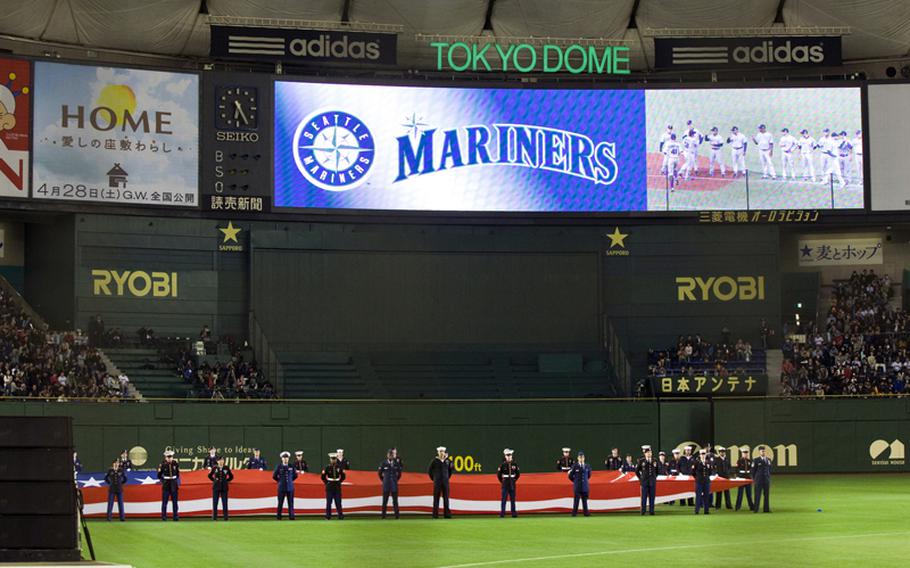 TOKYO — A year ago, he and six other members of Camp Zama's 296th Army Band were helping Sendai residents clean up and get back on their feet after the fourth-worst temblor on record and resulting tsunami.
On Wednesday at Tokyo Dome, Army Staff Sgt. Thomas Gunter, other members of the 296th and a U.S. Forces Japan flag detail joined hands with Japanese fans at Tokyo Dome to help open the 2012 Major League Baseball season as well as remember the March 11 disaster and the U.S. role in the cleanup.
"Emotional. I watched a video of it today. You can still feel the effects of it," said Gunter, a trumpet player.
He joined band members Ricardo Rafael and Stuart Bentley, both staff sergeants, sergeants Melvin Cuevas and Patrick Sullivan and specialists Jose Machuca and Travis Poole as part of Operation Tomodachi in Sendai, the area hardest hit by the magnitude 9.1 quake.
"It was hard seeing what happened," Gunter said. "But to see them come through and try to rebuild and try to get on their feet, it's amazing."
The seven Operation Tomodachi veterans coupled relief work with playing music at various shelters in Sendai.
"We had a lot of people coming up to us and thanking us," Machuca said.
Gunter recalled being told of one elderly couple at a shelter who had lost hope, dancing and smiling for the first time in a long while after hearing the music. "It's encouraging, it helps you forget about the hardships for a while, and they did," Gunter said.
Some 35 296th Army Band members, including the Sendai Seven, marched onto the turf of Tokyo Dome prior to Wednesday's Seattle-Oakland season-opening game. They played a couple of military numbers, as well as the Star-Spangled Banner, sung by Spc. Amanda Tetreault of the 296th.
Japanese and American flags were toted by members of the Air Force, Army, Navy, Marines and Coast Guard. A huge banner spelling Tomodachi was carried by various earthquake relief volunteers including American School In Japan students.
Three Tohoku earthquake heroes were honored as part of the opening, including Shinji Takai, a 38-year-old strawberry farmer from Kesennuma who turned restoring people's keepsake photographs into art form.
He recalled a Navy delivery of relief supplies to the shelter where he was staying in the days following the quake.
"That helped a lot," Takai said in a news conference during Wednesday's game. "These needs must be fulfilled before anything can happen. It gave me an appreciation for the help we got from the U.S. military."
Also honored were the parents of American Taylor Anderson, a Japanese elementary school English teacher who perished in the tsunami after leading her pupils to safety; and Naho Hozumi, a Japanese housewife turned chief of a volunteer relief organization, Hands on Tokyo.
ASIJ students weren't just involved in carrying huge banners. Four of them, including sophomore Justin Novak, served as batboys for the Mariners and A's.
Novak is the son of retired Air Force Lt. Col. Kevin Novak, formerly assigned to Yokota Air Base and now with the U.S. Embassy, and the brother of Shawn Novak, who used to pitch for Yokota High and now works for MLB International in Tokyo.
"It's really cool. Unbelievable," Justin Novak said of working for the team that has on its roster perhaps the world's most famous player, Ichiro Suzuki. "Amazing. Speechless. Unreal."
---
---
---