'It would be a dream come true': Osan girls aim for rare trifecta of Class A championships
---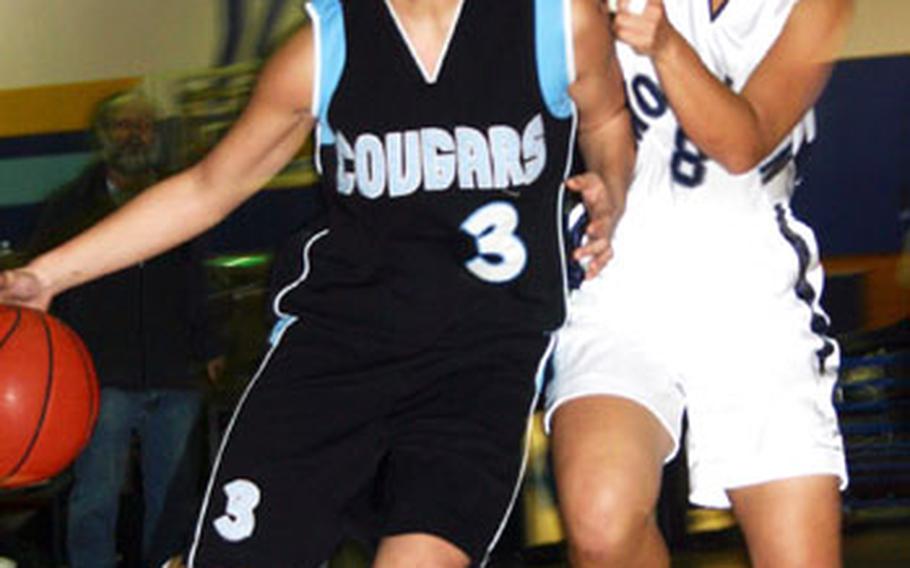 Celine Baldevia only knows of Lori Shields by reputation, what she's heard from the latter's former teachers and what she sees in Osan American's trophy cases.
Now an Army captain at Fort Sill, Okla., Shields stands out in Baldevia's mind for one great feat — leading the 2001-02 Cougars to Far East Class A titles in volleyball, basketball and soccer, something never done before at any DODDS school, let alone Osan.
Prior to this school year, Baldevia said repeating such a feat would be "too good to be true."
Now that the 2008-09 Cougars have come two-thirds of the way, defending their volleyball crown in November and taking the Class A basketball title last week in Japan, it's "very much possible," she said.
"It would be huge. A dream come true," said Baldevia, named two times the Class A volleyball tournament's Best Defender and a two-time All-Class A basketball selection. "We're determined. We're trying. We want to get that championship."
"We want to make history," sophomore midfielder Jasmine Pressley said.
"We want to prove ourselves at Far East," sophomore fullback Alina Hauter said.
Making that history may be easier said than done, based on events of the past two years in the Far East Class A Soccer Tournaments at Marine Corps Air Station Iwakuni, Japan.
Armed with many scoring weapons, the Cougars only managed an 8-15 record in 2007 and a Class A bronze medal. Then, after a hopeful 14-5-2 regular season, Osan went just 2-3-1 at Far East, and lost a knockout game to Daegu American in a shootout to take third again.
The memory of that match burns brightly in their bellies, they said, the same way their third-place finishes in the Korean-American Interscholastic Activities Conference volleyball and basketball tournaments fueled their fire for Class A title runs.
They're hoping memory of that shootout loss can have the same effect, especially since Daegu American hosts this year's tournament. "Maybe coming up short [in KAIAC] fuels our determination," Baldevia said.
The Cougars "hadn't played to our potential," Baldevia said, during KAIAC volleyball and basketball.
Osan's spikers, 11-3 during the KAIAC regular season, went a pedestrian 3-2 in the KAIAC tournament. But they turned around and went 10-1 in the Class A tournament, beating Morrison Christian Academy in four sets to become the first DODDS school to repeat as Far East volleyball champion.
"We were pretty upset about losing" at KAIAC, Baldevia said. "It just furthered our determination to win the title again."
The same thing happened during basketball. After a 12-2 regular season, the Cougars went 1-2 and finished third in the KAIAC tournament, then went 2-2 in pool play the first two days at Class A.
Then Osan pulled out all the stops, going 5-0 in double-elimination play, including a 41-37 triumph over Robert D. Edgren in the championship game.
"I've been wanting it the past two years," Pressley said. "Satisfying. Really satisfied. It brought tears."
"We were again not happy with our KAIAC finish and just wanted to take it out on other teams," Baldevia said.
A soccer goalkeeper, Baldevia describes the memory of the shootout loss to Daegu as "like a big nightmare." Of shots she felt she could have stopped, she lamented: "Maybe if I was taller, or if my arms were longer, or if I was quicker…"
"We want to make sure we don't go to a shootout, just win the regular game," Cougars coach Sung Plourde said. "Maybe the shootout is bad luck for us. When you finish a season strong and have high hope, then go into [the] tournament and have a disappointing loss, it's heartbreaking."
In the Cougars' minds, heartbreak is not an option this season.
With the motivation of that shootout loss and Far East being in Daegu, "maybe the kids will play 110 percent," Plourde said, adding he's entering the season and will enter Far East "cautiously optimistic."
"To win three sports in one year, that doesn't happen very often," Plourde said. "Just the fact that they can make history and go out, is just great motivation right now."
It would be a terrific capper, principal Tim Erickson said, for a school year in which Osan has been widely successful:
The tennis and wrestling teams set school records for Far East meet team points, the football team earned its third Class A title game berth and wrestlers Jesse Crockett and Mike Gilliam earned gold medals.
"There's a great deal of pride," Erickson said of that pantheon. "They have character. They're hard workers. We're all proud of them."
Capturing that final piece of the puzzle, a Girls Class A soccer title, would be "huge," Erickson said. "It would be a dream come true."
---
---
---
---