It's Stuttgart vs. Kaiserslautern in every spring sport
---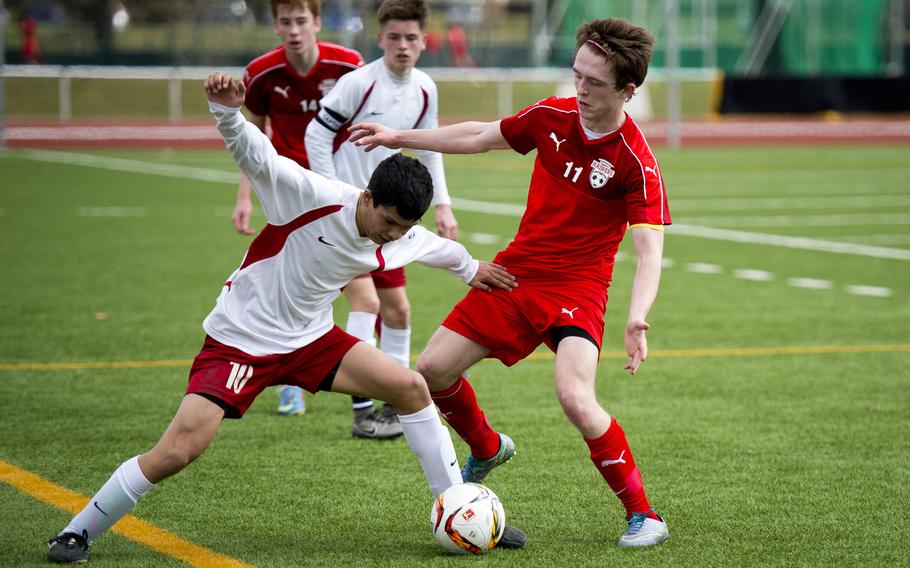 A rare all-fronts athletic clash will take place this weekend as two of DODEA-Europe's largest schools face off in all spring sports.
The Kaiserslautern Raiders and Stuttgart Panthers will play in boys soccer, girls soccer, baseball, softball and track and field on Saturday, the last weekend of sports activity before spring break. And every team has a lot at stake in the large-school matchup.
In girls soccer, the defending Division I champion Panthers are looking for their first win after tying archrival Ramstein in their opener last Saturday. But it won't come easily against a strong Kaiserslautern team that would love to disrupt the recent Ramstein-Stuttgart monopoly on the championship game. The Raiders got off to a brilliant start last weekend with routs of Bitburg and Lakenheath.
On the boys side, some team's momentum is likely to stall Saturday in Stuttgart as both the Panthers and Raiders are coming off of very encouraging efforts in their season debuts. Stuttgart blanked defending champion Ramstein 3-0, while Kaiserslautern piled up an impressive 14 goals in defeats of Bitburg and Lakenheath.
Similarly, Saturday's softball matchup features a pair of unbeaten teams riding high on opening-weekend dominance. Stuttgart blasted Wiesbaden 16-1 and 13-3 while Kaiserslautern routed Baumholder by 15-0 and 18-0 scores. Both the Raiders and host Panthers are eying a championship run this spring after reaching the semifinal round in 2015.
Meanwhile, Stuttgart is fighting to retain its spot among the Division I baseball elite under a barrage of challenges. Wiesbaden broke through for a pair of tough wins over the Panthers last weekend, and the promising Raiders, fresh off a sweep of Ansbach, are capable of causing further damage to Stuttgart's status.
Finally, the opening weekend of track and field offers Stuttgart the chance to reassert itself as DODEA-Europe's premier all-around program. The Panthers won the boys team title last year and finished second among girls teams, the only Division I team to crack the top three on both sides. A young Kaiserslautern team, competing at home, represents a real threat.
Twitter: @broomestripes
---
---
---
---