D-III volleyball championship
It's four in a row as Sigonella downs Brussels
by
Jennifer H. Svan
November 3, 2018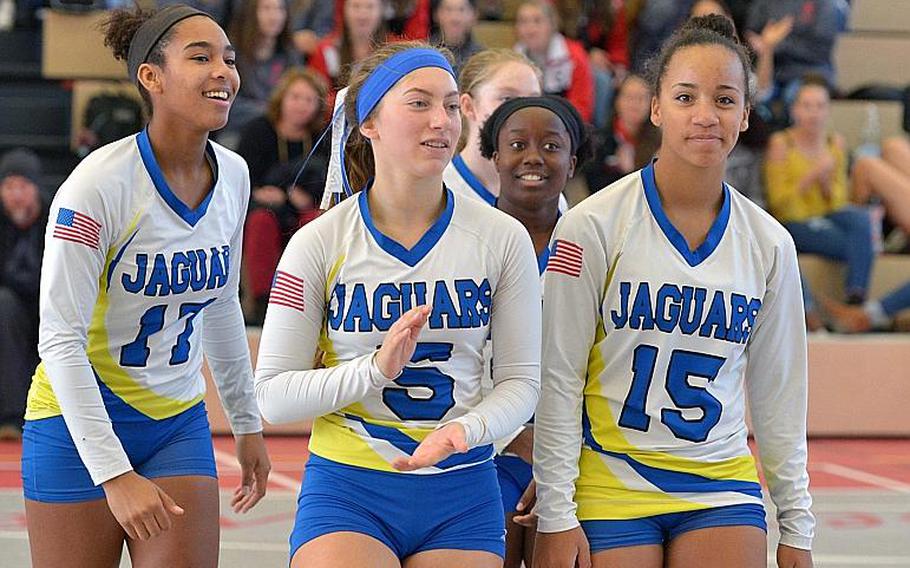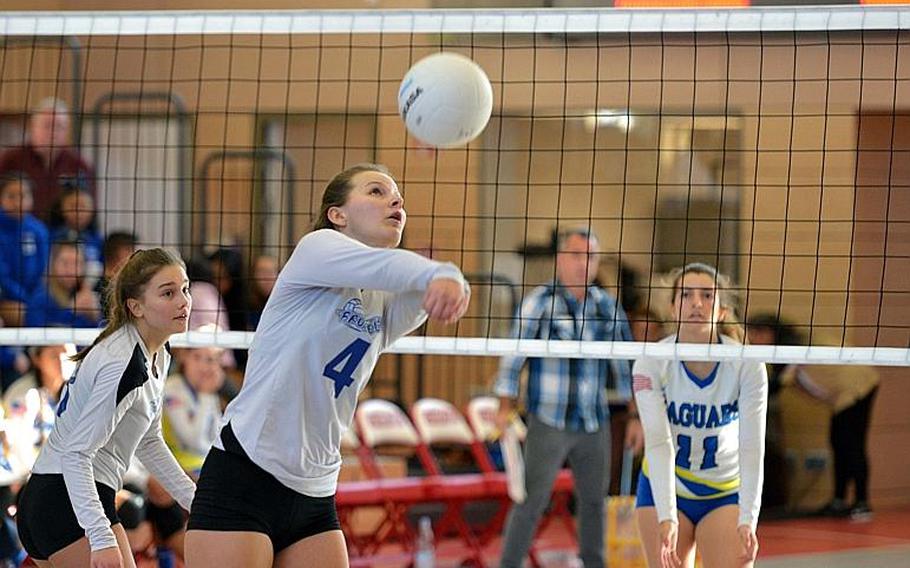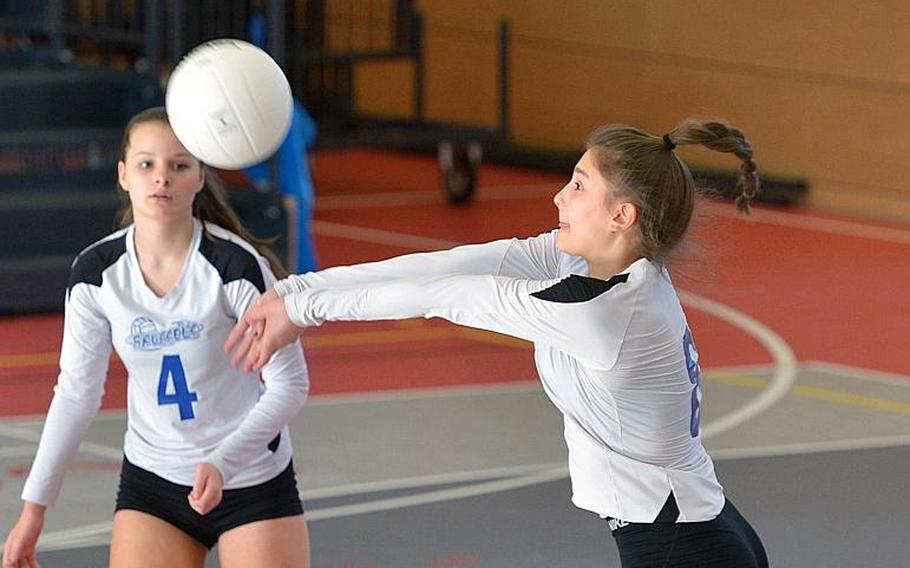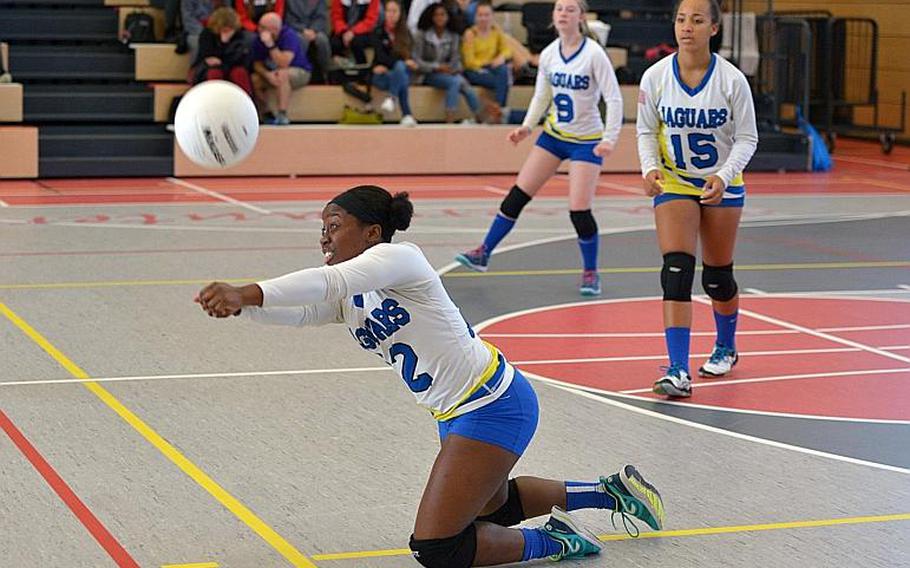 KAISERSLAUTERN, Germany – The Sigonella Jaguars won their fourth straight DODEA-Europe Division III girls volleyball championship Saturday, extending their impressive title run in a four-set victory against the Brussels Brigands.
The Brigands fought hard to end the Jaguars' streak, taking the third set after coming out flat in the first two rounds of play. But Sigonella kept its composure through the game's momentum shift, prevailing 25-14, 25-13, 23-25, 25-17.
With a lock on the title the last three years and the No. 1 seed at Europeans this year, the Jaguars were the team to beat. They earned a spot in the title match at Kaiserslautern High School with a four-set nail-biter against the Spangdahlem Sentinels on Friday.
Sigonella players said they felt some pressure to defend their crown, but coach Shawn McCarthy said he did not discuss the team's winning streak at the tourney with his players.
"You have to prove yourself," he said. "Nobody's going to let you win just because you've won in the past. Teams play their best against us and that's great – the kids love good volleyball."
In the first two sets, the Brigands fell short of their best; they had too many balls hit out of bounds or into the net, mistakes that let the Jaguars take an early command. In each set, Brussels dug too deep of a hole, falling behind 13-2 in the first set, and 10-1 in the second.
The third set looked like it would follow the same pattern, with Brussels lagging 7-1 at one point. But the Brigands pulled even at 8-8 and capitalized on Sigonella miscues to stay in the hunt. The teams would tie the score seven more times in a tense set that saw numerous rallies extended by the Brigands' ability to keep the ball in play with digs all over the court.
Jaguar senior Jessica Jacobs, named the Division III most valuable player, nailed two consecutive kills to pull her team within one, 24-23, but a Sigonella serve that veered out of bounds kept Brussels alive.
In the fourth set, Brussels looked to keep its momentum with an early lead of 7-4, but aces from sophomore Eliza Moore and Ana Fall helped put Sigonella back on track to take the set and the game.
Jacobs, an outside and middle-back hitter, led the way for the Jaguars, racking up six aces and 15 kills in the title match. Sophomore Averi Chandler had seven kills at outside hitter. Both were named to the all-tournament team.
"I'm beyond happy right now," said Jacobs, who's played on all four Sigonella title teams. "I'm super proud of my team."
McCarthy gave Brussels credit for keeping the ball in play.
"They covered the floor very well, which makes things difficult for a team like us that likes to attack," he said. "Even though Brussels did a great job digging the ball, we just didn't get frustrated. We just set it back up and kept attacking."
Brussels was led by sisters and middle hitters Jewels and Olivia Friedhoff, as well as setter Sofia Beckley. The Brigands, this year's fourth seed, also finished runner-up to Sigonella in last year's title game, but they were a much different team then, said coach Mari Brown.
"We have a very young team," she said, noting only one player on this year's team saw regular playing time last year.
After an exhausting four-set win against Alconbury on Friday, "it was hard to get back to that level right away," Brown said. She was proud her team fought back.
"It's the grit and determination of doing that and letting go and playing for that moment," she said.
Twitter: @stripesktown