Home Team
It's double trouble for Zama's foes in tennis
by
Dave Ornauer
October 19, 2017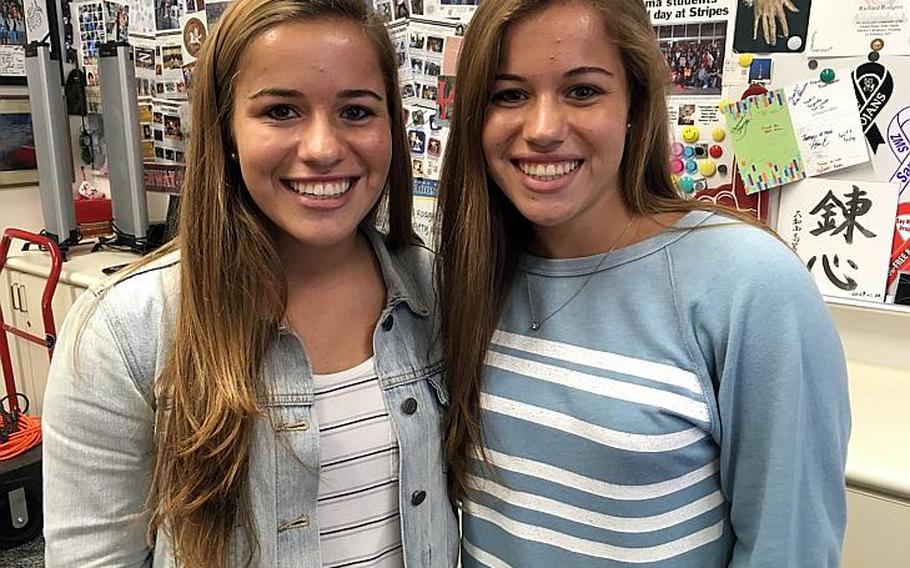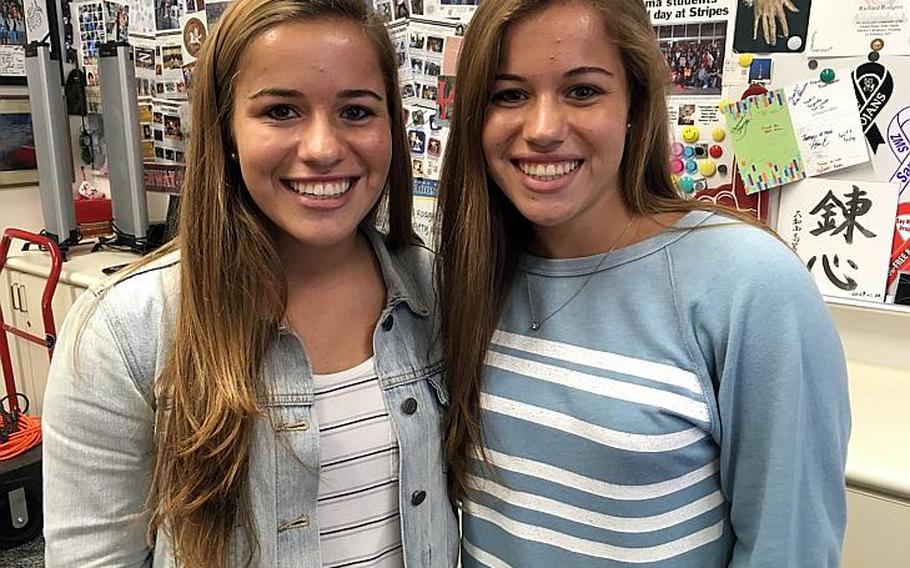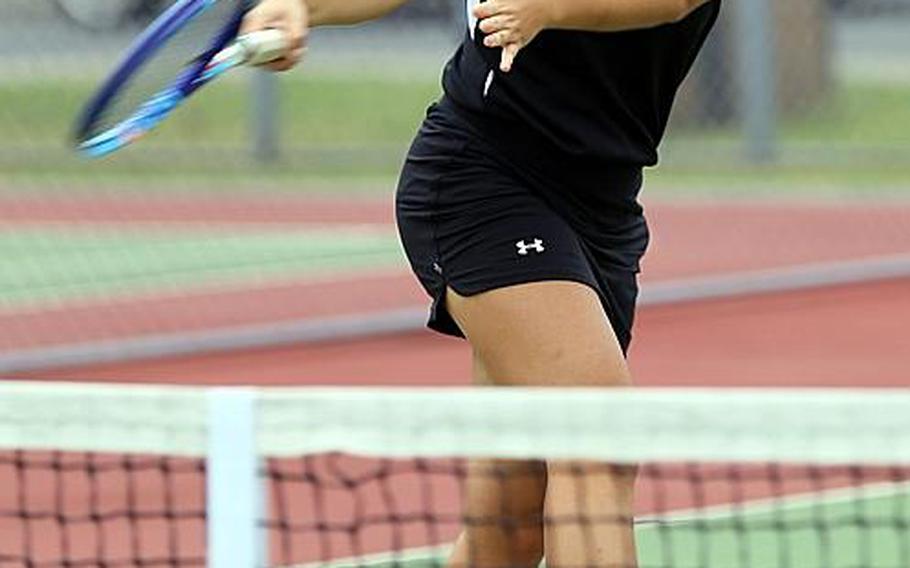 CAMP ZAMA, Japan – How does one tell Megan and Marissa Petros apart?
That's the question folks at Zama have asked all fall, following the arrival of the senior tennis stars from Fort Leavenworth, Kansas.
They are lookalikes; Marissa, the team's No. 2 singles seed, is a bit taller than Megan, the No. 1 singles seed, though both are listed at 5-foot-5. They study alike and each claims math as a favorite subject. They're each other's best friends, teachers and classmates say.
They've won nine matches as a doubles pair, and are each 7-1 in singles, losing only to Seisen's Sarah Omachi and Lauren Woody on Sept. 19 in Tokyo. They each say their serve and backhands are their games' strong points.
They even finish each other's sentences at times, their coach and teammates say, though they each insist that they don't.
"We try not to –" Megan began in a recent interview … " … It's a habit; it's hard not to," Marissa finished.
"It's hilarious" to listen to, Trojans senior teammate and captain Reagan Palmer said. "They'll say something at the same time and it's like hearing one voice. They sound so similar."
So, just how does one tell the two apart?
"I look at their shoes," coach Jason Osborne says. Sure enough, Megan stands out with bright orange kicks along with her blue-rimmed racket. Marissa sports a dark-colored pair of shoes and a maroon cap.
One thing all involved with Trojans tennis agree on, is having the two sisters at the top of the lineup gives Zama its strongest girls team since they had sisters Tia and Natalie Wiriyachon six years ago; Tia was a Kanto Plain champion and Far East runner-up.
At Lansing High School in Kansas, the Petros' last destination (they've moved 10 times), Marissa paired with Rachel Long to take ninth in Kansas state 5A doubles; Megan and partner Sierra Brown placed 13th.
Both sisters say the level of play within DODEA-Japan and the Kanto Plain doesn't quite match up with the level back in Kansas.
"It's less competitive, but still good matches and it was a lot of fun playing against international school" players such as Omachi and Woody, Megan said.
"Back in Lansing, you have some players at the beginner level, but you also have players like you do here at the international schools," Marissa said.
Tennis has been a part of the Petros' lives since around the time they were tall enough to walk. Their grandfather, Dick Shank, taught tennis to their mother, Tricia. She taught their father, Tony Petros, an Army lieutenant colonel current serving as U.S. Army Japan chaplain.
"And they joined forces to teach us," Megan said. "He (Shank) would try to get any of his grandchildren out to play."
"Our whole family grew up playing tennis," Marissa said. "It's our year-long sport, that's the one sport we focus on because I can always be like, 'Hey, Megan, let's go out and play a match.'"
It was their older sister by 2½ years, Mandi, who got the two playing competitively as middle schoolers while based at Niceville, Fla. They also had opportunities to play U.S. Tennis Association youth and club matches while in Florida.
"When we heard we could play on our sister's team, we were all for it." Megan said.
Is there any sort of sibling rivalry? The two talked of how sometimes coaches had trouble determining which seed one or the other would be. "It goes back and forth," Marissa said. "It's good competition. It's a healthy competition between us."
The addition of Petros & Petros is a welcome development for a Trojans team that is seeking its first Far East Division II girls team banner in six years.
"They're winning their games and to have that higher level to practice against has been an advantage," said Palmer, who says she doesn't mind that she's bumped down to No. 3 seed with their arrival. "Incorporating them was easy and it's like having another friend on the court."
Osborne said he wasn't sure how Palmer would react, but the Petros sisters are "polite, they're humble, she's (Palmer) still the captain at No. 3 seeds, so it hasn't been an issue."
Having enjoyed comparative success in Kansas, the Petros sisters each say they're hoping they can meet in the DODEA-Japan district finals this weekend, then make the top three at Far East next week on Okinawa.
"I want to play Marissa and see what happens," Megan said. "At Far East, it would be great if we got to the top three or top five."
Just as long as they can tell them apart at the closing ceremony.
Twitter: @ornauer_stripes