D-III football championship
It's close, but unbeaten Rota wears crown
by
Seth Robbins
November 5, 2011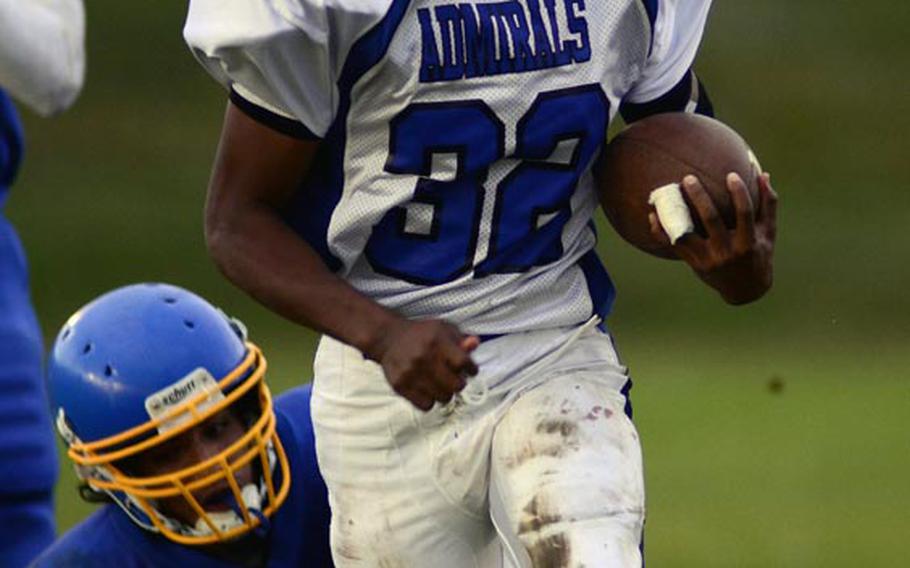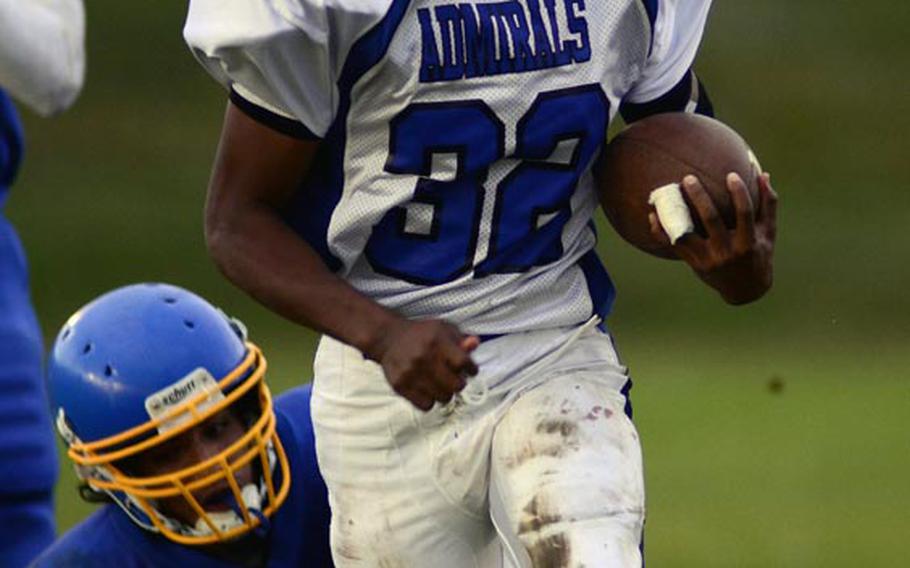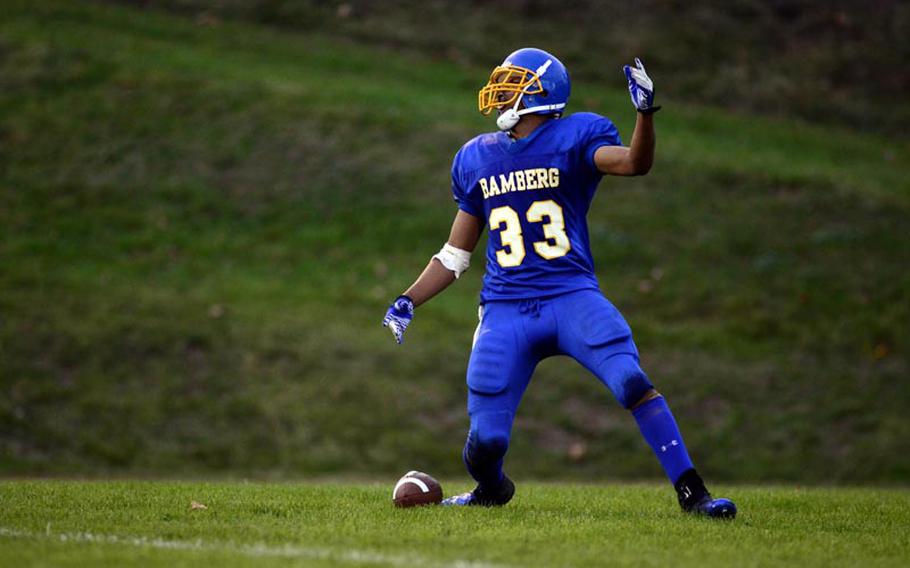 BAUMHOLDER, Germany — The undefeated Rota Admirals rolled over most opponents this season, but they needed a few key turnovers and several hard-hitting runs Saturday evening to topple the Bamberg Barons, 44-32, in the DODDS-Europe Division III championship game.
"The key was maintaining our composure," Rota coach Robert Coronado said. "It was the first time we had really been tested, and our boys rose up to the occasion."
Rota, which had only given up one touchdown prior to the championship game, found themselves in a tight game when just seconds into the third quarter Bamberg's Andray Gibson took the kickoff back for a 64 yard touchdown run, shortening Rota's lead to two points at 16-14.
But Rota never panicked and in the ensuing possession senior running back Terrence Paris took the ball to the outside, dashing past the entire Bamberg defense for a 75-yard touchdown run. Rota's defense then forced Bamberg to punt, giving Rota the ball on their own 40-yard line. After a first down, Paris ran straight up the gut for a 25-yard gain. And then Ramon Quijano sped to the outside for another 25 yards and the touchdown, giving Rota a 30-14 lead after the extra point.
"Our heads were down, we were having a tough game," Paris said. "But we just got together and it sparked us."
But Bamberg would not go away quietly, catching Rota off guard with a bit of trickery. On their own 25 yard line, Quarterback Phathanasin Sandod threw the ball to wide receiver Anthony "TJ" Cortright, who then passed the ball downfield to wide receiver Terry Williams. Williams broke two tackles and ran the ball in 50 yards for the touchdown, bringing Bamberg within 10 after the two-point conversion failed.
"I'm incredibly proud of them, I'm almost speechless," said Bamberg coach Ethan Engel. "They fought really hard."
Paris, who led Rota in rushing with 136 yards, came up big again. He intercepted the ball and ran it back 60 yards for the touchdown, giving Rota a 36-20 advantage after the two-point conversion failed.
In the fourth quarter, Bamberg's Sandod would hook up with Cortright for a 25-yard gain, and a few plays later running back Tyrone Bogen dashed into the end zone on a 9-yard sweep. Bamberg would fail on the two-point conversion, but they were again within striking distance at 36-26.
But a turnover would hurt the Barons again.
Near its own goal, Bamberg fumbled the ball and it was recovered by Rota's Keaton Regenor, who accounted for two turnovers with an interception in the first quarter for a touchdown. Paris rushed the ball into the end zone, and then quarterback Nick Holland scored on the two-point conversions, giving the Admirals a comfortable lead again.
"The turnovers were particularly costly," Engel said. Bamberg lived and died with the pass, with both quarterbacks combining for more than 100 yards through the air, but there were also two interceptions. Cortright was the favored receiver, with four catches for 128 yards and two touchdowns.
Near the end of the fourth quarter, Bamberg scored another touchdown, but it wasn't enough.
Rota's quarterbacks also played well, with K.C. Mason rushing for 40 yards and Holland solidly handing the ball off and scrambling for yards.
The championship was the first for Rota since 2004. Rota's Senior lineman Anthony Davis attributed the victory to his team's ability to bounce back even when Bamberg made it close.
"I'm happy that it was a hard fight for the championship," he said. "We worked really hard for this."
Coronado said that he enjoyed watching his team take home the title.
"I get pleasure watching them cheer, cry, knowing that they're champions," he said. "That's where my joy comes from."
For Paris, the victory was extra sweet because he is a senior and will be graduating this year.
"All that hard work paid off," he said. "Now it's time to go celebrate."
---
---
---