It's cheerleaders' turn to get applause in European championships
---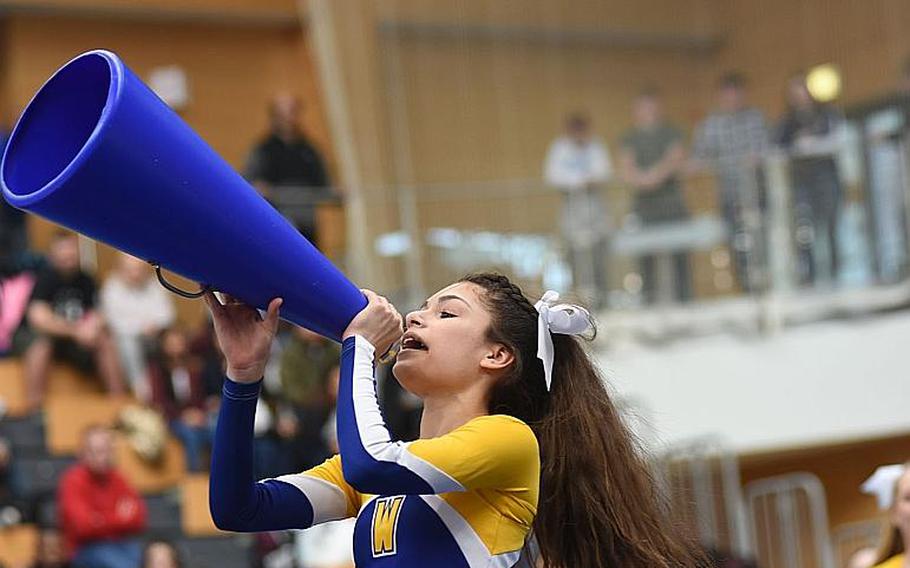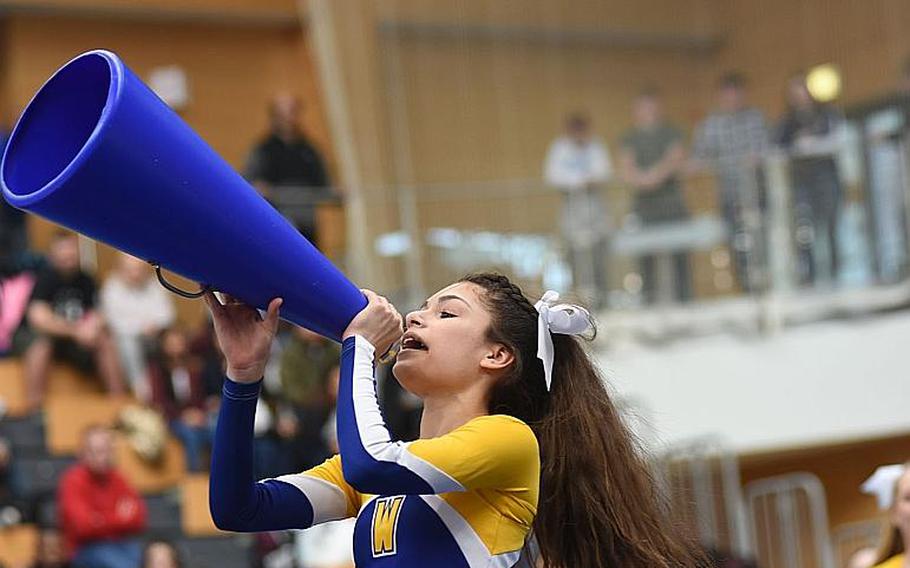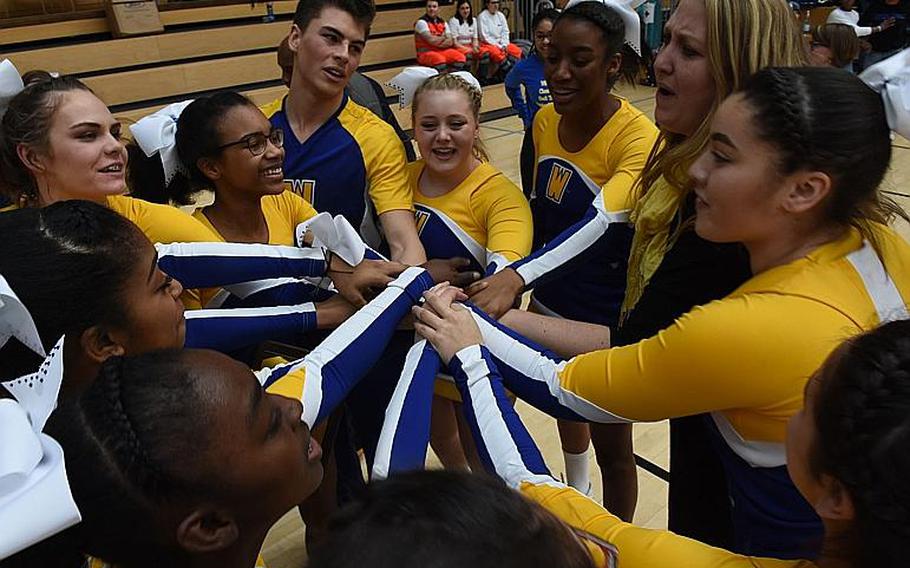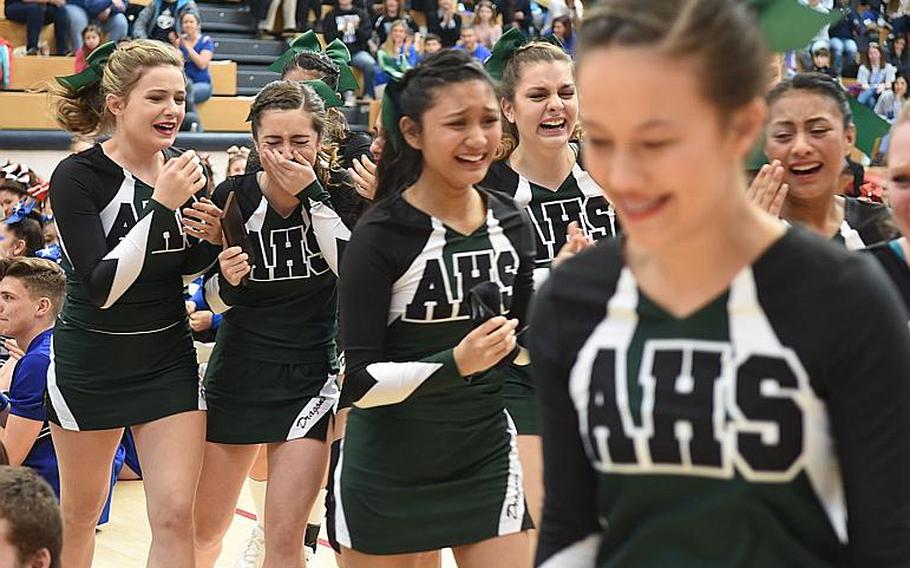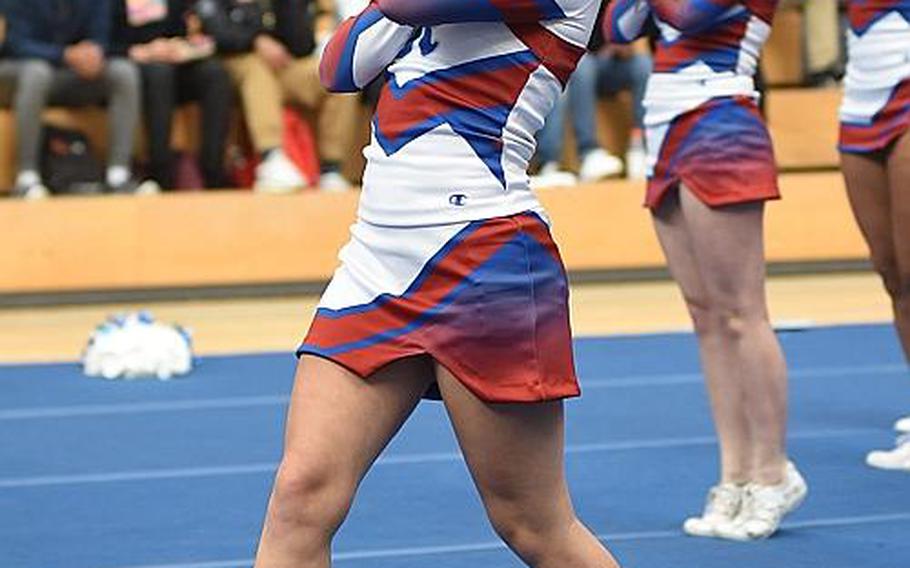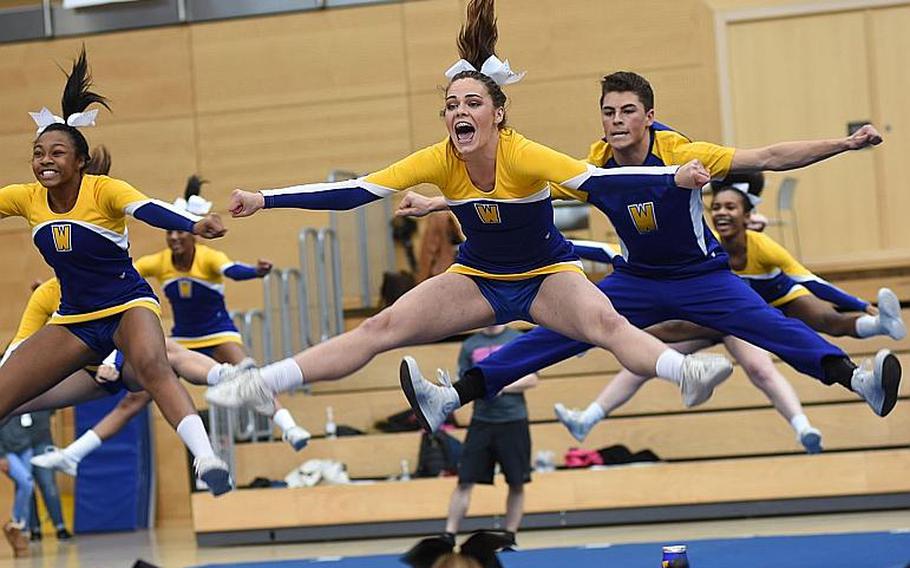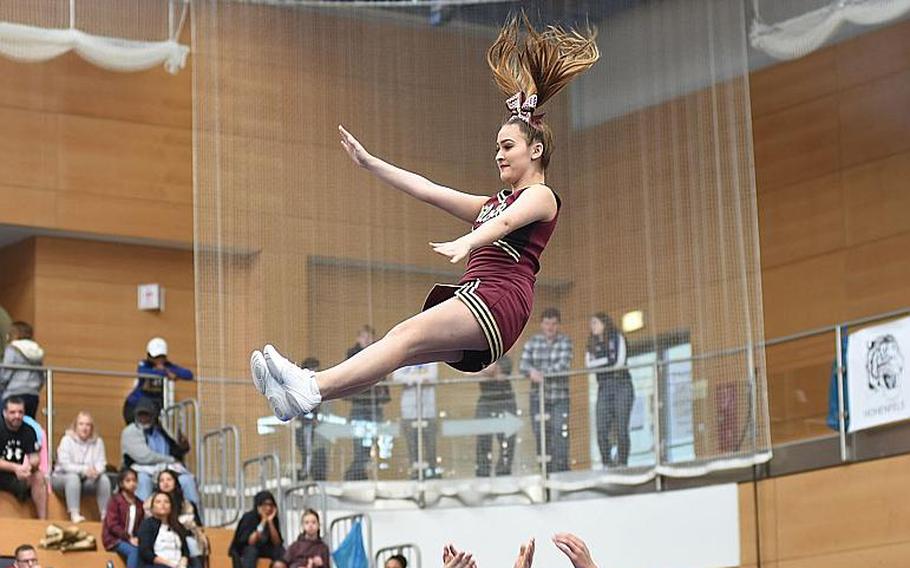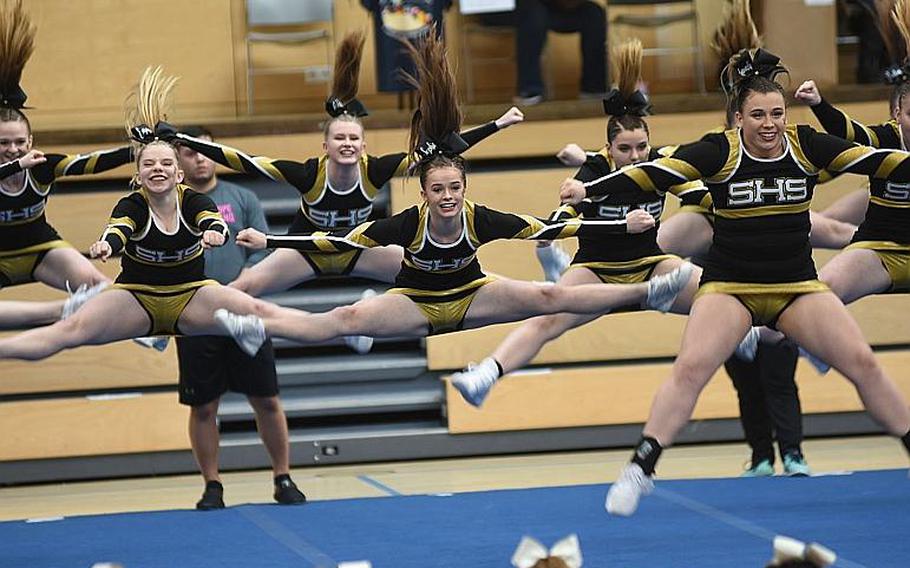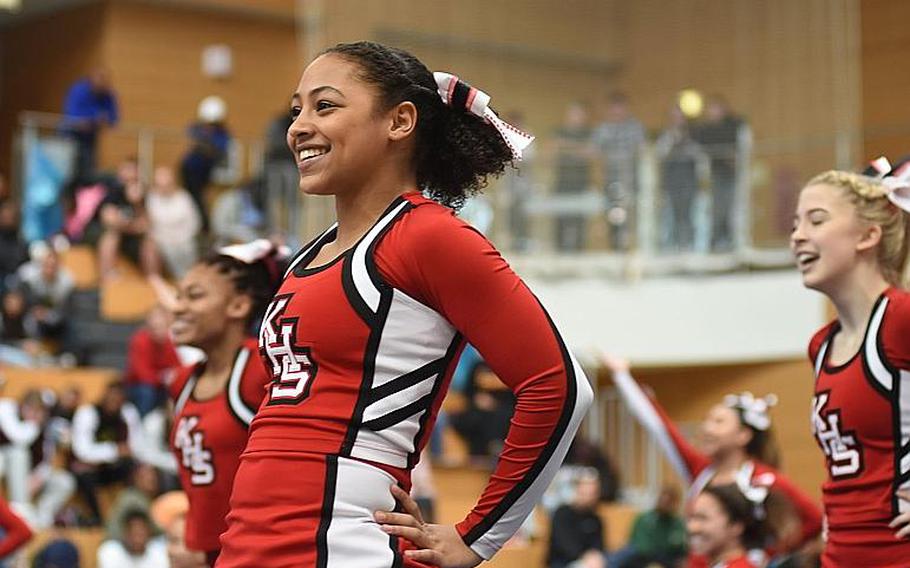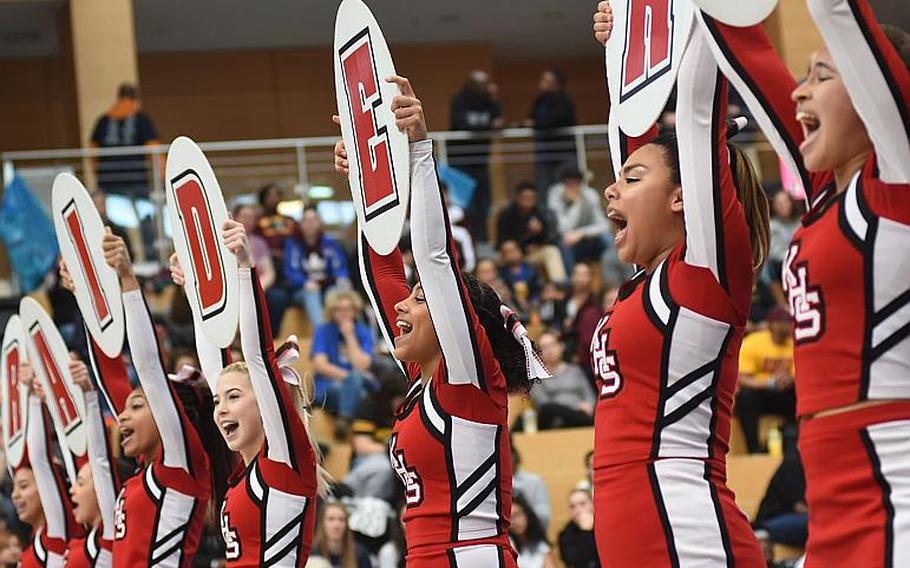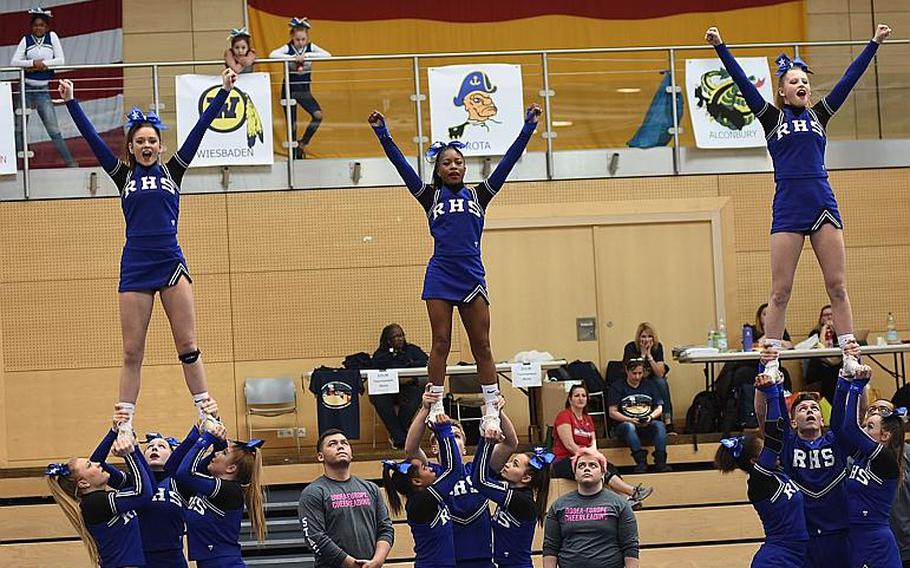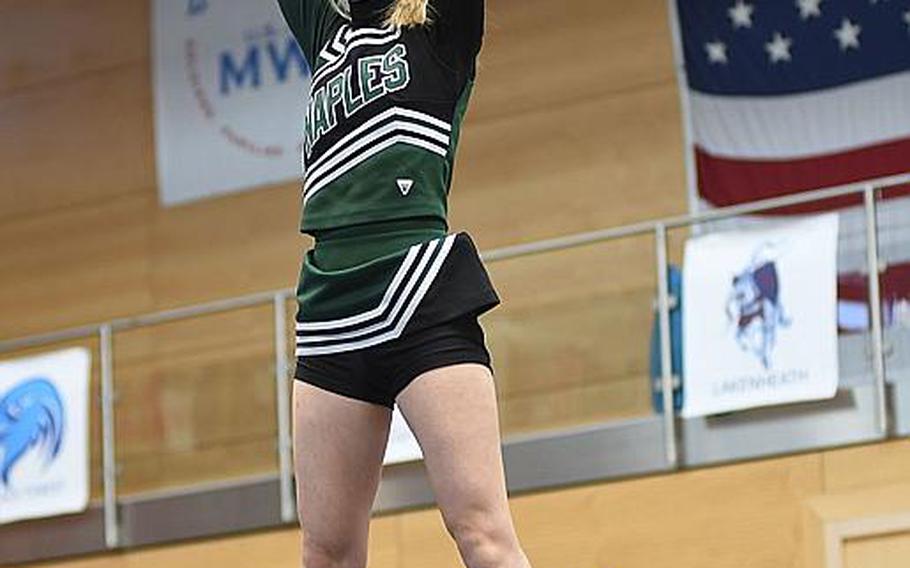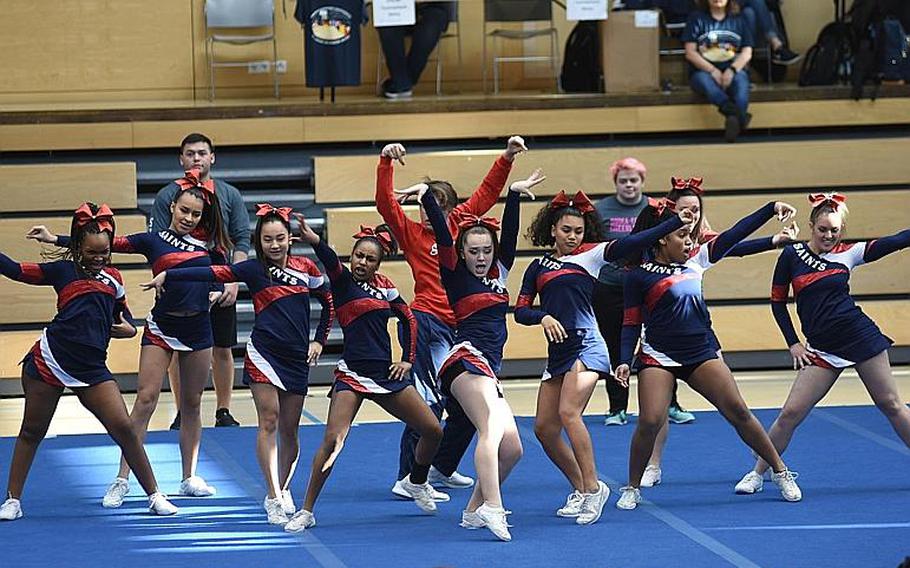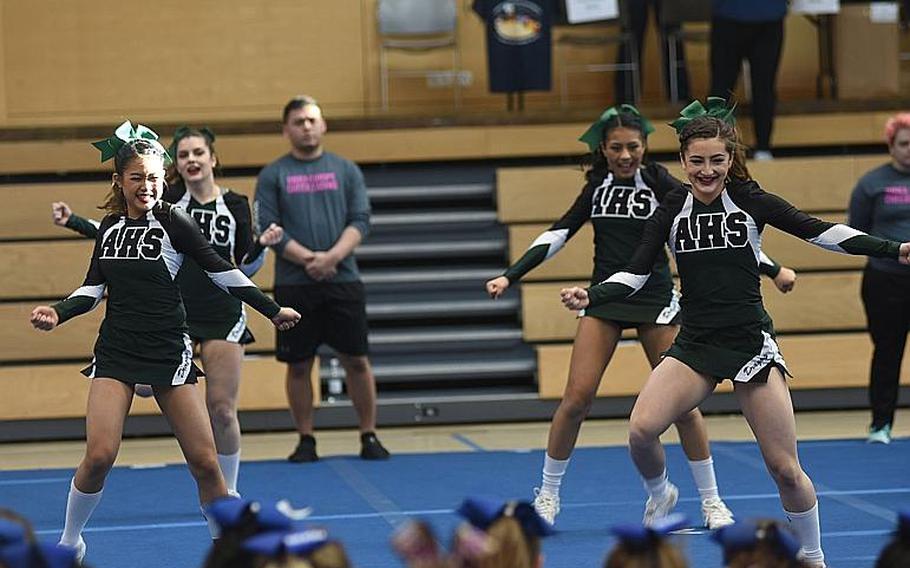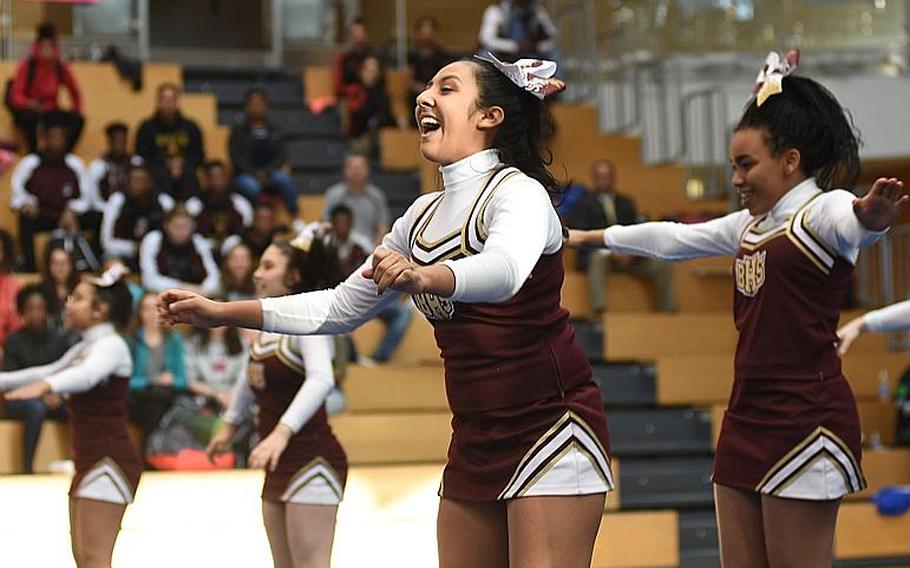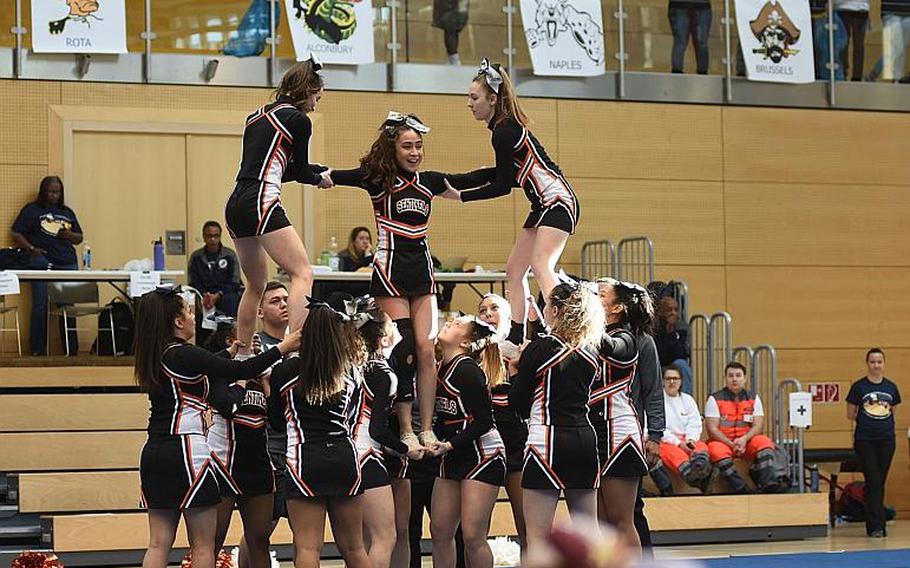 WIESBADEN, Germany — Long before basketball took center court, cheerleaders from across Europe rocked the Clay Kaserne Fitness Center Saturday morning with high-flying stunts, spirited dance moves and rowdy cheers.
Eighteen cheer squads competed in DODEA's 23rd Annual Cheer Tournament of Champions, giving fans who packed the gym early something to cheer for ahead of the European basketball finals.
Results in Division I mirrored 2017: Wiesbaden defended its title, while Stuttgart was runner-up and Ramstein finished third.
The Warriors channeled the energy of their home crowd to put on a performance that capped a season of just as much hard work and dedication as last year, said junior Savannah Fisher, who was named to the Division I all-cheer team.
"When you first walk out and see everyone cheering for you, it's so surreal," she said.
Nerves were definitely a factor, said Alicia Tate, a sophomore on the Rota team that defended its Division II crown, beating Spangdahlem and Aviano.
The best part of the competition, Tate said, was "getting the routine over and done with. I had butterflies."
Alconbury freshman Victorya Brown was so nervous she doesn't even remember her school's Division III winning routine.
"It's such a blur," she said.
The Dragons toppled Baumholder and last year's champ, Sigonella.
Each team had to perform for at least 2 minutes and 15 seconds, and no more than 2:30.
Judges scored them across a range of categories, from difficulty and execution of stunts to how well their cheers engaged and energized the crowd, said Kate Vitulli, a member of the DODEA-Europe cheer staff.
"This is a showcase for them," Vitulli said of the competition. "Normally, it's all about what they're doing to support the crowd and a team."
The tournament "showcases the skills and talent and athleticism" that they have as cheerleaders, she said.
svan.jennifer@stripes.comTwitter: @stripesktown
ResultsDivision I 1. Wiesbaden, 2. Stuttgart, 3. RamsteinDivision II 1. Rota, 2. Spangdahlem, 3. AvianoDivision III 1. Alconbury, 2. Baumholder, 3. Sigonella
Spirit Award (given to teams that showed the best combination of athleticism and school spirit during the DODEA-Europe basketball tournament)Division I – Kaiserslautern; Division II – Rota; Division III – Alconbury.
All-TournamentDivison I Amanda Fuglaar, Stuttgart; Autumn Torres and Kennedy Johnson, Lakenheath; Jada Branch and Jordan Green, Kaiserslautern; Katlyn Romanowski, Naples; Lauren Miller, Vicenza; Lexie Leipheimer, SHAPE; Samantha Sonka and Yesenia Earth, Ramstein; Savannah Fisher and Ta'Nya Thomas, Wiesbaden.Division II Kaleigh Brown, Spangdahlem; Kendell Demeritt, Madelynn Scopa, and Shannon McLaughlin, Rota; Laura Hacker and Zefan Hu, AOSR; Talitha Island and Victoria Taylor (Aviano).Division III Aaliyah Rawlings, Sigonella; Eve Myers and Kyhlee Edwards, Hohenfels; Grace Baxter and Kaylee Sink, Brussels; Grace Pedigo and Kacie Baldevia, Baumholder; Isabel Black, Alconbury.
---
---
---
---