Baseball preview
It's all about pitching - quality and quantity
by
Dave Ornauer
May 17, 2018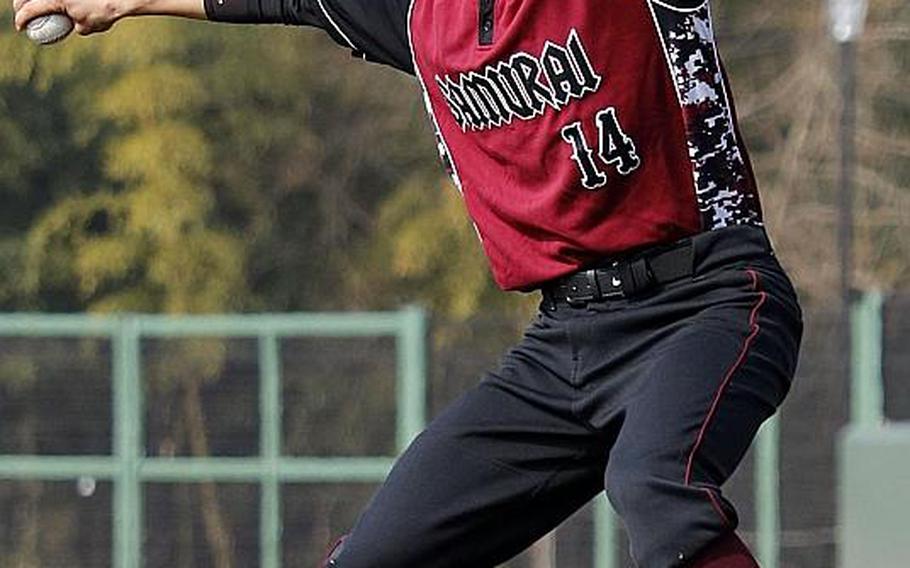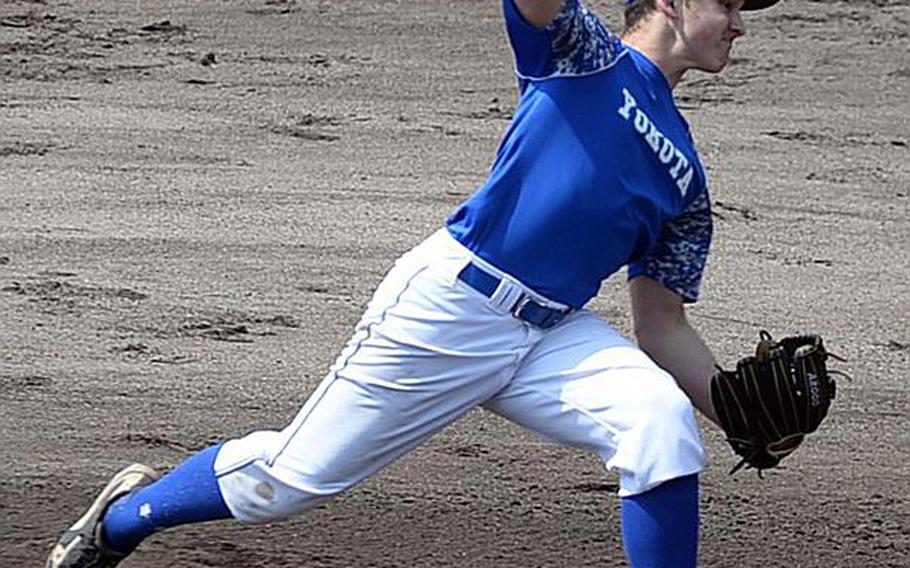 A year ago, Frank Macias was enjoying the best of possible worlds for a baseball coach in a Far East tournament.
DODEA-Pacific had implemented new pitch-count rules, the biggest one being no pitcher could throw more than 129 pitches (it's 125 this year) in the three-day tournament, nor could a pitcher throw in more than two games in one day of competition.
But back then, Macias was flush in ace pitchers, three of them, whose pitch counts and number of games he managed just right. And it helped lead Matthew C. Perry to its first Far East Division II title.
Fast-forward to the 2018 tournament. One of those aces, Peace Gates, graduated last June. Chad Schuch remains, but the senior is limited to DH duties thanks to an arm injury from which he's still recovering.
That leaves senior and two-time MVP Garrett Macias, the coach's son, as the lone returning veteran arm on a team that begins defense of its D-II championship Monday at the brand-new Kizuna Park, a few minutes outside Marine Corps Air Station Iwakuni.
"It's going to be tough," said Macias, whose Samurai, 15-1-2 last year, finished a pedestrian 8-10 this season. "Once the pitch count takes effect and teams lose their No. 1 pitchers, it gets difficult. But it is what it is."
What it remains, just like a season ago, is the teams with the most quality pitchers stand the best chance of capturing titles in the Far East Divisions I and II tournaments.
D-II moves from Humphreys to its new site, Kizuna Park, which opened last November to great fanfare. Like last year, the D-II tournament is straight double-elimination.
The Division I tournament takes place for the last time at the Lombardo Field FourPlex on Yongsan Garrison's South Post, hosted by Seoul American, which in 2018-19 moves to D-II due to declining enrollment.
The D-I tourney has one minor change, an abbreviated round-robin schedule, each team playing three games instead of five, followed by a single-elimination tournament.
Absent the pitching cadre Macias had a season ago, it appears at least on paper that Yokota (25-8), the team the Samurai beat in the 2017 final and which won D-II titles in 2015-16, is back in the "team to beat" role, Macias and other D-II coaches said.
The Panthers have three pitchers with at least three wins, Troy Barnes, Riley DeMarco and Jack Winkler, and two others who've gone at least 20 innings, Glen Willingham and Sean Caffrey. They're also 4-for-4 in save opportunities.
To beat Yokota, one needs solid pitching, but "you also have to play good defense," Macias said. He tried some lineup changes the last two regular-season weekends against E.J. King "and we saw some positive results, but when we go up against the likes of Yokota, who knows?"
With 4-1 and 6-5 wins on May 2, Yokota also can claim the only two victories over the team considered the consensus favorite to win its fifth straight Far East Division I title and sixth overall – American School in Japan.
The Mustangs, 15-2 this season, enter Far East with a new head coach for the first time since the late 1970s. Aaron Rogers replaces the retired John Seevers. ASIJ also returns reigning D-I Best Catcher Ian Donahue and infielder-pitcher Sho Flores, one of four pitchers who've thrown more than 11 innings. Ken Hemmer tops the staff with a 5-0 mark.
The change in round-robin format benefits all teams, Kadena coach Boe Roberts said, since there are two fewer games to play.
But "you still have to pick which teams to go after and you still have to win games," said Roberts, whose Panthers are seeking their first D-I tournament title after coming up short in six visits to a D-I final. "You try to save your arms, but you have to win or go home."
Kadena has two pitchers considered aces, Jared Duenas and Cody Sego, plus others who can eat some innings, Roberts said.
"You want to save those two aces," Roberts said. "And you have to hope to get run support and for the guys to play defense. Every little mistake extends games, and at that level, that's critical, since you're only taking 13 players."
Twitter: @ornauer_stripes