DODEA-Europe tennis
It's a good day for Italian schools at finals
by
Dan Stoutamire
October 28, 2017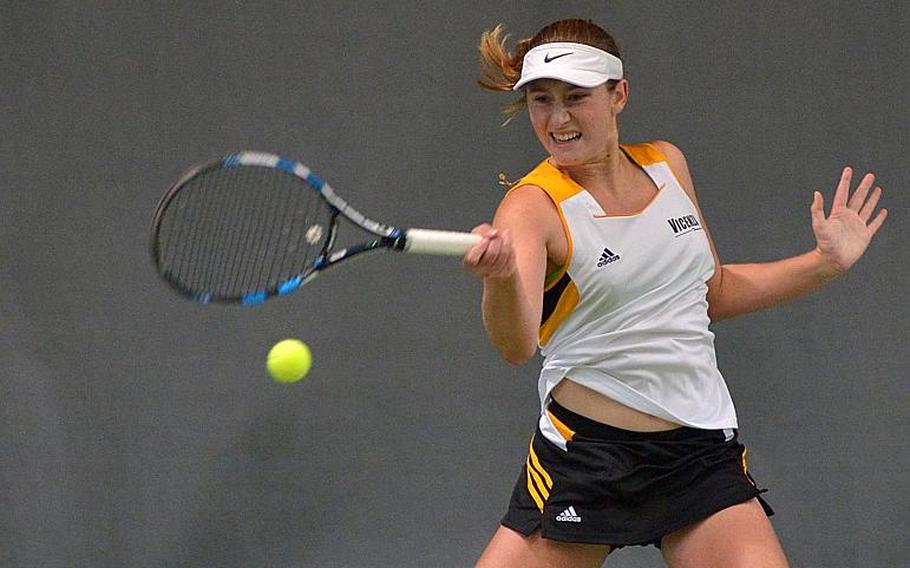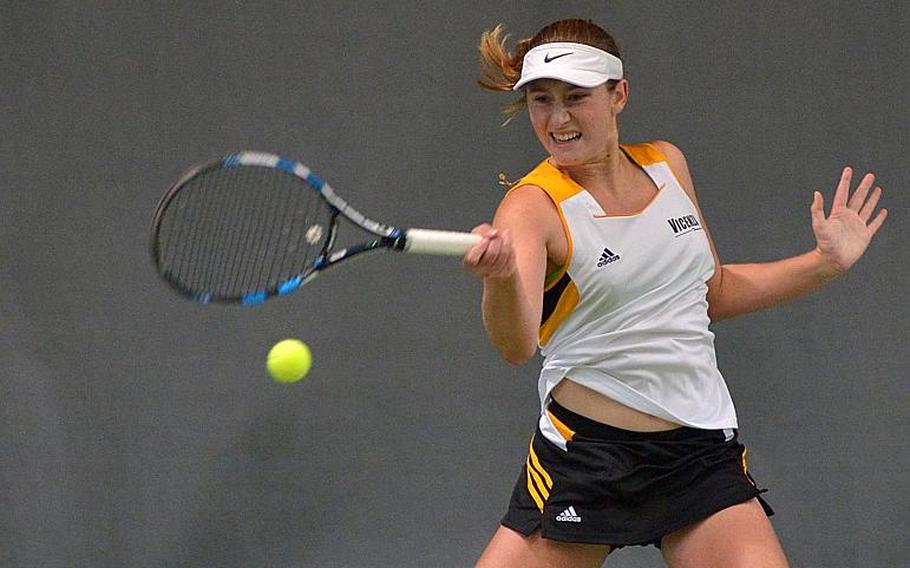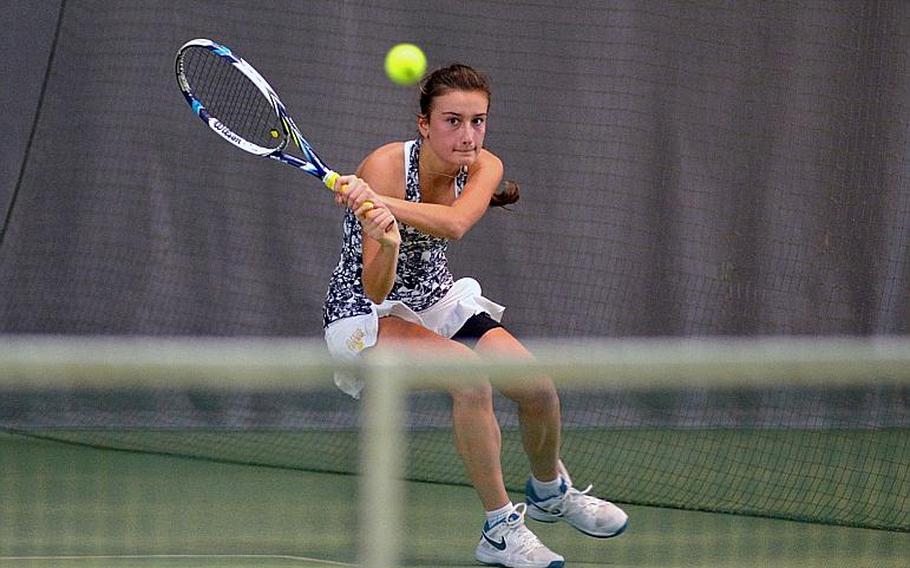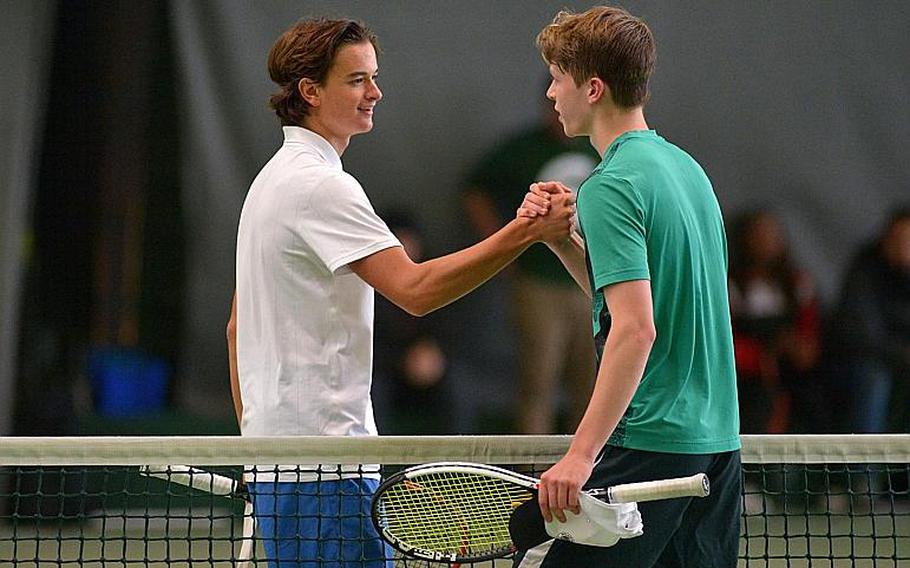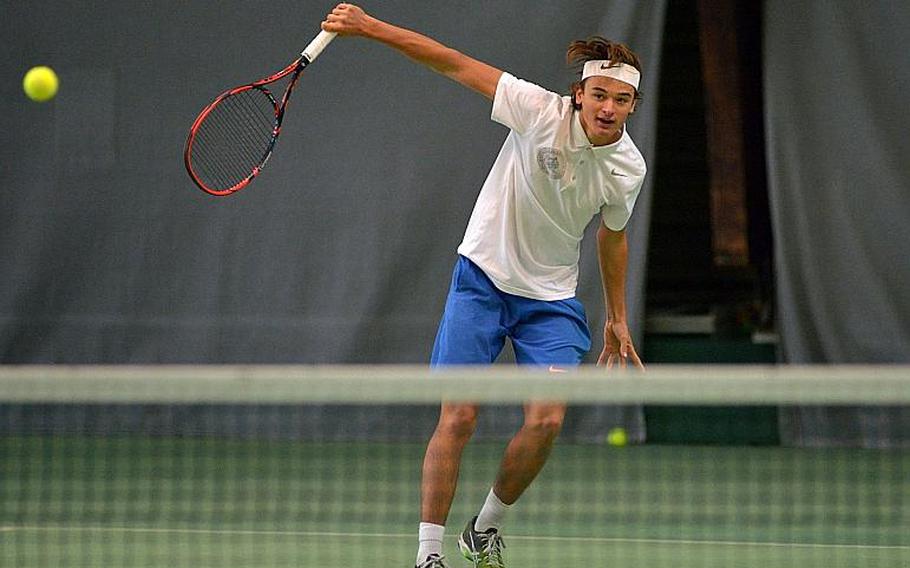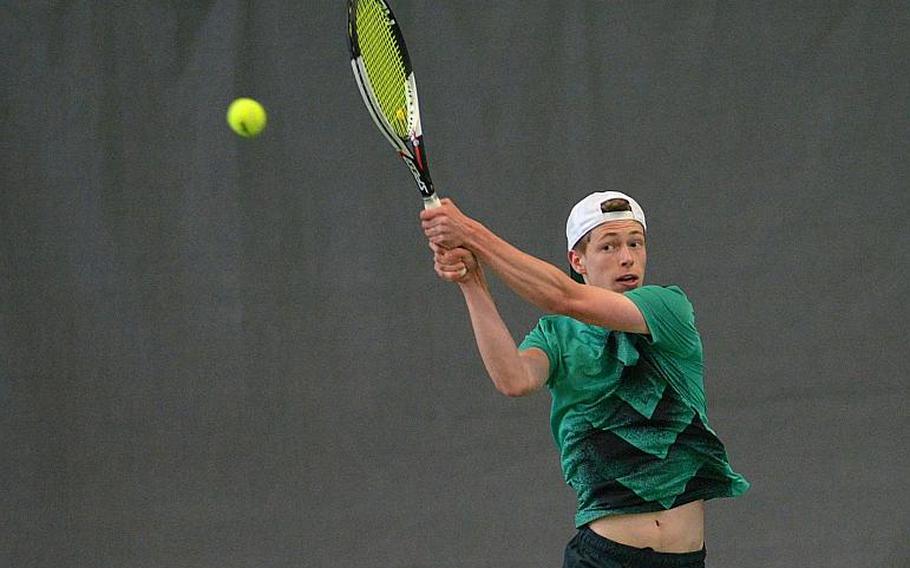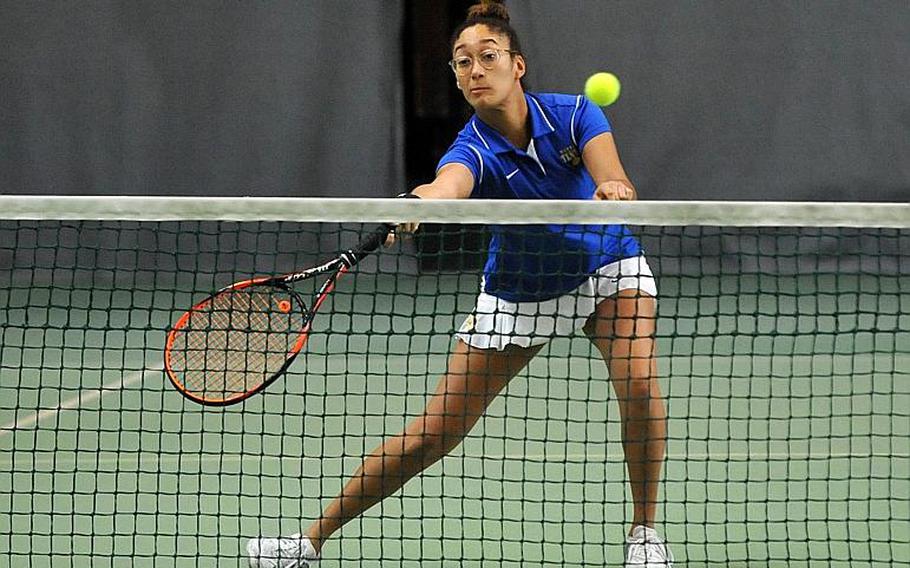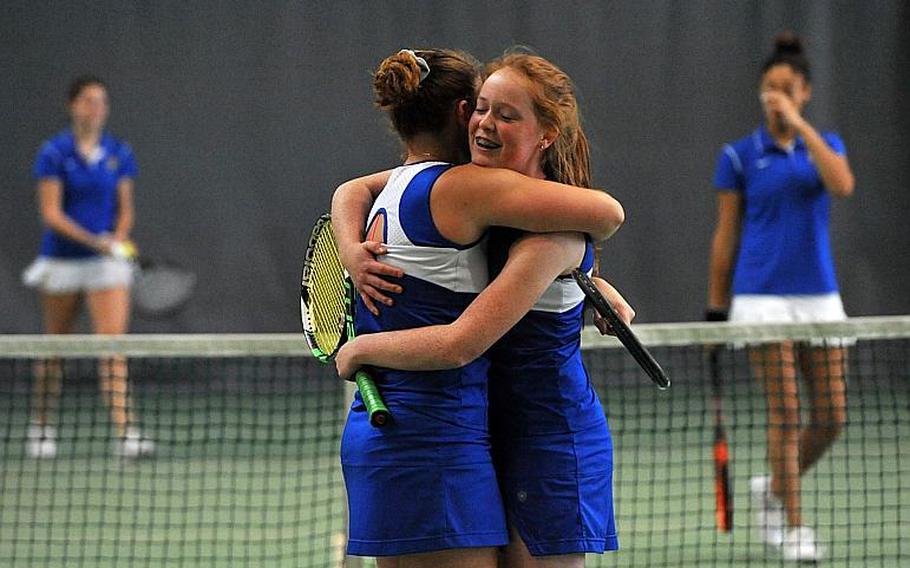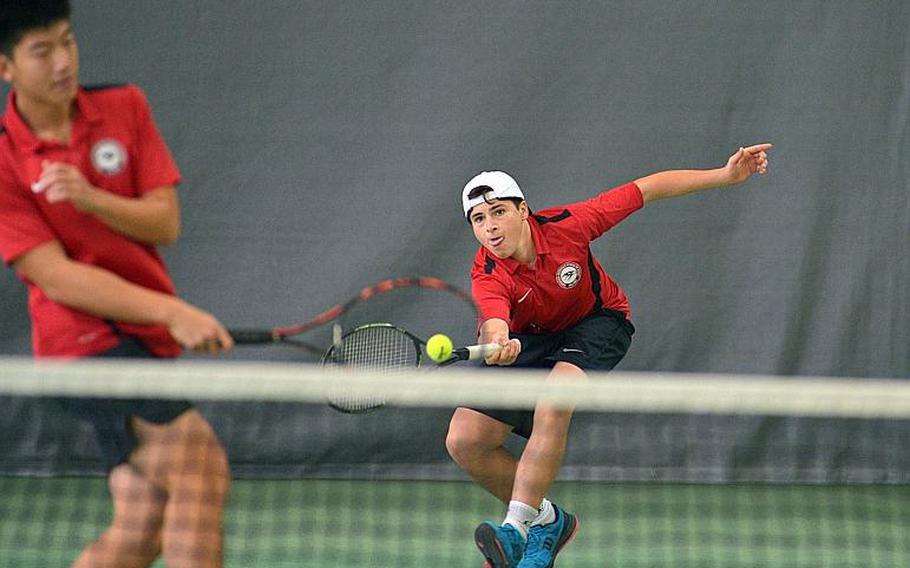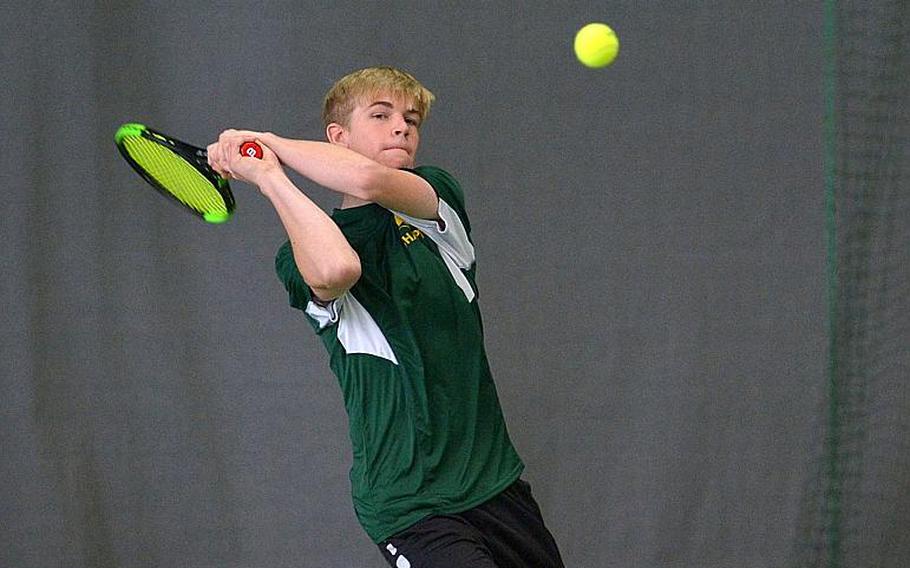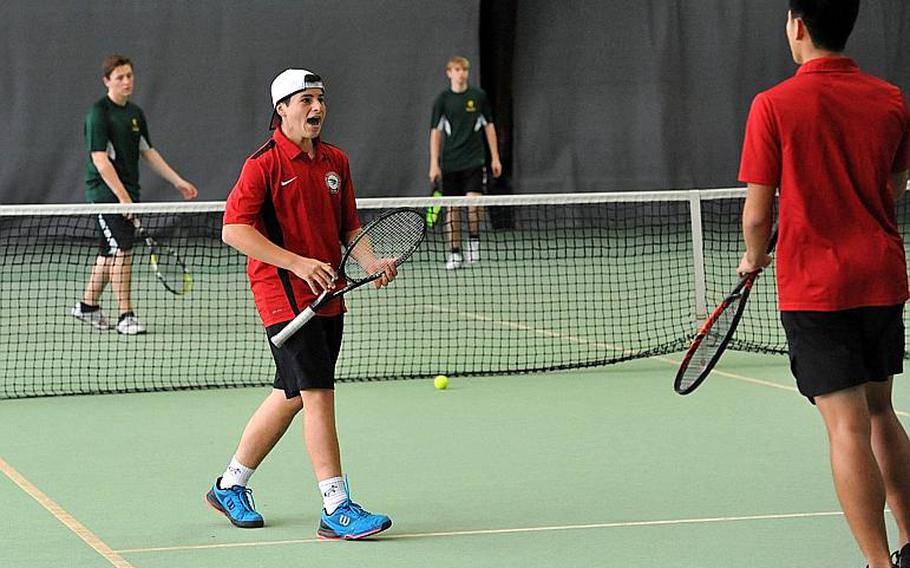 WIESBADEN, Germany — Italian schools Marymount, Vicenza and the American Overseas School of Rome took three of four finals trophies back home south of the Alps on the final day of the 2017 DODEA-Europe tennis championships.
Both singles champs came from Italian schools – Marymount's Mathias Mingazzini took his second-straight boys' singles crown with an impressive 6-2, 6-1 triumph over SHAPE's Noah Banken, and Vicenza's Catherine Gulihur made quick work of Wiesbaden freshman Charlotte Kordonowy in a 6-2, 6-0 win.
AOSR's Federico Sarti and William Hsia took the boys' doubles crown with a 6-2, 6-3 win over SHAPE's Gregor Vargyas and Seth Banken. They had to overcome a 3-0 deficit in the second set.
Ramstein's Amanda Daly and Megan Stretch were the only non-Italian winners on Saturday, recording a relatively painless 6-1, 6-2 win over Wiesbaden pair Shelby Albers and Melissa Pritchett.
Mingazzini, a junior, said this win was even more sweet than last year's.
"I think this one (is better) because I needed a strong mentality because my opponent was so good," he said. "I think today I just pushed the ball as hard as I could, and I'm satisfied with how I played."
Mingazzini said he plans to participate in next year's tournament, and by the looks of his dominant performance Saturday, a third consecutive title is certainly possible.
Gulihur finished an undefeated tournament in dominant style, with a strong service game and net play key to her win.
"Getting that first serve in and then attacking with my forehand, that's a big weapon of mine," she said.
The senior, who has been scouted by at least one Division I university, is in her first year of organized school, having previously been homeschooled.
"The transition has actually been fun, but difficult at the same time," she said. "I had to take some hours away from tennis just for schoolwork and actually having to go to school – that's pretty new."
Sarti finished up his European career with a win after falling short in previous seasons. He and Hsia were able to create an unbeatable alchemy on their way to an undefeated tournament run, culminating in Saturday's impressive win, punctuated by a powerful Sarti smash on the match's final point.
"We didn't expect (to win) but we knew we were pretty strong, so we expected to play well in the tournament," Sarti said.
In the girls' doubles final, Daly and Stretch were able to overcome the significant height advantage of their Wiesbaden opponents with a steady and consistent ground game and strong on-court chemistry. It's Daly's second-consecutive doubles crown.
"Megan is just a fantastic baseline player and a really good volleyer," she said. The pair were constantly encouraging each other during the match and giving high-fives after successful rallies.
"We're really good at picking each other up when we're down," Daly said.
Twitter: @DKS_Stripes