It's a big week for DODDS sports in Wiesbaden
by
Gregory Broome
October 3, 2013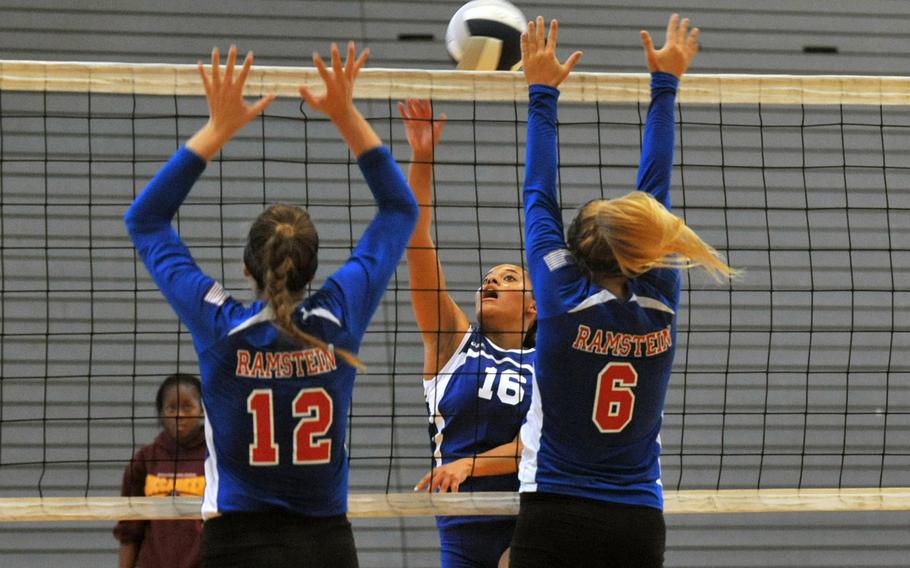 Wiesbaden has grown rapidly in size and profile since it was tapped to replace Heidelberg as the home of U.S. Army Europe headquarters. That led to a still-developing surge in the garrison's high school population and, as a result, the school's sports programs.
While Wiesbaden's upward trend has been clear for some time, this week might represent a landmark moment in the community's rise to prominence.
The Warriors host significant events in all five DODDS-Europe fall sports over the next seven days, welcoming some of their fiercest Division I rivals and the continent's best golfers to the community.
The action starts Friday on the Wiesbaden football field. The 2-1 Warriors, having already doubled their 2012 win total, host another resurgent team in unbeaten Kaiserslautern. The winner will guarantee themselves a winning DODDS record and secure a spot in the four-team Division I postseason.
Saturday is traditionally the busiest day of DODDS-Europe sports, and it's no different in Wiesbaden this weekend as meets take place on the community's tennis and volleyball courts and a debuting on-campus cross country course.
Unbeaten Ramstein visits for a tennis showdown with ace Jade Sullivan and the Warriors.
The Warrior volleyball team gets another shot at Ramstein after taking the season's opening set from the Royals in a Sept. 14 loss to the defending champs. The presence of unbeaten Kaiserslautern in the triangle meet further raises the stakes.
Meanwhile, cross-country runners from Ramstein, Kaiserslautern, Patch and Baumholder will weave 5 kilometers through the fields around the campus. With a few exceptions, most of the expected contenders for individual European championships will share the course, including Patch's Baileigh Sessions and Mitchell Bailey, Ramstein's Josh McDowell and Madison Morse, and Wiesbaden's Alexander Wieman, Kelsey Thomas and Ryan Parker.
The week concludes with the DODDS-Europe golf championships, a two-day tournament at Rheinblick Golf Course, where Wiesbaden's own Jenna Eidem will play for a third straight European individual title.
Regardless of how the weekend plays out for the Warriors, it's clear Wiesbaden has fully arrived as a major player in DODDS-Europe sports.
Twitter: @broomestripes