D-II volleyball final
It's a banner day for Naples spikers
by
Jennifer H. Svan
November 5, 2011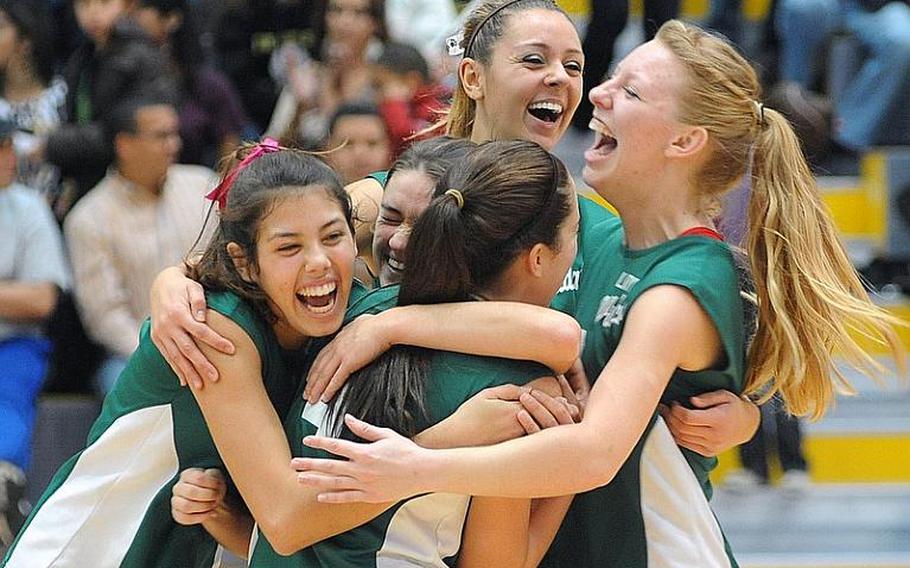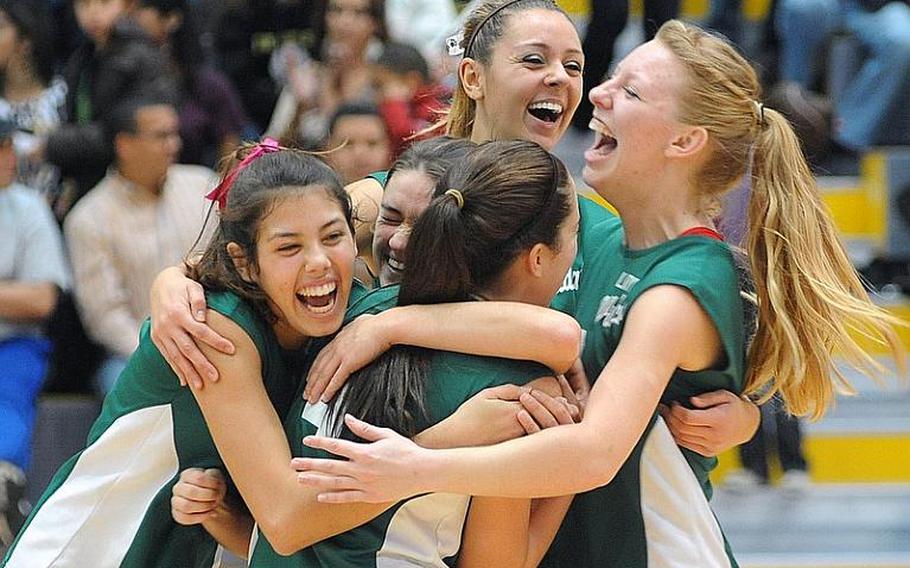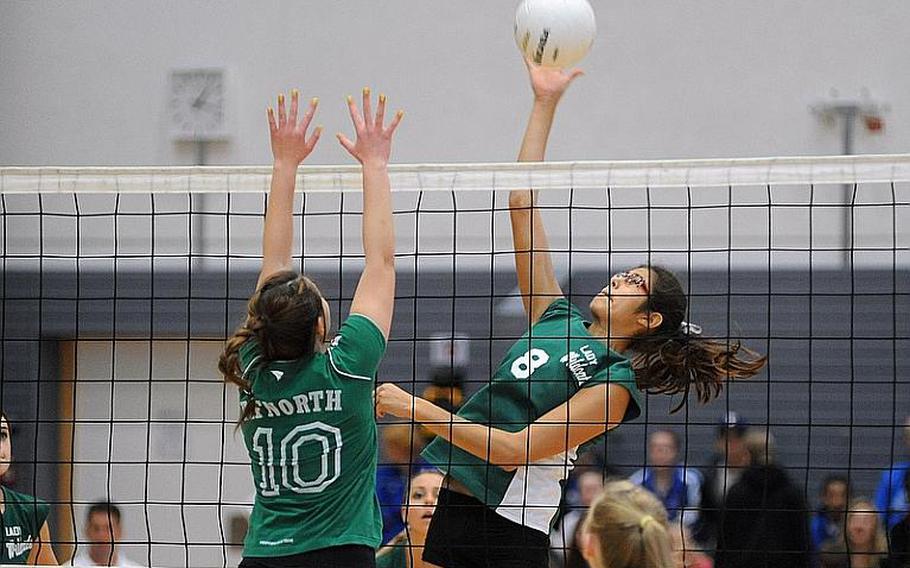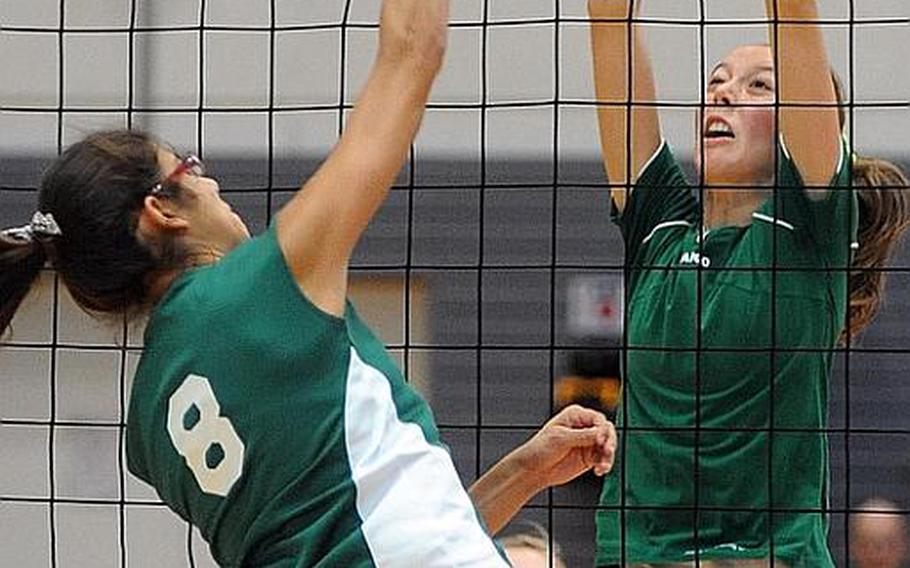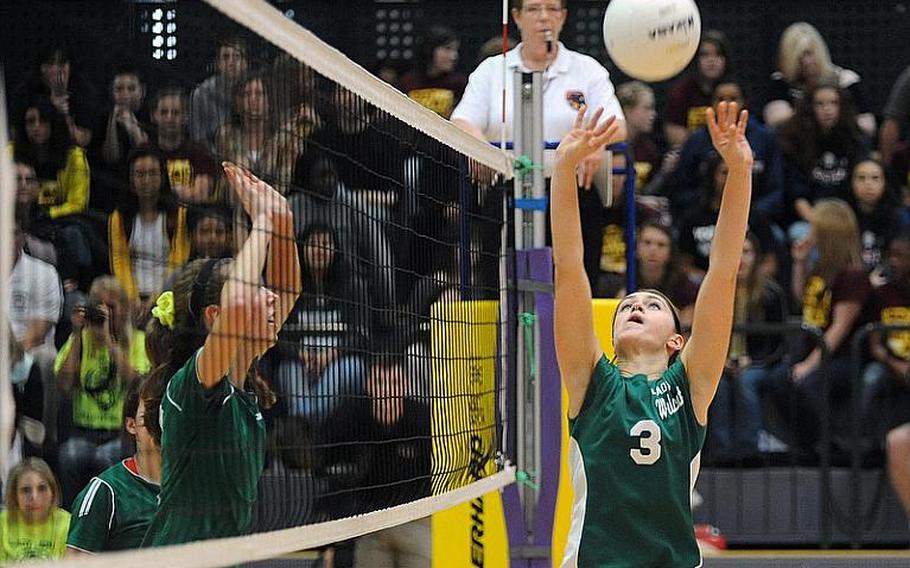 RAMSTEIN AIR BASE, Germany — The Lady Wildcats will finally get their banner.
Naples capped a remarkable one-loss season with a sweep of AFNORTH on Saturday in the European Division II volleyball championships, winning three straight sets in dominant fashion, 25-14, 25-12 and 25-13.
The victory earned the team its first ever European crown in the sport, according to senior co-captains, Courtney Plante and Jackie Lund.
"We don't have a banner," Plante said, referring to the tradition of hanging a team banner in the school gym after bringing home a European championship.
The Lady Wildcats, whose only loss came during a split with Aviano in the regular season, will have one now.
They kept AFNORTH off their game from the outset, building big early leads that proved too much to overcome for the scrappy Lions, who beat Bitburg late Friday in a grueling, four-set semifinal.
"It wasn't our day," AFNORTH coach Kevin Padron said, giving due credit to Naples. "Every one of their players is fantastic."
"All of them had their best today," Naples coach Julia Byler said of her athletes, highlighting the play of Plante and Lund. "They were all over the court."
Lund and sophomore Victoria Krause each registered eight kills. Plant had five digs, while senior Shannon Walsh recorded six digs and three aces. Junior Isabel Krause had six kills and two blocks.
To celebrate, the Lady Wildcats planned to feast on junk food, Plante and Lund said.
AFNORTH senior Sara Sawyer, who helped engineer a couple of late-point rallies for AFNORTH with strong play at the net, said Saturday's loss was a bittersweet end to a memorable season.
"We worked so hard to get here," she said.
AFNORTH was making its first appearance in the European championship tournament finals since 1989, Padron said.