Home Team
It'll take two weeks to crown European champs this spring
---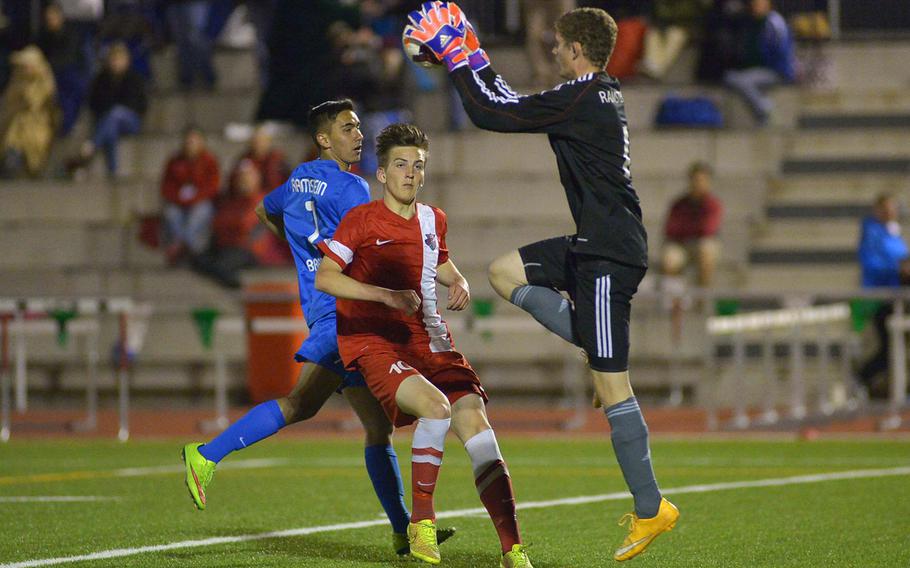 It's a fixture of American life: for young players, coaches and parents, spring Saturdays are for soccer. Now that's true for the DODEA-Europe champiponships as well.
An adjustment to this year's athletics calendar has cleared up the logjam of spring European championship tournaments that in past years has piled the boys and girls soccer tournaments into the same week as the baseball, softball and track and field championship events. In recent seasons, the soccer tournament began Monday and held its title games on Thursday, the same day baseball and softball started three-day runs.
This year, soccer will have the stage to itself, running May 18-21. Baseball and softball tournaments are set for May 26-28, while track takes place May 27-28. All events will be held at sites around the Kaiserslautern Military Community in Germany.
DODEA-Europe athletic director Karen Seadore said the change has to do with the timing of two events: the annual Advanced Placement exams, this year are scheduled for the first two weeks of the month to conclude Friday, May 13; and Memorial Day, observed annually on the final Monday in May, this year May 30.
There's no official mandate that DODEA-Europe wrap up its athletic schedule by Memorial Day, but Seadore said she regards it as a necessary deadline "to allow for end-of-season procedures" and avoid interfering with graduation and the end of the school year.
In short, when two weekends are available between AP testing and Memorial Day, Seadore will use both to separate soccer from baseball and softball.
That wasn't the case last year, when AP testing finished on Friday, May 15, and Memorial Day was observed May 25. Just one full week separated the two dates, and all spring European championships were held that week, starting with the soccer tournament's opening Monday and concluding with baseball, softball and track finales Saturday. Though the 2017 DODEA-Europe athletics schedule has yet to be produced, it appears it will play out similar to this year's. AP testing is set to end May 12, while Memorial Day is on May 29. That leaves two Saturdays - May 20 and May 27 - on which to hold European championship games.
As for this spring's approaching tournaments, the change has several notable effects. Perhaps the most significant is that soccer will enjoy the same Saturday championship showcase afforded every other DODEA-Europe team sport, a move most coaches welcome for a variety of reasons.
Shifting a day of tournament competition from a weekday to a Saturday lessens the inevitable disruption the event causes in the classroom, though student-athletes and teacher-coaches will still miss the bulk of a week. Some schools have around 100 students missing time for the various spring tournaments; at smaller schools, that's a large part of the student body.
"As a teacher, I missed four days of school (for the tournament) last year. This year I will miss only three," Stuttgart girls soccer coach Daniel Coapstick said. "It is important that the students are in school, particularly at the end of the year, as much as possible."
For host Kaiserslautern, the new schedule relieves a severe time crunch. Raiders staffers won't have to scurry around the periphery of Thursday-evening soccer championship games setting up equipment for Friday-morning track and field competition.
"Last year there was less than 12 hours between the time that soccer ended and track started, which caused major headaches," Kaiserslautern girls soccer coach Brian Daly said.
But the new schedule doesn't benefit every school equally, particularly those far removed from southwestern Germany.
Lakenheath boys soccer coach Greg Mako said the Monday-Thursday format was preferable for his team, which reaches the mainland by ferry across the English Channel and then drives six hours for the tournament. The previous format put his players back home on Friday, with a weekend to recuperate and complete missing assignments before returning to class Monday. This year, they likely won't step off the bus in England until Sunday morning, leaving just about a 24-hour turnaround before Monday's opening bell.
"Our travel is a bone of contention for our team," Mako said. "I understand for Germany it works well."
That discrepancy applies to another key facet of the tournament experience: sideline support. For local teams such as Kaiserslautern and Ramstein, the drawn-out two-week schedule allows baseball, softball and track athletes to cheer on their classmates on the soccer pitch, then have soccer players return the favor the following weekend.
"It allows students and student-athletes that may not otherwise have the opportunity to demonstrate their school spirit and attend and support their teams," Kaiserslautern boys soccer coach Enrique John said.
But the change has the exact opposite effect on those schools that must travel hours to reach the KMC by bus.
Alconbury girls soccer coach and athletic director Jeffrey Black said he liked the overlapping tournaments, as it afforded the chance for players to go support their classmates competing in different sports elsewhere in the KMC, often on the very same base. But he said it doesn't cause any further complications logistically, and he expects the end result to match that of recent seasons.
"I think all the spring sports have always had a nice championship day regardless," Black said. "I don't see that changing either way."
Twitter: @broomestripes
---
---
---
---